Mini lemon hand pies are buttery and flaky pie dough, shaped into a single-sized portions and filled with homemade lemon curd!
Perfect little bite sized lemon desserts!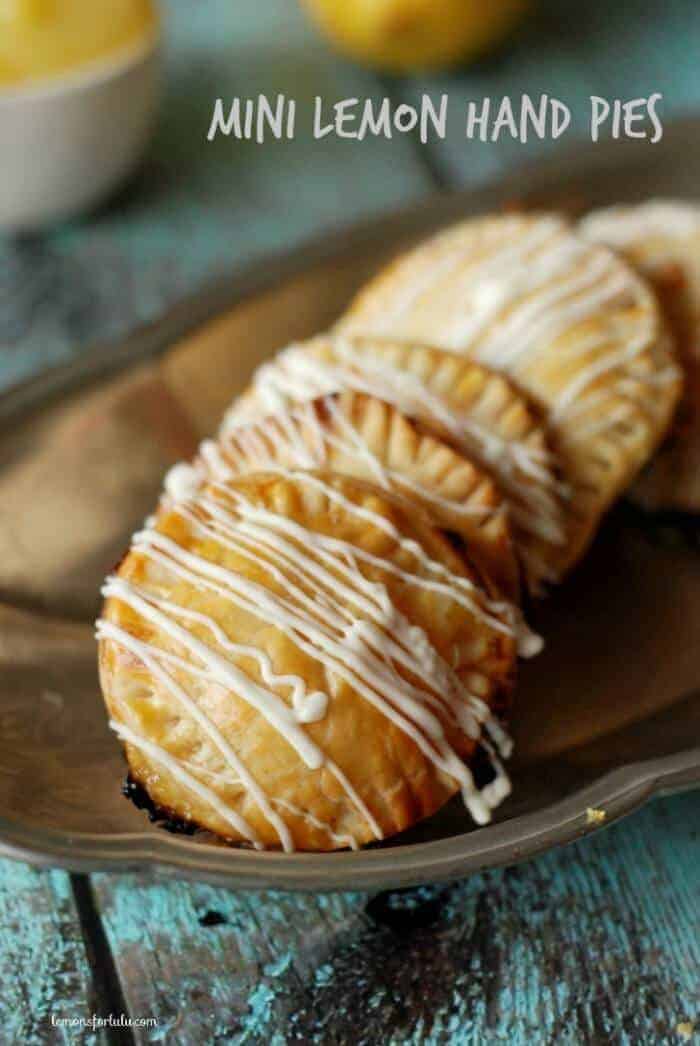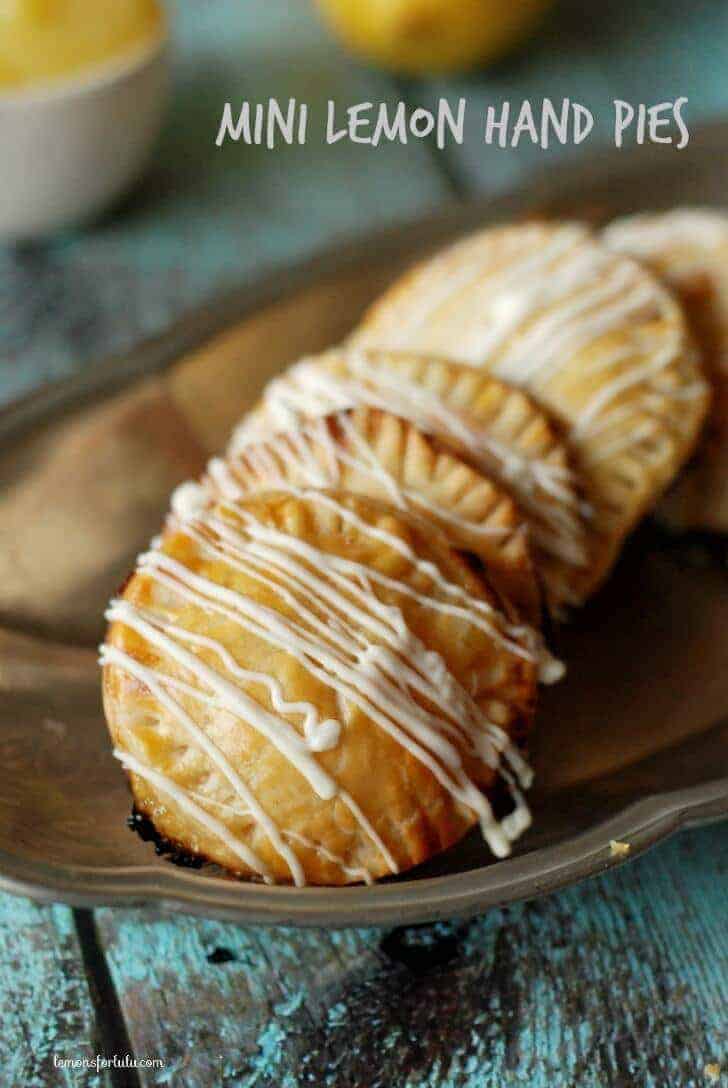 Desserts used to be so simple.  Growing up, dessert choices were pies, chocolate chip or peanut butter cookies and the occasional cake.  Ingredients were simple;  what you saw was what you got.  Desserts didn't used to be so imaginative.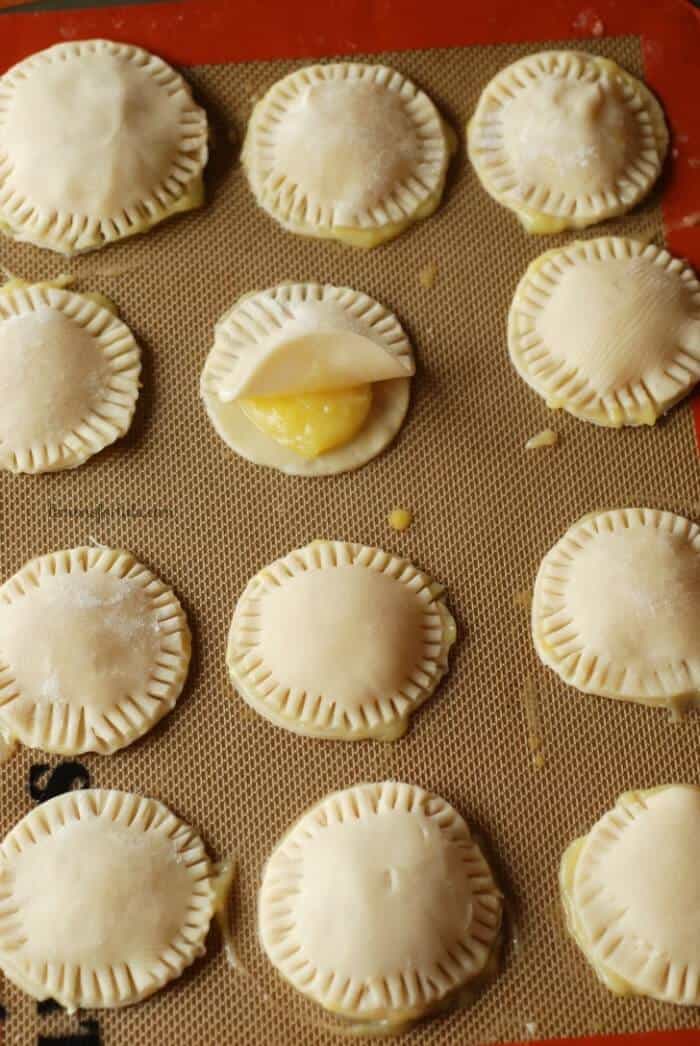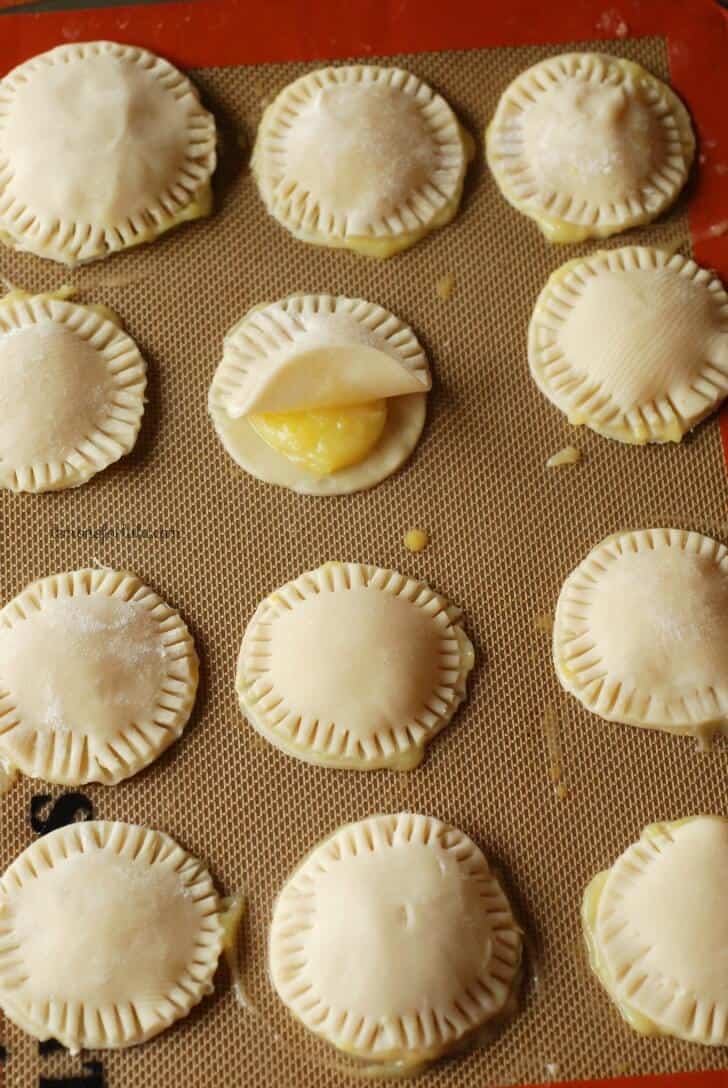 There was actually a time when all you could get at McDonald's were milkshakes (3 flavors), small sundaes (also 3 flavors) and piping hot (literally) apple and cherry pies.  Indecision was a rarity, unlike today.  Today, McDonald's boasts so many dessert flavors and items, how can anyone commit to just one choice?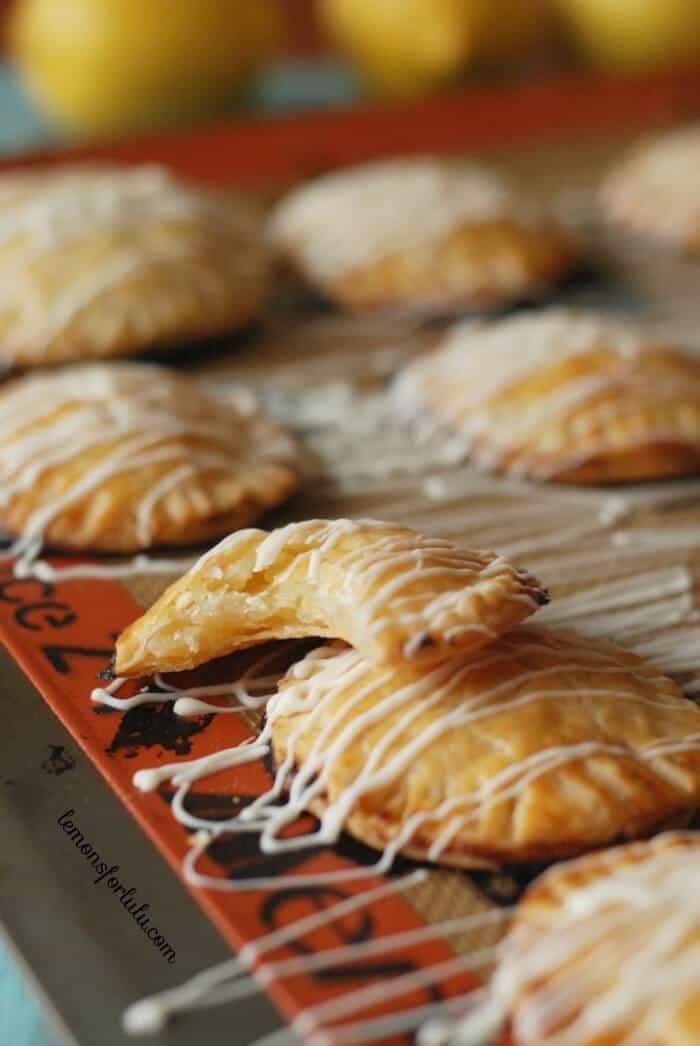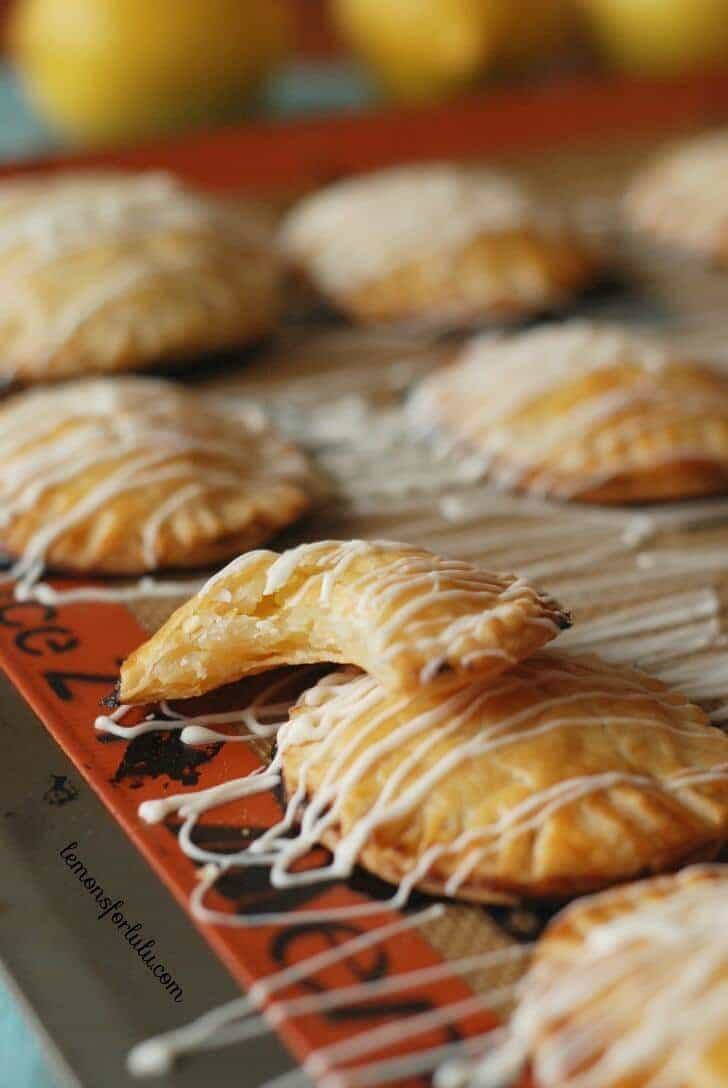 Personally, I always went for the cherry pies.  The crust was buttery and flaky.  The cherry filling would seep out and burn my mouth every time.  But I didn't care, because that cherry filling was the perfect mix of tart and sweet.  I was addicted to them.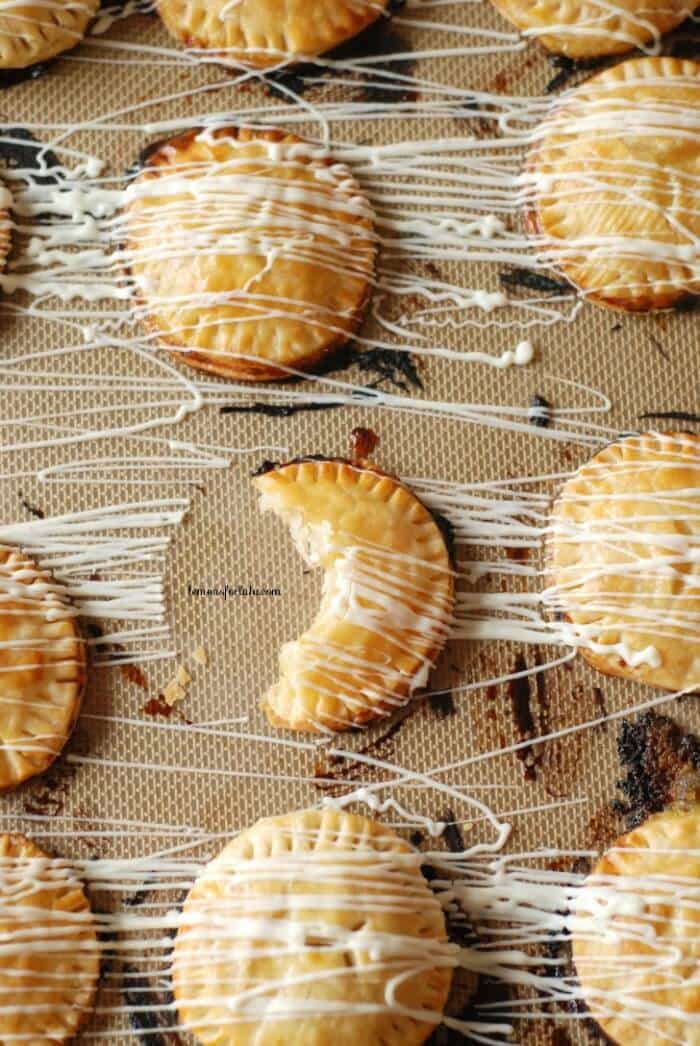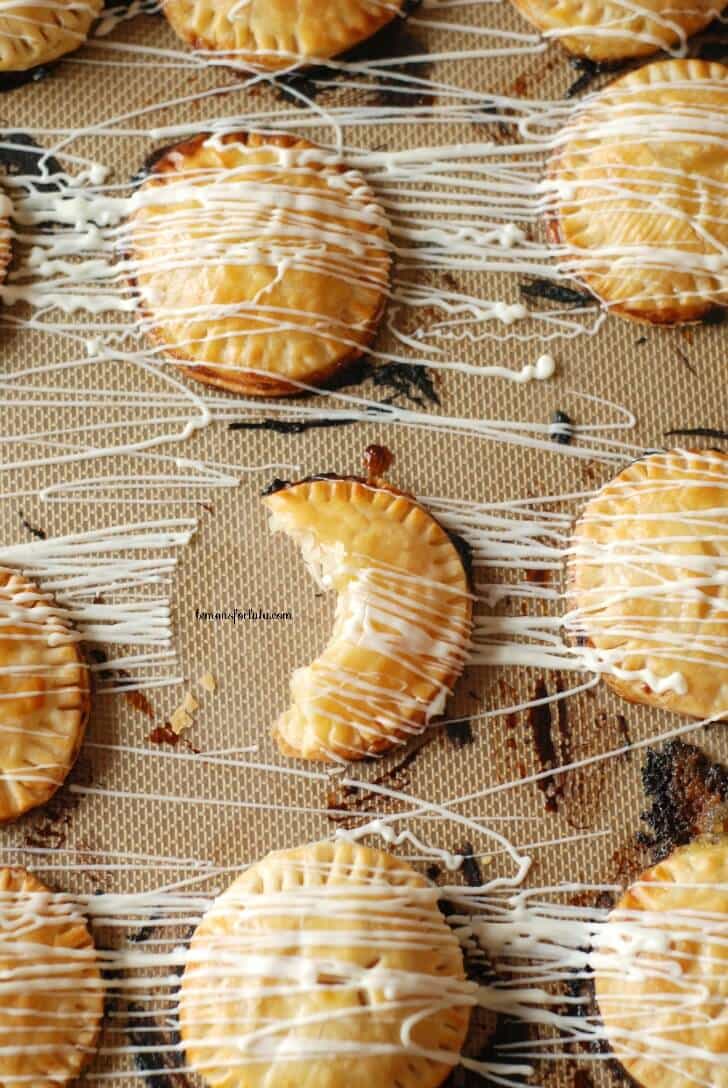 Until I discovered Hostess Fruit Pies.  During many bored summer afternoons, my friends and I would walk up to the local convenience store and spend all our money on candy and chips which we would promptly hide from our parents.  While my friends were busy picking out the Jolly Ranchers, Now 'n Laters, and Bazooka Gum, I was picking out the pies!  Unfortunately, this was my brush with indecision.  I could never choose between blueberry or the blackberry pies.  Then there were some days I could only think about the peach pie.
Mostly, however, I craved the mini lemon pies.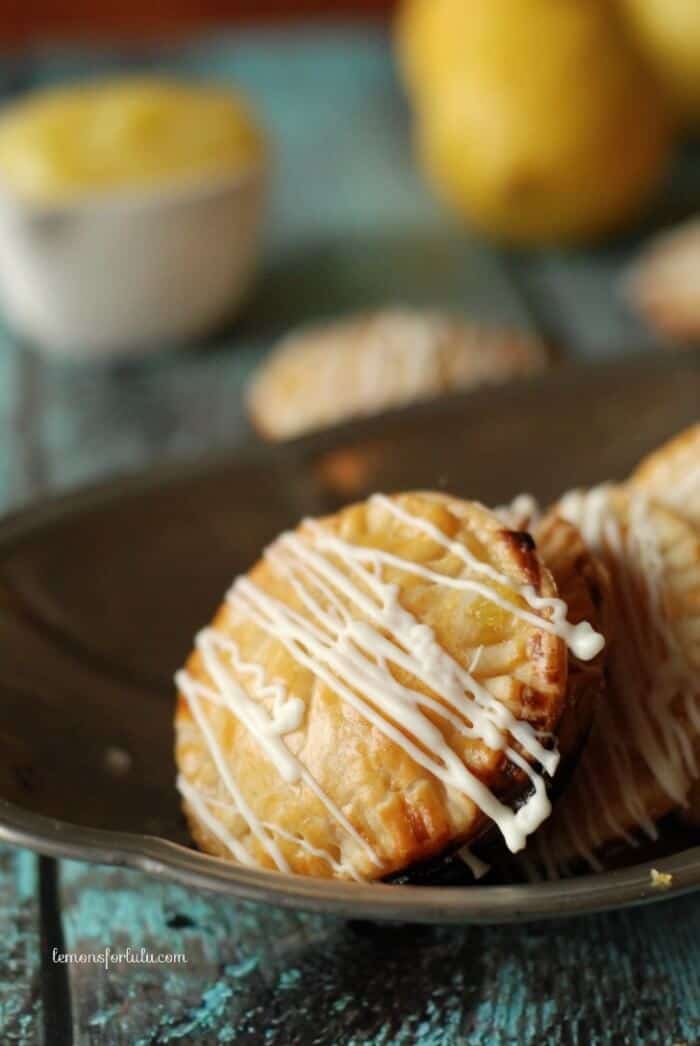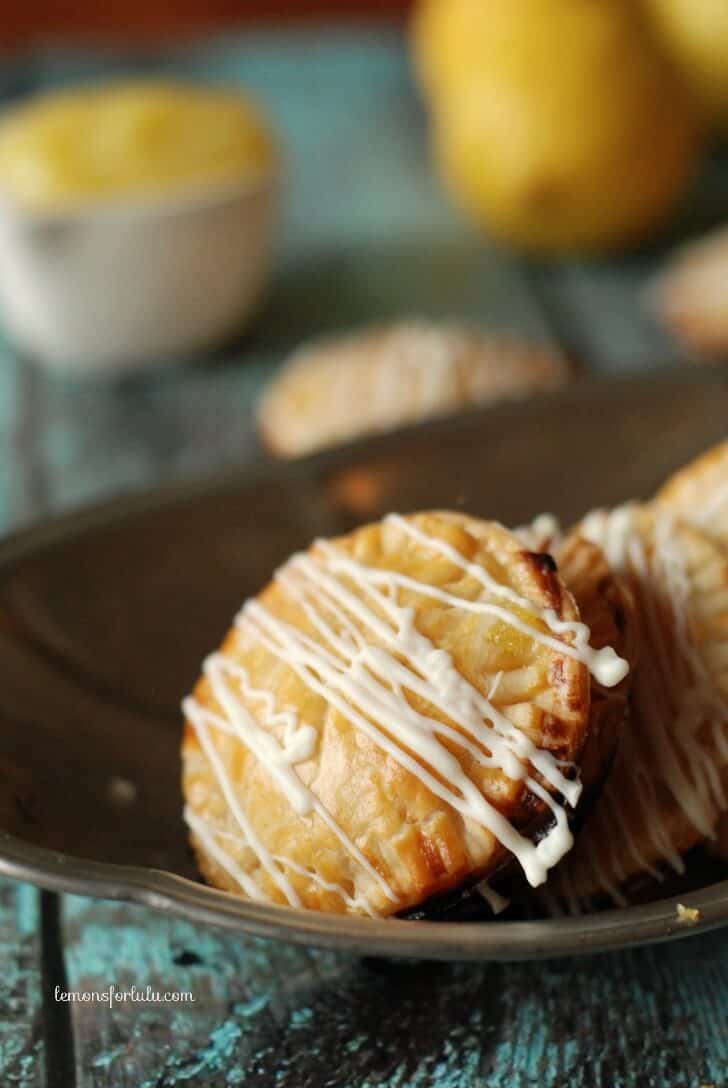 The lemon pies had that tartly sweet filling that was irresistible.  I'd buy them two at a time, sometimes three.  In my mind, I was getting the most value for my money.  My friends were crushing hard candy with their molars while I was biting into a whole soft, flaky PIE!  Suckers.
While I didn't exactly recreate my favorite childhood pie, these mini lemon hand pies are pretty darn amazing.
They were so simple to make, too.  They start with pre made Pillsbury pie crust which I filled with homemade lemon curd.  You could easily use store bought lemon curd, but once you see how simple it is to make lemon curd in your microwave, you will never buy store bought again.  A little drizzle of white chocolate accessorizes these pies nicely.  The only problem you'll have with these mini lemon hand pies is not eating them all at once.  I'd say that's a good problem to have, wouldn't you?
LEMONS FOR LULU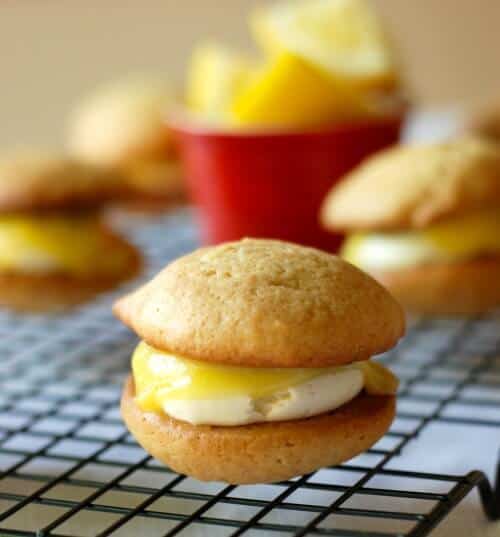 Mini Lemon Meringue Whoopie Pies
NEVER MISS A RECIPE! SUBSCRIBE TO MY EMAIL TODAY!
FOLLOW ME:
FACEBOOK | TWITTER| GOOGLE +| BLOGLOVIN | INSTAGRAM
Ingredients
1 14.1

package refrigerated Pillsbury Pie Crust

1

whole egg

1

tablespoon water

1

cup Lemon curd (recipe below)

1/3

cup white chocolate chips

1/8

teaspoon vegetable oil

1/4

cup butter melted

1/2

cup sugar

2

eggs

1

lemon zested

1/2

cup lemon juice
Instructions
In a bowl, combine sugar and eggs. Whisk in lemon zest and lemon juice. Stir in melted butter. Microwave lemon mixture for 1-minute stir. Continue to heat lemon mixture in 1-minute intervals until mixture begins to thicken and easily coats the back of a spoon. Refrigerate to set.
Meanwhile, bring piecrust to room temperature. Unroll one piecrust on a floured surface. Using a 3â?? biscuit cutter cut crust into circles and place dough on a cookie tray. You should get about 10-12 circles. Repeat with remaining piecrust. Place trays of dough in the refrigerator to chill about for 15 minutes.
Preheat oven to 425. Prepare egg wash by lightly beating together the egg and the water. Remove dough from refrigerator and place a spoonful of lemon curd onto the center of one tray of dough. Brush edges with egg wash and place circles from second tray over each lemon topped pie. Using a fork, crimp the edges to seal the pies. Generously brush the tops of each pie with remaining egg wash. Using a pairing knife, carefully cute 3 slits onto the tops of each pie. Bake pies for 12-15 minutes or until golden. Let cool completely.
In a small bowl, melt chocolate and vegetable oil together. Drizzle white chocolate over pies. Let set completely before storing.
Makes 12 mini pies.