Simple lemon bars with a shortbread crust, a sweet tea-infused lemon filling, and fresh mint!
A lemony glaze rests on top! A refreshingly simple dessert!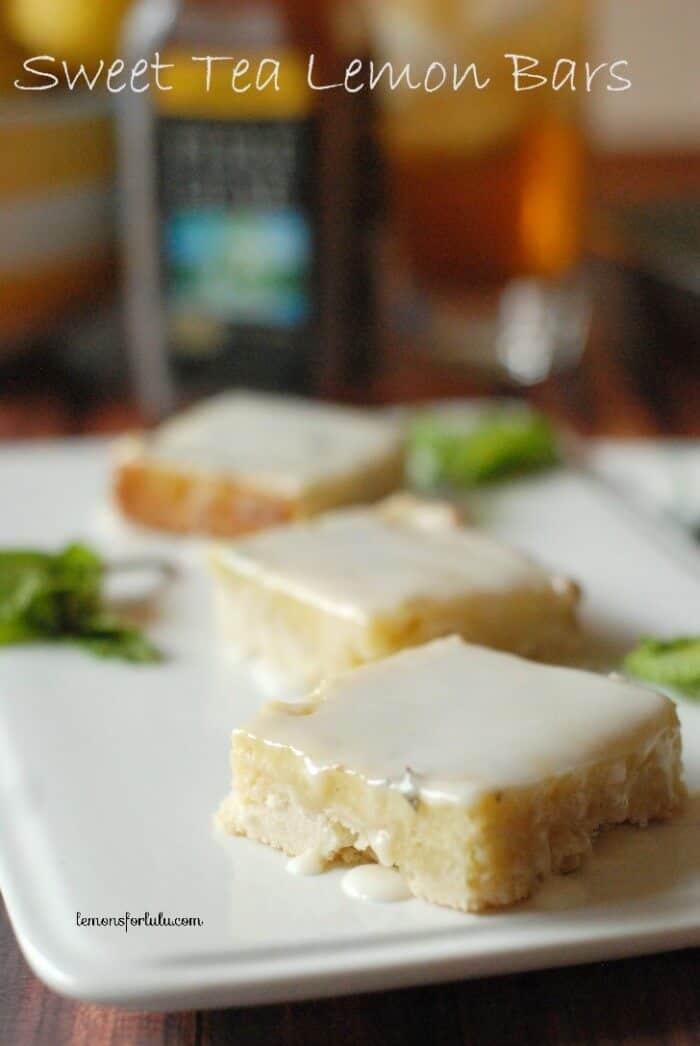 Lemon iced tea is a favorite so it's not hard to see why these dessert bars would be so special as well. Made with a simple recipe and using a delicious brew of sweet tea, every bite is refreshing and perfect for summer. Serve these up to impress the guests or keep them all to yourself (you know you'll want to). This recipe makes a lot of delicious squares perfect for that lemon tea craving you're having.
Made with basic ingredients you will never look at lemon bars or your favorite bottled sweet tea the same way again! This dessert is truly a blend of harmony in every sweet bite.
Easy Lemon Bars
The crust for the bars is a very easy shortbread crust; just like the base of my Chocolate Caramel Shortbread bars. It will look crumbly when you pat it into your pan, but it will bake up perfectly. The filling is all about the tea! I used Pure Leaf with Lemon in place of all lemon juice in traditional lemon bars, then I added an oversized spoonful of fresh mint. While a dusting of powdered sugar on top would be sufficient, I decided to go all out and boost the citrus in these lemon bars by adding a lemony glaze. Each bite bursts with flavor.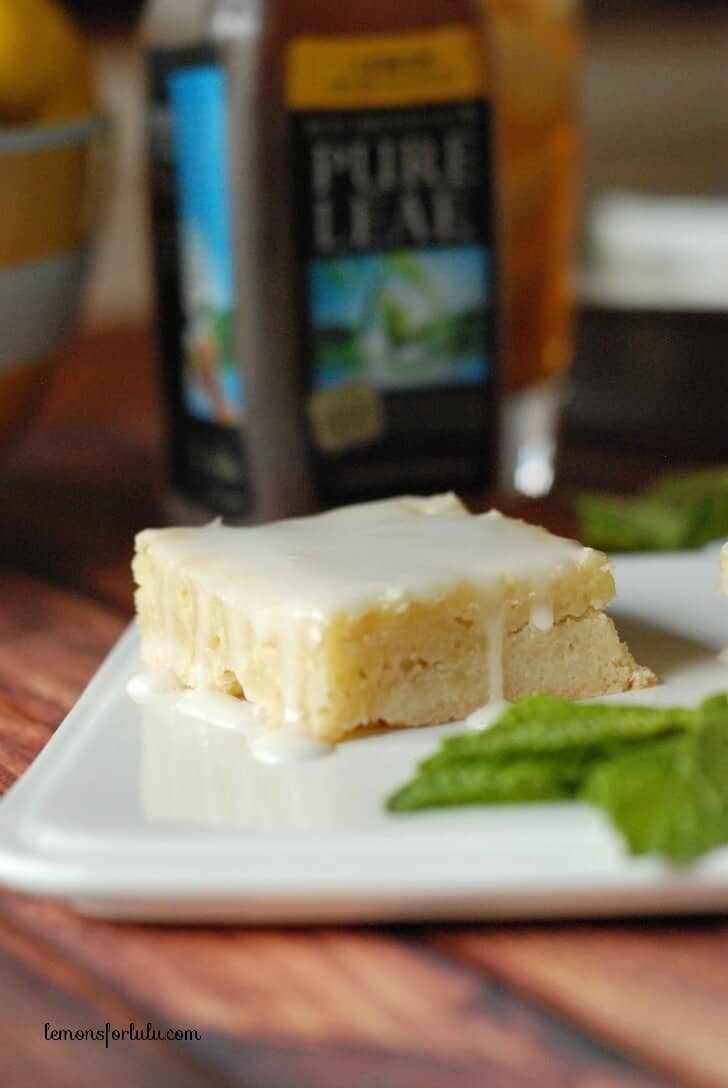 Ingredients
Crust
Butter
Granulated sugar
All-purpose flour
Filling
Eggs
All-purpose flour
Sweetened condensed milk
Baking powder
Salt
Pure Leaf Iced Tea with Lemon
Lemon juice
Lemon zest
Fresh mint
Glaze
Powdered sugar
Lemon juice
Lemon sweet tea
For the exact amounts needed, please see the recipe card below.
How to Make Sweet Tea Lemon Bars
Preheat your oven to 350 degrees F.
Cream together the butter and sugar in a medium-sized bowl. Mix in the flour until combined. The dough will be crumbly as you press it into the bottom of an 8×8 square baking dish.
Bake in the oven for 20 minutes or until golden in color.
Remove from the oven and then let cool while you prepare your filling.
In a small bowl, whisk the eggs and milk together.
Stir in the flour, baking powder, and salt until combined.
Add in the tea, lemon juice, lemon zest, and fresh mint.
Pour the filling over the top of the crust.
Return the bars to the oven and bake for another 18-20 minutes or until set.
Remove from the oven and let cool completely.
When the bars have cooled, combine the powdered sugar, lemon juice, and tea.
Pour the glaze over the top of the cooled bars, spread it out to smooth the top.
Keep the bars in the fridge until ready to slice and serve.
FAQs
How long are lemon tea bars good for?
These bars can be left stored in an airtight container in the fridge for up to 5 days. I recommend eating them within 2 or 3 days for the best tasting results. You may eat them cold but they taste great after you let them sit for just a few minutes at room temperature to soften so that they are still slightly chilled but not super hard and chewy.
What tea works well for this recipe?
You can use homemade brewed tea or a bottle of your favorite tea. I enjoy using the Pure Life brand as it's not too strong or too weak and leaves a great but slightly subtle taste in every square. If you home brew your own tea you can adjust how much tea flavor you want or do not want in these bars but I recommend sticking with plain black tea or even plain green tea if you think you would enjoy that taste more.
Can I freeze lemon tea squares?
Yes, these bars can be made and then frozen for up to 3 months. I recommend not adding a glaze until ready to serve as it just makes it less messy but you can freeze it after it's been glazed if desired.
Check out these other delicious lemon recipes
Yield: 12 bars
Sweet Tea Lemon Bars
Simple lemon bars with shortbread crust, a sweet tea infused lemon filling and fresh mint! A lemony glaze rests on top!
Ingredients
Shortbread crust
2/3 cup butter, softened
1/4 cup sugar
1 1/4 cup flour
Lemon Filling
2 eggs
3/4 cup sweetened condensed milk
2 teaspoons flour
1/2 teaspoon baking powder
1/8 teaspoon salt
1/3 cup Pure Leaf Iced Tea with Lemon
juice from 1 lemon
zest from 1 lemon
1 tablespoon fresh mint, finely chopped
Lemon Glaze
1 cup powdered sugar
juice from 2 lemons (or 2-3 tablespoons)
1 tablespoon Lemon sweet tea
Instructions
Preheat oven to 350 degrees. In a medium bowl, cream together butter and sugar. Mix in flour. Dough will be crumbly as you press into an 8 x 8 square-baking dish. Bake for 20 minutes or until golden. Remove from oven and let cool while your prepare the filling.
In a small bowl, whisk together the eggs and milk. Stir in the flour, baking powder and salt. Add tea, lemon juice, zest and finally fresh mint. Pour over baked crust. Return bars to oven and bake for 18-20 minutes or until set. Remove and let cool completely.
When bars have cooled, combine powdered sugar, lemon juice and tea. Pour glaze over cooled bars, spreading to smooth.
Keep bars refrigerated
Nutrition Information
Yield
12
Serving Size
1
Amount Per Serving
Calories

302
Total Fat

13g
Saturated Fat

8g
Trans Fat

0g
Unsaturated Fat

4g
Cholesterol

65mg
Sodium

184mg
Carbohydrates

44g
Fiber

1g
Sugar

31g
Protein

4g