I have been compensated for this post, but I assure that all opinions are 100% my own!
Simple lemon bars with shortbread crust, a sweet tea infused lemon filling and fresh mint! A lemony glaze rests on top! A refreshingly simple dessert!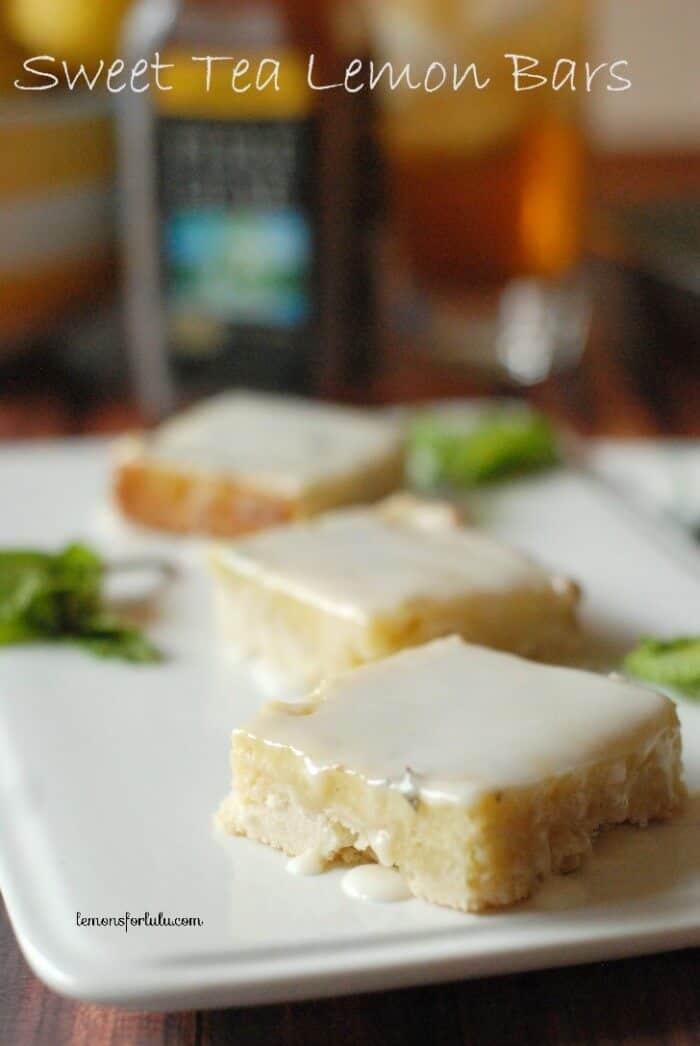 There was a time when I actually drank my coffee black and my tea straight up. I was hard core, although I'm not really sure how that ever got started. I've always been very fond of very sweet things. My love affair with bitter tasting beverages has waned over the years. I've realized that I've been heavily influenced by those around me. Which is probably how I got started drinking black coffee in the first place. I'm such a conformist.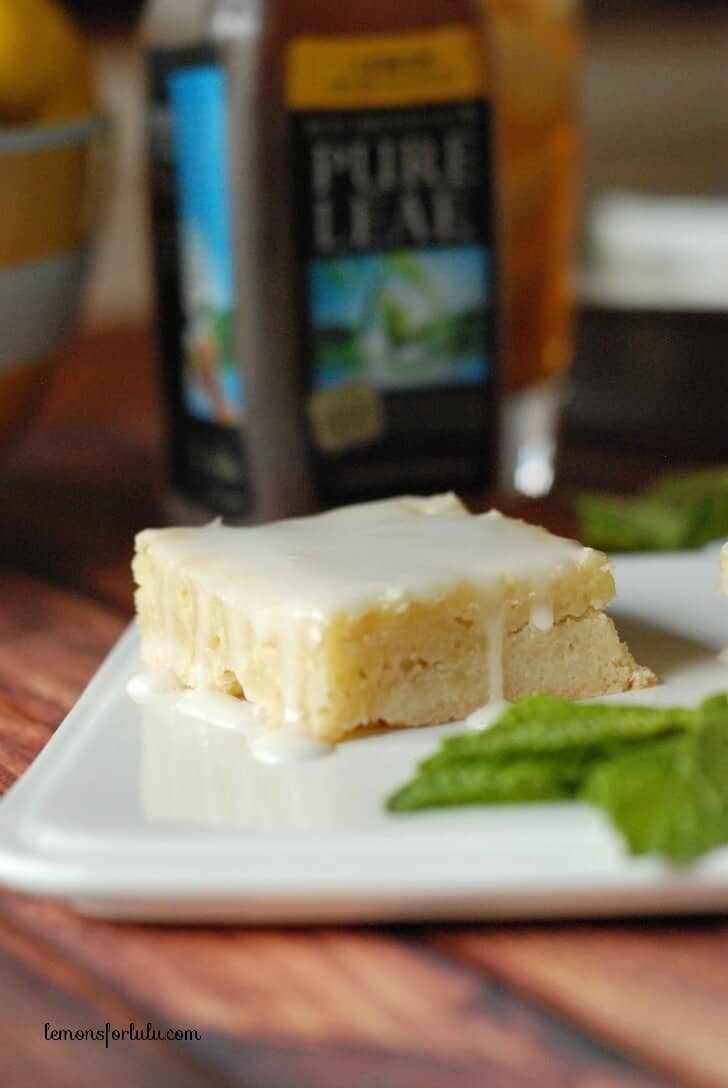 I had my first taste of sweet tea when I was eating lunch at my friend's house. I politely accepted a tall, cold glass of tea but did not expect the mouth puckering sweetness that came with that first sip. At first I thought there was absolutely no way I could drink this. But not wanting to appear rude, I downed my entire glass and promptly asked for more. It was the best tea I had tasted in a long time. It got me wondering where sweet tea had been my whole life!
Sweet tea is surfacing everywhere, and for that I am happy. I am in love with sweet tea. I prefer mine with a hint of lemon, but honestly I'll drink it no matter what. If it's sweet, it's mine! I was happy to find this Pure Leaf Iced Tea with Lemon in my grocery store, it has the right amount of sweetness. It has now become a household staple. My family has been known to fight over the last bottle, naturally I win. This tea is so refreshingly simple and pure, it's as if I brewed it myself. Which makes sense, because all Pure Leaf Iced Tea is made from REAL tea leaves to taste just like real brewed tea. Perfect.
You know me, I can't simply drink the Pure Leaf Iced Tea, I have to make something with it too! It didn't take me long to come up with the idea of making lemon bars, since the lemon flavored ice tea is my most favorite. The crust for the bars is a very easy shortbread crust; just like the base of my Chocolate Caramel Shortbread bars. It will look crumbly when you pat it into your pan, but it will bake up perfectly. The filling is all about the tea! As I mentioned, I used Pure Leaf with Lemon in place of all lemon juice in traditional lemon bars, then I added an oversized spoonful of fresh mint. While a dusting of powdered sugar on top would be sufficient, I decided to go all out and boost the citrus in these lemon bars by adding a lemony glaze. Each bite bursts with flavor.
Now that I realize I can bake with sweet tea, I love it even more! I am especially fond of Pure Leaf Ice Tea. It's made with the finest ingredients to be perfectly balanced, fresh and delicious.
OH SWEET LEMON
Sweet Tea Lemon Bars
Simple lemon bars with shortbread crust, a sweet tea infused lemon filling and fresh mint! A lemony glaze rests on top!
Ingredients
2/3 cup butter, softened
1/4 cup sugar
1 1/4 cup flour
2 eggs
3/4 cup sweetened condensed milk
2 teaspoons flour
1/2 teaspoon baking powder
1/8 teaspoon salt
1/3 cup Pure Leaf Iced Tea with Lemon
juice from 1 lemon
zest from 1 lemon
1 tablespoon fresh mint, finely chopped
1 cup powdered sugar
juice from 2 lemons (or 2-3 tablespoons)
1 tablespoon Lemon sweet tea
Instructions
Preheat oven to 350 degrees. In a medium bowl, cream together butter and sugar. Mix in flour. Dough will be crumbly as you press into an 8 x 8 square-baking dish. Bake for 20 minutes or until golden. Remove from oven and let cool while your prepare the filling.
In a small bowl, whisk together the eggs and milk. Stir in the flour, baking powder and salt. Add tea, lemon juice, zest and finally fresh mint. Pour over baked crust. Return bars to oven and bake for 18-20 minutes or until set. Remove and let cool completely.
When bars have cooled, combine powdered sugar, lemon juice and tea. Pour glaze over cooled bars, spreading to smooth.
Keep bars refrigerated
Nutrition Information
Yield

12
Serving Size

1
Amount Per Serving
Calories

302
Total Fat

13g
Saturated Fat

8g
Trans Fat

0g
Unsaturated Fat

4g
Cholesterol

65mg
Sodium

184mg
Carbohydrates

44g
Fiber

1g
Sugar

31g
Protein

4g