Detox Water is refreshing, cool, and loaded with health benefits!
Don't save this drink for summer, drink it all year long!
With all the fresh flavors and vibrant colors, you won't be able to drink water any other way!
I don't get to the spa very often, but facials are one of my most favorite things. I used to do my own facials when I was in my early twenties. You know, back when I had zero expendable income. I had an elaborate routine. I would start simply by washing my face. Then I would apply an egg mask. I'd use the yolks if my face was dry and the whites if my face was oily.
Once the egg mask was washed off, I would heat a small saucepan with water and chamomile tea. When the water was simmering, I would place a towel over my head, and place my face over the tea and allow the steam to open up all my pores.
The last step was to apply face lotion and rest with cucumbers over my eyes. As I said, it was elaborate. It was simple and it was cheap too. I'm not 100% sure how it affected my skin, but it made me feel pretty good about myself, so that was something.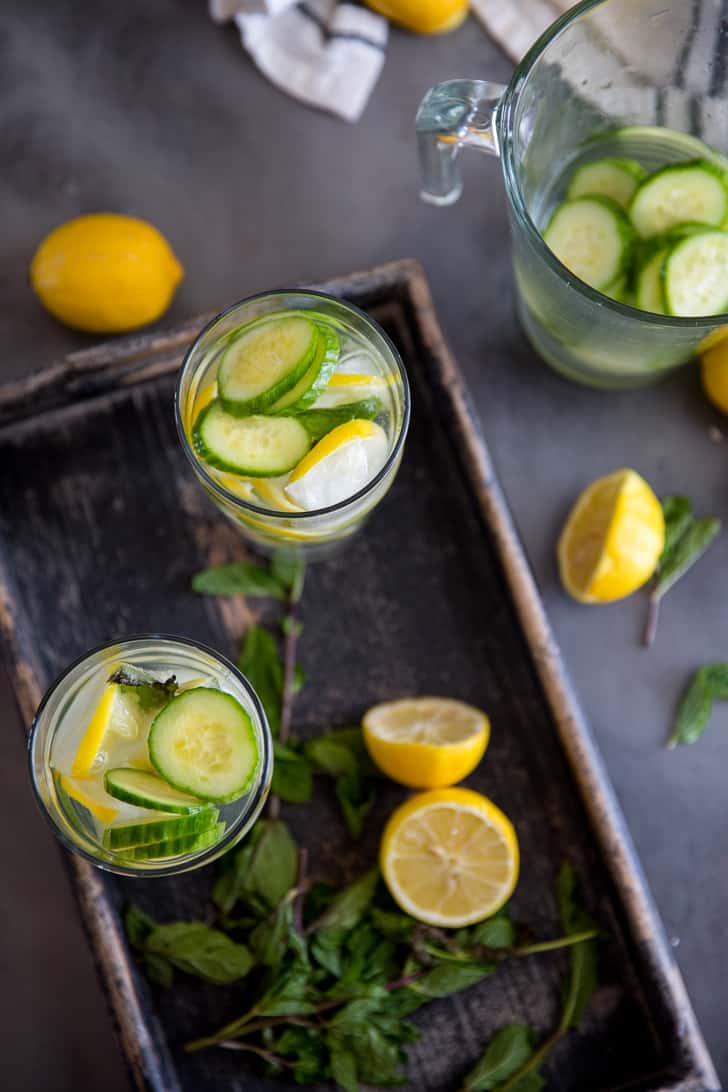 Cucumbers resting on eyes has always been synonymous with the spa. That mostly has to do with the hydrating quality that cucumbers have. They are cool and soothing and can add moisture to our thirsty skin. But cucumbers are magical when it comes to adding slices to plain old water.
What Is Detox Water?
Detox water is made by infusing water with fresh fruit, vegetables, herbs or even spices. Sometimes this is called fruit flavored water or just infused water.
Any time you add fresh fruits and vegetables into your diet, you are reaping health benefits. There is the added vitamins and minerals for one thing, but also, many natural ingredients can have anti-inflammatory properties and are good for flushing out toxins.
Detox water is a great substitute for sugary and high-calorie drinks. Infused water has very few calories and keeps the body hydrated, plus it tastes great!.
Detox Water For Weight Loss?
Yes! You may not realize this, because we take water for granted, but water can actually help you rev up your metabolism. A more efficient metabolism can not only help you lose weight, but it can help you maintain a flat belly.
Adding a few superfoods to plain old water not only makes it taste good, but it can help you burn fat, keep you from feeling bloated and give you an energy boost.
Other Possible Benefits of Detox Water:
Aids in digestion
Detoxifies the system
Balances in pH
Improve mood
Improve complexion
Improves Immune System
Fat burning
While some of these benefits could be attributed to the water alone, adding your favorite herbs and fruits sure do make the water taste better!
How To Make Detox Water
Making detox water at home could not be simpler. Simply chop your fruits and veggies and add them along with herbs (if using) to hot or cold water. The more ingredients you use, the more intense the flavor will be.
You can add your ingredients to your water and allow it to sit in the fridge for up to 12 hours. When ready to drink remove or strain the ingredients (the fresh ingredients can break down and become bitter after a while).
Detox Water Combinations:
Lemon, Cucumber
Strawberry, Basil
Orange, Lemon, Mint
Grapefruit- Rosemary
Cucumber, Lime, Kiwi
Ginger, Lemon, Mint
Cucumber, Mint
The fruited detox water recipes are mildly sweet, while the cucumber water is crisp and light! Both (well, all of the above) are refreshing and delicious!
Sometimes, I like to add fruit and herbs to ice cubes to have infused water ready whenever I need it! Once the ice cubes melt, remove the fruit to prevent any bitter taste.
How Much Detox Water Should I Drink A Day?
Most experts suggest that the AVERAGE person should drink 64 oz of water a day. But this number can vary depending on your weight, activity level, and diet goals.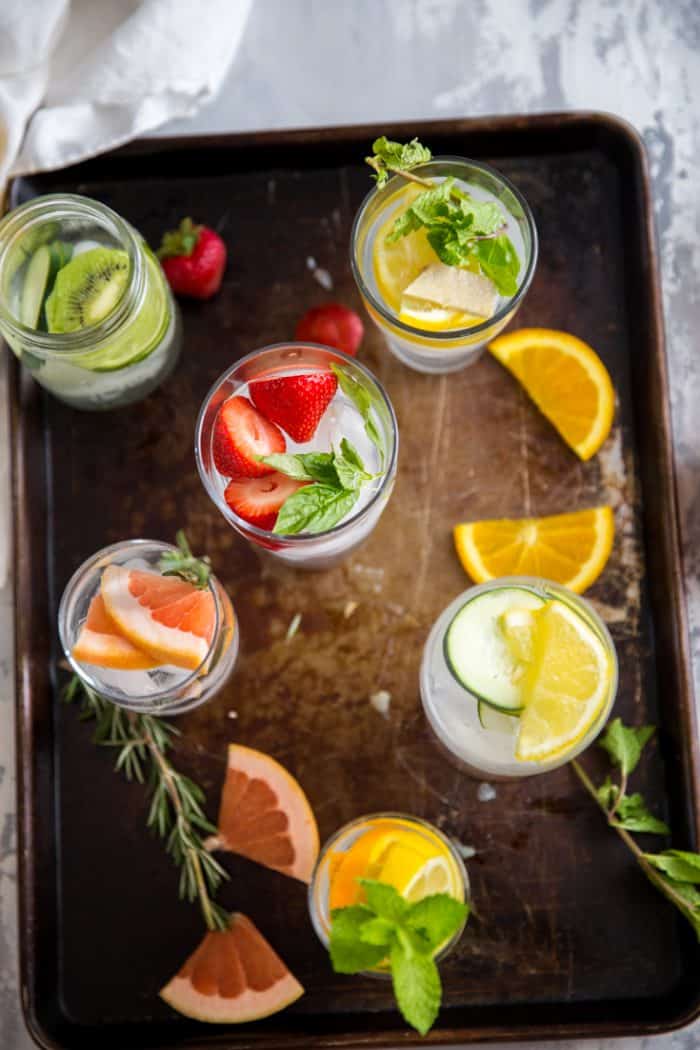 Which Detox Water Is Best For Weight Loss?
The truth? The one you will drink the most! Find your favorite flavor combinations and stick with it. The more water you drink, the better it is for you!
There really is no right or wrong answer here.
How Long Does Detox or Fruit Infused Water Last?
Fruit-infused water is best when consumed within a couple of hours after the water has been in the infusing in the fridge.
Certain fruits and vegetables are good for 2 or even three infusions. Cucumber slices can be reused as can some berries like blueberries and blackberries (strawberries can be reused if they are not overly ripe).
Some citrus can be reused, but you will have to watch for any bitter taste.
Can Detox Water Be Made In A Plastic Water Bottle?
Yes, you can make infused water in plastic, glass, and stainless steel containers. Just be sure that the plastic you use is BPA free.
There are quite a few water bottles available that have a built-in infusion filter.
Is Detox Water Keto?
Yes and no. If you are following a Keto diet, be mindful of the fruit you use to infuse your water. In general, lemon slices will not have enough carbs to kick you out of ketosis.
Lemon juice, ginger, cucumber, and herbs are all acceptable for the Keto diet. And when you are ready for more, try this Detox Salad too!
Want more refreshing drinks? Try Acai Refresher, Vanilla Pear Shrub, and Strawberry Rickey!
*Disclaimer* I am not a nutritionist or a medical professional. While I have researched the benefits of detox water, I cannot say with certainty that these benefits are always 100% accurate.
Increasing your water intake on a daily basis has proven benefits. But if you aren't sure if this is for you, please consult with your doctor.
Cucumber Lemon Detox Water
Cucumber Lemon Water is refreshing, cool, and loaded with health benefits! Don't save this drink for summer, drink it all year long!
Ingredients
Ingredients:
½ lemon, sliced
fresh mint leaves
1 cucumber, sliced
Water
Instructions
Place a half a lemon slice and a mint leaf an ice cube tray, fill with water and freeze.
Slice cucumbers and put them in a pitcher, fill with water.
To serve, place lemon ice cubes in a glass, top with cucumber water.
*Discard produce once used, citrus will turn soft and bitter*
Notes
Other Detox Water Combinations:
Lemon- Cucumber
Strawberry -Basil
Orange, Lemon, Mint
Grapefruit- Rosemary
Cucumber, Lime, Kiwi
Ginger, Lemon, Mint
Nutrition Information
Yield

4
Amount Per Serving
Calories

12
Total Fat

0g
Saturated Fat

0g
Trans Fat

0g
Unsaturated Fat

0g
Cholesterol

0mg
Sodium

4mg
Carbohydrates

3g
Fiber

1g
Sugar

1g
Protein

1g