Cucumber Mint Cooler Recipe-nothing will keep you cool and refreshed quite like this cucumber mint cooler recipe! Crisp cucumber, fresh mint, and lemon sparkling water are all you need to quench your thirst!
The only two beverages I need in my life are coffee and water. Mojitos and dirty Cokes are nice too, but I CAN live without those. I cannot live without coffee; it helps me cope with the fact that I am upright each morning and water fills me up the rest of the day. Coffee and water; water and coffee…the simple bare necessities of life.
Then one day, while eating lunch out with a friend, I indulged in a cucumber refresher, and my taste buds were forever changed. I would no longer be satisfied with plain, tasteless water. My sophisticated taste buds were going to demand cucumbers, mint, and lemony effervescences. The cucumber refresher I enjoyed enlivened every inch of my mouth like no other beverage. It was fizzy, light, crisp and totally refreshing. I knew one was not going to be enough. I would have to try to recreate this at home.
My cucumber mint cooler recipe
I think I did a damn good job too! My cucumber mint cooler recipe is sparkling water beefed up. I sliced English cucumbers (fewer seeds than your average cucumbers) and tossed them into a glass along with handfuls of fresh mint and a few lemon slices. I topped this off with San Pellegrino Lemonata, a little ice, and then I guzzled it down. I think I actually did one of those out loud "ah's" people do in soda commercial. I probably had the same admiring grin too. Then I opened up another can to repeat the recipe.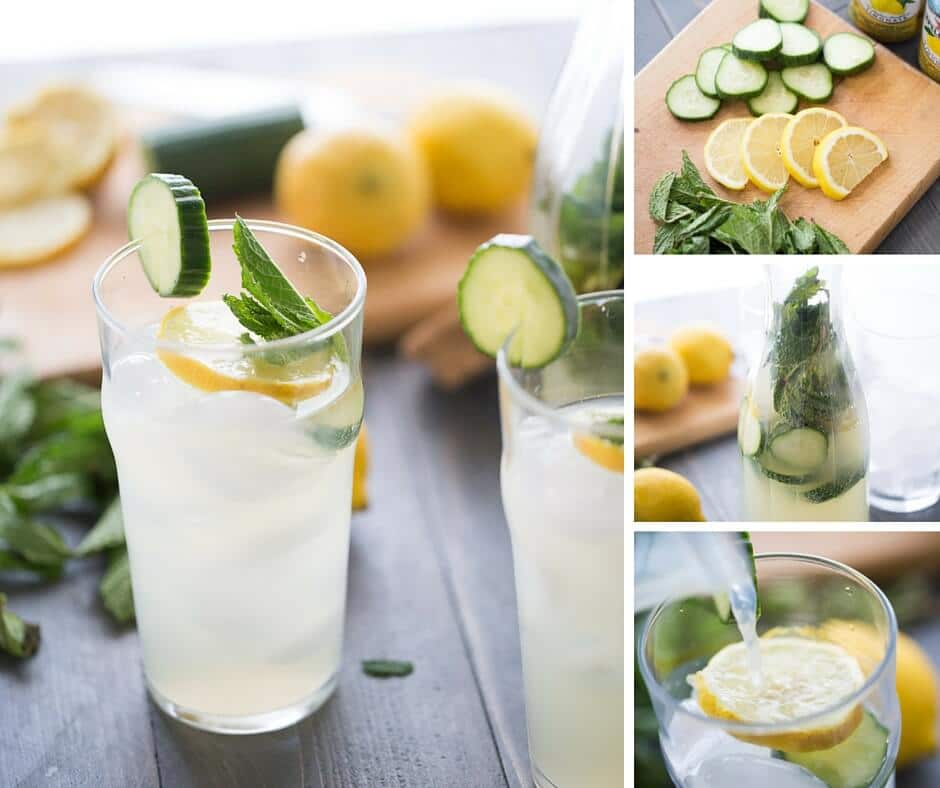 You could use only use lemons and add unflavored sparkling water if you wish. You'll notice that my recipe really doesn't give much in the way of measurements. You have to go with the gut on this cooler recipe. Add what you like, take away what you don't. It's all good; it's all refreshing!
Want more refreshing drinks? Try Detox Water , Acai Refresher, Vanilla Pear Shrub, and Strawberry Rickey!
Cucumber Mint Cooler
Crisp cucumber, fresh mint, and lemon sparkling water are all you need to quench your thirst!
Ingredients
1/2 cup cucumber, thinly sliced
1 bunch mint leaves
1 lemon, sliced
2 cans (11.15 oz each) San Pellegrino Limonata
Instructions
Divide cucumber slices, mint leaves and lemon between 4 glasses, top with ice and lemon sparkling water. Serve.
Nutrition Information
Yield

4
Serving Size

1
Amount Per Serving
Calories

47
Total Fat

0g
Saturated Fat

0g
Trans Fat

0g
Unsaturated Fat

0g
Cholesterol

0mg
Sodium

11mg
Carbohydrates

12g
Fiber

1g
Sugar

10g
Protein

0g