Beef brisket is slow cooked to a tender perfection then placed on top of French fries and drizzled with a succulent gravy.  This poutine recipe is unforgettable!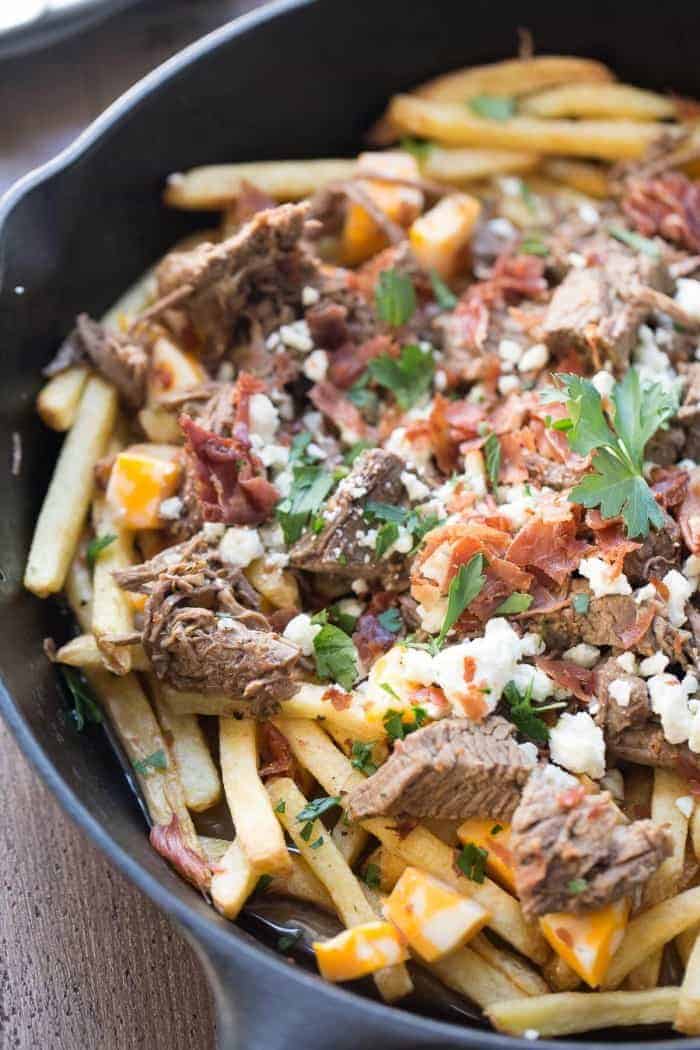 The first time I tasted a poutine recipe was during a recent trip to North Carolina.  I wasn't so sure about the whole gravy and the cheese curds that made up a good part of the poutine, but I dug in nonetheless.  What I wasn't expecting was how beautifully the silky, salty gravy tasted with the smoky brisket and the crispy French fries.  I found myself lapping up the gravy with one French fry at a time and when I ran out of fries, I had to stop myself from licking the skillet.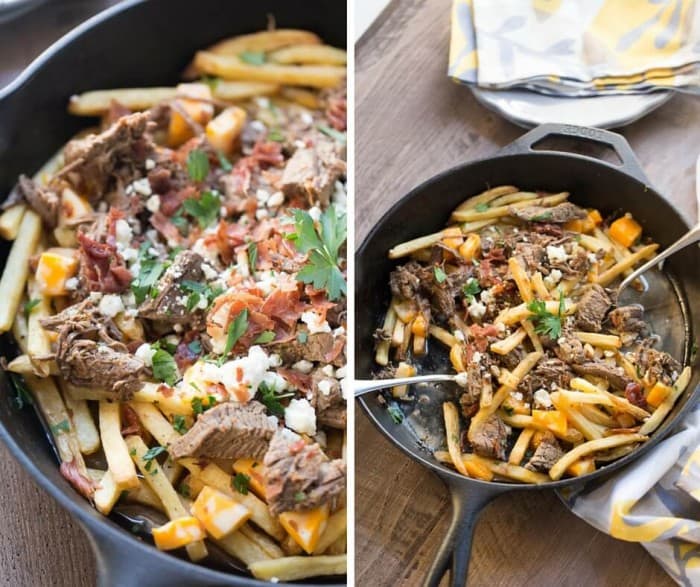 My poutine recipe
I came home determined to recreate that poutine recipe but with my own tastes in mind.  I am a big fan of beef brisket and it's so easy to prepare in the slow cooker.   I adapted this brisket recipe for this poutine.   While the thick gravy was delicious in the original recipe, I wanted something a little lighter.  My poutine recipe also has bacon, because, duh everything is better with bacon.  Since cheese curds aren't my thing and they aren't readily found in my grocery store I used cubed Colby jack cheese and crumbled blue cheese.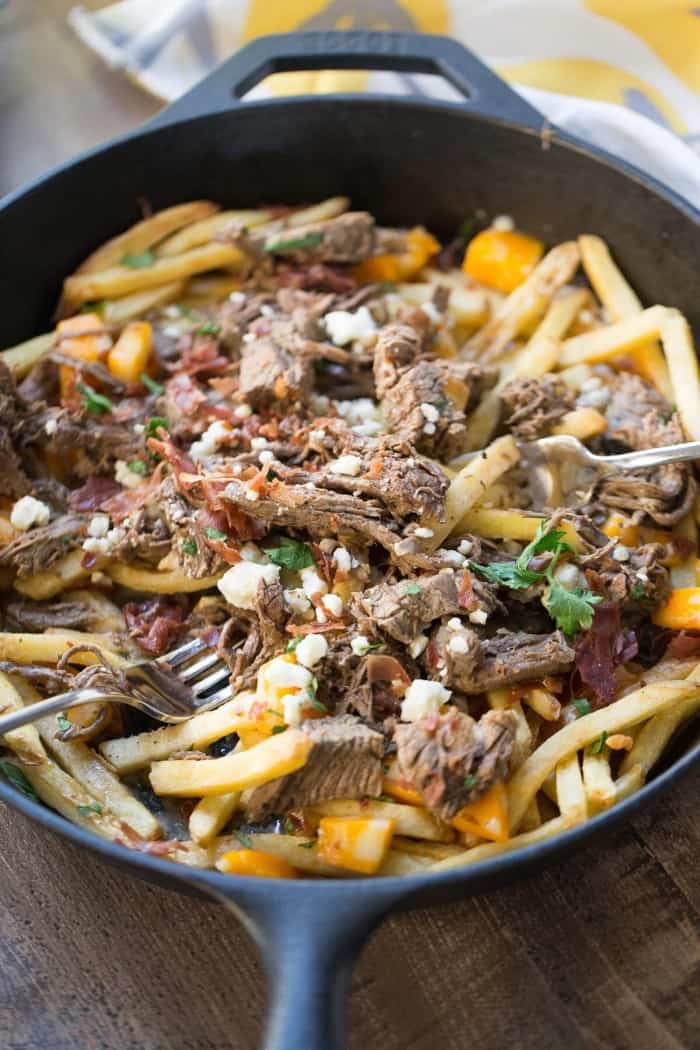 I think my version surpassed the original poutine recipe.  While the basic elements were the same, the flavors were outstanding.  The crispy French fries are coated in a delicate sauce like gravy that drips from the shredded brisket.  The Colby jack cheese melts over the brisket and the fries and is a mild counterpart to the tangy blue cheese that is complimented by the salty bacon.  Forks and knives are optional in this meal.  Just dig in with your fingers if you must!
The best part about having this poutine recipe at home was when all the fries were gone, I COULD actually lick the skillet clean.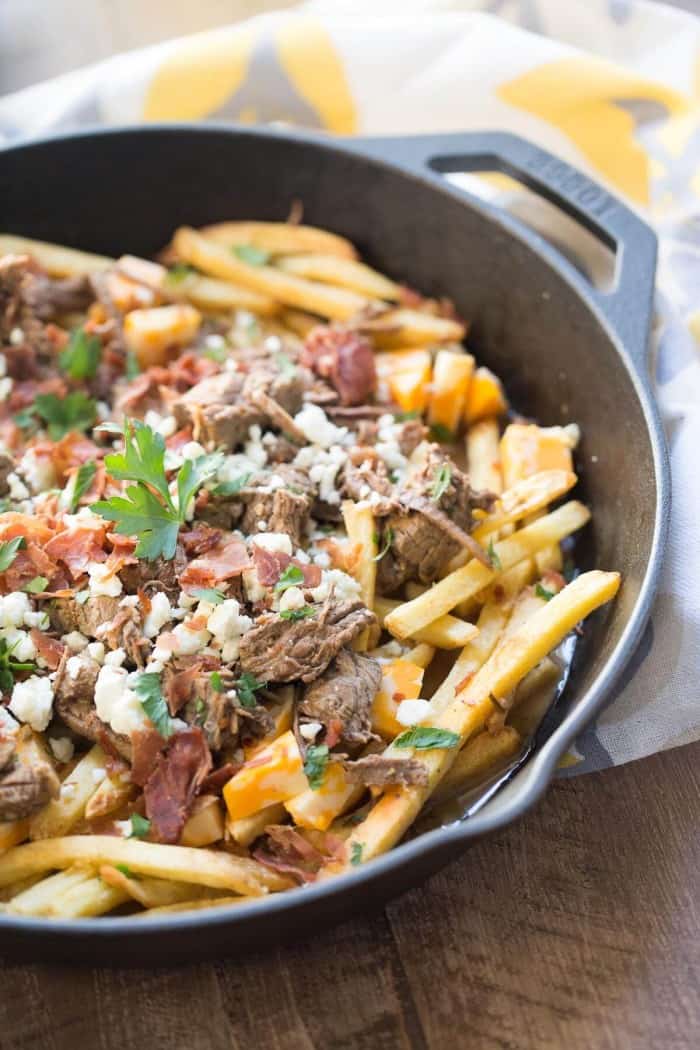 Ingredients
2

lb beef brisket

1

teaspoon salt

1

teaspoon rosemary

1

teaspoon oregano

1/2

teaspoon paprika

1

tablespoon Worcestershire sauce

2

tablespoons balsamic vinegar

1

cup beef broth

1

lb french fries

1

cup cubed Colby jack cheese

1/2

cup crumbled blue cheese

1/4

cup crumbled, cooked bacon
Instructions
To prepare the brisket, place the brisket in a slow cooker, season with salt, rosemary, oregano and prapika. Pour Worcestershire sauce, balsamic vinegar and broth over brisket. Cover and cook for 1 hour on high; reduce heat to low and cook an additional 2 hours. Shred brisket. Remove 1/2 of the liquid from the slow cooker and whisk in 1 tablespoon of cornstarch. Return liquid to the slow cooker to keep warm.
Prepare French fries according to package directions. We crispy, place French fries in a cast iron skillet. Top with shredded brisket, bacon, Colby jack cheese and blue cheese, Drizzle reserved sauce over the poutine.
Place poutine in a 350 degree oven and heat just until cheese is melted. Serve immediately.