Braised Brisket is a one pot wonder!
Brisket, veggies and a perfect sweet-savory sauce is slow cooked to perfection!
Brisket is one of my favorite cuts of beef. The first time I tried brisket was at a dinner party at a neighbor's house. He had slow cooked the brisket in a smoker for hours. I savored every single bite. It was so good that I kinda sorta guilted my neighbor into making me a brisket after my third child was born. It probably wasn't my proudest moment, but dang that was good brisket.
Now Braised Brisket
Fast forward several years and here I am once again craving a brisket. I do not own a smoker. While I could have used my slow cooker, this time I opted to rely on my trusty, dusty oven to cook my brisket. Just like this recipe for Slow Cooker Braised Short Ribs, I chose to braised my brisket, which is a fancy word for saying "I seared my meat and then cooked it in a closed container in the oven for several hours". Foodies love fancy cooking words.
As I mentioned, I browned my beef quickly on each side so that it would get a nice crust going before I set it in the oven. I quickly cooked some carrots and little cipollini onions. I love those tender little onions. They are small but mighty. Visalia or white onions are fine, but I thought the cipollini added a sweet little punch.
The secret to this brisket is the Rothschild Organic Hot Cherry Dip. Don't get hung up on the word "dip". These little jars are amazing! They are concentrated jars of flavor. I added a whole jar of this cherry dip to my pan along with chicken broth, to make the most amazing sweet and savory sauce for this brisket. The tart cherries in the dip become sweeter as they slowly cook in the pan. The wine portion of this dip becomes pronounced so that each bite brings you the perfect blend of sweet and savory. They are the perfect companion for the tender, slow-cooked beef.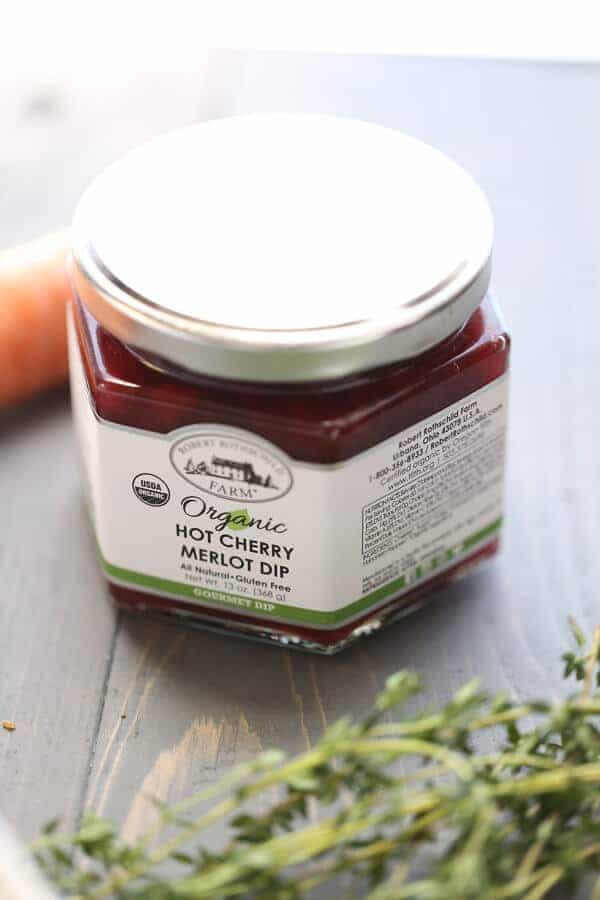 The next time my craving for brisket strikes, I'll skip the BBQ joints and make my own braised brisket instead.
Sweet and Savory Braised Brisket
Total Time:
3 hours
15 minutes
Brisket is slow cooked in a sweet savory sauce for unforgettable flavor.
Ingredients
3 lbs beef brisket
2 teaspoons olive oil
salt, pepper
3 whole carrots, chopped
3/4 lbs cipollini onions
3 cloves garlic
1 jar Rothschild Farms Organic Hot Cherry Merlot Dip (13 oz.)
1 14 oz can chicken broth
1 bunch fresh thyme
Instructions
Preheat oven to 325.
Heat olive oil in a Dutch oven or a deep skillet. Season brisket with salt and pepper and place in pan. Sear both sides of brisket for 3-4 minutes or until browned. Remove brisket from pan, set aside. Add carrots and onions to pan. Cook for 5 minutes or until vegetables begin to soften. Add garlic, merlot dip, broth and thyme sprigs to vegetables. Return brisket to pan. Cover and place in oven for 3 hours.
Remove brisket to a cutting board and allow it to sit for 5 minutes. Cut brisket across the grain and serve with sauce.
*to peel onions: place onions in a bowl and over with boiling water. Allow onions to sit for 2-3 minutes. Drain water and carefully peel onions.
Nutrition Information
Yield

8
Serving Size

1
Amount Per Serving
Calories

559
Total Fat

34g
Saturated Fat

13g
Trans Fat

0g
Unsaturated Fat

16g
Cholesterol

183mg
Sodium

412mg
Carbohydrates

7g
Fiber

1g
Sugar

3g
Protein

50g