A savory hand pie that starts with a pre-made crust for ease and simplicity and is stuffed
with lots of bold Greek flavors!
Eating with your hands is so much more fun than eating with utensils. Sure, forks and knives are neat, civilized, and mannered. But foods that are meant to be eaten with your hands are often so much more fun! These savory hand pies are a delicious chance at finger food or a nice meal on the go. No one can resist a warm meaty filled pie in a flaky buttered crust, especially when they're already portioned and easy to grab off a plate.
What Are Hand Pies?
Hand pies are little-crimped pie dough rounds that are filled with either a sweet or savory filling. I think the sweet versions are always a hit. My family loves both these lemon hand pies and these cinnamon roll hand pies,
But savory hand pies can hold their own, especially with the right filling. Spanakopita Hand Pies and taco hand pies are both worthy recipes, but these little Greek Hand Pies are special.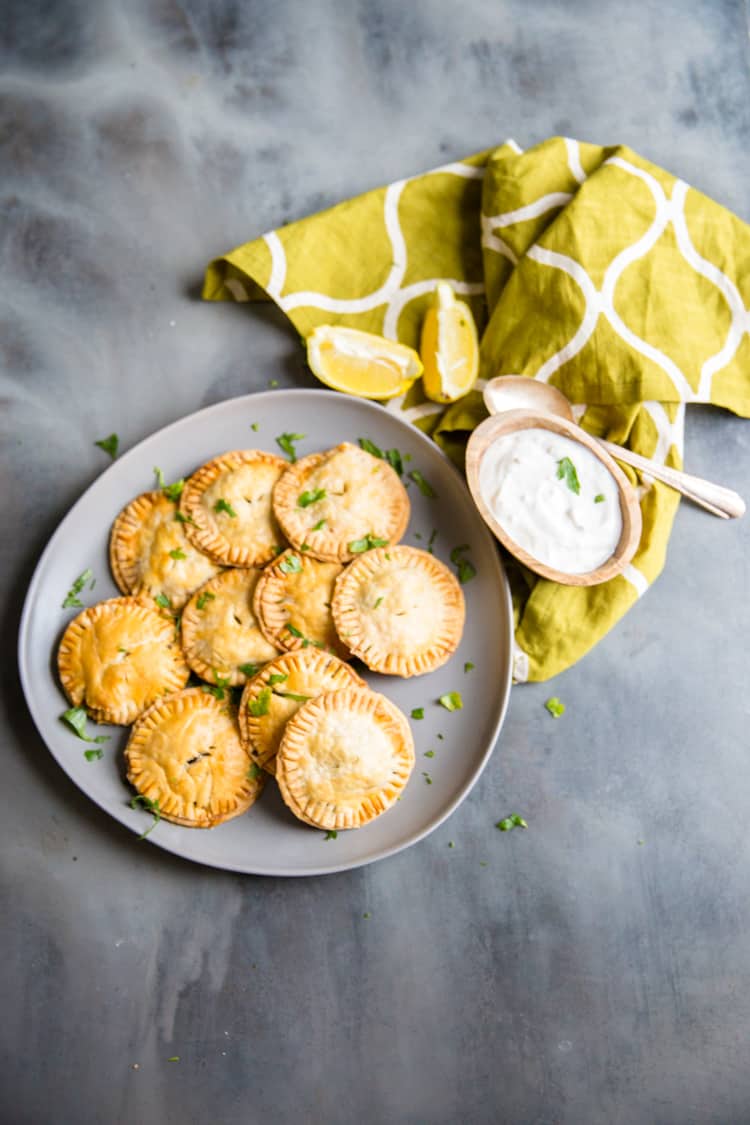 Ingredients
Prepared Pie Crusts
Ground Beef
Zucchini
Black Olives
McCormick Greek Seasoning
Salt
Garlic
Egg
Water
For the exact measurements, please see the recipe card below.
How To Make Greek Hand Pies
This recipe starts with boxed pie dough. I think the boxed pie crust tastes great. Sure you could make your own, but this recipe is all about making your life easier!
To start, make a simple meat filling using ground beef, seasoning, and finely diced (or shredded) zucchini, and diced black olives. While the beef is cooking, it's time to work on pie dough.
Lightly flour a work surface, carefully roll out the pie dough ( you will only need one sheet from the box. Save the other pie crust for another recipe or perhaps double this one).
I used a 3-inch biscuit to cut the pies out of the dough. You can use larger rounds, just keep in mind that your hand pies may take longer to bake.
Place half of your circles on a greased or lined baking sheet. Place roughly a tablespoon of your meat mixture onto the center of each pie round on your baking sheet. Take the remaining pie rounds and place them over the meat mixture.
Recipe Tips
You will only need a spoonful of filling for each hand pie, if you place too much in the center, the filling will come out of the side.
If the pie dough doesn't press and seal together, use wet fingers around the edge of the bottom dough round, then seal the layers with fork tines as mentioned above.
Make sure the hand pies have cooled completely before storing.
Substitutes
Pie crust. Crescent roll dough, pizza dough, or puff pastry (like the Spanakopita Hand Pies) can be used in place of the pie crust
Ground meat. Ground turkey, chicken, or pork can be used in place of the beef.
Veggies. You can just use diced zucchini, olives, pepperoncini, spinach, or other veggies for a meatless option.
FAQs
How To Seal Hand Pies
I like to take the tines or a fork and gently press the two pieces together. You could use your fingers as well by dabbing a little egg wash on the bottom round and sealing the top layer with your fingers. However, I think it is easier to press the dough together with a fork then brush a small amount of egg wash over each pie. The pies will only take about 15 minutes to bake. They should be golden and flakey when you take them out of the oven.
How To Store Hand Pies
While these pies are best when served warm or at room temperature. These hand pies will keep in the fridge for 3 or 4 days if kept in an airtight container.
Can I freeze hand pies, you ask? YES!! These can be kept in a ziptop bag or layered between sheets of parchment paper. The hand pies can be kept in a ziptop bag in the freezer for 1 month. I would prebake them and allow them to cool completely before placing them in the freezer. Pop them in the microwave or even the toaster when you need them!
What To Serve With Greek Hand Pies?
Serve warm as an appetizer, side dish, or AS the meal itself. These wonderfully with Avgolemono Soup, Greek Roasted Potatoes, or this Greek Chicken Souvlaki Salad! This is a great recipe for dinner, lunch boxes, game day, entertaining, holidays, special occasions, or just because you are in the mood for a little Greek food! Don't forget to serve these with little pastries with Tzatziki Sauce!
For dessert, try these Greek Baklava Bites
Yield: 8 pies
Greek Hand Pies
A savory hand pie that starts with a pre-made crust and is stuffed with Greek-inspired flavor!
Ingredients
2 14.1 oz boxes Pillsbury Pie Crusts
1 lb ground beef
1/3 cup finely diced zucchini
1/4 cup chopped black olives
1 teaspoon McCormick Greek Seasoning
1/4 teaspoon salt
2 cloves garlic, minced
1 egg lightly beaten with a splash of water.
Instructions
In a large skillet, brown ground beef, stir in garlic and Greek seasoning and salt. Add zucchini and olives and continue cooking until zucchini just starts to soften. Remove from heat and cool to room temperature.
Preheat oven to 425. Sprinkle flour over a work surface. Roll out one sheet of dough. Cut dough into circles using a 3-inch biscuit cutter, rerolling scraps as necessary. Repeat with remaining sheet of dough.
Arrange half of the circles on a baking sheet that has been sprayed with cooking spray. Place a tablespoon of meat mixture on the dough circles, top with roughly a half teaspoon of cheese. Place the other circle halves over the meat and cheese mixture. Pinch edges together with the tines of a fork.
Combine egg and water in a bowl. Brush egg wash over the top of each hand pie.
Bake in the oven for 13-15 minutes or just until golden. Remove from oven and let hand pies cool slightly before serving. Serve with tzatziki sauce on the side.
Store hand pies in the refrigerator in an air-tight container or a zip-top bag.
Nutrition Information
Yield
12
Serving Size
1 hand pie
Amount Per Serving
Calories

307
Total Fat

18g
Saturated Fat

6g
Trans Fat

0g
Unsaturated Fat

10g
Cholesterol

49mg
Sodium

410mg
Carbohydrates

22g
Fiber

1g
Sugar

2g
Protein

13g