A savory hand pie that starts with a pre made crust and is stuffed
with pungent Greek flavor!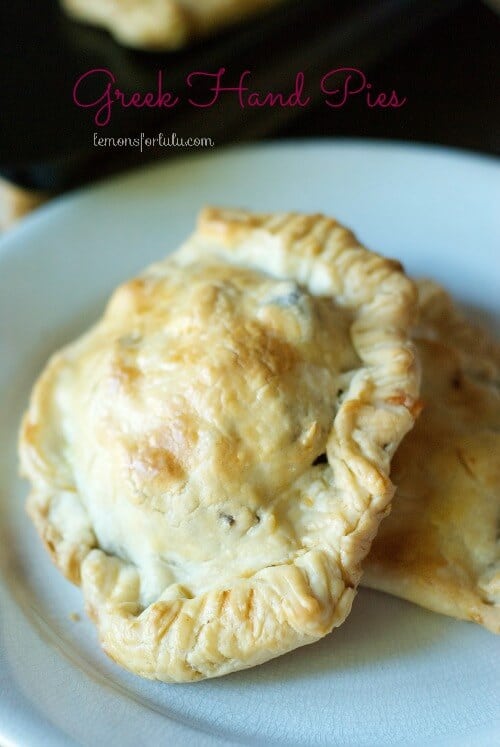 Know what I hate? I hate when I'm watching a movie or a show and someone jumps out of a car or runs out of a house and leaves the door wide open. I will sit there and obsess over that open door for ages. Seriously, it bugs me! How hard is it to write into the script "shut door". That's what we do in real life. We shut doors!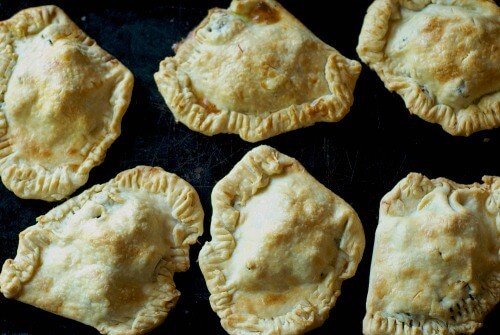 And if there's a clock in the background? Forget it! I can't stop looking at it and wondering whether the time was set to that particular hour for a reason? Does the clock even work? It drives me nuts! Yes, devil is in the details isn't it?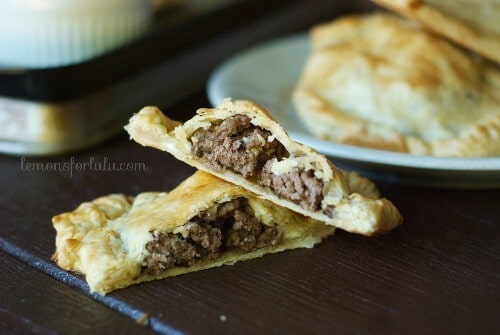 My daughter was watching Caillou today. I'm not a big fan of Caillou. But what I get hung up on every time the show comes on is his head. He's a 4-year-old boy, yet he has no hair? His two-year old sister has a full head of red hair, yet Caillou hasn't one little wisp. What's that all about? I find myself obsessing over his head every time. It really gets to me. Clearly I have a habit of over thinking things. My 4 year old doesn't care whether Caillou has a thick head of hair or not so why should I?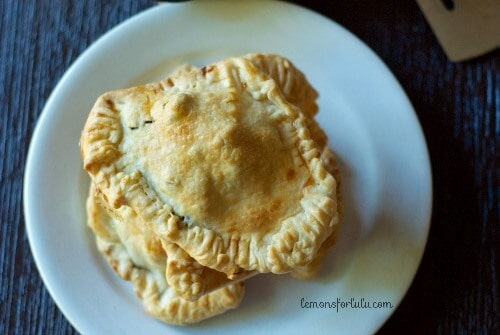 I might come off as a detail oriented person, but I'm not. I wish I were. If I really did focus on the details all the time, then my Greek hand pies might be perfect crescents with edges perfectly pressed. But that's the beauty of hand pies isn't it? They are meant to be imperfect as they are formed by your hands! These might look a little amorphous, but they taste sublime! I used a pre made crust to keep it quick and simple then filled the crust with ground beef that was infused with Greek seasoning.
You must serve these hand pies with a tzatziki dipping sauce! It's smooth, creamy and cool; the perfect accompaniment to these savory pies!
After these hand pies made their debut at the dinner table, the only detail I could focus on was the crumbs on the empty plates!
MORE MEDITERRANEAN CUISINE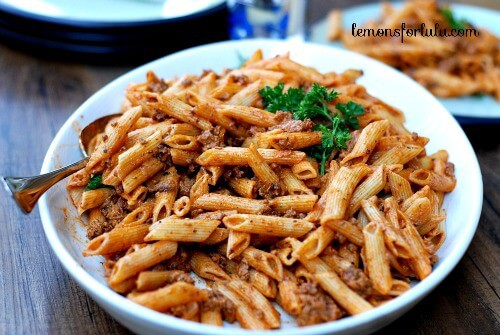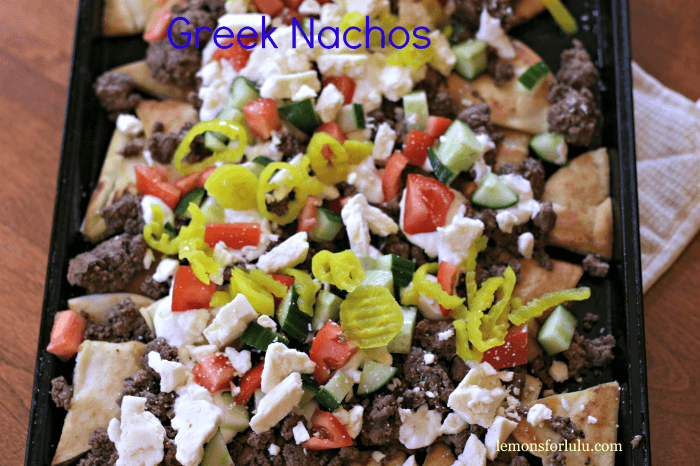 NEVER MISS A RECIPE! SUBSCRIBE TODAY!
FOLLOW ME:
FACEBOOK | RSS | TWITTER | GOOGLE +| BLOGLOVIN | INSTAGRAM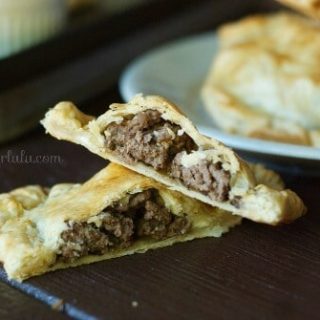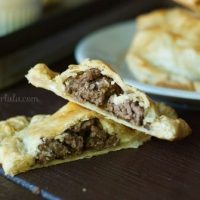 Greek Hand Pies
A savory hand pie that starts with a pre-made crust and is stuffed with pungent Greek flavor!
Ingredients
2 14.1 oz boxes Pillsbury Pie Crusts
1 lb ground beef
1/3 cup finely diced zucchini
1/4 cup chopped black olives
1 teaspoon McCormick Greek Seasoning
1/4 teaspoon salt
2 cloves garlic, minced
1 egg lightly beaten with a splash of water.
1/4 cup crumbled feta cheese
1 cup plain Greek Yogurt such as Chobani
1 tablespoon lemon juice
1 clove garlic minced
2 tablespoon finely grated cucumber, peeled and seeded
Instructions
Preheat oven to 400.
In a large skillet, brown ground beef stir in garlic and Greek seasoning and salt. Add zucchini and olives and continue cooking until zucchini just starts to soften. Remove from heat.
Roll out each piecrust and cut in half. Spoon a generous amount of filing onto one half of each pie crust half. Top with about a tablespoon of feta cheese. Fold dough over filling and crimp edges with a fork or pinch with your fingers. Place on a baking sheet. Continue with the rest of the pie dough and filling. Brush each pie with egg wash.
Bake for 20 minutes or until golden brown. Remove. Serve with Tzatziki sauce.
For the sauce,
Combine all the ingredients in a bowl. Season with salt and pepper to taste.
Nutrition Information
Yield

8
Serving Size

1 hand pie
Amount Per Serving
Calories

506
Total Fat

28g
Saturated Fat

10g
Trans Fat

0g
Unsaturated Fat

15g
Cholesterol

79mg
Sodium

674mg
Carbohydrates

37g
Fiber

2g
Sugar

6g
Protein

25g