This homemade chili is hearty and thick!  The perfect comfort food to keep you full and satisfied!
 
I try new homemade chili recipes like some people try on new shoes!  I love chili; it is one of my most favorite foods.  I've made several chili recipes over the years.  It would be impossible to pick my favorite;  It would be like asking which one of my kids is my favorite.  I love them all equally, just differently.
Once I made homemade chili with Buffalo sauce.  I remember that one well.  It was made with chunks of chicken and spicy Buffalo sauce, and it was topped with crumbled blue cheese.  Yes, that was a GOOD one.  Then there was the time I made chili with Coca-Cola.  That was delicious too.  The cola gave the chili a hint of sweetness.  There were lots of black beans,  pork sausage and some fire roasted tomatoes too.  I remember that one as if it were yesterday.  Oh and then there was the Creole chili that I made recently.  Now THAT was a good chili.  Big chunks of  Andouille sausage,  ground turkey and BACON!  My friends, that was a fabulous recipe.  Today, I made yet another chili.   Right now, this is my most favorite homemade chili!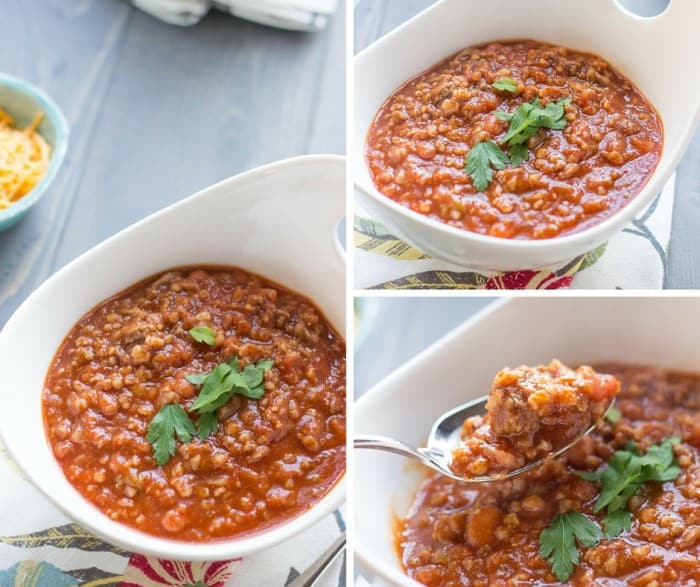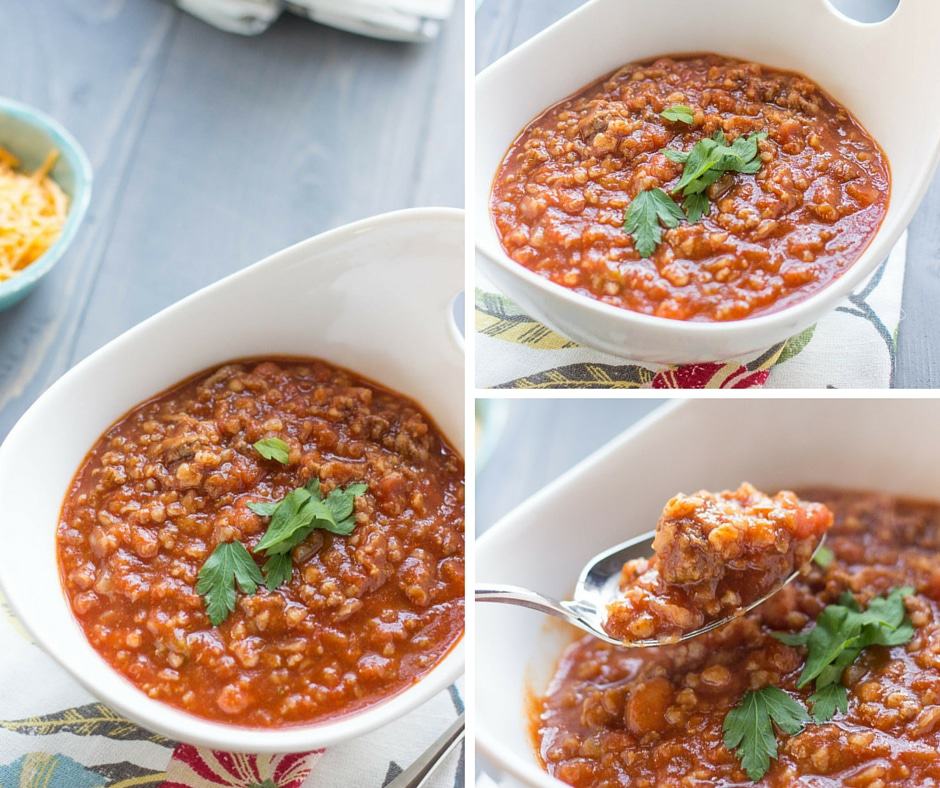 For this chili, I used lean ground beef.  I was going for a lighter, healthier chili this time around.  I love using lean ground beef because it doesn't add fat to my chili.  I added green peppers and crushed tomatoes, lots of seasoning and quick cooking bulgur wheat.  The bulgur is what adds some body to this chili.  It's filling and a great source of fiber.  You don't taste the bulgur as much as you might think, but it bulks up this chili in a beneficial way.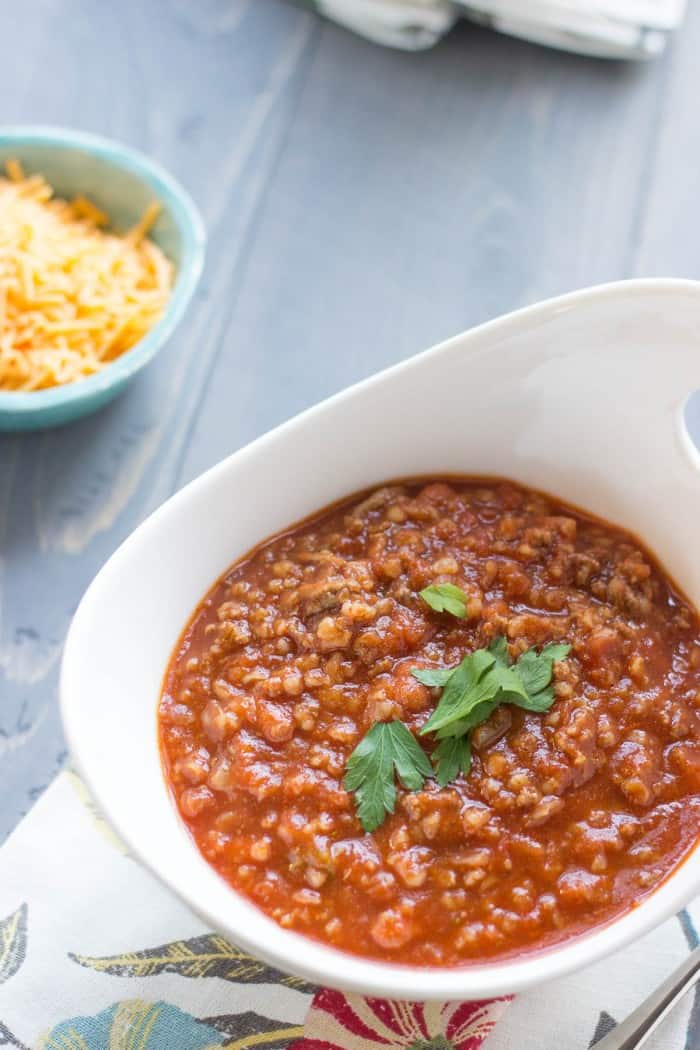 Chili's are a forgiving food.  You could add vegetables or different seasoning to this homemade chili, and it would still be delicious.  Keep it healthy and lean, use the barley and be sure to use the lean ground beef.  It's good food that is comfort food!
Homemade Chili with Beef & Bulgur
6
adjust servings
A warm and hearty chili recipe made with bulgur and ground beef!
Ingredients
1

cup cold water

1/2

cup quick cooking bulgur wheat

1

teaspoon olive oil

1/4

cup diced onion

1

lb lean ground beef ( I used Simple Truth)

2

cloves garlic, minced

1

half green bell pepper, diced

1

teaspoon dried oregano

1

teaspoon dried cumin

1

teaspoon dried rosemary

2

tablespoon chili powder

1/2

teaspoon salt

1/8

teaspoon cinnamon

1 14

oz can pinto beans, rinsed and drained.

1 28

oz can crushed tomatoes

1 28

oz can filled with water

1 4

oz can tomato paste
Instructions
Fill a small saucepan with cold water. Add bulgur and bring to a boil. Cover and reduce heat. Let bulgur cook for 12 -15 minutes or until water is absorbed.
In a large stock pot, heat oil over medium heat. Add onions and cook until the are soft and translucent, about 5 minutes. Add ground beef and stir to crumbled. Add garlic and green peppers. Cook until beef is no longer pink, about 5-7 minutes. Add seasoning. Add beans. Stir in crushed tomatoes. Fill the can with water and add that as well. Stir in tomato paste. Let chili come to a slow boil. Add bulgur and cook chili for 30 minutes. Chili will thicken as it sits.
*I used Kroger brand canned goods