Buffalo chicken chili will warm you from the inside out!  It's hearty, filling and perfectly seasoned!
This Buffalo Chicken Chili will satisfy any appetite!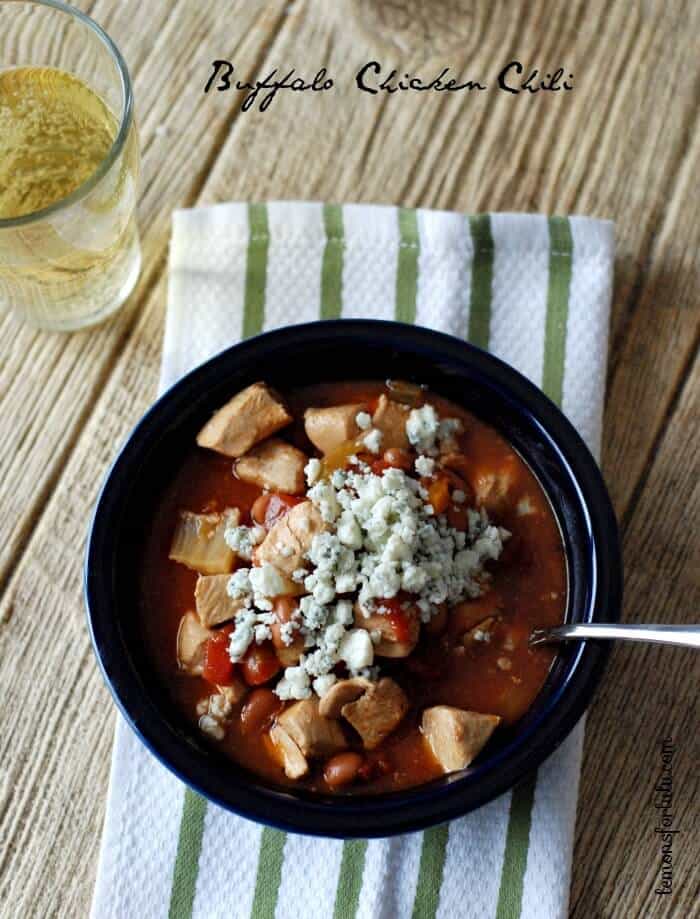 I did something the other day I hadn't done in years.  I went sledding!  I hadn't planned on sledding.  I was in my pajamas, in the toasty warm house, watching my husband and my kids sled down the hill in the back yard.   I was all set to enjoy another cup of coffee when all their hooting and hollering got to me.  In a flash, I was bundling myself up in layers and running out the door to join them!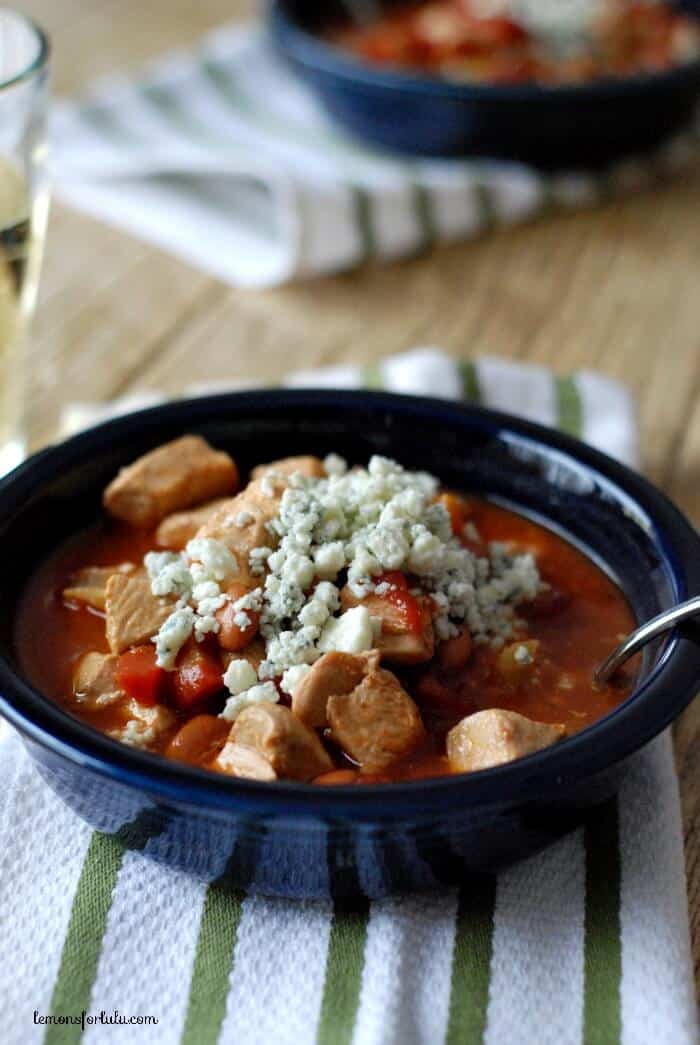 I hopped on my daughter's slippery polar bear shaped sled and flew down the hill.  Those first moments were exhilarating!  Wind beating against my face, eyes watering from the cold, and snow splattering my rosy cheeks.  In the rapid descent, my sled turned and my back was facing the bottom of the hill.  In hindsight this was a good thing because in a matter of seconds I smacked with a resounding thud into a tree!  Thus ended my sledding adventure.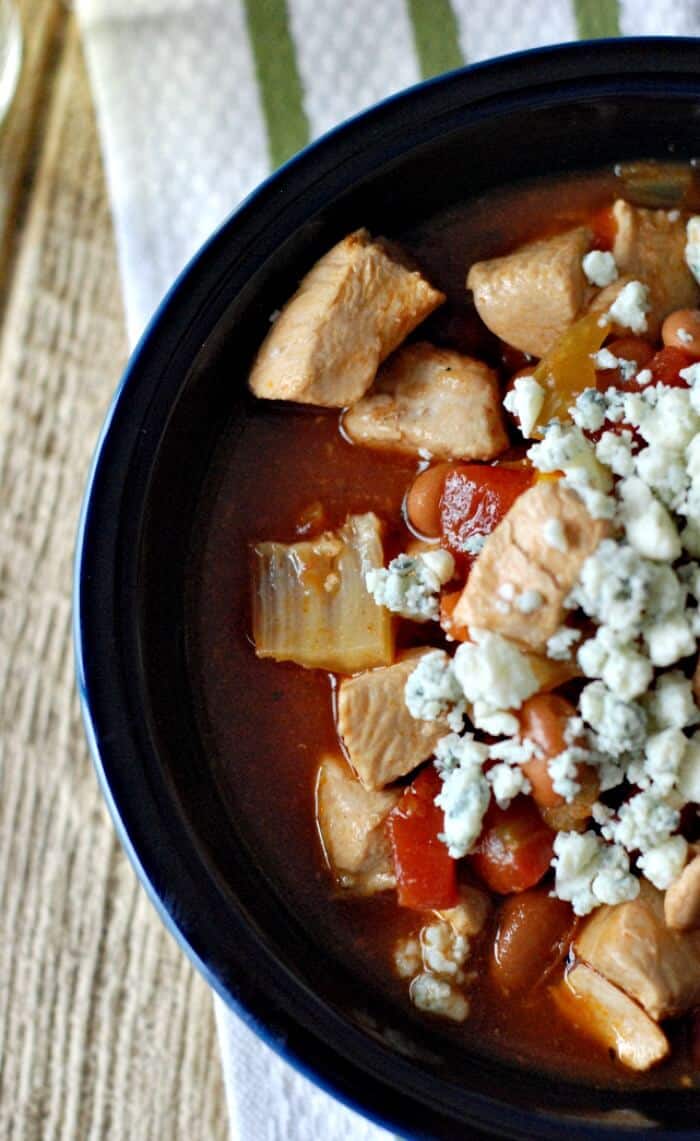 My violent brush with the tree jarred my suppressed memories of sledding when I was a kid.  I distinctly remember flying down a hill when I was about 6 years old.  I sat atop my little wooden Radio Flyer and gingerly slid down a hill in our neighborhood.  Upon reaching the bottom of the hill, I stood and turned just in time to see a large, flying disc carrying two older boys eclipse the sun and land squarely on my face.  It was horrific!  Being flattened into the snow was incredibly painful.  I was bruised and my ego was deflated.  I walked home, hung up my sled and never looked back.
Mother nature is clearly telling me I'm not meant for sledding!  Bad things happen.  What I am meant to do is make chili!!  Belly-warming Buffalo chicken chili!  It's robust and packed full of beans, veggies, chicken and of course Buffalo wing sauce!
 I suppose it was a good thing I hit that tree.  It was the perfect reason to come inside and enjoy this chicken chili!
WARM YOUR BELLY: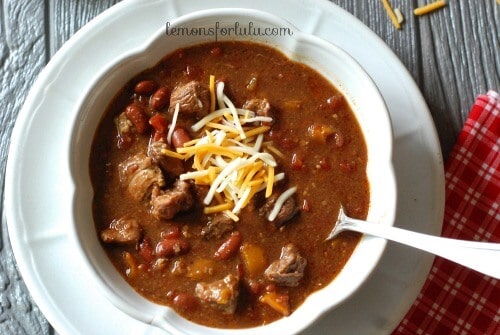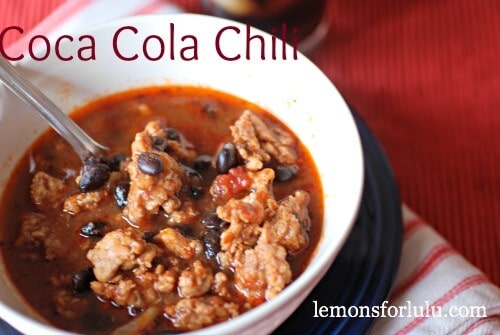 NEVER MISS A RECIPE! SUBSCRIBE TO MY EMAIL TODAY!
FOLLOW ME:
FACEBOOK | TWITTER| GOOGLE +| BLOGLOVIN | INSTAGRAM
Yields 8
Buffalo Chicken Chili
20 minPrep Time
8 hrCook Time
Ingredients
1 tablespoon olive oil
½ cup diced onion
3 cloves garlic
½ cup diced yellow bell pepper
2 stalks celery, chopped
2 cups diced chicken breast
1 teaspoon cumin
½ teaspoon salt
1 teaspoon paprika
2 teaspoon chili powder
1 teaspoon oregano
2 cans pinto beans rinsed and drained
1 28 oz canned diced tomatoes
28 oz chicken broth
¾ cup Buffalo wing sauce (or to taste)
Blue cheese for garnish
Instructions
In a large skillet heat oil over medium high heat. Add onions, garlic, pepper and celery. Cook 5 or 6 minutes or until vegetables soften. Place vegetables in slow cooker. In the same skillet, add diced chicken breast. Season with salt and cook for 8-10 minutes or until chicken has browned. Add the chicken to the vegetables in the slow cooker. Stir in remaining ingredients (up to wing sauce) and cook on low 7 ½ hours. Add wing sauce and cook another half hour. Top with crumbled blue cheese if desired.
https://www.lemonsforlulu.com/buffalo-chicken-chili/
SEE THIS ON MY PINTEREST BOARD!
Follow Tanya Schroeder @lemonsforlulu.com's board Food for ME on Pinterest.