This chicken and broccoli stir fry is easy and will quickly become a family favorite!  Chicken and broccoli are tossed with noodles and a light peanut butter sauce.  Don't even bother with take-out!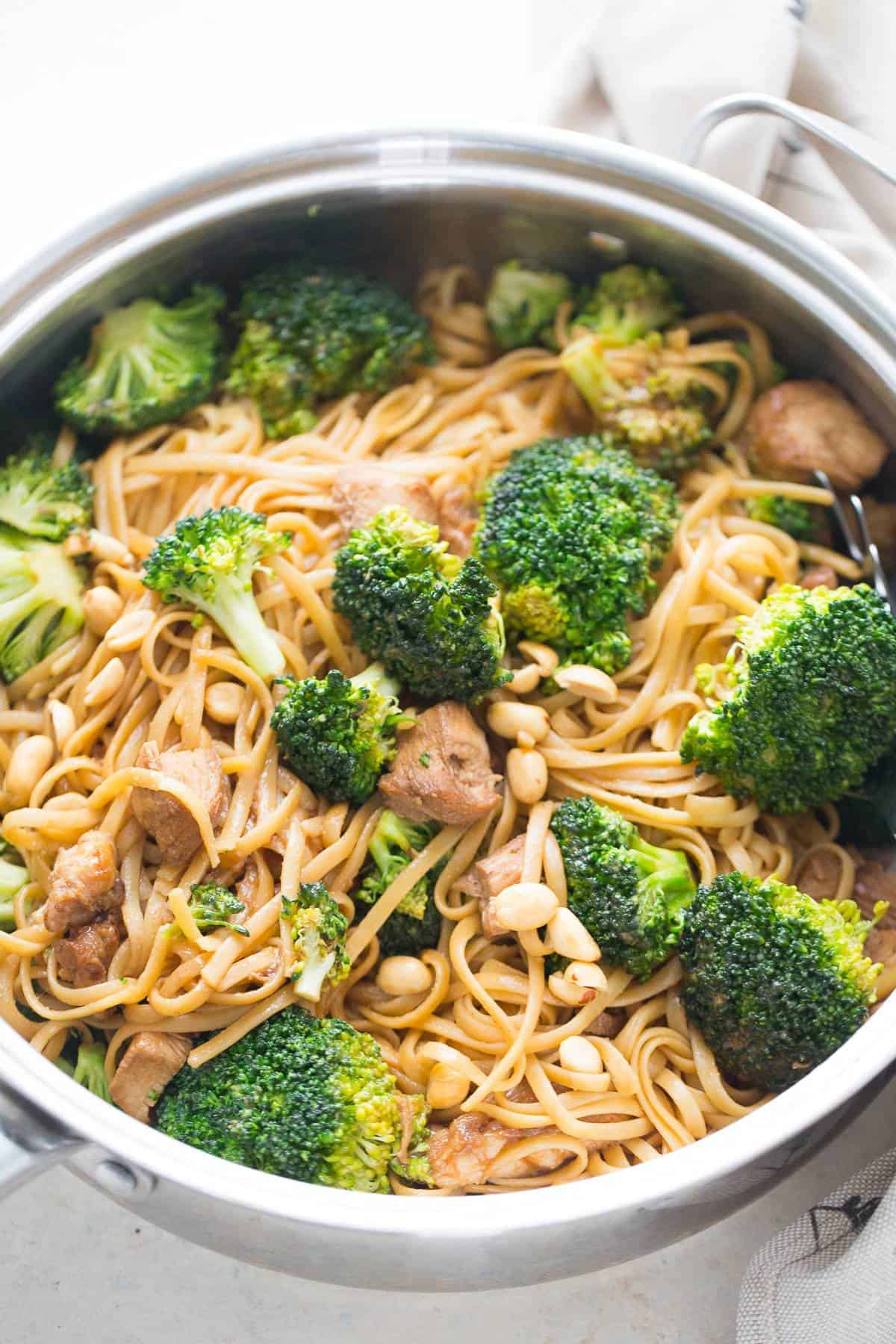 Dinner.  I get tired of thinking about it.  If it were just me in the home, I'd probably eat dessert for dinner.  But, I have four other people to consider.  Four people with vastly different tastes.  Four people who will tell me exactly how they feel before and after each meal.  Satisfying everyone is impossible.  I refuse to cook separate meals.  My son would request cinnamon pancakes, my oldest would request this easy spring rolls recipe and my youngest would just ask for this easy chicken soup recipe .  So my rule is we either eat what I cook, or we go hungry.  That's it.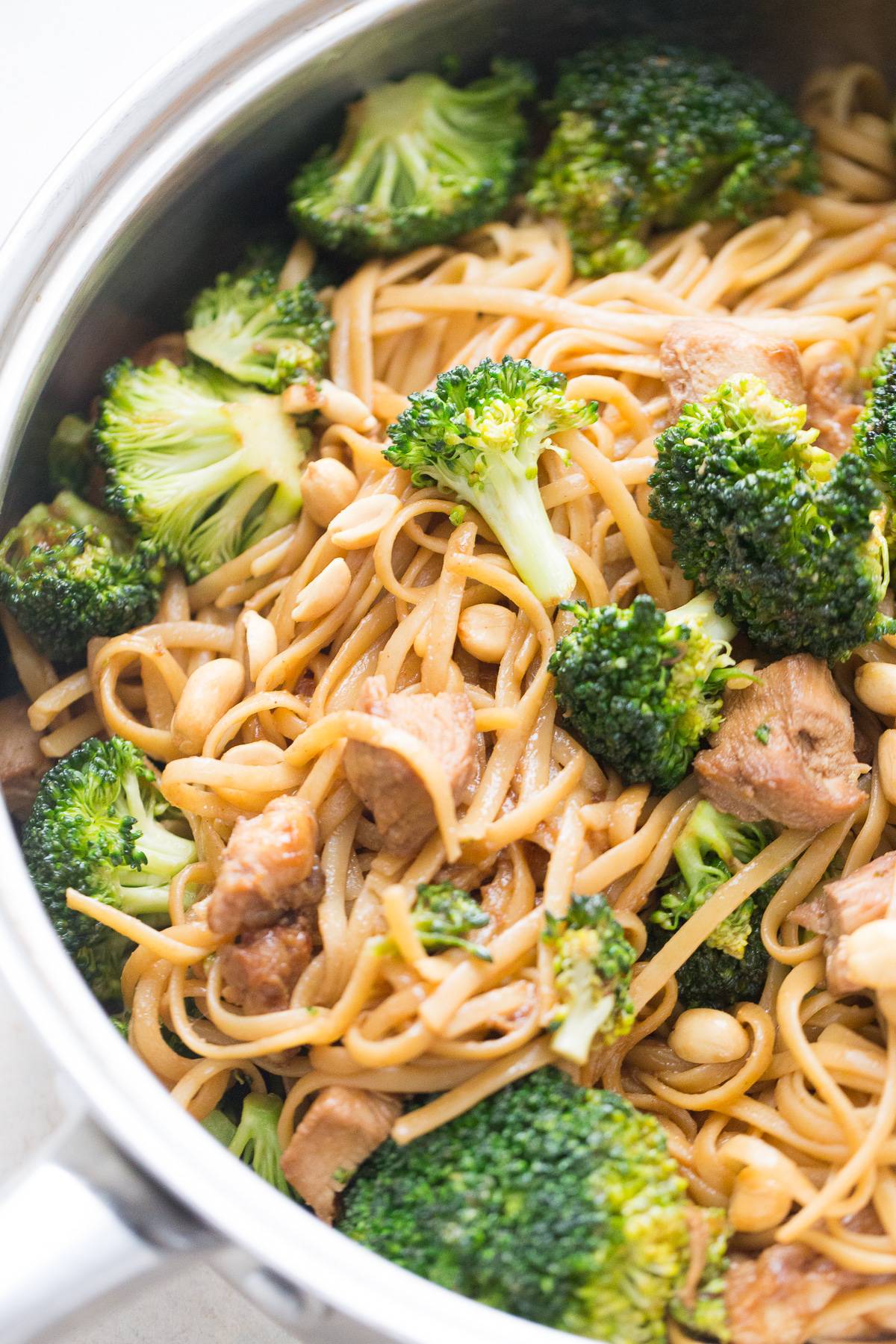 Tonight I decided to do the unthinkable.  Make everyone happy.  It's funny that chicken and broccoli stir fry would be the meal to unite us, but it was.  My son was happy because there were no tomatoes.  My oldest daughter was happy because the pasta was involved.  My youngest was happy because of the peanut butter sauce.  My husband was happy because it was chicken.  And finally, I was happy because I could add Sriracha!  I did it!  Household harmony!
I love making stir fry because it's  so easy and can be made with any ingredients you happen to have at home.  Don't have chicken? Use shrimp, pork or tofu!  Change out the broccoli for green beans or snow peas.  If you don't like peanut butter or have allergies, you could omit it and add cornstarch to thicken up the sauce.  This recipe will fit your needs.  My need was to have a dinner free of complaints.  My needs have been met!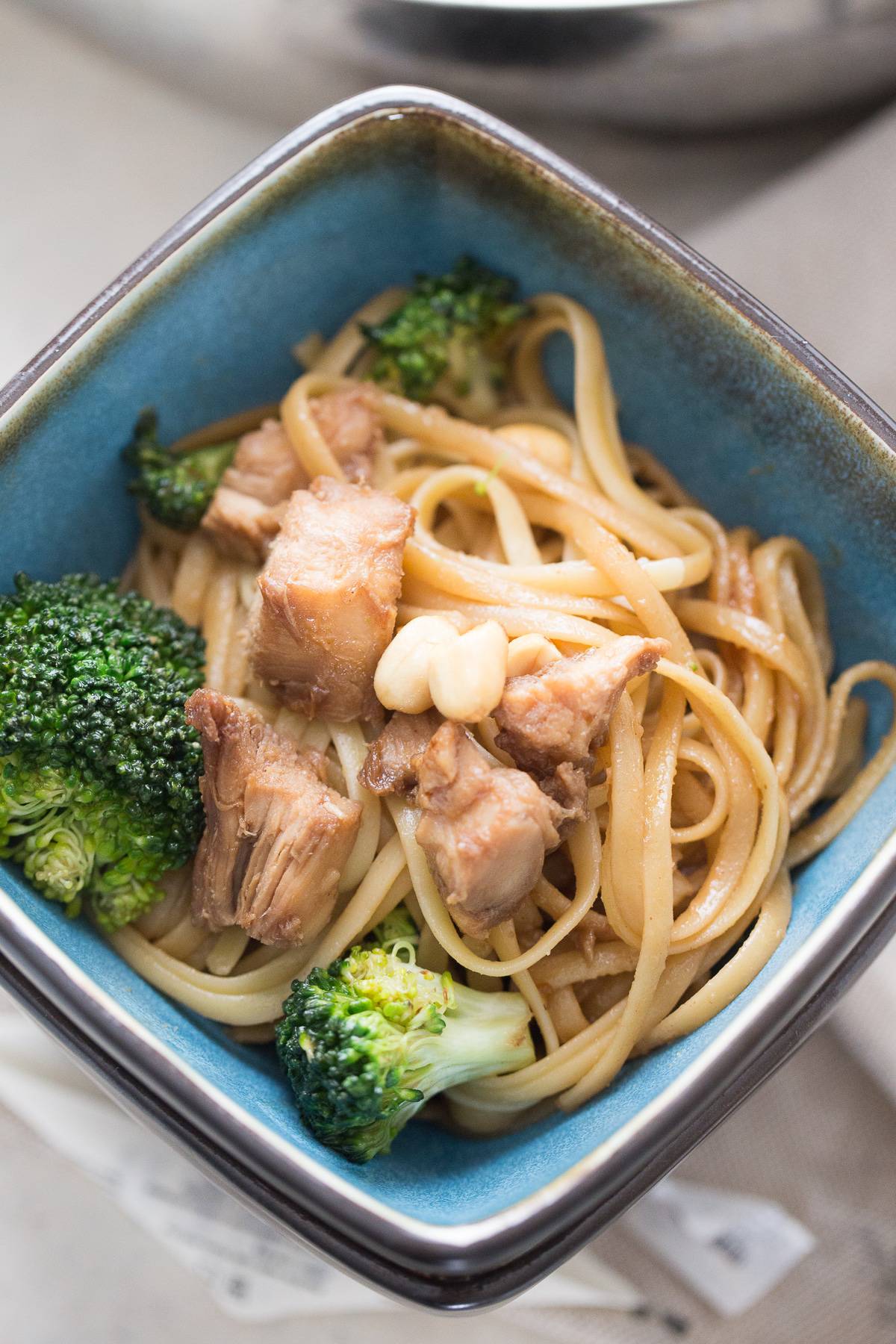 Chicken and Broccoli Stir Fry over Peanut Butter Noodles
4
adjust servings
This simple chicken and broccoli stir fry is going to make you forget all about your take out menus!
Ingredients
For the chicken
4

chicken breast cut into bite-sized pieces

1/4

cup soy sauce

4

teaspoons sesame oil

2

tablespoons honey

1

teaspoons ginger, minced

2

cloves garlic, minced

1/4

teaspoon Sriracha hot sauce (optional)

2

cups broccoli

2

tablespoons vegetable oil.

12

oz Udon noodles or linguini

1/3

cup peanut butter

2

tablespoons soy sauce

1

tablespoon balsamic vinegar

1

tablespoon rice wine vinegar

2

tablespoons sugar

1

tablespoon sesame oil
Instructions
In a small bowl, stir together soy sauce and next 5 ingredients. Place chicken in a zip-top bag. Pour marinade over chicken. Refrigerate for at least 15 minutes.
In a large skillet, heat 1 tablespoon vegetable oil. Add broccoli and stir-fry for 1 minute or until broccoli is bright green and crisp. Transfer to a bowl. Add remaining tablespoon of oil to the skillet. Heat chicken in the oil until browned and caramel in color, about 5-8 minutes. Remove and set aside.
Meanwhile, in a bowl, whisk together the peanut butter, soy sauce, both of the vinegars, sugar, and oil.
Prepare noodles according to package directions. Drain, reserving, 1 tablespoon of cooking liquid. Return noodles to pan, add peanut butter sauce and reserved liquid. Toss to coat. Serve with chicken and broccoli.