This Cajun cassoulet is loaded with beans, veggies, Andouille sausage and chicken! The perfect one pot meal for those cold wintry nights!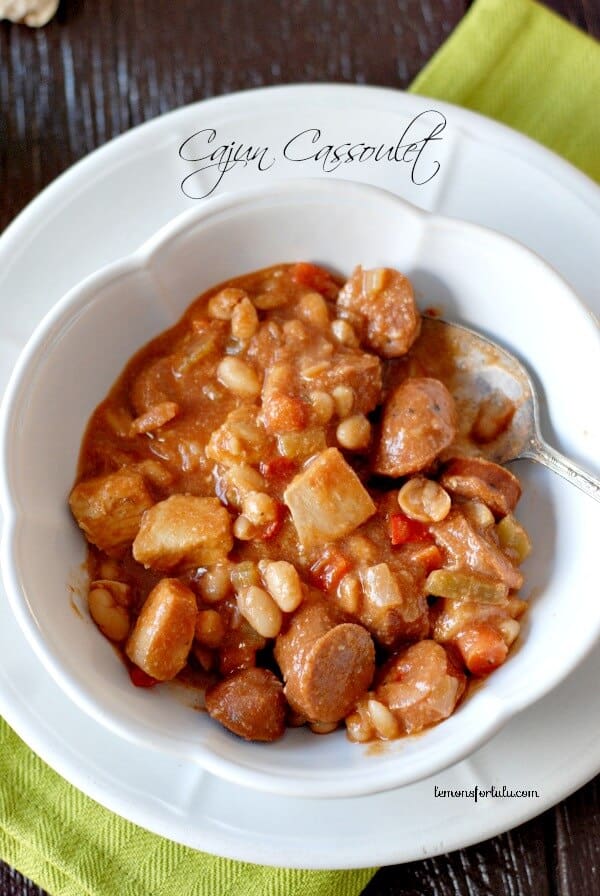 Old man winter has come with a vengeance. It's bitter cold. It's the kind of cold where your muscles ache from shivering and your teeth hurt from chattering. I hate the cold.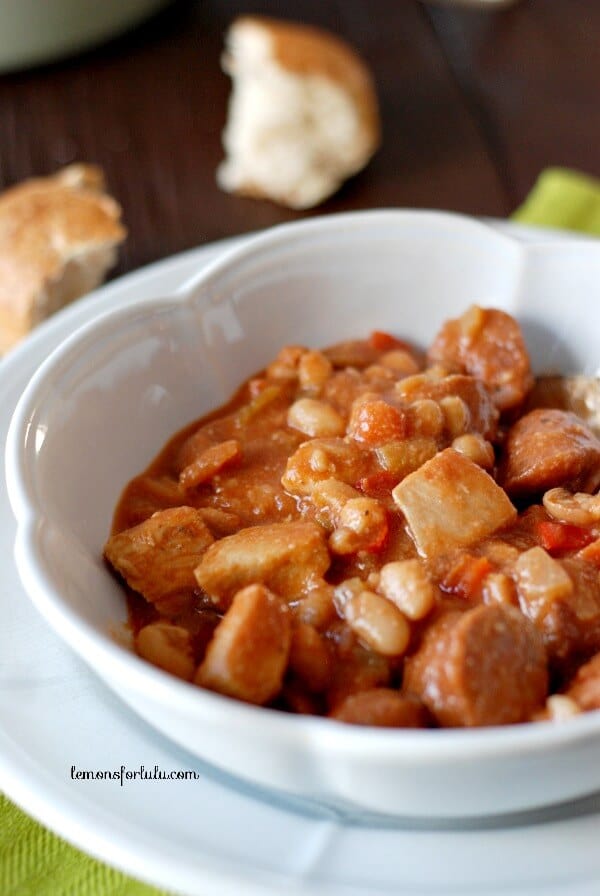 I like the way my Jack Russell handles these cold, wintry days. As the sun moves in the sky from the east to the west, my little dog finds the exact spot in which the sunshine seeps through the windows. She will migrate from room to room, from floor to floor and bask in the warm rays of light.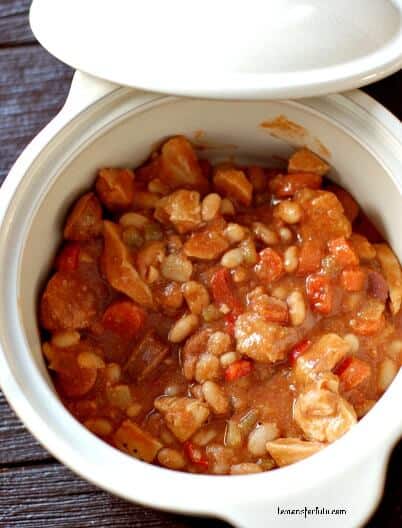 Can you imagine a day where your only job was to track the path of the sun so that you can stay warm while you slumber away the hours? Sounds like a good way to deal with these frigid winter days.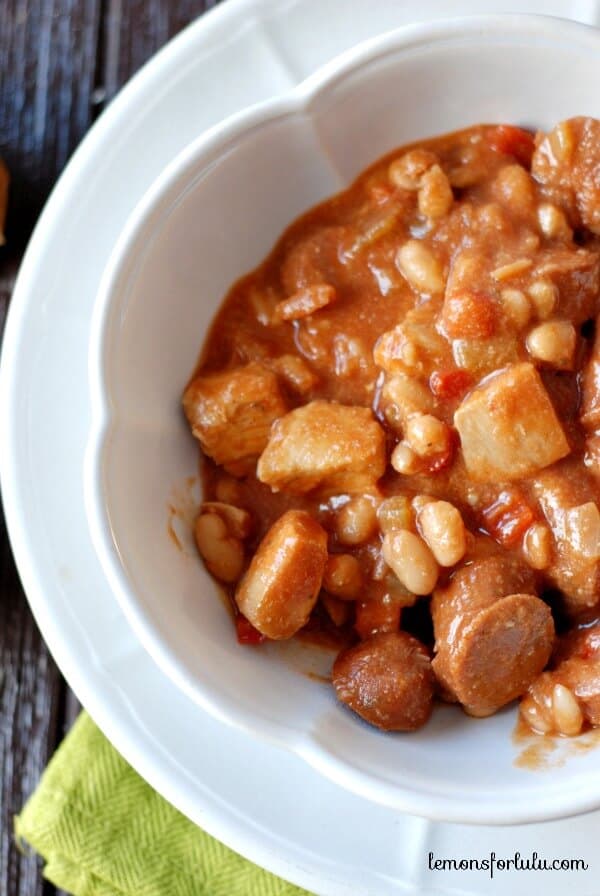 My dog Roxy, only strays from her spot in the mid day sun when her nostrils are accosted by smells in the kitchen. As I was busy preparing this Cajun Cassoulet, she sauntered in, yawned, stretched and assumed her spot on the rug by the stove. She stared up at me with her big brown eyes and waited patiently for a morsel of food (preferable chicken) to hit the floor. Her mouth wasn't the only one watering as this one pot meal was prepared. The cajun spice was intoxicating as it seasoned the chicken and the vegetables. The andouille sausage was sizzling and the aroma of it all had both Roxy and I waiting for a bowl to warm us from the inside out! (Ok, I was waiting for the bowl and she was waiting for a drop to hit the floor). Tell me, could you resist those eyes?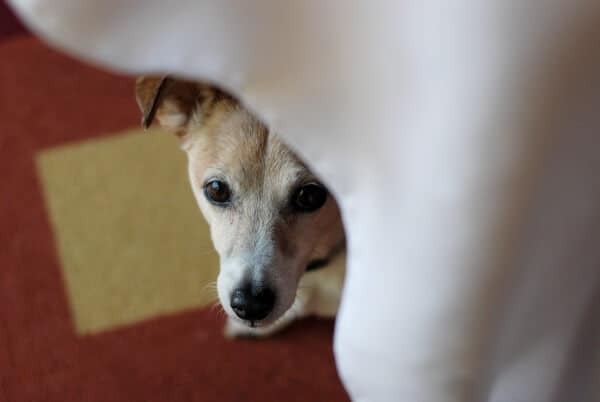 This cassoulet was like napping in the warm sun streaming through the windows. It was comforting and warm; the perfect way to combat these frigid winter days.
WARM THE SOUL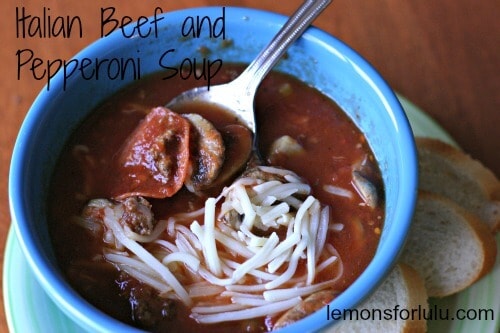 NEVER MISS A RECIPE! SUBSCRIBE TO MY EMAIL TODAY!
FOLLOW ME:
FACEBOOK | TWITTER| GOOGLE +| BLOGLOVIN | INSTAGRAM
Cajun Chicken and Sausage Cassoulet
Ingredients
2

tablespoon olive oil

1

lb chicken tenders cut into bite sized chunks

Salt, pepper

12

oz Andouille sausage, sliced

1

cup onion, diced

2

celery stalks, diced

1

red pepper, chopped

2

whole carrots, peeled and chopped

2

teaspoons Cajun seasoning

1 14.5

oz can Great Northern beans rinsed and drained

2

cups chicken broth

3

tablespoons tomato paste
Instructions
Preheat oven to 375.
In a large Dutch oven, heat sausage in 1 tablespoon of olive oil until browned and slightly crispy. Remove with a slotted spoon and set aside. Add chicken, season with salt and pepper and cook until browned. Remove with a slotted spoon. Add remaining olive oil to pan and stir in vegetables. Cook until softened, about 6-8 minutes. Stir in Cajun seasoning. Add beans, broth and tomato paste. Return chicken and sausage to pan, stirring until mixed.
Cover with a lid and bake for 35 minutes or until bubbly.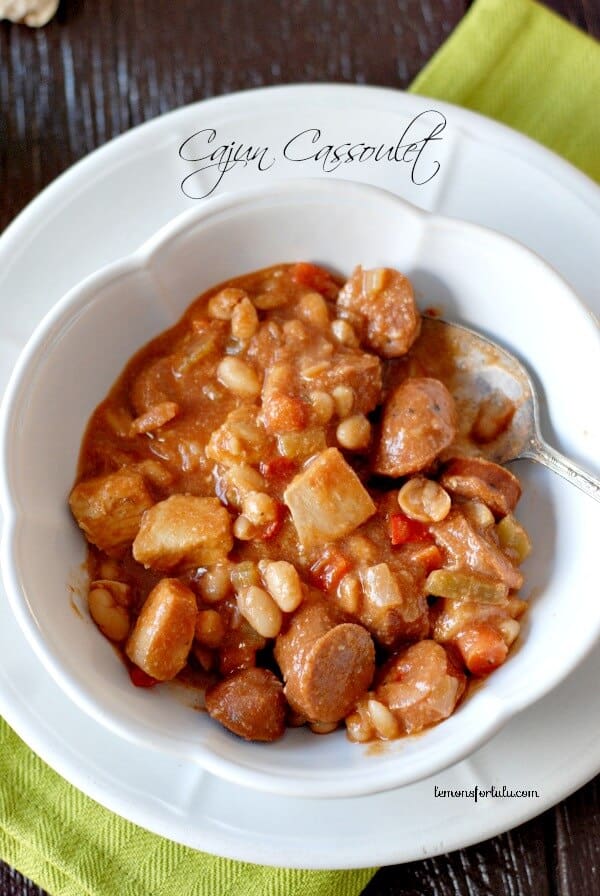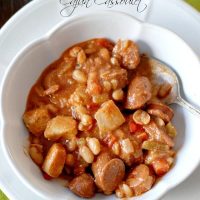 SEE THIS ON MY PINTEREST BOARD!
Follow Tanya Schroeder @lemonsforlulu.com's board What to feed the family on Pinterest.
I may be linking this up to these parties and to