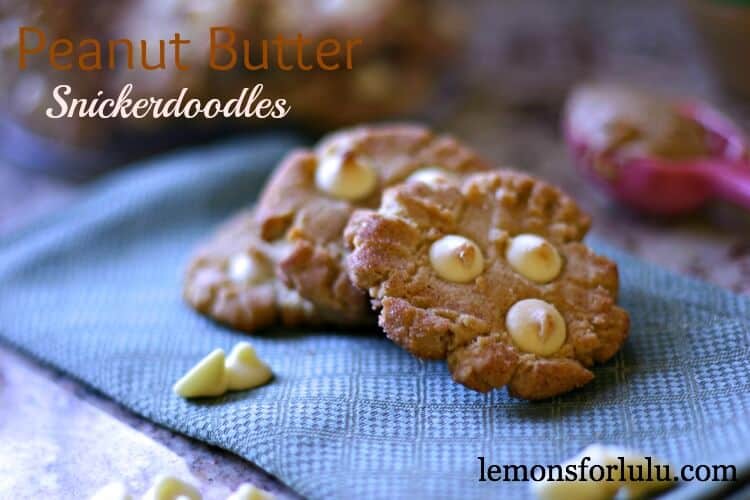 I made these cookies with my youngest daughter, Lucy.   She is my baking assistant.  She is an expert egg cracker.  Yes, a few end up on the floor, but it's all part of learning.  Lucy is also very good at adding my pre measured ingredients.  Her favorite ingredient to add is the chocolate chips.  I usually give her a little pile to sample before we stir the chips into the batter.  It makes her very happy.
Lucy and I made these peanut butter snickerdoodles together.  With these cookies, I let Lucy press the white chocolate chips onto the cookies before we put them in the oven.  She had complete creative license as to chip placement.  I think she did a fabulous job.
Peanut Butter Snickerdoodles
36
adjust servings
Peanut butter snickerdoodles with white chocolate chips.
Ingredients
1/4

cup butter, softened

3/4

cup sugar, divided

1/2

cup brown sugar

1

teaspoon vanilla

3/4

cup peanut butter

1

egg

1 1/2

cups flour

1

teaspoon baking soda

1/2

teaspoon salt

2

tablespoons heavy cream

1/4

cup cinnamon sugar (1/4 cups sugar and 1 tablespoon cinnamon)

1

cup white chocolate chips
Instructions
Preheat oven to 350. Line baking sheets with parchment paper and set aside.
In a large bowl, beat butter, 1/2 cup sugar, brown sugar and vanilla on medium speed until fluffy, about 4 minutes. Add peanut butter mixing until smooth. Beat in eggs.
In a medium bowl, whisk together flour, baking soda, and salt. With mixer on low, carefully mix in flour mixture in three batches, alternating with the cream. Mix will to combine.
Using a cookie scoop, scoop up dough and roll into balls. Roll each ball in cinnamon sugar. Flatten each cookie with a small glass dipped in sugar. Place 4 or 5 white chocolate chips onto each cookie. Bake for 10-12 minutes. Let cookies cool on pans for 5 minutes before transferring to wire racks.
Makes about 36 cookies.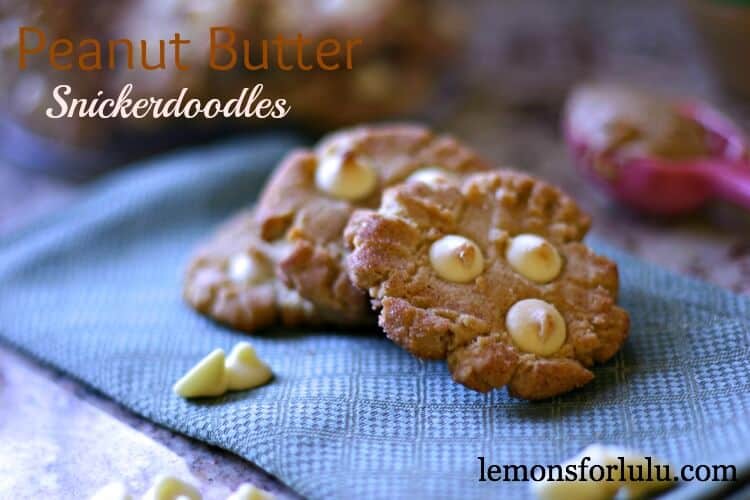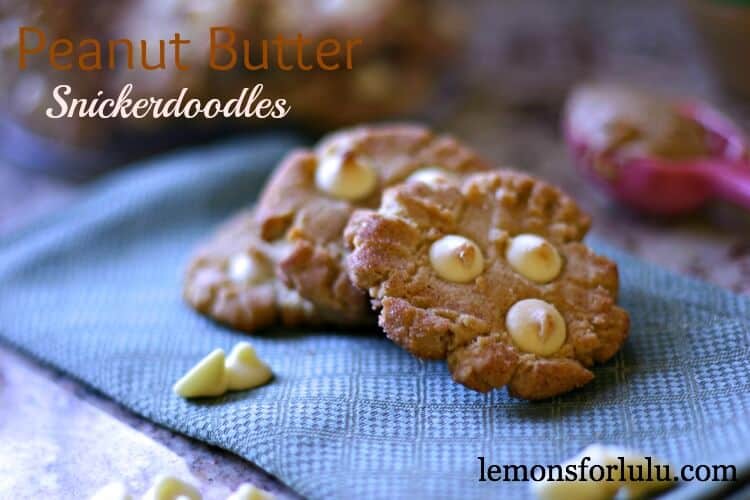 Recipe adapted from Better Home and Gardens