Sweet cherries and tart limes make this cherry limeade float a sippable treat that both kids and adults will love!
The thing I love most about entertaining is the menu planning. I really enjoy stringing together courses and I take the time to consider the complimenting flavors, even when it comes to dessert. Rather, ESPECIALLY when it comes to dessert. Next to starters, dessert is my favorite course.
However, there are days when I'm too short on time or energy to bother with dessert. That's when I resort to serving ice cream floats. I've never met a kid or adult who can pass up a good float. Kids love them because it's ice cream and soda together and adults love them for the same reason and for the fact that ice cream floats make us feel like a kid. Everyone has happy memories of enjoying floats when they were young. Plus they are both sippable and spoonable fun!
This cherry limeade float is terrific! It starts with maraschino cherries that are blended with fresh lime juice. Add your favorite vanilla ice cream and lemon-lime soda then voila, you have a unique, tart and sweet ice cream float! A few notes, after I blended my cherries, there was a bit of cherry "pulp"; the cherries were finely chopped in the blender so to speak. We were fine with this, however, you may want to strain yours through a sieve if that will bother you. Also, since maraschino cherries are sweet, the recipe has enough lime to juice to counteract the sweetness, but certainly feel free to add more lime juice to suit your taste.
After you taste this cherry limeade float, you may wonder what other floats you can try? Check out this adult-friendly Guiness Stout Ice Cream Float, this Vanilla Chai Latte Root Beer Float or this seasonal Eggnog Ice Cream Float,   These Root Beer Float Popsicles and these Root Beer Float Ice Cream Sandwiches are a must try too!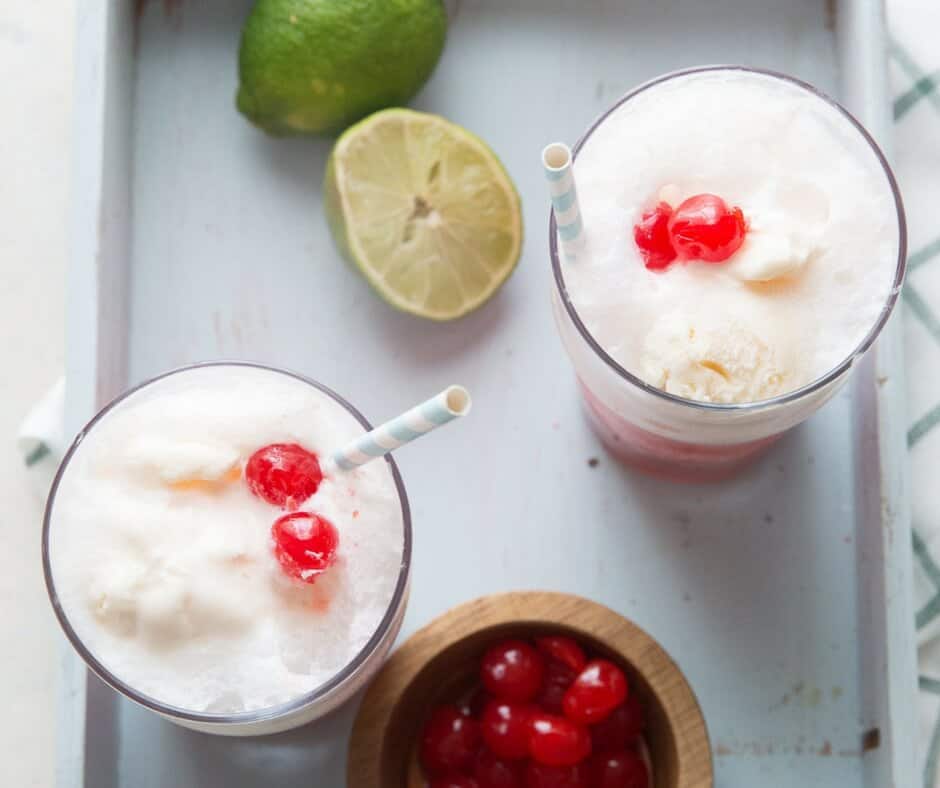 Yield: 2
Cherry Limeade Float
Ingredients
2 cups of maraschino cherries (resevring 1/4 cup of cherry juice)
1/4 cup fresh lime juice
ice cream
lemon lime soda
Instructions
In a blender combine, the cherries, the reserved cherry juice and the lime juice and blend until smooth. Pulp will remain, drain mixture through a sieve if desired.
Divide mixture between two glasses. Top with ice cream and lemon-lime soda.
Nutrition Information
Amount Per Serving
Calories

404
Total Fat

1g
Saturated Fat

0g
Cholesterol

0mg
Sodium

10mg
Fiber

8g
Sugar

94g
Protein

1g