An easy spring roll recipe with sweet and spicy salmon, rice and fresh vegetables! Spring rolls made simple!
Two of my all time favorite foods are sushi and spring rolls. I always reserve these for special occasions, however, because I had no idea how to prepare them and I always assumed they were too difficult to make at home. Then I went to a sushi making party, and my mind was officially blown.
I will not go into the sushi making right now. This post is all about the spring rolls. Spring rolls are so easy; you will not even believe it! The rice paper wrapper might seem intimidating, but they are easy to handle. Flavored Salmon Pouches from Chicken of the Sea and Minute® Ready to Serve Rice make these rolls even easier! Sliced cucumbers and carrots add a crisp, cool freshness too!
This recipe starts with portable Minute® Ready to Serve Basmati Rice that heats in 60 seconds. Let this cool completely then stir in a little rice wine vinegar. Wet one sheet of rice paper at a time in warm water until it is thin and pliable and arrange it on a cutting board. Arrange a few sprigs of cilantro on your rice paper then add your lettuce followed by a spoonful cooled rice. Add the carrots, cucumber and the spicy sweet salmon and roll it up! Serve your rolls with a quick dipping sauce and enjoy!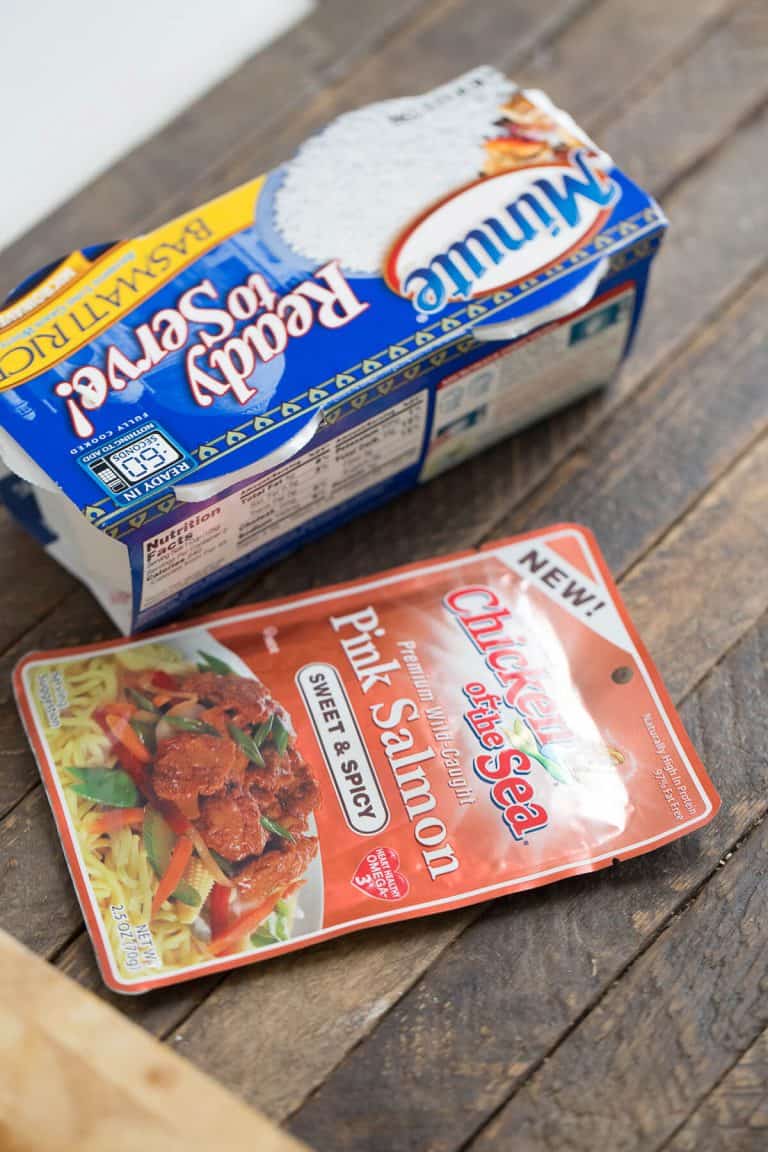 The Dietary Guidelines for Americans 2015-2020 recommended that Americans add seafood in place of other proteins in their diets at least two meals per week. These pouches are a simple yet flavorful way to add salmon to your diet. Flavors like Lemon Pepper, Sriracha, and Barbecue make it's easy to boost your salmon intake. The Minute Ready to Serve Rice and Chicken of the Sea Flavored Salmon Pouches are perfect together and make for a fun twist on the standard sandwich, salad or rice bowl. They are portable, do not need to be refrigerated and require little to no clean-up.
National Salmon Day: what can you do?
From September 25- October 8, Chicken of the Sea is partnering with the maker of Minute® Rice for the "Salmon Loves Rice Sweepstakes." They want you to use hashtag #NationalSalmonDay on your favorite social media. Answer salmon trivia questions for a chance to win a 7-day Alaskan cruise and Chicken of the Sea Flavored Salmon Pouches and Minute® Ready to Serve Rice products.
Join Andie Mitchell (@andiemmitchell) and @COSMermaid for a National Salmon Day Twitter Party on October 7 to kick off National Salmon Day on October 8! Don't forget to use the #NationalSalmonDay hashtag.
I'd be remiss if I didn't mention that my hometown, Cincinnati, OH made the list as one of the Top 10 Salmon Cities in the U.S! We aren't just about Goetta and Chili after all.
If you love this recipe, then you must try these Low Carb Smoked Salmon Cucumber Rolls, and this Egg Roll Noodle Bowl!
Yield: 8
Easy Spring Roll Recipe with Salmon
Spring rolls can be made at home and they are so simple too!
Ingredients
8 rice wrappers
1 small bunch of cilantro
8 pieces of Bibb lettuce leaves
1/3 cup matchstick cucumber slices
1/4 cup matchstick carrot slices
1 cup Minute® Ready to Serve Basmati Rice
1/4 teaspoon rice wine vinegar
1 2.5 oz pouch Chicken of the Sea Sweet and Spicy Salmon
Soy Dipping Sauce
1/4 cup soy sauce
2 tablespoons rice wine vinegar
1/2 teaspoon sesame oil
2 cloves garlic, minced
1/2 teaspoon Sambal Oelek
Instructions
Prepare rice according to package directions. Toss with vinegar and chill.
Add warm water to a large, wide bowl. Place one rice wrapper in the water to soften until pliable. Lay the soft rice paper on a cutting board. Place a few pieces of cilantro in the center, followed by a piece of lettuce. Place a spoonful of rice over lettuce. Add cucumber and carrot and top with salmon.
Fold sides in towards the center. Take the edge closest to you and roll forward away from you until you have a roll. Place on a serving tray. Repeat with the remaining ingredients.
For the sauce, whisk together the soy sauce through the Sambal Oelek.
Nutrition Information
Yield
8
Serving Size
1
Amount Per Serving
Calories

337
Total Fat

6g
Saturated Fat

1g
Trans Fat

0g
Unsaturated Fat

4g
Cholesterol

30mg
Sodium

548mg
Carbohydrates

53g
Fiber

1g
Sugar

1g
Protein

15g