This egg roll noodle bowl is everything you love about an egg roll in a simple to make a meal that the whole family will love!
This Eggroll Noodle Bowl Is The Best!
I think that Chinese buffets are for old people and kids. Old people love a deal and they love to get their money's worth. I know my own parents will eat until they are sick just to make sure that their money is not wasted. Whereas kids love a buffet because of all the fried food and desserts. The best is if kids get to go to a Chinese buffet with their grandparents. Grandparents won't care how many plates of dessert the kids get as long as they are getting their money's worth!
I am not big on Chinese buffets, but even I cannot resist the allure of eating as many egg rolls as possible. If only egg rolls weren't fried right? I have the best way to enjoy the whole egg roll flavor without worrying about the whole frying thing. This egg roll noodle bowl has all the flavor of egg rolls and it is so easy too!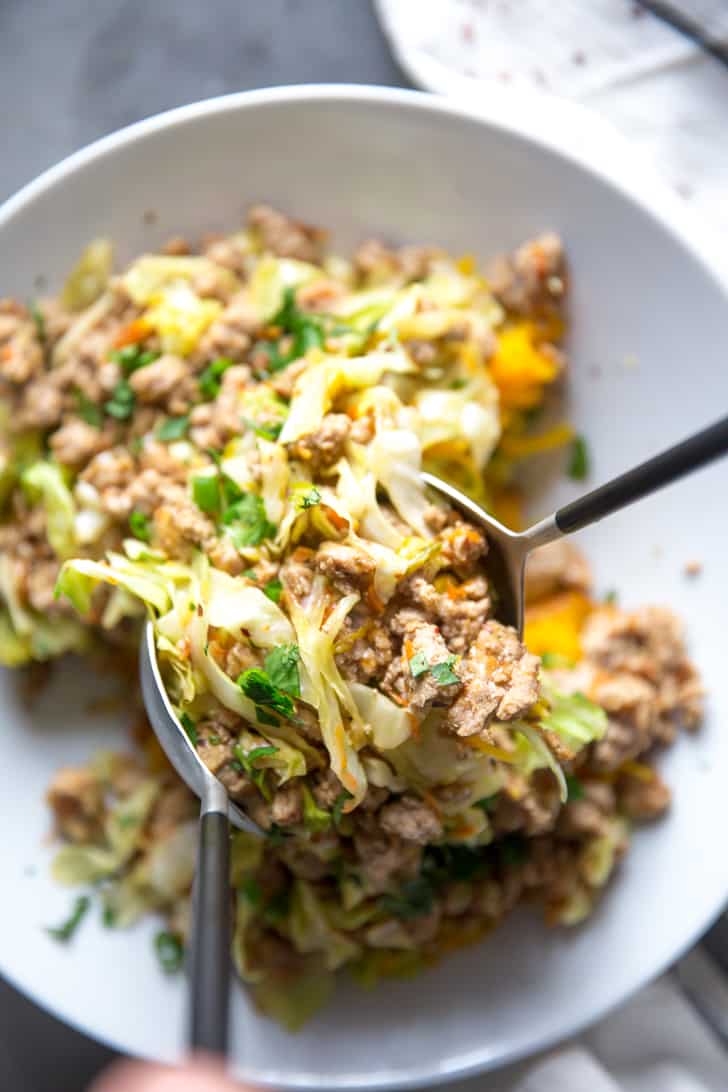 About Egg Roll Noodle Bowl
This recipe uses ground pork, however, beef, chicken or even shrimp are easy substitutions. Cabbage and a simple dressing are tossed with the meat until it is all seasoned and cooked through. Serve this combination over ramen noodles, linguini noodles, Cilantro Lime Cauliflower Rice or even veggie noodles to complete the meal. The spice and seasoning can be adjusted to suit your tastes. I added shredded carrots, but edamame and bell peppers would bump up the veggies and the nutrient content.
If you must go to the buffet, fill up on the sushi or something you cannot make yourself. But skip the egg rolls, you can easily make a meal out of those at home! While you are at it, try Ramen Noodle Soup or this Quick and Easy Mongolian Beef Recipe!
Yield: 4
Eggroll Noodle Bowl
This eggroll noodle bowl is everything you love about an egg roll in a simple to make a meal that the whole family will love!
Ingredients
½ teaspoon olive oil
1 lb ground pork
3 cloves minced garlic
1 teaspoon jarred minced ginger
½ teaspoon salt
½ teaspoon pepper
2 teaspoon rice wine vinegar
1 cup shredded carrot
1 small head of cabbage shredded
⅓ cup coconut aminos (or soy sauce)
1 tablespoon raw honey
1 tablespoon arrowroot powder or cornstarch
Red pepper flakes
Instructions
Heat olive oil in a large skillet over medium heat, add ground pork. Cook until crumbled and no longer pink. Add garlic and ginger, stir. Season mixture with salt and pepper. Stir in vinegar. Add shredded carrot and cabbage and heat until vegetables are slightly soft. In a separate bowl, whisk together the aminos or soy sauce, honey, and cornstarch. Pour sauce over mixture and bring to a boil, reduce heat and simmer for 5 minutes. Serve with noodles of your choice.
Nutrition Information
Amount Per Serving
Calories

0
Total Fat

0g
Saturated Fat

0g
Cholesterol

0mg
Sodium

0mg
Fiber

0g
Sugar

0g
Protein

0g