This easy salmon dinner is simply cooked on the stovetop and features ripe cherry tomatoes, fresh spinach and lots of crispy bacon!
This salmon dinner is one of my favorite ways to eat salmon, it is even popular with my kids! This recipe is rather quick cooking and while I serve it as a family meal, it could easily be a great meal to entertain your guests with. It both looks and tastes impressive.
WHERE IS THE BLT SALMON DINNER RECIPE?
If you'd rather skip cooking tips, suggestions, handy substitutions, related recipe ideas – and get straight to the BLT Salmon Dinner Recipe– simply scroll to the bottom of the page where you can find the printable recipe card.
Which Salmon Is The Best?
This is somewhat controversial. Her are a few things to consider before you make your next purchase:
US Atlantic Salmon – Often farmed and typically found off the coast of Maine. Nutritionally as good as wild caught, containing as many Omega-3's as their wild counterparts.
Imported Alaskan Salmon-Farmed from places like Chile, Canada, Norway..some places do not have the environmental practices and safeguards that we place on our farmed salmon.
Alaskan or Wild Caught Salmon – Often caught of the coast in the Pacific Northwest. This industry is closely watched so that too many fish are not taken from the oceans. Fish may taste "fishier" or have a more intense flavor than salmon from other areas, also, it is generally more vibrant in color.
I am not advocating one type of salmon over another, these are just a few points to consider. Keep in mind, that wild caught may have bones and that farm-raised salmon might be sent out for de-boning.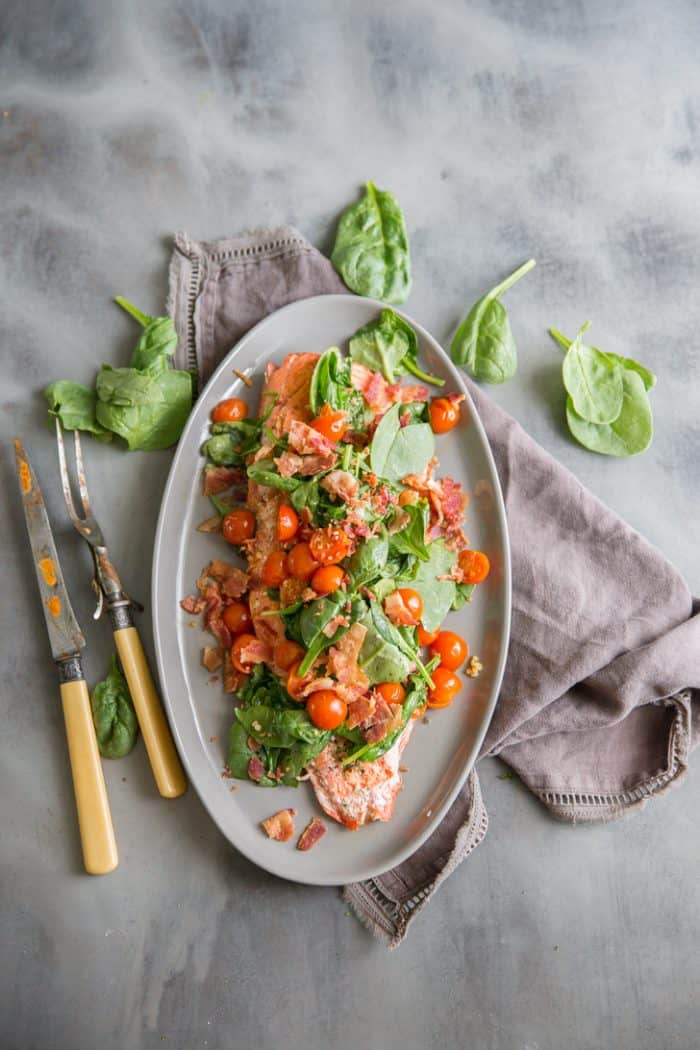 Salmon Filet or Steaks for This Salmon Dinner?
Honestly, either will do. The topping works well for either salmon cut. This is your preference.
How Do I know When My Salmon Is Done?
As salmon cooks, it will turn from its raw, translucent pink color to a more opaque color. It is ok if there is a tiny bit of pink when you remove the salmon from the heat source. It will continue to cook once it is removed from the heat. If you wait until the fish is opaque all the way through, it might end up being overcooked and dry.
When salmon flakes easily but still has a little color, it is done and ready to be plated. Salmon cooks quickly, make sure you watch it closely.
A side note, if my salmon has skin, I cook with the skin side down first. This will crisp up the skin and make it easy for a spatula to slide under the salmon. You can certainly prepare the salmon without the skin.
Any Ingredient Substitutions For This Salmon Dinner?
Spinach can withstand the heat nicely in this dish but kale would work as well, the flavor profile will be altered quite a bit.
Turkey bacon, pancetta or prosciutto can all be used in place of the bacon in this recipe.
Recipes Like Salmon Dinner
Mediterranean Salmon Sheet Pan
Easy Grilled Salmon with Chickpea Salsa
BLT Salmon
This easy salmon dinner is simply cooked on the stovetop and features ripe cherry tomatoes, fresh spinach and lots of crispy bacon!
Ingredients
1 cup cherry tomatoes halved
6 strips thick cut bacon, chopped
1 cup baby spinach
4 Salmon steaks
Instructions
Season salmon with salt, and pepper. Cook in preheated skillet for 4-5 minutes per side or until fish flakes easily. Remove and keep warm. In the same skillet, fry bacon. Remove. Drain all but 1 tablespoon of grease. Add tomatoes to hot pan, and saute just until tomatoes begin to soften. Add spinach and cook only until it begins to wilt but does not lose its color. Spoon veggies over salmon. Top with crumbled bacon.
Nutrition Information
Amount Per Serving
Calories

2411
Total Fat

176g
Saturated Fat

47g
Cholesterol

550mg
Sodium

1652mg
Fiber

3g
Sugar

6g
Protein

186g
SaveSave
SaveSave