This easy salmon dinner is simply cooked and features cherry tomatoes, spinach and lots of bacon!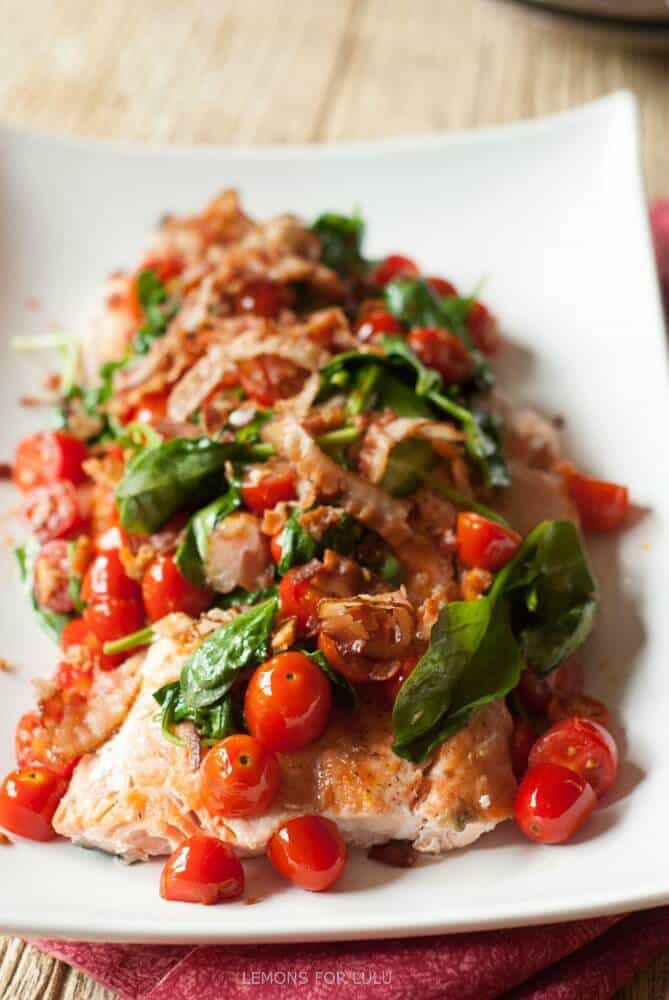 I was at the pool, yesterday with my kids.   It was a fabulous day, water was the perfect temperature, and the pool wasn't too crowded.  We were able to ride the waterslide with minimal wait.  Same goes for the diving board.  I don't do the diving board that
I tried to tell my kids how much I USED to really love jumping off the diving board.  I USED to do flips and cartwheels into the pool.  Now I just do a petite little jump and get on with it.   My son naturally asked why I don't do these things anymore.  My answer was  I became an adult. Now I know the saying that we are only as old as we feel.  Whatever. The fact is I'm 40. And there are just certain things that change with age.  Here is list of things that have changed for me
1.  I do not get that excited over crazy straws.
2.  I don't have to be the one to push the elevator button.
3.  I share.
4.  Swings give me vertigo.
5.  Amusement park rides make me want to vomit.
6.  I look forward to going to sleep.
7.  In conjunction with number 6, I can admit when I'm tired.
8. I enjoy sitting down to eat.
9.  All things related to coffee make me happy.
10. I can drink beer, not just root beer.
Now there are some ways that I am still very childish.  I get so excited when my birthday, I am all about the frosting and less about the cake, potty humor gets me every time!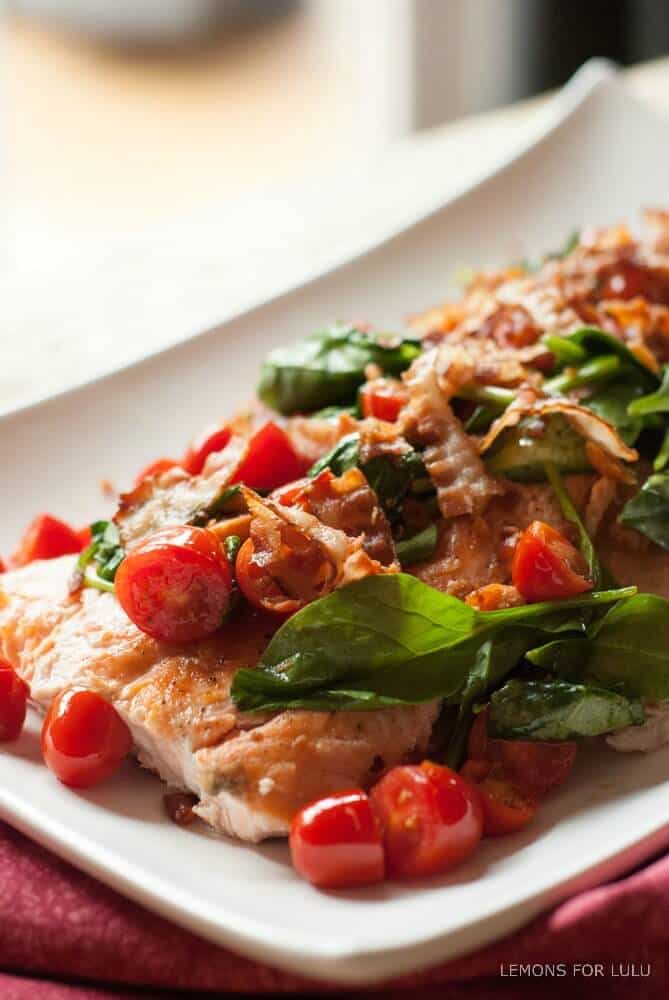 Like these salmon fish tacos or this easy spring roll recipe, I made this BLT salmon dinner thinking it was a very adult meal. My kids asked for seconds, spinach and all!!  I was so  pleased with them and with this tasty meal.  It's easy and so good for you (minus the bacon of course). You know at my age it's all about omega-3's!!!  Ha, I should just eat happily in moderation then do cannonballs off the diving board!
Ingredients
1

cup cherry tomatoes halved

6

strips thick cut bacon, chopped

1

cup baby spinach

4

Salmon steaks
Instructions
Season salmon with salt, and pepper. Cook in preheated skillet for 4-5 minutes per side or until fish flakes easily. Remove and keep warm.
In the same skillet, fry bacon. Remove. Drain all but 1 tablespoon of grease. Add tomatoes to hot pan, and saute just until tomatoes begin to soften. Add spinach and cook only until it begins to wilt but does not loose its color. Spoon veggies over salmon. Top with crumbled bacon.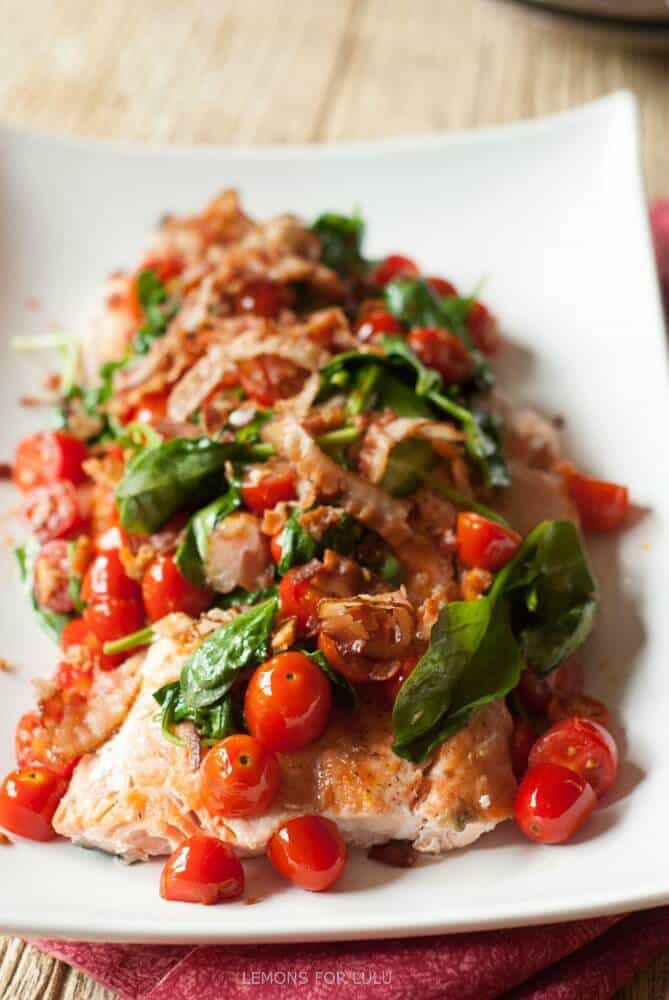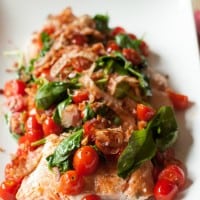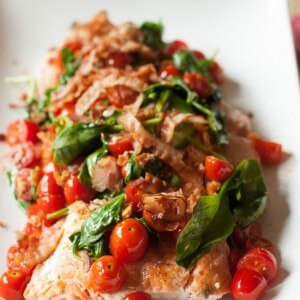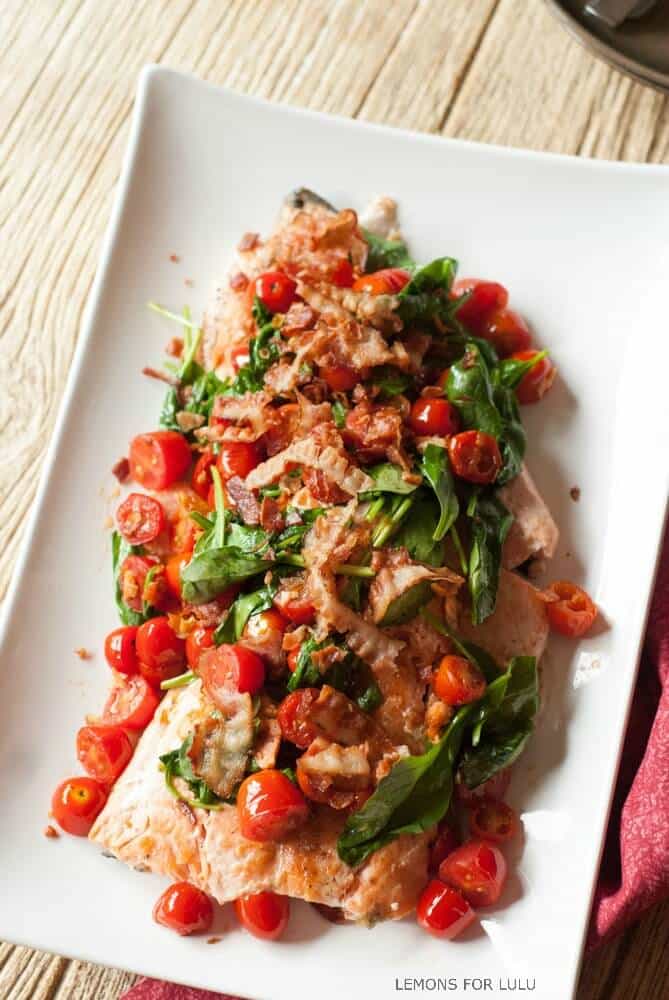 SaveSave
SaveSave