Cooking frozen fish sticks in the air fryer is convenient and easy when you're looking for a delicious crispy snack or simple lunch idea.
These air fryer fish sticks are a simple one (or two) ingredient recipe that starts with a box of your favorite fish sticks, so you already know it's going to be good. With a batch ready in under 10 minutes, your meal isn't too far away. No thawing is required.
Air Fryer Frozen Fish Sticks
Frozen fish sticks in an Air fryer tastes so much better than when it's cooked in the oven. Thanks to your nifty little kitchen appliance, we can get all sides of the fish sticks crispy and prevent them from getting mushy or soggy like when baked in the oven.
This air fryer fish sticks recipe will give you some tasty air fryer fish fingers that are crispy on the outside and flaky good on the inside. Not only that, but they're a bit healthier for you when cooked this way too.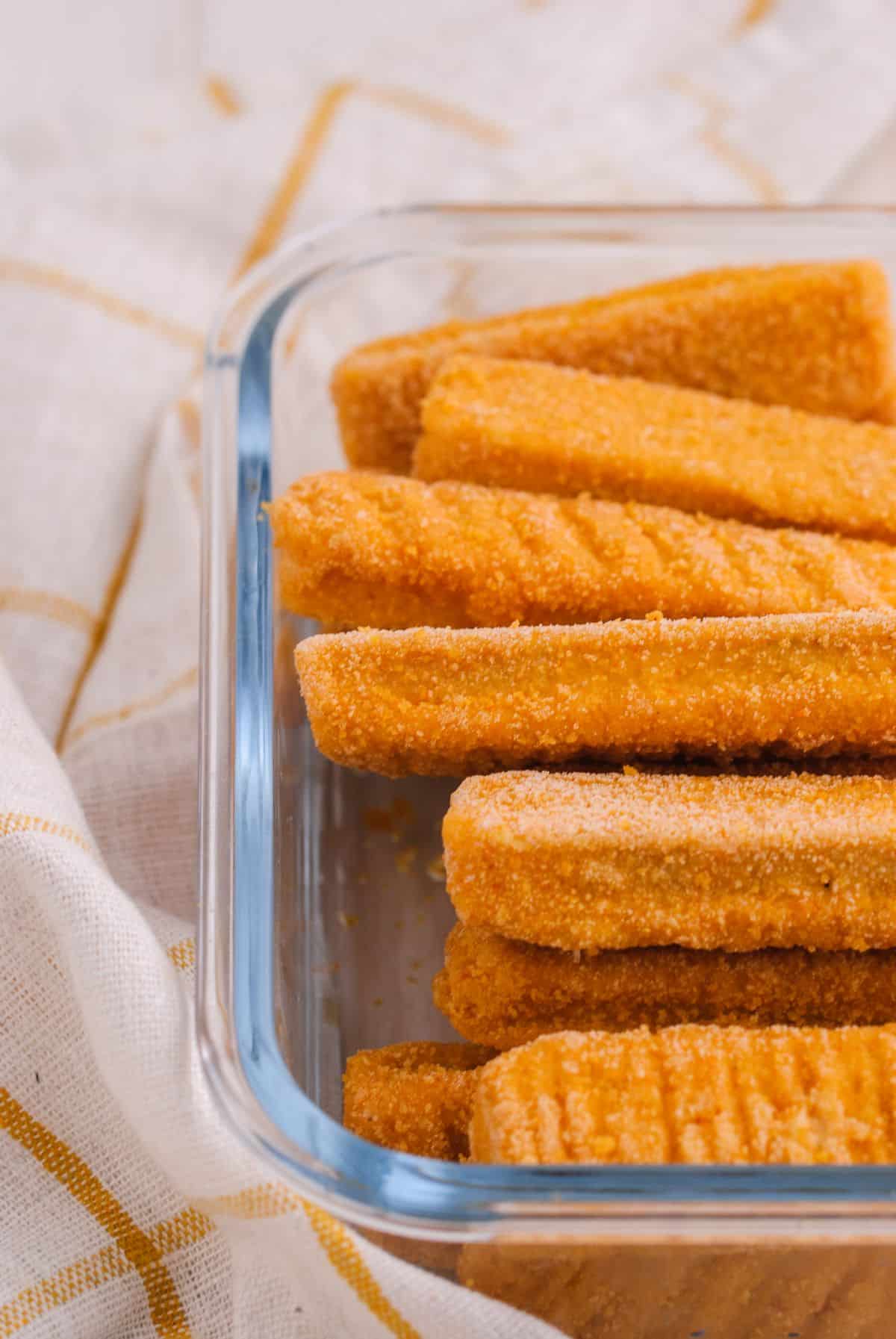 Ingredients
Frozen fish sticks
Olive oil spray
For the exact amounts needed, please see the recipe card below.
How to Make Air Fryer Fish Sticks
If desired, spray the inside of your air fryer basket with olive oil to prevent sticking. This step is optional.
Place your frozen fish sticks into the basket and make sure to leave enough room for the air to circulate around them.
If you want, you can lightly spray some olive oil over the top of the fish sticks.
Fry at 392 degrees F for 7 minutes, making sure to flip them over halfway.
Recipe Tips
Do not overcrowd the air fryer basket with fish sticks. You should easily get 10-12 fish sticks in there. Do not overlap them either, you want them in a single even layer because overlapping will cause them to become soggy and cook unevenly.
You cook the fish sticks from frozen. Do not leave the fish sticks on the counter too long before cooking this recipe because when they thaw they take less time to cook and can result in overcooked fish sticks.
You don't need the added oil. We give you the option of adding a little olive oil to this recipe but you can easily omit it if desired. The air fryer is a great way to reduce and omit added oils from recipes like this.
Air Fryer Fish Sticks Time and Temp
We cook these air fryer fish fingers at about 390 degrees F, but the cooking time can vary slightly. This is because different brands of fish sticks come in different sizes and thicknesses.
Your first batch of cooked fish sticks will be the "test" batch and from that, you can adjust the time slightly on the following batches by extending the baking time by an added minute or giving them slightly less time too.
What Is The Best Brand of Fish Sticks to Use?
Any brand will work well for this recipe, but some of the most popular brands to use would be:
Trident Seafoods
Gorton's fish sticks
Mrs. Pauls
Van De Kamp
Trader Joe brand fish sticks
FAQs
Are fish sticks already cooked?
This actually varies per brand as some may have precooked frozen fish sticks, but the ones I usually use start with raw fish sticks. If you are unsure, you can always check your product packaging to confirm.
What fish is used to make fish sticks?
Fish sticks are most commonly made using haddock or cod, but you can find other fish used like pollock or salmon.
Are fish sticks healthy?
Again, this answer will depend upon the brand and type of fish stick that you purchase. Most will contain some filler ingredients, fats, and oils, but by choosing to cook our fish sticks in the air fryer, we can make them a little healthier. Look for packages with fewer added ingredients and more whole foods.
How to serve fish sticks
You can serve these tasty fish fingers up with just about anything like ketchup, tartar sauce, honey mustard sauce, or ranch dressing. Side dishes that would be great include a filling sandwich, mashed potatoes, potato chips, french fries, or tater tots.
How to reheat fish sticks in the air fryer
Place your leftover fish sticks in the air fryer and cook at 400 degrees F for about 1-2 minutes until warmed through. Serve and enjoy.
For more delicious air fryer recipes, check out these great suggestions:
Yield: 15 fish sticks
Air Fryer Fish Sticks
The easiest way to prepare fish sticks and in a much healthier way thanks to the air fryer. No grease, and no need to thaw them first!
Ingredients
15 frozen fish sticks (one packet) 
Olive oil spray (optional) 
Instructions
This step is optional, but you can start by spraying the basket of your air fryer, this will help prevent the fish sticks from sticking to it.
Place the frozen fish sticks in the basket, making sure to leave enough room for the air to circulate.
If you want you can spray them too, but I don't find it necessary.
Fry for 7 minutes at 200C/392 F, flipping them halfway.