Rumchata drinks are a great way to enjoy your favorite cocktails and drinks with a milky twist. Whether you are looking for something delightfully sweet, savory, or both there is a Rumchata drink recipe out there for you.
In this article, we share some Rumchata ideas on what to mix with this drink and provide answers to frequently asked questions about it.
What Is Rumchata?
Rumchata drinks are delicious, but what exactly is Rumchata anyways?
Rumchata is a cream-based, rum-based liqueur made with vanilla, cinnamon, and cream.
Rumchata has a sweet and creamy flavor that's similar to horchata, a traditional Mexican drink made with rice milk, almonds, and cinnamon.
While Rumchata can be enjoyed on its own, it is often used as a mixer in cocktails and other drinks.
What to Mix With Rumchata
As with many alcoholic beverages, you have the option to drink them as they are. However, it's not only fun, more interesting, and more exciting to mix drinks with other flavors, and it can be so much more delicious!
There are plenty of delicious ingredients you can mix with this drink. Certain ingredients, in particular, bring the best out of Rumchata.
Tasty mixers for Rumchata drinks include coffee, milk, soda, and even fruit juices. If you want to get a tad more creative, try adding a little bit of Rumchata to your favorite dessert recipe.
How to drink Rumchata will depend on your flavor preferences, but here are twenty Rumchata drinks that you can try out.
Delicious Rumchata Cocktails
---
If you enjoy eating ice cream, you may love drinking it too! But this recipe isn't your basic milkshake.
The drink includes vodka, Kahlua liqueur (a Mexican coffee liqueur), and ice cream.
The recipe primarily calls for Irish cream, but Rumchata makes an excellent substitute, especially if you prefer that punchy rum flavor.
This frozen drink is perfect for wintertime gatherings, and it's super fun to make with your friends.
---
This pina colada shot is to die for – a sweet drink, a dessert, and an alcoholic treat all in one.
This recipe helps you create soft, sweet, delectable, and cute pina colada shots using milk, coconut pudding, pina colada mix, and dark rum.
However, instead of the dark rum (or in addition to the dark rum), you can pour in some Rumchata for a little extra flavor.
Bring them to your next friendly gathering or potluck if you want to bring the ultimate crowd-pleasing treat!
---
This cream, light, and delightful beverage is a delightful take on the classic hot chocolate.
You'll make it with white chocolate, milk, and Rumchata.
You can even add a little bit of whipped cream and cinnamon on top to make it look extra pretty and festive.
This would be the perfect drink to curl up with on a winter night or to serve at a holiday party.
---
This inviting, flavorful cocktail is the perfect fall drink, and it's so easy to make!
All you need is apple juice, Rumchata, brandy, and cinnamon for the garnish.
It's a great idea to serve this drink in a martini glass, especially if you're preparing it for a classier evening event.
---
A martini for the wintertime, this recipe is a delightful mix of chocolate, peppermint, and Rumchata.
It's made with your favorite type of chocolate (dark preferably), peppermint extract, and Rumchata.
If you want to get really festive, you can garnish the drink with some crushed candy canes or mini chocolate chips.
This is a cheery twist on a classic holiday flavor combination, and it's sure to be a hit at your next holiday party.
---
This recipe is for all of the coffee lovers out there who also enjoy a little bit of booze in their cups.
It's a very straightforward drink recipe that only requires two ingredients: coffee and Rumchata.
Depending on how much coffee or Rumchata you want to add, you can make this drink as strong or weak as you like.
Rumchata coffee is the perfect drink to enjoy on a cold winter morning or a lazy Sunday afternoon.
---
This beverage is a classic margarita that combines other liquors for an exciting twist. This recipe is perfect for any summer party or gathering.
You'll start with tequila, which is a given for any margarita, and horchata for a creamier texture and milkier flavor. But you'll also include Fireball whiskey and Rumchata for a little something extra.
It's a great idea to rim this drink with sugar and lime and garnish it with a lime wedge.
---
This salted caramel drink is a must-try for any salted caramel lover, as it is a delightful marriage of sweet and savory.
It's made with salted caramel vodka, Rumchata, caramel candy, and caramel syrup. That said, if you're not a caramel fan, it's best to stay away from this one!
You can rim the glass with some coarse salt or sugar depending on your preference.
---
This recipe is for all of the pumpkin spice lovers out there who also want to get a little tipsy.
You can make this drink with pumpkin spice coffee, cream, milk, cinnamon, vanilla extract, and whipped cream.
You can also use regular coffee and just add a little bit of pumpkin spice for extra pumpkin flavor.
---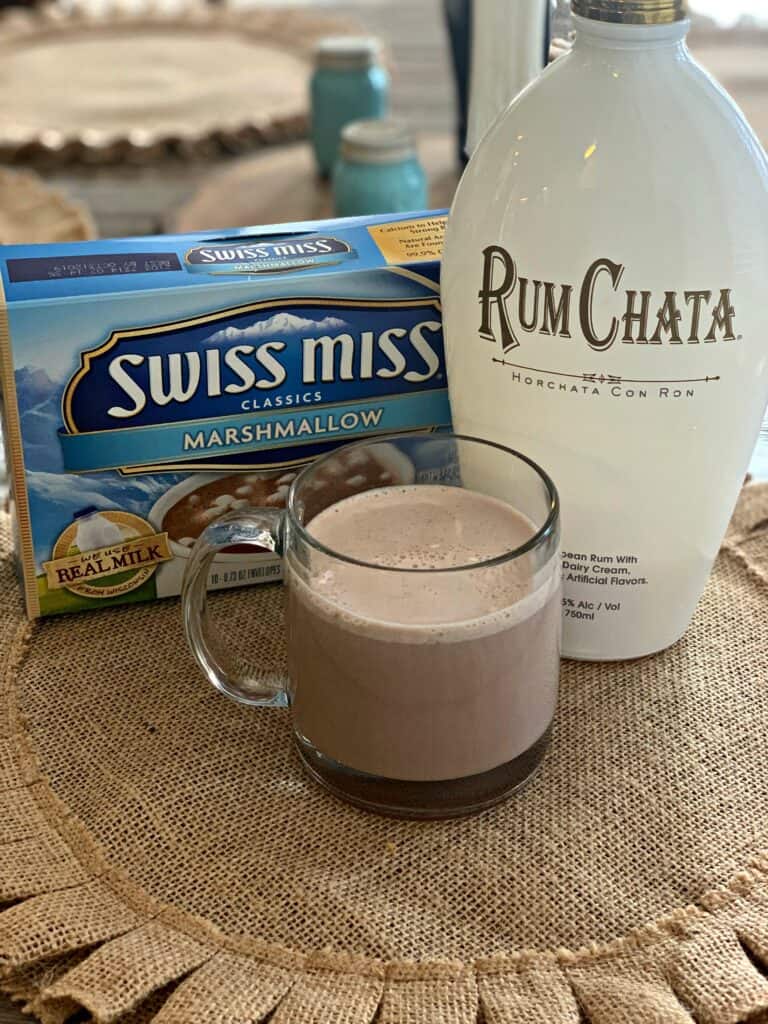 This recipe is similar to the White Hot Chocolate Rumchata, except it's made with regular instead of white chocolate.
It's just as easy to make and just as delicious! Simply combine milk, chocolate (or simply a pack of a hot cocoa mix as this recipe suggests), and Rumchata in a pot on the stove and heat until everything is melted and combined.
Then, garnish with some whipped cream and cinnamon, and enjoy!
---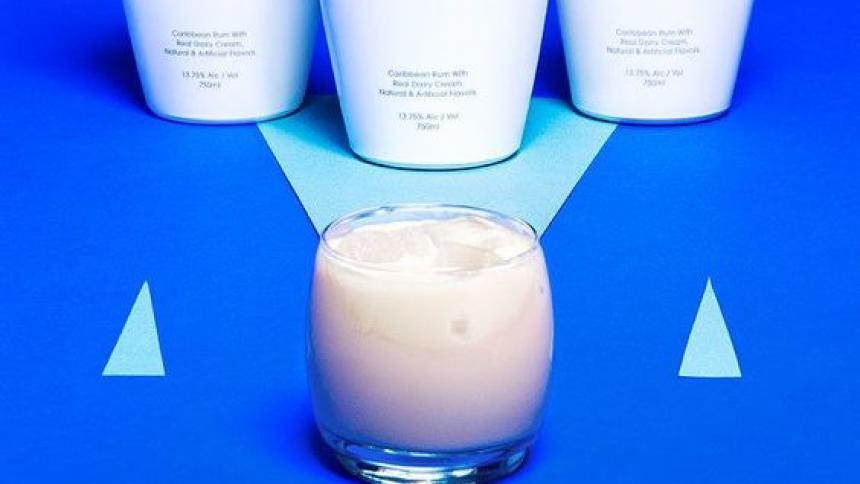 Rumchata, vodka, coffee liqueur like Kahlua, and cream come together for this delectable sweet White Russian cocktail.
This beverage is perfect for sipping if you're looking for something sweet after dinner, especially during the holidays.
Feel free to add caramel to the mix if you want to sweeten things up even further.
---
This Rumchata drink idea is similar to the classic spiked coffee but more suitable for the Spring and Summer seasons.
Instead of a hot alcoholic coffee, you'll simply make it iced and much more refreshing to drink on warm mornings.
But just because you won't be drinking it during the holiday season doesn't mean you can't include whipped cream and cinnamon for that extra sweet touch!
---
Like the pina colada pudding shots mentioned previously, this Rumchata idea is part drink, part shot, and part dessert, given its creamy pudding consistency.
All you'll need to prepare these shots are Rumchata, cheesecake flavored pudding, milk, whipped cream, and graham cracker crumbs.
These cheesecake pudding shots are excellent for intimate parties at any time of the year.
---
Rum and coconut go very well together, so it should come as no surprise that Rumchata and coconut go well together too.
Given that it has warm and soothing flavors of coconut rum and peppermint schnapps but is also a chilled, frosty drink, this is a lovely holiday beverage for those living in warmer climates.
You'll get all the holiday cheer without being ridiculously hot when drinking this Rumchata cocktail.
---
Lemon is another flavor that goes well with Rumchata because of its sweet, citrusy notes.
This is perhaps one of the most accessible Rumchata ideas as well; all you'll need is three ounces of Rumchata and one ounce of limoncello for this slow sipping cocktail.
However, there are other recipe variations if you want to take it up a notch, such as including lemon rum or lemon vodka instead of limoncello or straining it into a fancy cocktail glass.
---
This is a smooth, creamy, and delicious vanilla martini that's perfect for those who enjoy sweet cocktails.
You'll make it with Rumchata, vanilla vodka, and a splash of cream if you'd like. You can garnish the cocktail with cranberries, as the recipe suggests, or with vanilla bean and some ground cinnamon.
If you want to make it even more decadent, you can rim the glass with vanilla sugar.
---
If you're a huge fan of the sweet and delicious cereal Cinnamon Toast Crunch, you might be interested in trying a more adult version using the same flavors.
You'll use vanilla vodka, fireball whiskey, and Rumchata to create the perfect combination of flavors that'll mock the taste of the cereal – with an extra punch.
To complete the drink with even more charm, you can rim the glass with cinnamon sugar.
---
This is a delightful spin on the classic root beer float that adults will enjoy.
It's an easy recipe to follow as you only need two ingredients – root beer and Rumchata.
But if you'd like to get creative, you can add some vanilla ice cream to the mix. Then, top off the float with whipped cream and a cherry on top, and you're good to go!
---
Another excellent cocktail choice for the holiday season is the Snickerdoodle Cocktail with Rumchata.
The standout ingredients are Rumchata and amaretto.
Then you'll include whole milk (or coconut milk for a tropical spin), cinnamon, and simple syrup.
---
This is a festive cocktail perfect for the holiday season – or any time of year.
It's a twist on the classic eggnog recipe that includes just eggnog and Rumchata.
You can choose to pick up eggnog from the store or make your own homemade eggnog.
---
Frequently Asked Questions
Here are answers to some of the most frequently asked questions about Rumchata.
What does Rumchata taste like?
If you've never had Rumchata before, you might be wondering what this popular liqueur tastes like.
In short, it tastes like a creamy, sweet, and smooth mix of rum and horchata.
Horchata is a traditional Spanish drink made with rice, water, sugar, and spices. So if you've ever had horchata before, you'll have a good idea of Rumchata's taste.
If you haven't had horchata, think of it as a cross between milk and rice pudding with a hint of cinnamon.
Does Rumchata go bad?
Now that you've seen all the delicious ways you can enjoy Rumchata, you might be wondering how long this tasty liqueur will last.
Luckily, Rumchata has a relatively long shelf life and doesn't spoil as quickly as other dairy products.
Unopened, Rumchata will last for about two years. Once you open it, you have about six months to finish it before it starts to go rotten.
How much is Rumchata?
The price of Rumchata will vary depending on where you purchase it.
Generally, a 750ml bottle will cost between $15 and $20.
Of course, you can always find deals and discounts on Rumchata, so keep your eyes peeled!
If you're wondering where to buy Rumchata, you can find it at most liquor stores or online.
Is Rumchata gluten-free?
Yes, Rumchata is gluten-free! This is fortunate news for those who are celiac or have gluten intolerance.
Can I make my own Rumchata?
Yes, you can make your own Rumchata at home!
While it's not challenging to find Rumchata at most liquor stores, some people prefer to make their own. This way, they have more control over the ingredients and can customize the flavor to their liking.
There are a few different homemade Rumchata recipes, but they all follow a similar process.
You'll need to combine milk, cream, sugar, cinnamon, vanilla extract, and rum. Then you'll let the mixture sit for 24 hours so the flavors can meld together. After 24 hours, strain the mixture, and voila – you have homemade Rumchata!
How much sugar does Rumchata have?
One of the primary ingredients in Rumchata is sugar, so it's no surprise that this liqueur is reasonably sweet.
One ounce of Rumchata contains about 9 grams of sugar.
Final Words
Whether you're looking for a cheerfully festive cocktail to enjoy during the holidays or a tasty dessert drink, Rumchata is the way to go.
This creamy liqueur is a favorite among many, and it's easy to see why. With its smooth flavor and versatility, Rumchata is a great addition to any bar cart.
So go ahead and give Rumchata a try – you just might be surprised by how much you enjoy it!