With this simple Air fryer chicken breast recipe, we are going to show you two ways to cook up tasty chicken for any occasion. A simple honey mustard dressing or cajun spice rub will have your chicken bursting with flavors and is perfect for any meal.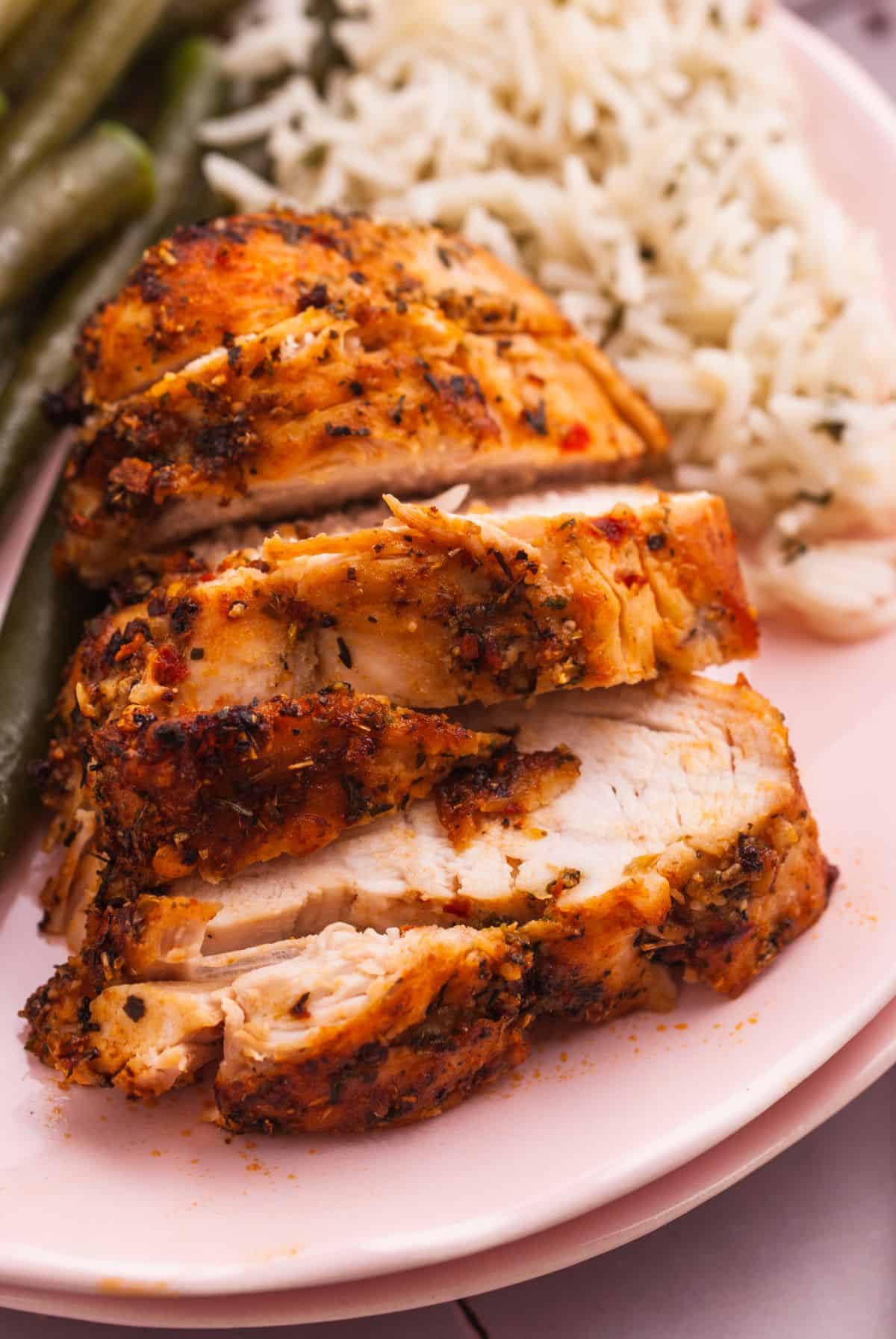 Cooking chicken breast in the air fryer is my favorite way to do it. Made in just a matter of minutes you get a perfect chicken with very little effort. Crisp skin, juicy centers and so much flavor in every bite. They'll taste like grilled, but without all of the effort.
Why This Recipe Works
It's versatile. Whether you are in the mood for something savory or looking to get a kick of heat from your chicken this recipe can do either. You can even adapt the spices and adjust the recipe to make it fit your own tastes.
It's quick. Cooking chicken breasts in the oven means waiting for the oven to preheat, and then waiting a good 40 minutes or so on top of that. The air fryer takes a fraction of the time and no preheating is required. This means you can get your meal on the table faster.
It's healthy. Chicken breasts are a healthy part of any diet and this method of cooking them is a great way to keep them healthy. The air fryer reduces the need for added grease or fats and even with the homemade seasoning rubs, we can keep these dishes pretty nutritious.
Ingredients
Boneless skinless chicken breasts
Olive oil

For the Honey Mustard Dressing, you will need:
Honey
Dijon mustard
Oregano
Salt
Olive oil

For the Cajun Rub, you will need:
Cajun spice mix
Garlic powder
Chili flakes
Mixed dried oregano and thyme
Olive oil
For the exact amounts needed, please see the recipe card below.
Equipment Needed
Air fryer
Knife
Cutting board
Kitchen brush
Small bowls
2 medium-sized bowls
How to Make Air Fryer Chicken Breast
Combine all of your spices in a small bowl and feel free to adjust the amount of olive oil and salt until you find a nice balance.
Prep the chicken breasts in a couple of medium-sized mixing bowls, each with its own spice mixes.
Rub or paint the chicken breasts well to coat.
Let the chicken rest or marinate in the rubs for at least one hour, or overnight.
Once the chicken has finished marinating, spray the inside of your air fryer basket with olive oil to prevent the chicken from sticking.
Add the chicken breasts to the basket.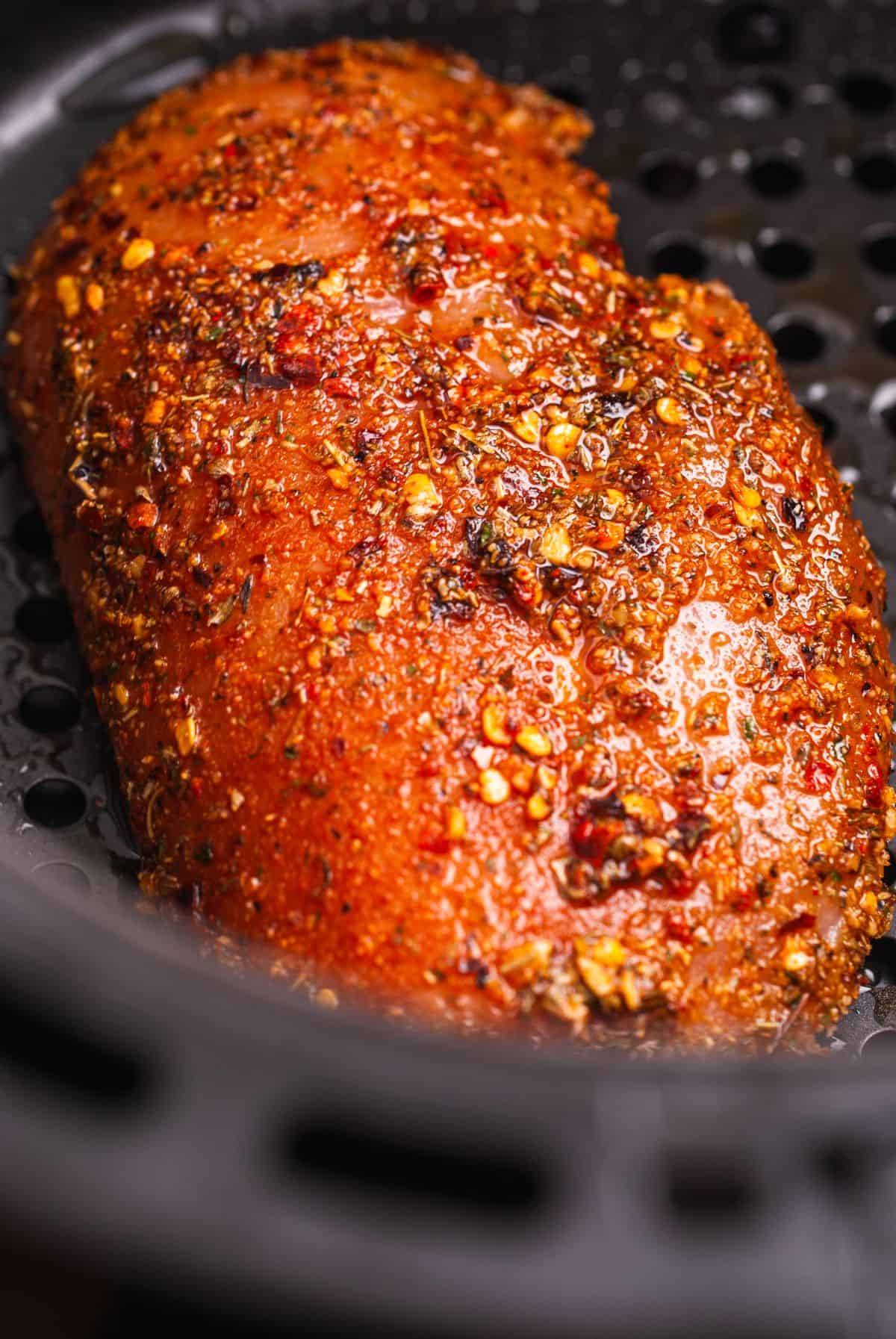 Cook at 370 degrees F for 15 minutes. Make sure to turn the breasts over at the 7-minute mark so that both sides can be cooked.
Allow the chicken breasts to rest for 5 minutes before cutting. This will lock in all of the juices so that the chicken doesn't dry out when sliced.
Recipe Tips
Depending on the thickness of your chicken breasts you might need to adjust the cooking time. I've found 15 minutes to be the average needed time to cook whole chicken breasts. If you do this method with sliced chicken breasts, have in mind you'll need less time.
Do not skip the resting time, it's a key step that ensures juicy meat.
Variations
Other good marinating spices mixes are:
Honey and soy sauce
Garlic and lemon and Italian spices
Cilantro, orange, and garlic
What to Serve With Air Fryer Fried Chicken Breast
Serve alongside some white basmati rice and some veggies of your choice (green beans, broccoli, cauliflower) for a perfect wholesome lunch or dinner. Another great idea is to slice your cooked chicken breasts thin and serve them atop some salad greens for a healthier and lighter meal.
FAQs
How long is air fryer boneless chicken breast good for?
This cooked chicken can last for up to 5 days in the fridge in an airtight container. You can eat the chicken cold as part of a salad or warm it up in the microwave or air fryer before serving your leftovers warm to create a new meal.
Can I freeze air fried chicken?
Yes, this chicken can be frozen for up to 3 months. If freezing, portion it already sliced to ensure convenience. To eat let thaw in the fridge for a couple of hours and then warm up in the air fryer or a pan for 5 minutes.
How long do chicken breasts take in air fryer?
The amount of time needed to cook these chicken breasts will vary based on the size of the chicken breasts used. Thinner cut chicken breasts like cutlets may be finished in as little as 10 minutes whereas larger and thicker breasts may take 15-20 minutes. Frozen breasts will also need a few additional minutes to cook through as well.
If you love air fryer recipes, then you are going to enjoy these recipes too:
Yield: 2
Air Fryer Chicken Breast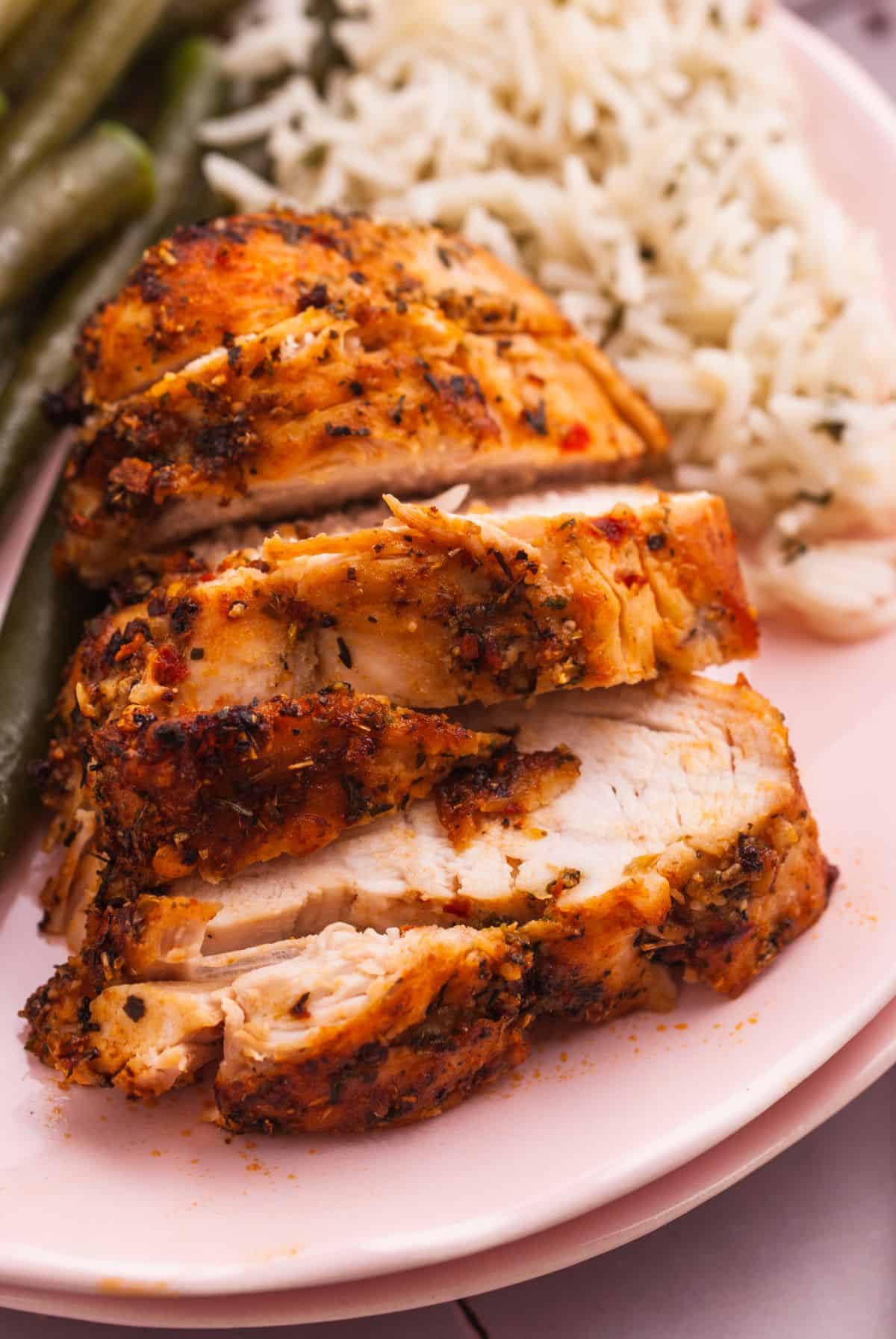 Easy, juicy, and bursting with flavors chicken breast made in the air fryer, with two different flavors
Additional Time
5 minutes
Ingredients
2 boneless, skinless chicken breasts
¼ cup olive oil :
Honey and mustard rub: 
2 teaspoons honey
2 teaspoons Dijon mustard (it can be one smooth and one grainy for texture)
1 teaspoon oregano
Salt to taste (if any) 
Optional 1 teaspoon olive oil to make it runnier
Cajun rub: 
2 teaspoons cajun spices mix of your choice
1 teaspoon garlic powder
1 teaspoon chili flakes
1 teaspoon mixed dried oregano & thyme
1 ½ teaspoon olive oil 
In this case, I didn't add any salt since there's salt included in the cajun spices mix.
Instructions
Start by combining the spices in a small bowl. In both cases feel free to adjust the amount of olive oil, and salt to find the perfect balanced taste.
In a couple of medium-sized bowls prep the chicken breast, each with one of the spices mix.
Rub/paint well each of the chicken breasts with the spice mix.
Let sit/marinate with the spices for at least 1 hour (better if overnight)
Once the marinating is done, spray/paint the basket of your air fryer with olive oil to prevent the chicken breasts from sticking.
Add the chicken breasts to the basket.
Cook for 15 minutes at 370F (185C) turning them around the 7-minute mark to ensure even cooking.
Important step: let rest the cooked chicken breasts for 5 minutes before cutting, this will lock all the juices inside and will ensure juicy meat!
Nutrition Information
Yield
2
Serving Size
1
Amount Per Serving
Calories

533
Total Fat

38g
Saturated Fat

6g
Trans Fat

0g
Unsaturated Fat

30g
Cholesterol

102mg
Sodium

3816mg
Carbohydrates

11g
Fiber

2g
Sugar

6g
Protein

38g