The keto diet is nothing new and has worked wonders for people who follow the diet, however, if you are new to the world of keto, it might be overwhelming at first. However, with this list of easy-to-follow keto crockpot recipes, you will be just fine.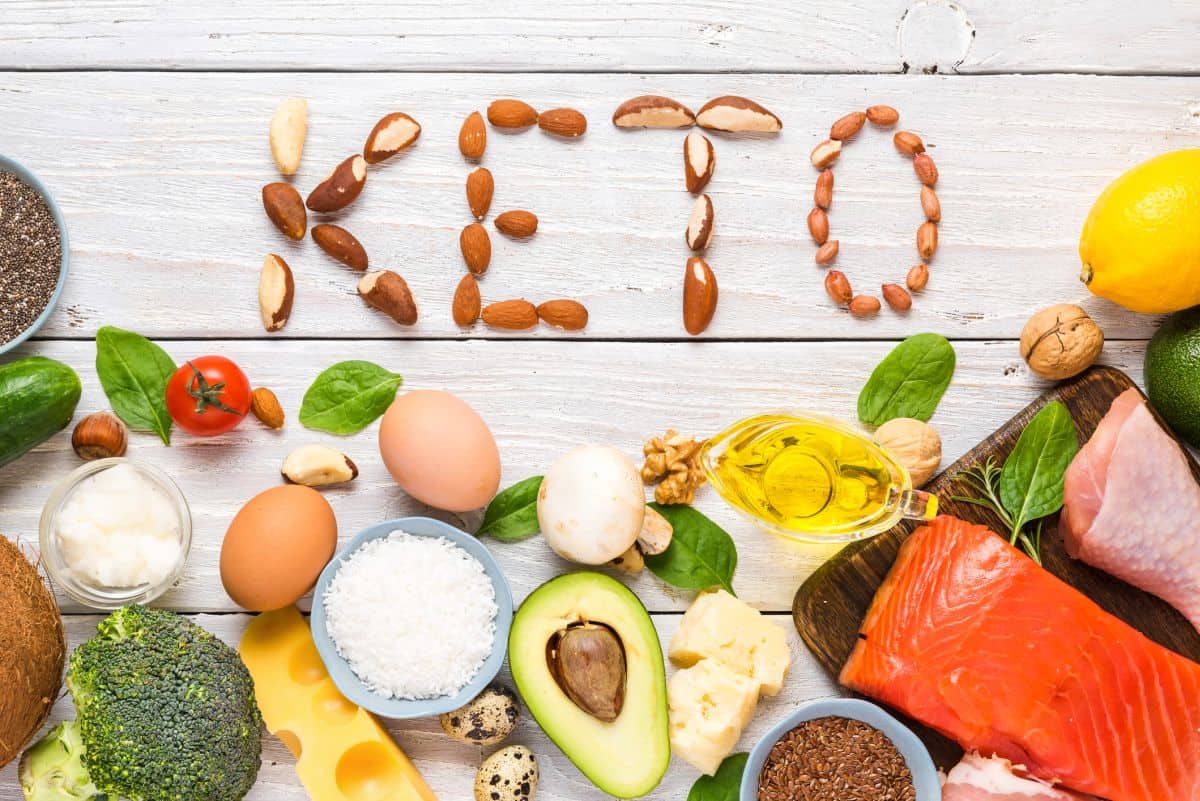 A crockpot or slow cooker is synonymous with easy and time-saving. So try your hand at these recipes when you have some spare time or want to meal prep for the week.
What Is Keto?
Keto is a shorter term for the ketogenic diet. A high-fat low-carb diet is meant to aid individuals in weight loss and lower blood sugar among other health benefits – when your body focuses on metabolizing body fat, rather than the carbohydrates from your food, it enters a stage called ketosis.
Eating foods with little to no carbs means your body can go into ketosis much quicker and easier, thus allowing you to reap all the benefits of ketosis.
Top Keto Foods
The top keto foods are those with high fat, medium protein, and little to no carbs – if it's carb-free, it's the best.
Raw or Unprepared Keto Foods
Avocado – High in good unsaturated fats, very low in carbs.
Nuts and seeds – The most common nuts and seeds like almonds, walnuts, and pumpkin seeds have about 2% carbs in them.
Olive Oil – Olive oil is 99.9% fat, and especially high in monounsaturated fats, making them better than their high polyunsaturated fat substitutes like sunflower oil.
Cooked or Prepared Keto Foods
Salmon – Salmon has 0 grams of carbs and is packed with good fats and omegas – this is true for most other types of fish, and shellfish has very low carbs if any at all.
Eggs – Even though egg yolks are rather high in cholesterol, it is a very healthy source of fat, one egg has only about 1 gram of carbs
Cheese – Cheese is known to be high in fat. But you may not have known one ounce of cheese (28 grams) only has 1 gram of carbs.
Tips for Keto Crockpot Recipes
Since you won't be using food that is high in carbs, there is rarely a need for oil in your crockpot, the fat from your other ingredients like your meats will have more than enough fats in to ensure it won't stick.
If you need to thicken whatever you're cooking in the crockpot, flours are out. However, you can try adding some xanthan gum to thicken your soups/sauces, it works well without adding carbs.
As with any meat, whether in a keto meal or normal, you don't have to get the best meat. It will cook for a long time at a low temp. So you can use a cheaper cut of meat and still have it be tender when it's done cooking.
How to Layer Ingredients When Making Keto Crockpot Recipes
When you cook food in a crockpot, the bottom of the crockpot will receive the most amount of heat. Therefore, it is best to layer your food in such a way that it is efficiently cooked.
If you have time to be around the crockpot when it's cooking, instead of layering it physically, you can layer it by time. Adding certain ingredients first, and others only later, else stack them up from least tender to most tender in one go.
Instructions:
Bottom Layer / First Stage
Since you most likely will not find low-carb root veggies that will go on the bottom layer, utilize the bottom layer for the meats that you will be cooking, especially if it's a cheaper cut of meat.
If you are using keto-friendly hard or root veggies, now is the time to add them.
Middle Layer / Middle Stage
Add your softer and tender veggies here, they don't need as much time to tender up, since they will be tender early on in the process.
Top Layer / Last Stage
Add your seasoning & spices here, you might think to add them at the beginning of the cooking process but in reality, since it will be cooking for so long, the flavors might fade away when you're cooking something for 6+ hours.
Add them in the last third of the time you need to cook your recipe for. This applies to ground herbs and spices, whole herbs and spices can be added in the first stage or layer.
15 Best Keto Crockpot Recipes
Keto might be easier than you think. However, prepping ingredients and cooking new dishes can't always be allowed in everyone's schedules. So, why not try out your crockpot? You can set it and forget it, making the switch to keto even easier.
Keto Crockpot Beef Recipes
Beef cuts can be really tough sometimes if you don't pay a premium for them. So a crockpot is a very simple way of making beef a tender and delicious meal.
1. Crockpot Pot Roast
Every pot roast needs some potatoes right, well, no – substitute the optional potatoes in this recipe by LemonsForLulu with some turnips, celery, or red radishes if you want to.
2. Crockpot Oxtail Stew
If you haven't tried oxtail yet, you definitely should – most butcheries have some oxtail, or you can call and order in advance. If you're struggling to find some, this recipe by LemonsForLulu works well with brisket as well
3. Slow Cooker Mongolian Beef
Mongolian beef is a Chinese dish and AllDayIDreamAboutFood shows you how to make it in the simplest way- by using your crockpot. The dish is packed with umami flavors and the ginger adds a lot of depth to the dish.
4. Crockpot Beef Stroganoff
SeekingGoodEats has a great weekday meal recipe that will take you about 10 minutes to prep in the morning. That way, by the time you're ready for dinner in the evening, you have a hearty and creamy meal ready to go.
Keto Crockpot Soup Recipes
5. Vegetable Beef Soup
If you are feeling under the weather or winter is coming up, this recipe by LemonsForLulu will ensure you get a boost of nutrients to keep your body healthy and in ketosis. Just swap the potatoes for carrots or turnips and you're good to go.
6. Brocolli And Cheese Soup
Creamy and packed with nutrients, you can't go wrong with this recipe by FitToServeGroup. Their version of the classic soup is low-carb and gluten-free. So you can enjoy it without guilt.
7. Bone Broth (Collagen Soup)
Bone broth is considered a superfood with many health benefits. Luckily LemonsForLulu takes out the thinking work with their easy-to-follow recipe. It can be kept for 6 months in the freezer. However, you'll want to consume it more regularly for its health benefits.
8. Low-Carb Crack Chicken Soup
When you are in need of some feel-good food and chicken noodle isn't keto, what do you do? You try this very easy recipe by PlainChicken and let the slow cooker do the work for you of course.
Keto Crockpot Chicken Recipes
9. Slowcooker Shredded Chicken
With a keto diet comes a lot more meal prepping, and LemonsForLulu has the best recipe for some shredded chicken to use in salads, on tacos or just to serve as is when you are craving some good chicken.
10. Slowcooker Balsamic Keto Chicken Thighs
Weekday meals just got easier with this recipe by SugarFreeMom. It can be made in your crockpot, instant pot, or stovetop. Therefore, depending on what your time needs are, you will have a delicious meal that is very easy to make.
11. Chicken And Rice Stew
While traditional rice is gluten-free, it's not keto-friendly. So NutritionInTheKitch suggests you use cauliflower rice instead, which will result in a just as tasty chicken stew.
12. Tuscan Garlic Chicken
Take your tastebuds on an adventure with this delicious recipe from Wholesomeyum. The dish is packed with flavor and easy to prep. You can store this dish in the fridge for up to 3 days, or 3 months in the freezer, although there might not be any leftovers once you taste it.
Keto Crockpot Sauce Recipes
13. Crockpot Marinara Sauce
LemonsForLulu has a very versatile and easy marinara sauce recipe, they explain how you can make it keto-friendly by substituting the small amount of sugar used for a keto-friendly alternative like Xylitol.
14. Slowcooker Meat Sauce
Let's face it, when you have already substituted regular yummy spaghetti for a veggie alternative, the last thing you want is a bad meat sauce. Luckily, LemonsForLulu has a great meat sauce recipe for you to try in your slow cooker.
Prep a whole batch as part of meal prep or enjoy it as soon as it's done cooking.
15. Slowcooker Keto Applesauce
If you're craving a sweet treat, NutritionInTheKitch has a super simple recipe for you to try. Of course, maple syrup isn't very keto-friendly. So you can omit the sweeteners altogether or just substitute it with a keto-friendly sugar alternative.
Foods That Should Never Be Cooked in a Crockpot
Some foods just won't work well in a crockpot, you either have to prep it first, add them at a later stage in the cooking process, or avoid putting them in altogether.
Dairy – If you add dairy of any kind in the slow cooker, they will curdle after a few hours, it's best to prepare them on the side, or add them right before serving. Some processed cheeses are a bit more stable and can be added in if the recipe calls for it.
Rice or Cous Cous – These will get extremely soggy when cooked for hours, prepare them separately or add them later on in the cooking process.
Raw Meat – Most crockpot recipes that call for meat indicate that you should brown it first, else you will be left with greyish looking or dry meat.
Seafood – Most seafood cooks in a matter of minutes, thereafter it becomes hard and rubbery, a texture no one enjoys – prepare it separately.
Extra fat – When you are cooking meat that has some fat content, it's a good idea to make sure to reduce the fat by trimming off a bit. Most of the fat will render out when you are cooking the meat for a long time. So there is no need to have a lot of fat in the dish.
Wine – Unlike dishes made on the stovetop, when you add alcohol to a slow cooker dish, the alcohol has no way to escape, leaving your dish with a bitter taste. If your recipe does call for wine, ensure you have the crockpot on high, and the lid is off for a while to allow the alcohol to cook off.
Keto Crockpot Recipes FAQ
What Is the Best Meat to Cook in a Slow Cooker?
When it comes to meat, you can use a much cheaper cut of meat in the slow cooker which will yield tender and soft meat in the end.
Boneless and skinless chicken tends to dry out a bit more when you add them too early in the cooking process. Thus, opting for chicken with the bone in and skin on is a good way to add flavor and avoid dry chicken.
When Should I Add Vegetables to the Crockpot?
Add hard or root veggies in the first layer or stage of the cooking process when using your crockpot, and add soft and tender veggies like zucchini or cauliflower in the last stage of the cooking process since they don't take up as much time to cook.
Can You Eat Rice on Keto?
Unfortunately, all traditional rice such as white rice, brown rice, or jasmine rice are all very high in carbs and thus not allowed or recommended when you are following the keto diet.
You do get rice alternatives such as cauliflower rice which compliments most dishes quite well.
What Is the Simplest Way to Do Keto?
The best way and simplest way to approach the keto diet is by knowing what foods you are allowed to eat, and what foods you aren't allowed to eat.
Consult a lot of food lists, and check whether your favorite foods are ketos and what their substitutes are.Being prepared is always the simplest approach when you find yourself craving foods that are not keto.
Conclusion
Keto is a great diet if you follow the rules and make sure not to add too many carbs to your diet. While some dishes take a good amount of prep work, utilizing these keto crockpot recipes is an easy way to avoid stressful weeknights.
As long as you have your trusty crockpot and recipes close by, and you keep your daily carb intake to 100 grams or less, you are on the right track to success.