Making air fryer frozen brussel sprouts is a simple way to get a tasty side dish on the table with little prep or time. Coated in seasonings and parmesan cheese and cooked until crisp, these brussel sprouts make a perfect side for any meal.
Looking for a quick, easy, and tasty vegetable side dish? Look no further, we are cooking frozen brussel sprouts in the air fryer. Crispy on the outside, tender on the inside. And the best part? You don't need to thaw them. These Brussel sprouts are a delicious side dish, perfect to accompany any meat or even fish.
Why This Recipe Works
Minimal ingredients are needed. If you already have a bag of frozen brussel sprouts then you might have everything else needed to make this recipe too. Just a few basic pantry seasonings, some parmesan chees, and cooking spray are all that are needed to get flavorful brussel sprouts in minutes.
It's easier than cooking fresh brussel sprouts. While cooking fresh is great, cooking frozen is super convenient. This is because there's no washing or cutting prep needed, meaning less time and dirty dishes.
Frozen brussel sprouts cook better than fresh ones. Fresh brussel sprouts are known for cooking at different speeds due to their sizes, but frozen ones cook at similar speeds.

Ingredients you'll need for Air Fryer Frozen Brussel Sprouts:
Frozen brussel sprouts
Olive oil spray
Fresh black pepper
Italian seasoning
Garlic powder
Grated parmesan cheese
Salt
For the exact amounts needed, please see the recipe card below.
Equipment Needed
Air fryer
Cheese grater
A medium-sized bowl
How to Make Air Fryer Frozen Brussel Sprouts
Spray the inside of your air fryer basket with olive oil spray to prevent sticking.
In a small bowl, add your brussel sprouts.
Spray with some of the olive oil and then add in the seasonings. Be careful and toss well to coat.
Place the seasoned brussel sprouts into your prepared air fryer basket.
Cook for 7 minutes at 392 degrees F.
Serve with grated parmesan cheese and enjoy.
Recipe Tips
As tempting as it may be, do not follow any of the instructions on the back of the bag of the frozen brussel sprouts. You do not want to steam these in the microwave. You will just take the frozen brussel sprouts out of the bag and follow the instructions here on the recipe card.
Make Ahead Instructions
These air fried frozen Brussel sprouts are best eaten right after being made so they remain crispy on the outside with their soft interior, but if needed they can be cooked in advance and stored in the fridge in an air-tight container for up to 6 days. Just throw them in the air fryer for a couple of minutes more whenever you want to eat them.
What to serve with frozen air fryer brussel sprouts
This tasty side dish would be great served with just about anything from a cooked chicken breast to a salmon fillet. Serve your air fryer frozen brussel sprouts with parmesan next to a side of pork roast, cooked rice, or meatloaf and it's sure to be a huge hit.
FAQs
Can I double this recipe?
Depending on the size of your air fryer you may be able to cook 2 or 3 bags of frozen brussel sprouts at one time without overcrowding them. You want them to be in the basket in an even layer. If there are too many brussel sprouts in the basket and they are not all of the way cooked, add one additional minute at a time until cooked.
Are frozen vegetables healthy?
Yes, frozen veggies are a great way to get nutrients with little prep work. When fresh vegetables are being frozen they still retain a lot of nutritional benefits and can be considered just as healthy as fresh ones. The important thing to remember is to not overcook them because that is how nutrients are lost.
Should I thaw frozen brussel sprouts before use?
Please do not do this. If you thaw your brussel sprouts then the texture of them once cooked will be very mushy and soft. We want them to be much more crispy, so keeping them frozen is ideal.
If you love air fryer recipes, then you are going to enjoy these recipes too:
Yield: 2
Air Fryer Frozen Brussel sprouts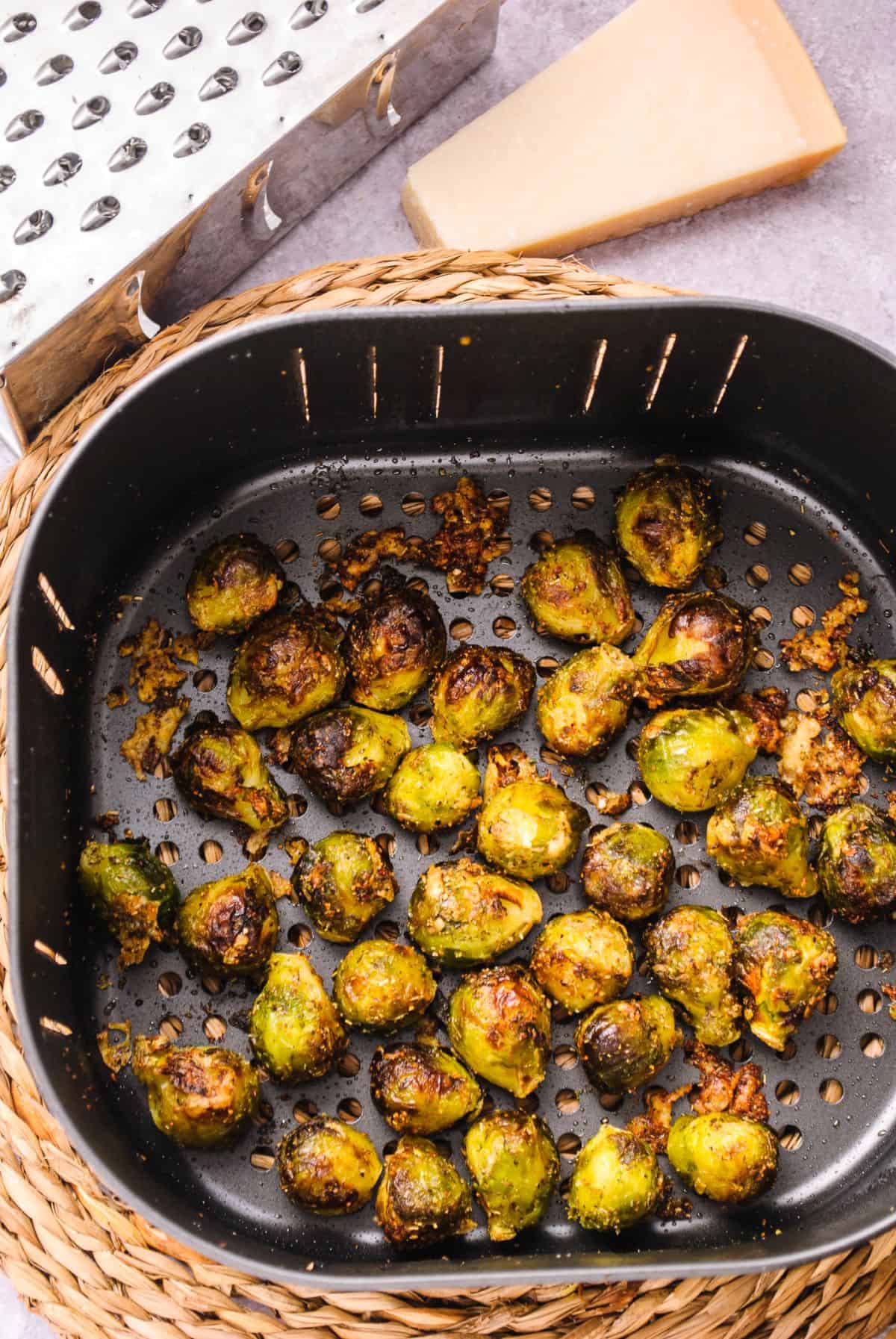 Looking for a quick, easy, and tasty vegetable side dish? Look no further, we have these delicious Brussel sprouts made in the Air fryer. Crispy on the outside, tender on the inside. And the best part? You don't need to thaw them!
Ingredients
17 oz frozen Brussel sprouts
Olive oil (spray) 
1 teaspoon freshly cracked black pepper
1 teaspoon italian seasoning
1 teaspoon garlic powder
3 tablespoons grated parmesan cheese
½ teaspoon salt
Instructions
Spray the basket of your Air Fryer with olive oil spray.
In a small bowl spray, the Brussel sprouts too, and season with the herbs, spices, and salt.
Gently mix making sure they get covered in seasoning.
Put the seasoned Brussel sprouts in the Air fryer basket.
Cook for 7 minutes on 392 F /200C
Serve with more grated parmesan cheese.
Nutrition Information
Yield
2
Serving Size
1
Amount Per Serving
Calories

191
Total Fat

10g
Saturated Fat

3g
Trans Fat

0g
Unsaturated Fat

7g
Cholesterol

7mg
Sodium

733mg
Carbohydrates

20g
Fiber

7g
Sugar

4g
Protein

9g