Blueberry Salsa is a simple and fresh salsa that is perfect for summer!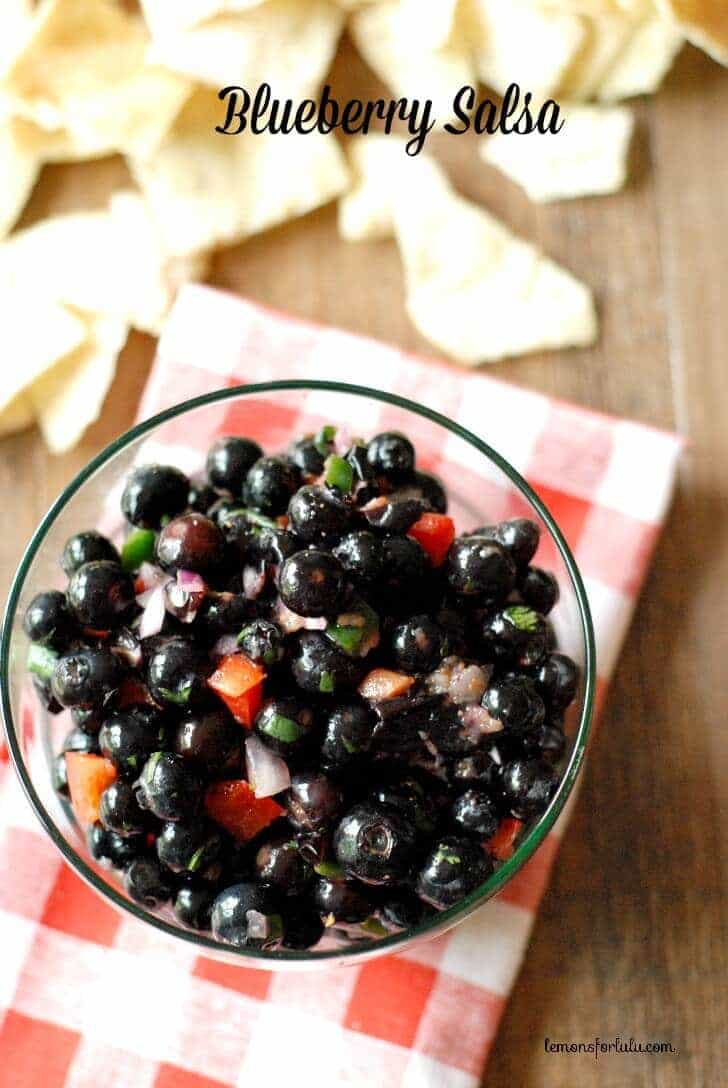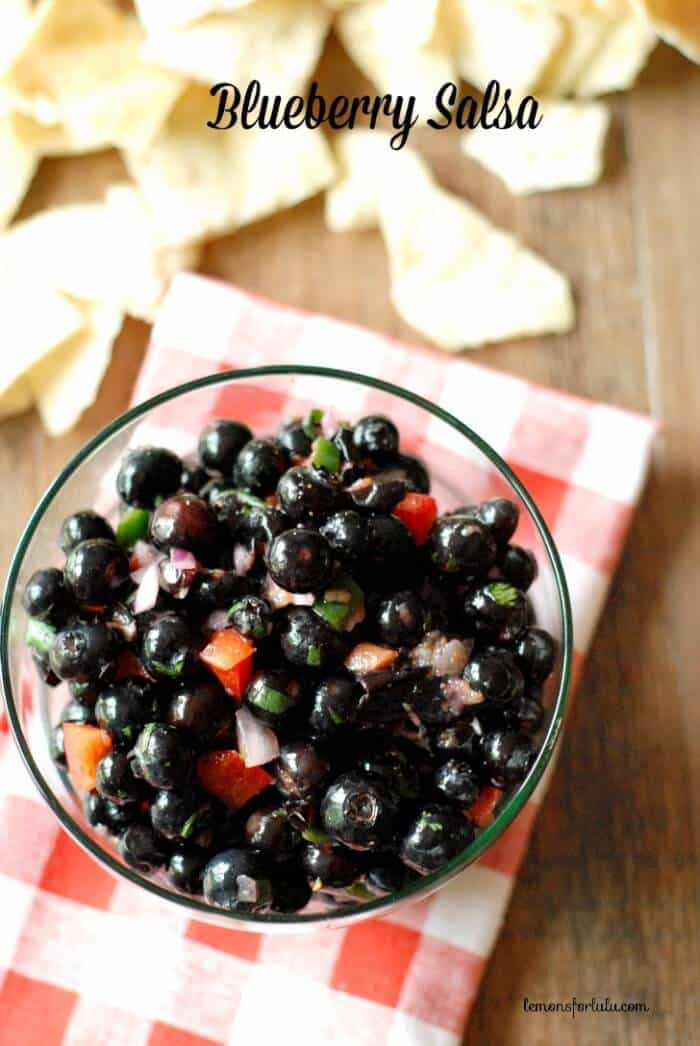 Blueberry picking is just around the corner. I would love to make it to the farm in person to get my baskets of blueberries. The local picking farm opens at 8 a.m. but each year people arrive earlier and earlier to stake their spot. Those go-getters are itching to lay claim to the plumpest, juiciest berries possible. While I admire their tenacity, I'm just not that motivated. Given the choice between elbowing other women out of the way for blueberries and sleeping in, I'll choose sleeping in every time.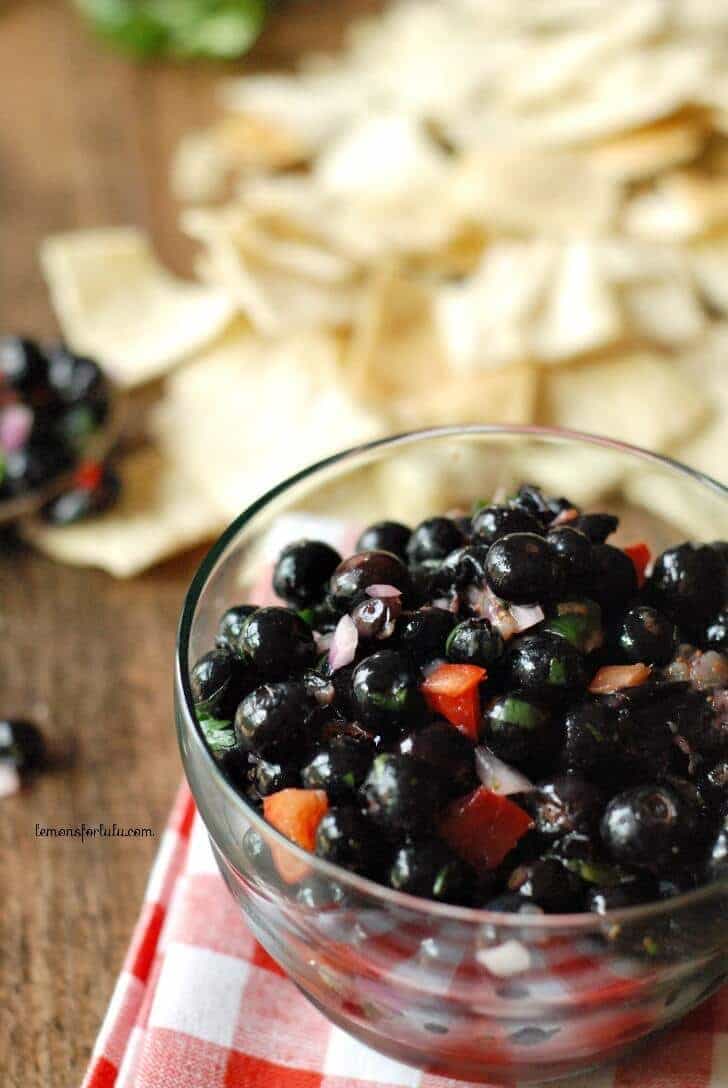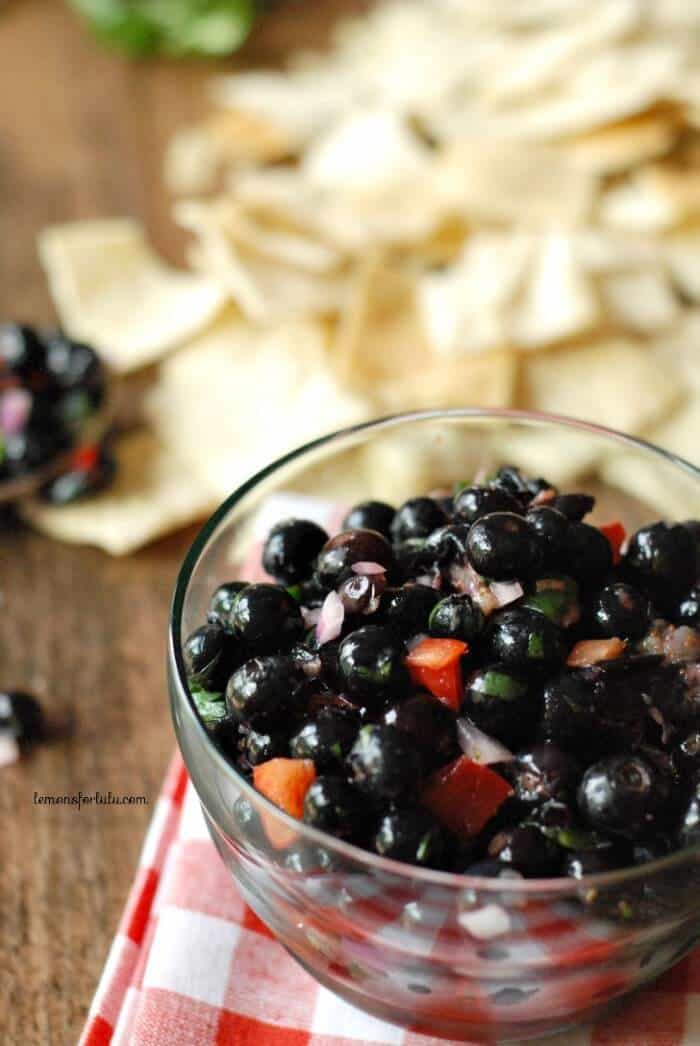 Fresh Blueberries
I know fresh is best. But I'm willing to settle for slightly less fresh store bought blueberries. They've been pretty darn good up to this point. And at the rate my family consumes blueberries, I'm better off with the store bought variety. I need to be able to run and get more at a moments notice. Nothing worse then needing blueberries for a recipe (like this fabulous salsa) only to discover that someone has eaten all but a few shrively, loney blueberries. Those stunted blueberries are not quite enough for this blueberry salsa. No, you need lots of juicy, plump blueberries for this salsa. Slightly mash a few to release juices and flavor then combine them with red peppers, white onions and a bit of orange juice. A red, white and blue salsa just in time for your Memorial Day weekend.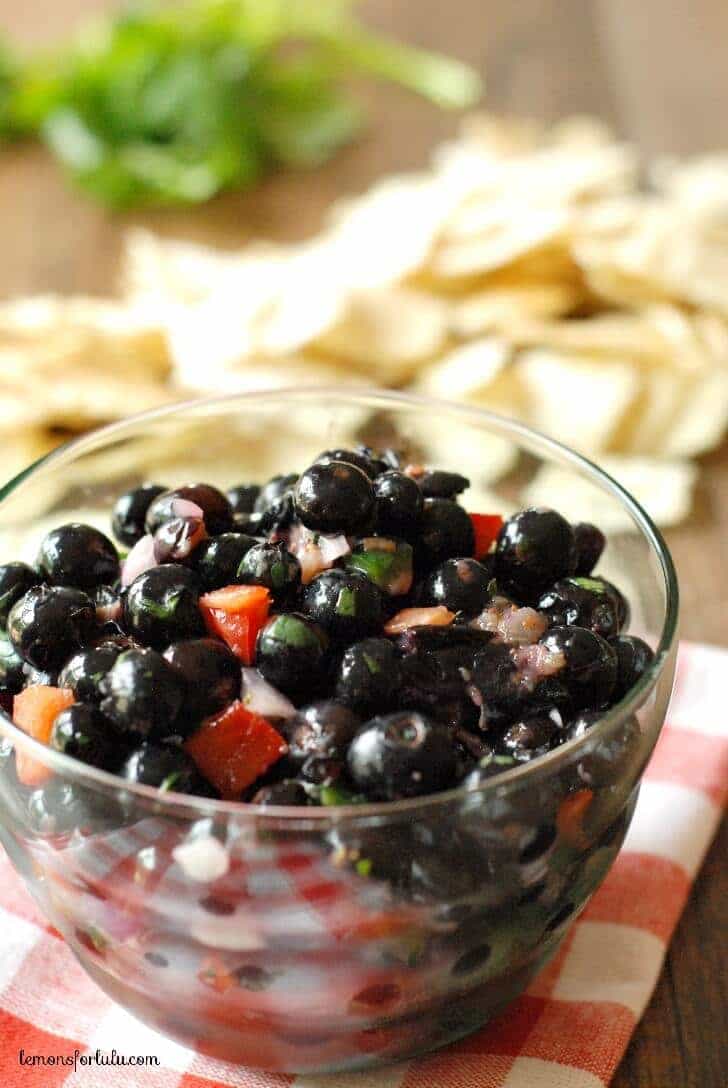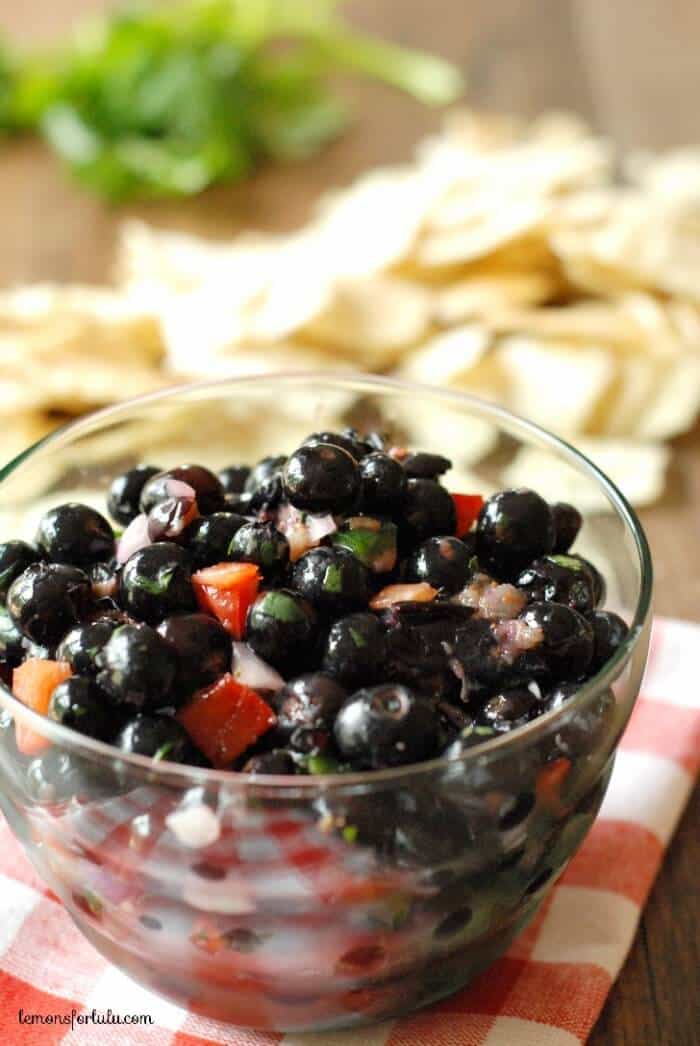 Blueberry Salsa
I was pretty geeked over the taste of this blueberry salsa. The orange juice added so much clean fresh taste. The sweet berries literally burst in your mouth with each bite. We ate this with chips, but this salsa would be dynamite over chicken or pork. Now that I think about it, I better run to the store to buy more blueberries. I think we'll be having blueberry salsa with our dinner tonight!
MY CHIPS LOVE SALSA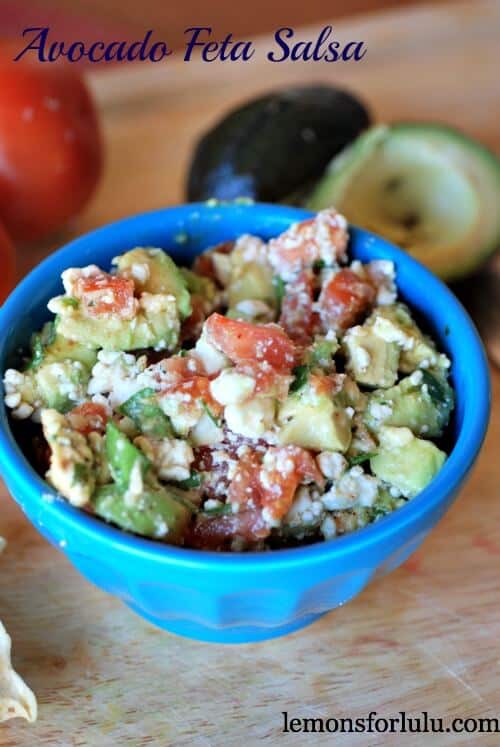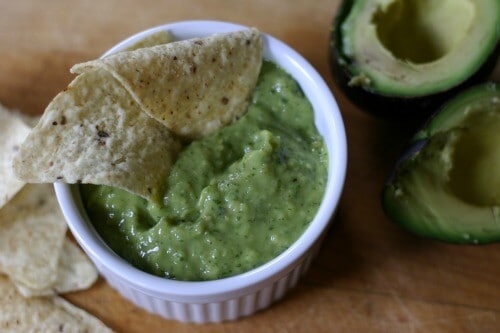 NEVER MISS A RECIPE! SUBSCRIBE TO MY EMAIL TODAY!
FOLLOW ME:
FACEBOOK | TWITTER| GOOGLE +| BLOGLOVIN | INSTAGRAM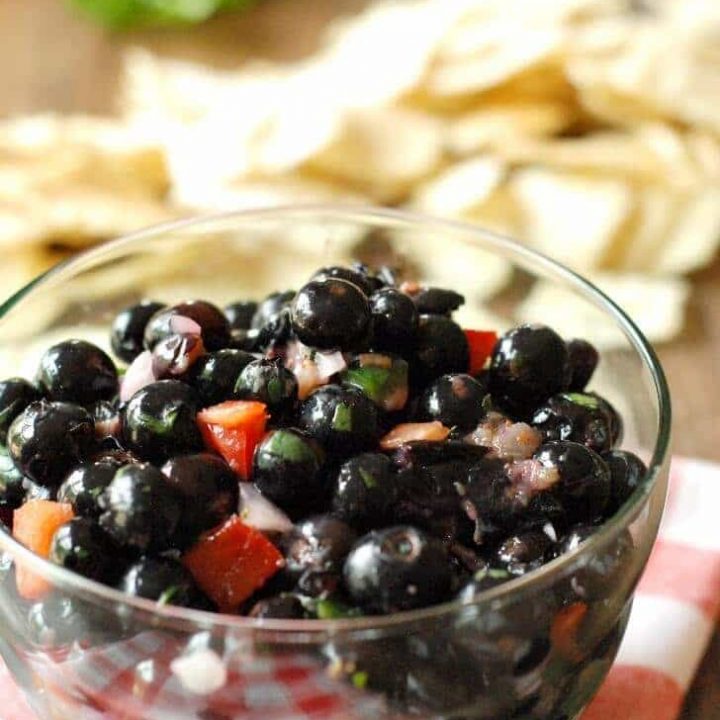 Blueberry Salsa
Total Time:
1 hour
5 minutes
Blueberry Salsa is a simple and fresh salsa that is perfect for summer!
Ingredients
2 1/2 cup fresh blueberries
1/4 cup red onion, diced
1/2 red bell pepper, diced
1/2 teaspoon cumin
1 teaspoon salt
1 tablespoon lemon juice
2 tablespoon orange juice
2 tablespoons cilantro chopped
Instructions
In a bowl, combine all the ingredients, tossing to coat. Slightly mash some of the berries with a spoon as you stir. Refrigerate for at least an hour before serving.
Nutrition Information
Yield

4
Serving Size

1
Amount Per Serving
Calories

68
Total Fat

0g
Saturated Fat

0g
Trans Fat

0g
Unsaturated Fat

0g
Cholesterol

0mg
Sodium

532mg
Carbohydrates

17g
Fiber

3g
Sugar

11g
Protein

1g