The BEST pulled pork crock pot recipe is finally here and once you try it for yourself, you'll have to agree. Made with a homemade pork rub, this shredded pork is very flavorful and falls apart well. Turn it into the most epic pulled pork sliders ever or simply eat it with a fork.
This pulled pork recipe is a very easy and almost completely "hands-off," meaning that there's very little work for you to physically do to throw this dish together.
That said it does require a great deal of patience as you wait for the crockpot pork shoulder to cook, but it's a labor of time and love and it's well worth it when you sink your teeth into the tender and juicy pulled pork.
Easy Slow Cooker Pulled Pork
Whether you're looking to feed your family or feed a crowd this pulled pork crock pot recipe is exactly what you need. Tangy, flavorful, juicy pork that's so good you won't want to put it down.
The only thing missing is a pair of brioche buns (or potato buns) and a creamy coleslaw to pair with the pork. The secret to getting the best pulled pork is to cook it low and slow and that's exactly what your crock pot is going to help you do.
This long process tenderizes the meat as it cooks and helps the flavors to fuse together with the meat so that every bite is even more perfect than the last.
Ingredients you'll need for pulled pork crock pot:
Pork shoulder
Water
Beef stock
Brown sugar
Onion- yellow or white
Bay leaves
Worcestershire sauce
Apple cider vinegar
Olive oil
BBQ sauce– optional for serving
For the pulled pork rub, you will need:
Cumin
Sweet paprika
Garlic powder
Onion powder
Chili flakes
Oregano
Black pepper
Salt
For the exact amounts needed, please see the recipe card below.
How to Make The Best Crock Pot Pulled Pork
Create spice mix
In a medium-sized mixing bowl, combine all of the seasoning rub ingredients. Set aside. (You will use it over the next two days.)

Make pork marinade
In a big bowl, combine the pork shoulder with 1/4 cup of salt, 1/4 cup of sugar, 4 tablespoons of the spice rub, 2 bay leaves, and then add enough water to cover the pork.
Top the bowl with some plastic wrap and place it into the fridge for at least 12 hours but no more than 24 hours.
Cook pork shoulder
The next day, add a sliced onion to the bottom of your slow cooker.
Place the marinated pork on top of the onions, do not use the liquid.
In a small bowl combine the olive oil, apple cider vinegar, 4 spoons of spice mix, Worcestershire sauce, and whisk until the sauce is nice and thick.
Add your sauce to the crockpot by pouring it on top of the pork.
Add the beef stock to the crockpot.
Close the lid and cook on low for 8 hours.
Make pulled pork
Once cooked, remove the pork and place it onto a large plate or baking tray. Give it a few minutes to cool down so that it is easier to work with.
Shred the meat apart using two forks.
Once shredded, you can season the meat with more salt (added to taste) along with a couple of teaspoons of the spice mix and cooking liquid.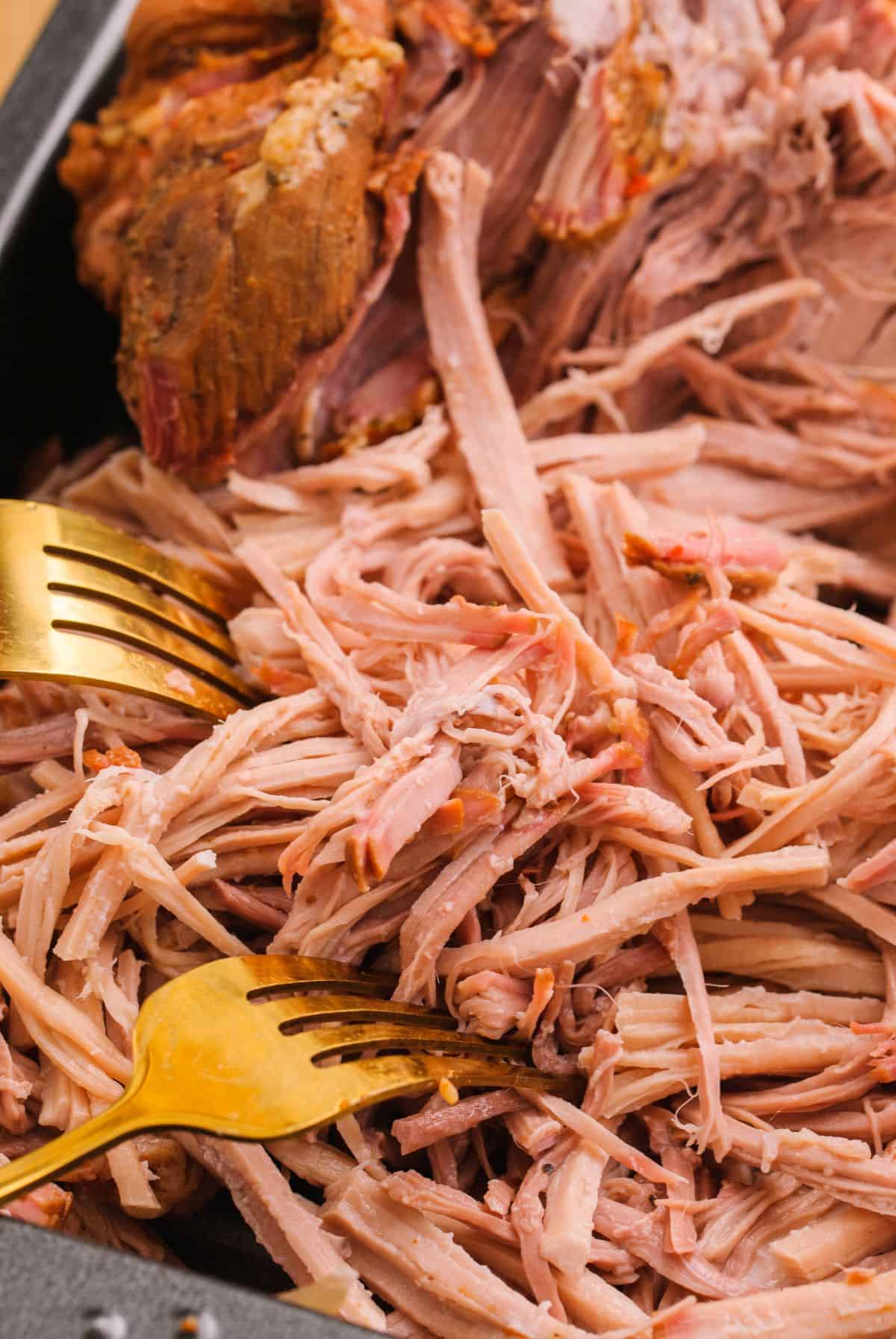 Serve with toasted slider buns, bbq sauce, and creamy coleslaw on top or to the side.
Recipe Tips
This spice mix is so delicious and versatile you are going to find yourself grabbing it from the spice cabinet a lot of times. For this, we are going to create a slightly bigger amount than we are going to need for the shredded pork shoulder. Work once, enjoy multiple times.
Once it's shredded it can be portioned in ziplock bags and froze for convenience. It also can be stored in the fridge for up to 6 days.
If you're wondering "how much pulled pork per person" you'll need, then know that you'll need about 1/3 pound of pulled pork per person. you may be able to get away with a little less meat per person if you served sliders amongst other side dishes to help make the meal more filling, but on average you'll feed about 3 people per pound of pork.
What to serve with pulled pork
Pulled pork can go with just about anything but some of the more traditional side dishes include coleslaw, cornbread, biscuits, or salads. I recommend checking out some of my favorite side dish recipes to pair alongside this tasty pork.
What to do with leftover pulled pork
There are a large number of ways that you can use up your leftover pulled pork (assuming that you have any). These ideas can include pulled pork enchiladas,pulled pork pizza,pulled pork quesadilla,pulled pork mac and cheese,pulled pork nachos,pulled pork sandwiches,pulled pork tacos, andpulled pork sliders. With so many great unique recipes and suggestions, you'll no doubt have an easy time making the best of your leftover shredded pork.
FAQs
What is the best way to reheat pulled pork?
How to reheat pulled pork- Place your shredded pork (with or without sauce) in a foil-covered dish and bake at 250 degrees F until the meat has reached an internal temperature of 165 degrees F. This may take a while to get it to warm up (about 15-30 minutes depending on the amount reheating) but it will keep the pork from drying out and works great for reheating larger batches. For smaller portions, reheating the pork in a pot on the stove over medium heat works well too.
How long is pulled pork good for?
You can keep your pulled pork in an airtight container in the fridge for up to 6 days. This should give you plenty of time to use up and enjoy the leftovers.
Can you freeze pulled pork?
Freezing pulled pork is actually a great way to get it to last a long time, or it's great for meal prepping if you cook a large batch all at once. To freeze your pork, let it cool completely before storing it in an airtight container for up to 3 or 4 months. Then thaw overnight in the fridge before reheating or place it into a slow cooker and heat for a few hours until warmed through.
What temp is pulled pork done?
While pork is safe to consume at 145 degrees F the internal temp for pulled pork is actually closer to 200 degrees F. This is because the closer we are to 200 degrees, the easier it is to shred the pork apart and the more tender the meat will become.
What is the best cut for pulled pork?
We use a boneless skinless pork shoulder but if you're wondering "can I use pork loin for pulled pork" or "can you use Boston butt roast for pulled pork" then the answer is still yes. The goal is to find a good piece of meat with enough fats marbled throughout that as it slowly cooks, the fats will dissolve to help tenderize the meats and make the shredded pork easier to fall apart.
If you love this pulled pork recipe then you are also going to enjoy my Asian Pulled Pork Sandwich and Slow Cooker Bourbon Pulled Pork recipes as well.
Yield: 8
The Best Crock Pot Pulled Pork
The easiest and most delicious pulled pork. Very flavorful, fall-apart tender, and moist meat, perfect to create the most epic pulled pork sliders ever!
Total Time
12 hours
28 minutes
Ingredients
1.7 lbs pork shoulder (boneless and skinless)
1 ltr water
1 ltr beef stock
¼ cup brown sugar
1 white or yellow onion
2 bay leaves
2 tablespoons Worcestershire sauce
2 tablespoons apple cider vinegar
2 tablespoons olive oil
Bbq sauce (optional to serve it)
Spice mix: 
¼ cup cumin
¼ cup sweet paprika
¼ cup garlic powder
¼ cup onion powder
¼ cup chili flakes
¼ cup oregano
¼ cup black pepper
¼ cup salt
Instructions
Create the spice mix. In a medium-sized bowl combine all the aforementioned spices and combine. If you have whole spices like cumin or pepper, I recommend grinding them first. You can also mix them and grind them all together to achieve a fine powder.
Marinate the pork shoulder:

In a big bowl add the pork shoulder, ¼ cup salt, ¼ sugar, 4 tablespoons of the spice mix, 2 bay leaves, and cover with water. Cover the bowl with plastic wrap and let it sit in the fridge for 12/24 hours.

The following day cut an onion into slices and put them at the bottom of your slow cooker.
Take the marinated pork shoulder out of the liquid and put it on top of the sliced onions.
In a small bowl mix the olive oil, apple cider vinegar, 4 spoons of the spice mix, and Worcestershire sauce and combine until a thick sauce is achieved.
Add the sauce to the crockpot on top of the beef and cover with the beef stock let cook on low for 8 hours.
Once it's cooked, take it out and let it cool on a big plate or baking tray. Once it has chilled out shredded it with a couple of forks.
Once it's all shredded, you can season it with a bit more salt to taste (it might need a bit more), a couple of teaspoons of the spice mix, and a couple of spoons of the cooking liquid.
Serve it with toasted sliders and bbq sauce with some creamy coleslaw on top or the side.