You've never tasted a turnover quite like this!
Cinnamon roll dough is filled with a sweet peach filling and drizzled with an almond glaze!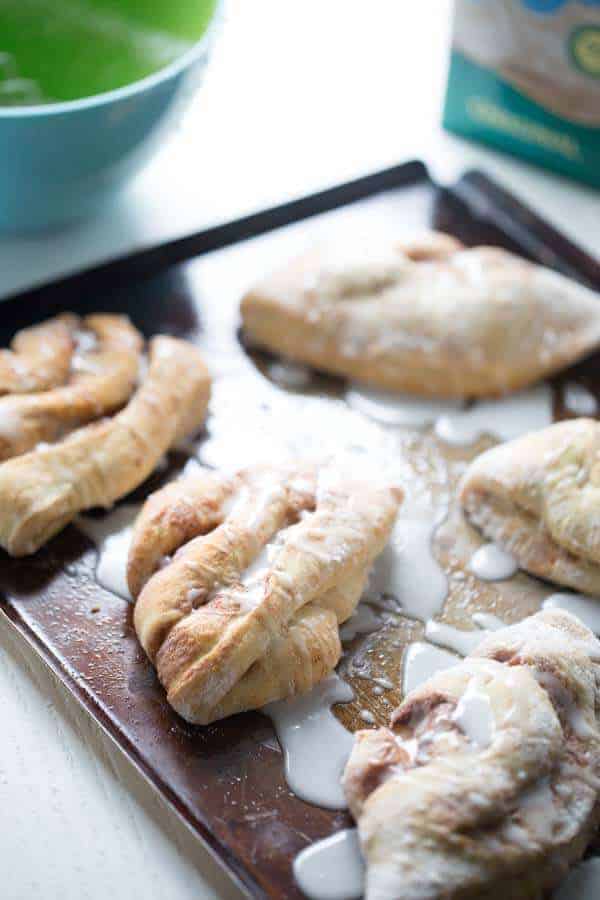 Disclosure: I received compensation from Almond Breeze for recipe development purposes. All opinions are my own. For more Almond Breeze recipes, click here.
The best part of waking up is NOT Folger's in your cup.  That is caffeinated propaganda.  The best part of waking up is smelling these easy cinnamon roll turnovers baking up in your kitchen! Now that's an aroma worth waking up to.
I have to admit, I'm really proud of this recipe.  I've had a lone cinnamon roll tube sitting in my refrigerator for months now.  I knew I would use it for something other than cinnamon rolls but I wasn't exactly sure what it would be.  Cinnamon rolls are wonderful, especially peach cinnamon rolls.  But sometimes it is fun taking something ordinary and turning them into something unique and delicious!  I've stuffed biscuits with spicy chicken before, I figured I could certainly stuff cinnamon rolls with peaches!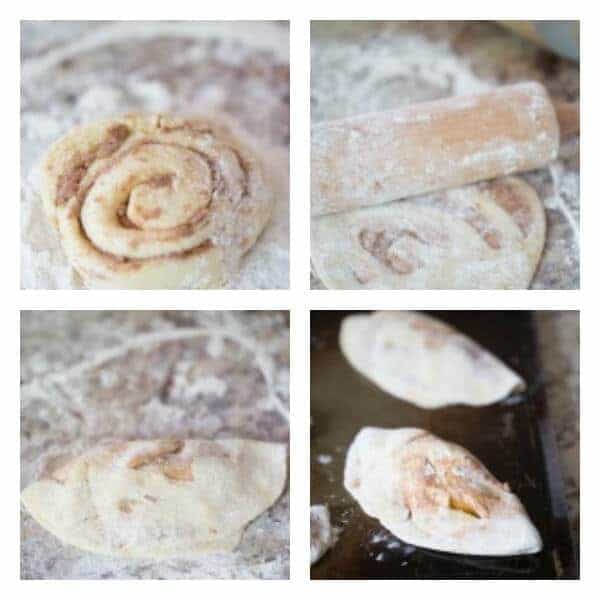 This recipe is crazy easy, but there are a few things to discuss.  As mentioned above, I used a tube of large cinnamon rolls.  Before you begin rolling out your rolls, make sure to heavily flour your work surface AND your rolling pin.  Otherwise the rolls will stick to either your pin or surface; plus they will pull apart.  Flatten each roll into roughly a six inch circle.   Then you are ready to fill each one.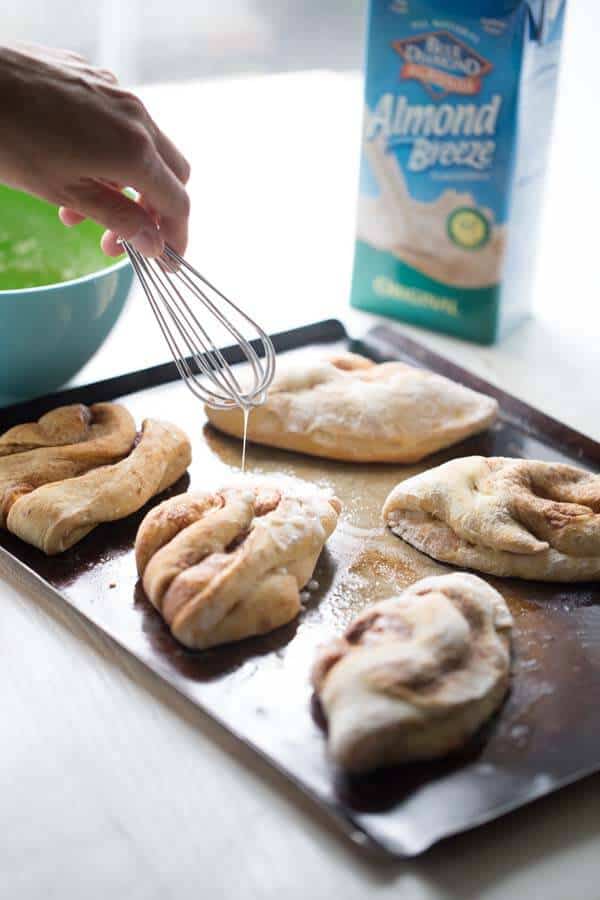 I combined frozen peaches with brown sugar, a bit of cinnamon and almond extract.  I only added two or three peach slices to each cinnamon roll half.  You can add more if your peach slices are on the small side.  Now for the tricky party.  As you fold your cinnamon roll dough over the peaches, be sure to pinch the dough together.  Cinnamon rolls naturally want to pull apart.  Pinch the dough to cover up the peaches the best you can.  It is totally ok, however if some of the peaches peak out.  Your turnovers will look a bit more rustic, but will still look and taste beautiful.
I drizzled each turnover with almond milk and powdered sugar.  The almond milk paired perfectly with the almond infused peaches.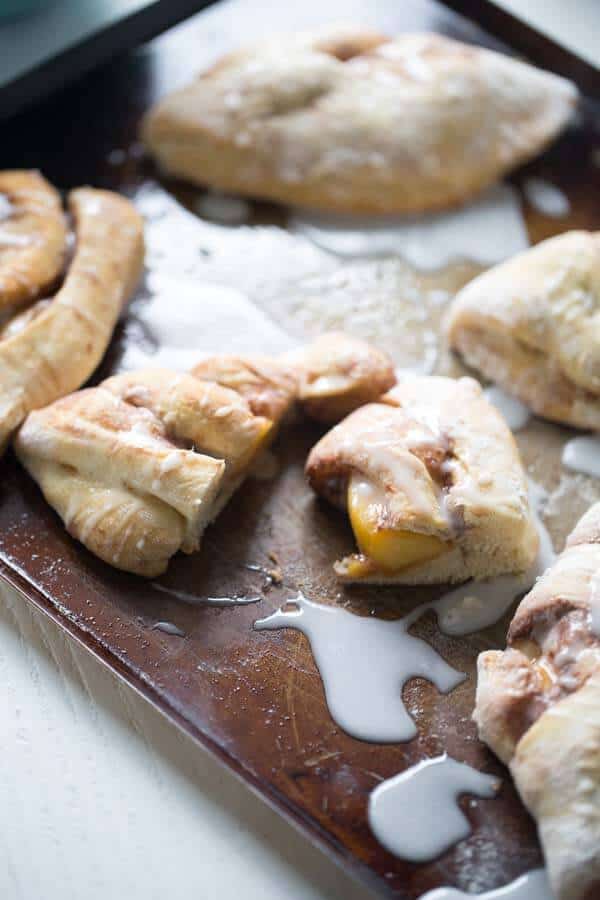 If you are searching for a unique but delicious way to use your cinnamon rolls or your peaches, then this is it!

Cinnamon Roll Peach Turnovers
5
adjust servings
Cinnamon roll dough is filled with sweet peaches and baked up turnover style!
Ingredients
1

tube of cinnamon roll dough (17.5 oz, 5 rolls)

1

cup fresh or frozen peaches, sliced

2

tablespoons brown sugar

1/2

teaspoon cinnamon

1/4

teaspoon almond extract

1/2

cup powdered sugar

1/4

teaspoon almond extract

2

tablespoons Almond Breeze Almond milk.
Instructions
Preheat oven to 325.
Combine peaches, brown sugar, cinnamon and extract in a bowl, tossing to coat.
Generously sprinkle flour over your work surface and your rolling pin. Working with one cinnamon roll at a time, carefully roll each roll each into a six inch circle, taking care to keep roll from separating.
Place 2-3 peach slices on half of your roll. Carefully pull remaining half over your peaches, pinching dough together as necessary. Place turnovers on a baking sheet and bake for 10-12 minutes or just until golden. Remove and allow turnovers to cool.
For the icing, combine powdered sugar, extract and almond milk in a bowl an whisk until smooth. Drizzle icing over turnovers and serve.
Bake turnovers for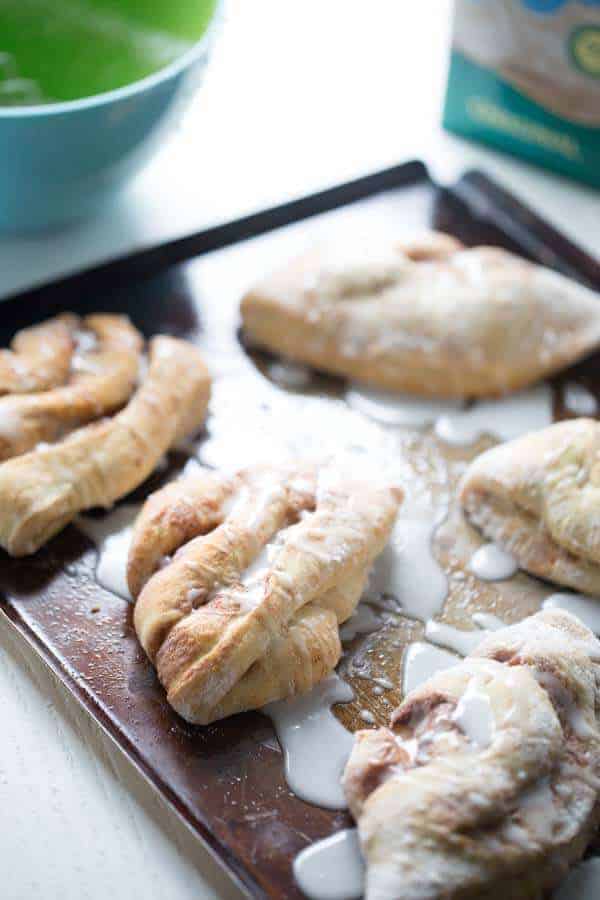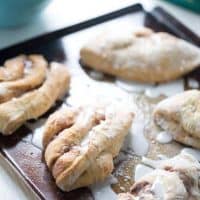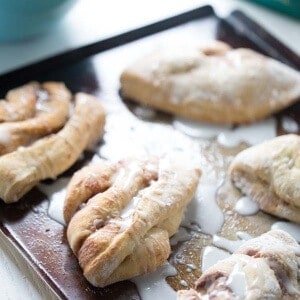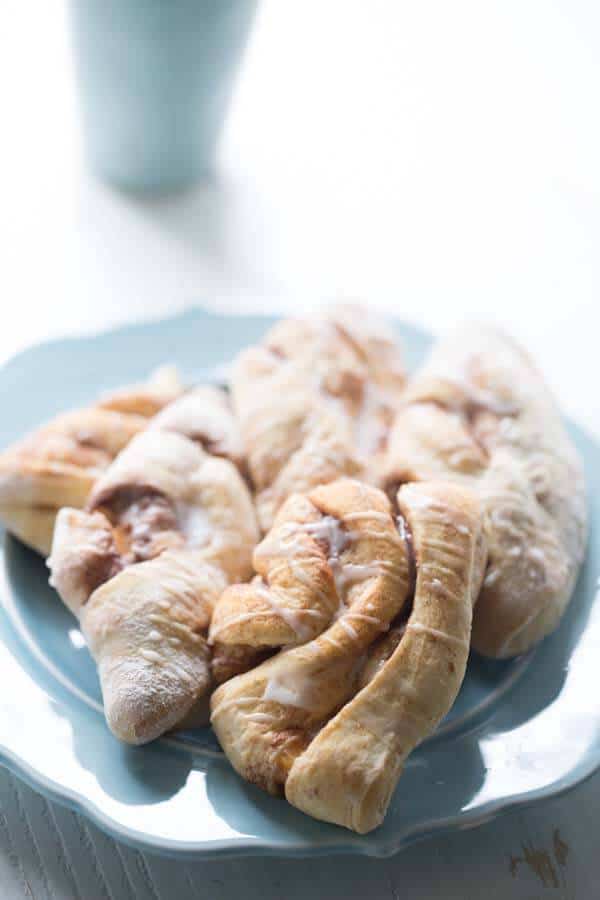 Disclaimer: Please note that some of the links in this post are affiliate links. There is no additional cost to you, but I may earn a small commission if you purchase through those links.
I may be linking this up to these parties and to The Weekend Potluck