Adding a little bubbly to a fuzzy navel cocktail makes it extra fun and tasty!
This drink may be on the "girly side", but girls just want to have fun, don't they?
Just One Fuzzy Navel Cocktail?
I do love a sweet cocktail. This probably has a lot to do with the fact that I turned 21 during the wine cooler era. It is crazy to think that wine coolers were sold in 2 liters for one thing and secondly, my friends and I would each carry around our OWN 2-liter. That was always a recipe for disaster.
To be fair, the alcohol content wasn't that high, oh but the sugar was, which is why my girlfriends and I loved them! We were quite sad when they went away. Without wine coolers, we were left to drink watery beer and cheap wine (Boone's Farm anyone?). Thankfully, with age, my taste in beverages became more sophisticated.
Good wine, craft beer and craft cocktails like this Rum Punch, Pineapple Bourbon Punch, and this Mango Sangria are now my drinks of choice. Some of my cocktails are sweet and some are not, but my all of cocktails are simple to make!
Why Is It Called A Fuzzy Navel?
This sweet combination of peach and oranges gets the "fuzzy" from the Peach Schnapps and the "navel" from the orange which are the two predominant flavors in this classic cocktail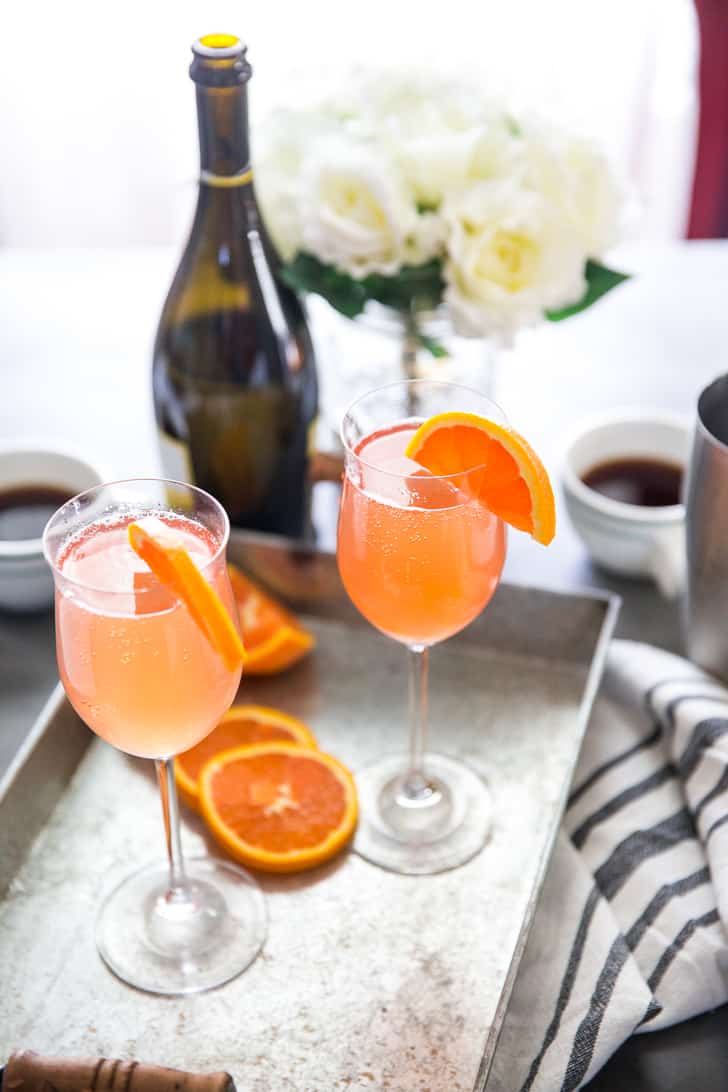 What Do You Need To Make A Fuzzy Navel Drink?
Peach Schnapps
Orange Juice
Cranberry Juice
Prosecco
Ice
Highball Glasses
Fruit for Garnish
How Do You Make This Fuzzy Navel Recipe?
A traditional fuzzy navel is a combination of peach schnapps and orange juice. This cocktail builds upon that fruity base. Pineapple juice and a splash of cranberry juice add color, a bit more citrus, and a little tartness to this cocktail.
The bubby comes in the form of prosecco. Use champagne if you prefer or soda water for that matter. The bubbly adds a sparkly effervescence to this cocktail and turns it into a drink fit for a celebration much like a mimosa.
Place the schnapps and the orange juice in a highball glass and fill with ice. Stir. Top each glass off with your favorite bubbly; garnish with fresh fruit slices and serve!
One of my favorite things to do is take an ordinary recipe, in this case, a cocktail recipe, and change it all up. I'll take an ordinary vodka cocktail and make an Upside Pineapple Cake Vodka Cocktail. Using lemonade instead of just a splash of lemon in this Lemonade Moscow Mule, or giving, an Irish spin to this Mint Mojito recipe!
If it a Fuzzy Navel Variations you are after, I have a few suggestions:
Pierced Fuzzy Navel Recipe:
Peach Schnapps
Vodka
Orange Juice
Grenadine
Fuzzy Navel Slush
Simple Syrup
Orange Juice Concentrate
Lemonade Concentrate
Peach Schnapps
Lemon Lime Soda
Dark Harry Navel
Peach Schnapps
Brandy
Orange Juice
Ice
Very Hairy Navel
Peach Vodka
Orange Juice
This cocktail is perfect for spring and summer, as the pastel color and the fruity nature remind you of warm weather and sunshine!
Yield: 2
Bubbly Fuzzy Navel Cocktail
Adding a little bubbly to a fuzzy navel cocktail makes it extra fun and tasty!
This drink may be on the "girly side", but girls just want to have fun, don't they?
Ingredients
4 oz peach schnapps
4 oz pineapple juice
4 oz cranberry juice
4 oz orange juice
Prosecco
Instructions
In a cocktail shaker combine schnapps, juices, and ice. Pour cocktail into two glasses and top each with prosecco. Garnish with fruit slices.
Notes
I used Cupcake brand prosecco, it is economical but delicious!
Nutrition Information
Yield
2
Amount Per Serving
Calories

251
Total Fat

0g
Saturated Fat

0g
Trans Fat

0g
Unsaturated Fat

0g
Cholesterol

0mg
Sodium

11mg
Carbohydrates

38g
Fiber

0g
Sugar

32g
Protein

1g