This mango sangria is light and fruity. Sweet wine, mango chunks, mango nectar and vodka make this a summer beverage to remember!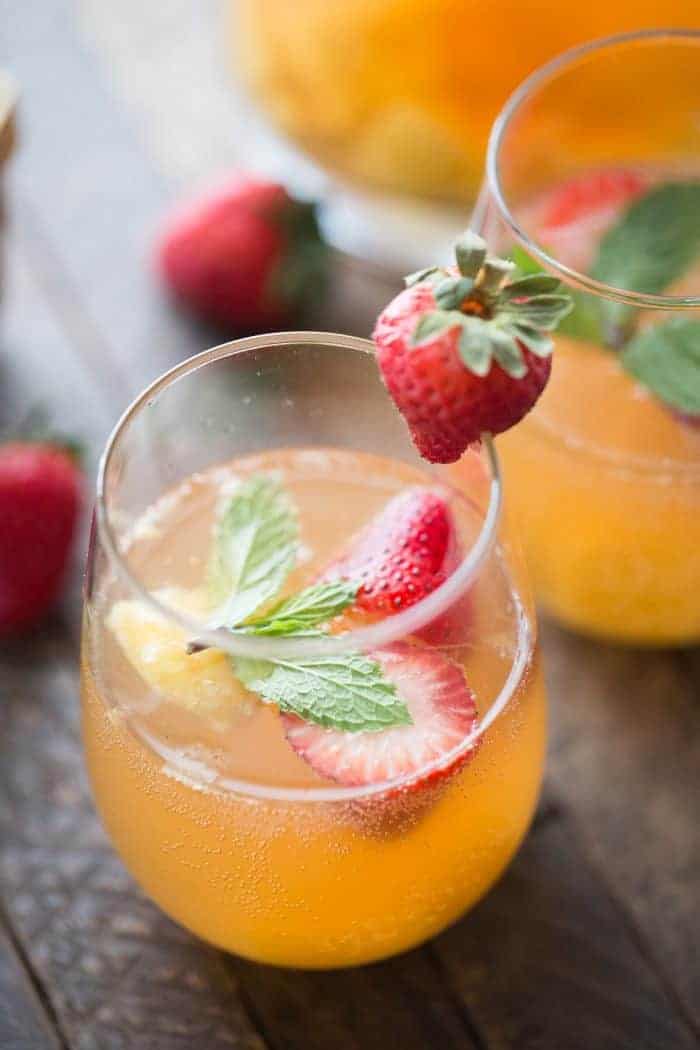 My sisters and I LOVE sangria.  We've been making them for years.  I remember when we were sangria novices.  Our first few pitches had way too much red wine.  They were very dark, bitter and oh so dry.  The minimal fruit that we had sitting in the pitcher did absolutely nothing for the taste.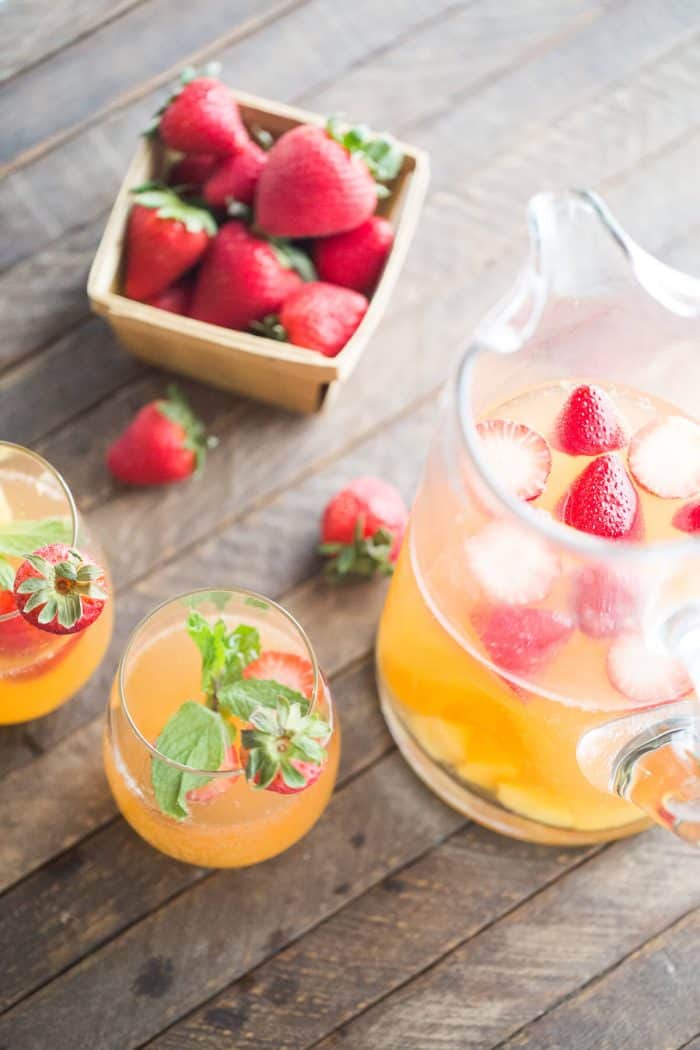 We were three determined sisters, however,  and so we tried our hands at sangria again.  This time, the wine was just right, and the fruit was plenty, but so was the amount of brandy.  Liqueur makes for a fun party until it doesn't.  Meaning hard alcohol can shut down a party very quickly!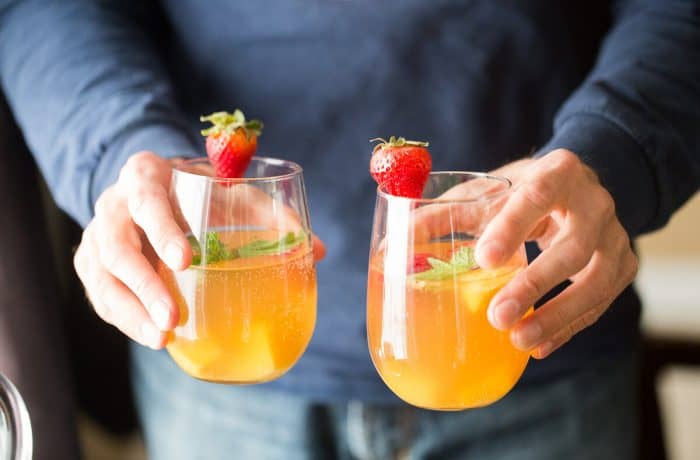 Eventually, my sisters and I were able to find the exact right balance between wine, spirits, and fruit.  In fact, I would consider us expert sangria makers.  Strangely, the only sangria I have on the blog is this Cucumber Melon White Sangria – which is delicious.  It is ultra light, crisp and refreshing.  But this mango sangria might be my new favorite.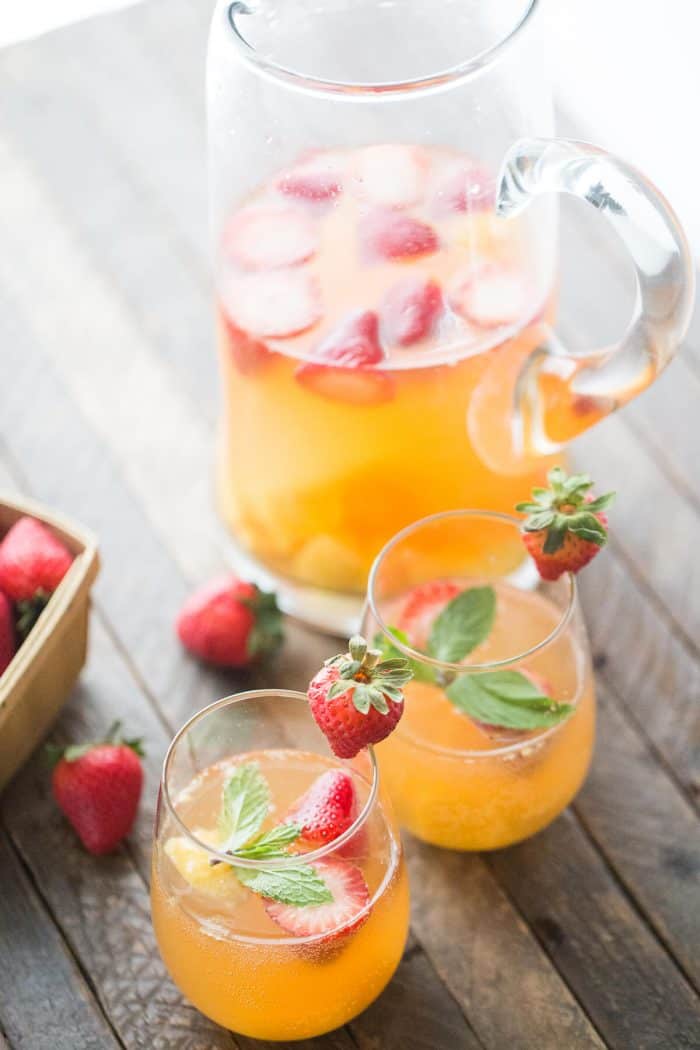 For mango sangria:
 I used a light pink spritzer wine, but a sweet white or rose would work as well.  I added frozen chunks of mango (fresh is good too), mango nectar, which I found in the organic section of my grocery store.  I added vodka, sweet strawberries and club soda for tickling bubbles.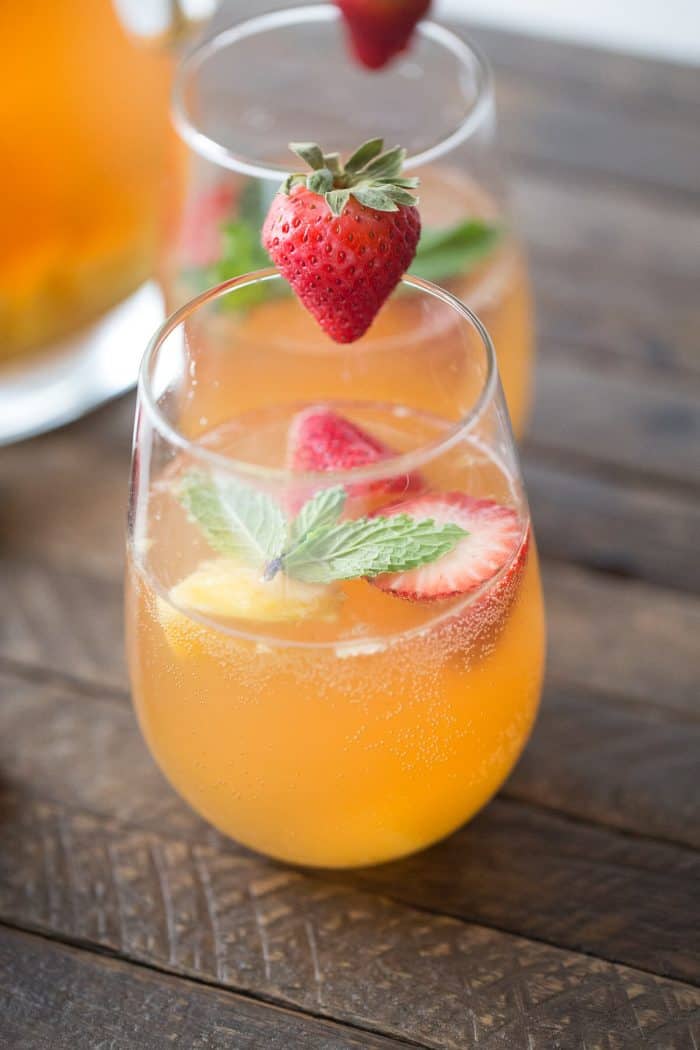 This sangria was gone in minutes.  It's sweet, be forewarned if that's not your preference.  But it is also mellow and fresh.  This is the kind of sangria that begs for friends, and lazy summer days!
Like fruity cocktails?  Then you need to try this Blueberry Vodka Lemonade made with fresh, plump blueberries or this Blackberry Mojito made with tart blackberries!
Ingredients
1 750

ml bottle sweet pink wine ( I used Barefoot Refresh Spritzer)

2/3

cup mango nectar

2/3

cup vodka

3

tablespoons sugar

2

cups club soda

1

lb frozen mango chunks

Strawberries
Instructions
In a pitcher, stir together the nectar, vodka, and sugar. Add club soda. Stir in fruit. Refrigerate until ready to serve.