This juicy pork burger recipe has gound pork that is seasoned with garlic and parsley and the grilled to perfection!
The toppings are simple and fresh!
I am the kind of person who loves burgers with lots of toppings. I love bacon, cheese and slaw like in this Rock and Roll Burger or a mound of cheese and lots of caramelized onions like this Boursin Cheeseburger Recipe. I pretty much like my toppings to be either larger or equal in size to my burger. And the bun? Well I can skip the bun. It's just filler for me. It's what's between the bun that matters most to me.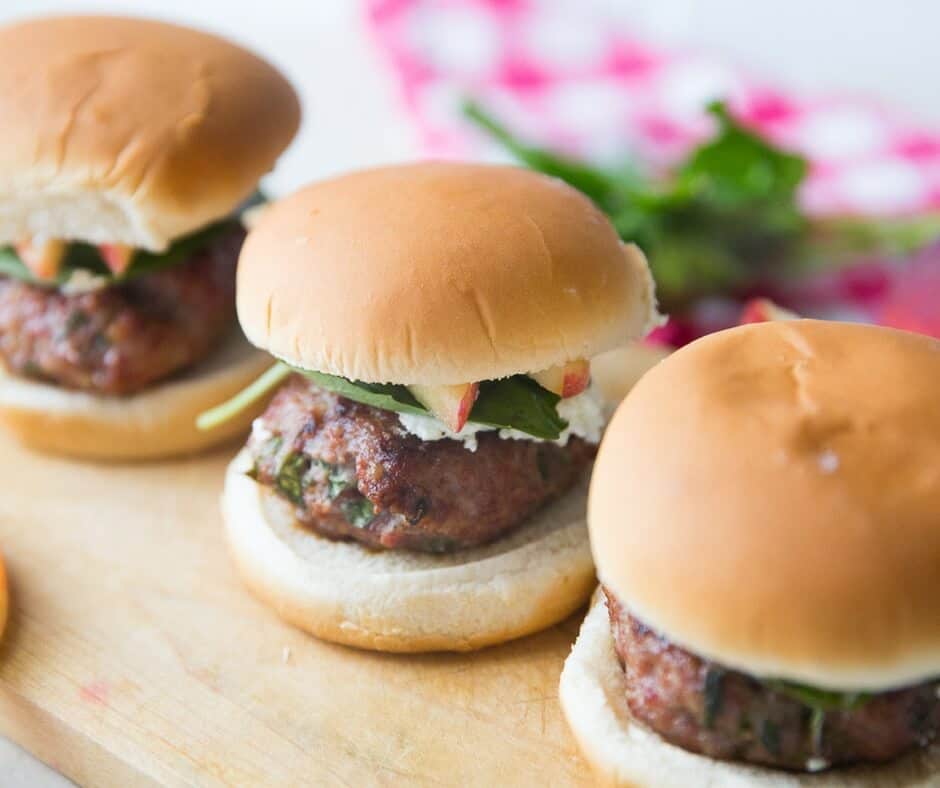 My kids are the exact opposite from me. My girls will eat hamburgers plain as in no cheese, ketchup, pickles, mustard, mayo or anything else normal people put on burgers. My son is a little better. He will eat a cheese at least, but not one other topping can be on it. Then he'll order pickles on the side, Weird right? Weird to me anyway. What do these kids have against ketchup? Needless to say, I don't make my burgers for them, I make them all for me.
The last time I made a pork burger I topped it with a simple homemade Verde sauce, avocados and cheese. It was so juicy and delicious, I was excited to try another flavor of pork burger. This time, I went easy on the toppings. However, easy doesn't mean I skipped out on flavor! This pork burger recipe has tangy goat cheese, sweet peaches and fresh basil resting on top! The toppings are not piled on, but the flavor is still very big!
Ground pork adds so much juicy, flavor to burgers and they cook quickly. But it is is also very versatile, it can be used in place of ground beef in any recipe!
More Pork Burgers:
Basil Peach Pork Burger Recipe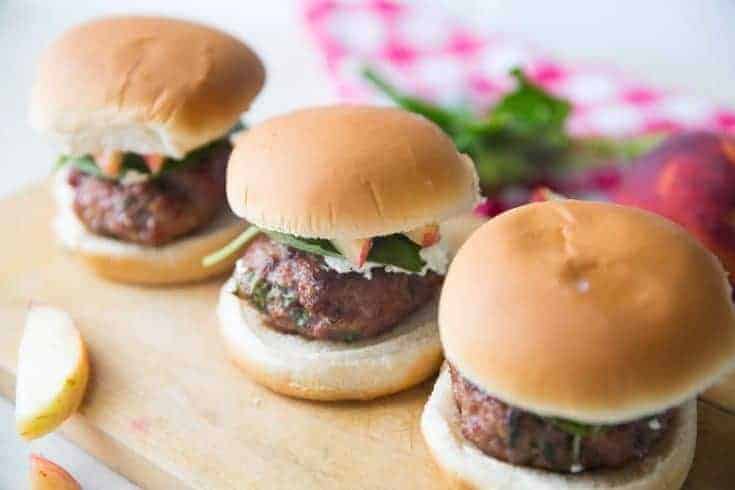 Ingredients
1 lb ground pork
1 tablespoons diced fresh parsley
2 cloves minced garlic
1/2 teaspoon salt
1/2 teaspoon pepper
4 tablespoons goat cheese
1/4 cup fresh basil (or to taste)
1/4 cup thinly sliced peaches
hamburger buns
Instructions
Preheat an outdoor grill to medium heat.
In a bowl, combine the ground pork, parsley, garlic, salt and pepper; mix by hand. Divide mixtur into 4 sections and form each section into a patty. Make an indentation with your thumb in each patty (this will ensure pork cooks evenly).
Grill burgers for 5-6 minutes per side or until a meat thermometer stuck in the center reaches 160 degrees.
When burgers are ready, top each burgr with one tablespoon of goat cheese, basil and peaches. Serve.
Nutrition Information
Amount Per Serving
Calories

1344
Total Fat

106g
Saturated Fat

42g
Cholesterol

348mg
Sodium

1291mg
Fiber

1g
Sugar

3g
Protein

86g