This is no ordinary burger recipe! A thick, juicy burger is topped with crunchy peanut butter and homemade jam! The combination sounds out of the ordinary, but the taste is extraordinary!
Serve the burgers at your next BBQ and everyone will be amazed! Pair these burgers with homemade mac and cheese recipe or herb grilled corn for a complete meal!
I had a peanut butter and jelly burger for the first time over vacation last summer. I don't know normally order burgers at restaurants, but for whatever reason, the peanut butter and jelly burger stood out to me and I decided I had to have it.
I mostly ordered it out of curiosity I think. I mean, who eats peanut butter and jelly on a burger? The other reason I ordered this particular burger was for the habanero blackberry jelly. Spicy sweet jelly is sort of my jam…pun totally intended.
Long story short, I tried the burger and was hooked. This particular recipe is now a weekly staple!
How To Make A Grilled Burger Recipe
Whenever I make homemade hamburgers, I like to use an 80/20 ground chuck. This means that the ground beef is 80% lean beef and 20% fat. I usually gravitate towards lean meat, but when it comes to burgers, that extra fat makes them extra juicy.
Since this recipe has so much going on between the peanut butter and the jam, I felt the burgers themselves didn't require a whole lot of seasoning. A little salt and pepper were all I used to flavor my beef.
Form your burgers into patties and with your thumb, make an indentation in the center of your burger. The indentation will keep the burger from puffing up too much during grilling.
The burgers should be grilled on medium-high heat for about 5-7 minutes per side, depending on the thickness of your burger.
How Do You Know When Burgers Are Done?
The best way to tell if your burger ( or any meat for that matter) is done is by using a meat thermometer. Beef is done when it reaches 160 degrees. Always allow your meat to rest before serving. For one thing, the meat will continue to cook. And secondly, the juices redistribute.
How To Make A Burger Recipe On The Stove
I like to use a cast-iron skillet to make my burgers. Cast iron is a great conductor of heat and ensures even cooking. I tent a piece of foil over my skillet to create the same environment as a grill where you trap in heat and steam.
How To Make A Burger Recipe In The Oven
Preheat an oven to 350 degrees. Spray a broiler pan with non-stick spray and arrange your beef patties on the pan. Bake the burgers for 20 minutes, turning once. Check the temperature after 15 minutes.
How To Make Blackberry Jam
I like to prepare my jam a day in advance and allow the flavors to completely come together before I use it.
For this recipe, I threw the berries and the peppers into a food processor until they have broken down. In a saucepan, combine water, lemon juice, a little pectin, and bring to a boil. Stir in sugar and bring to a boil, reduce heat and bring to a low boil once again. Remove from heat and allow the jam to cool.
This jam does have some heat to it from the habanero pepper. Feel free to omit the pepper. A jalapeno can also be used.
Store the jam in an airtight container. This recipe makes a good amount of jam, enough for you to serve these burgers at least twice!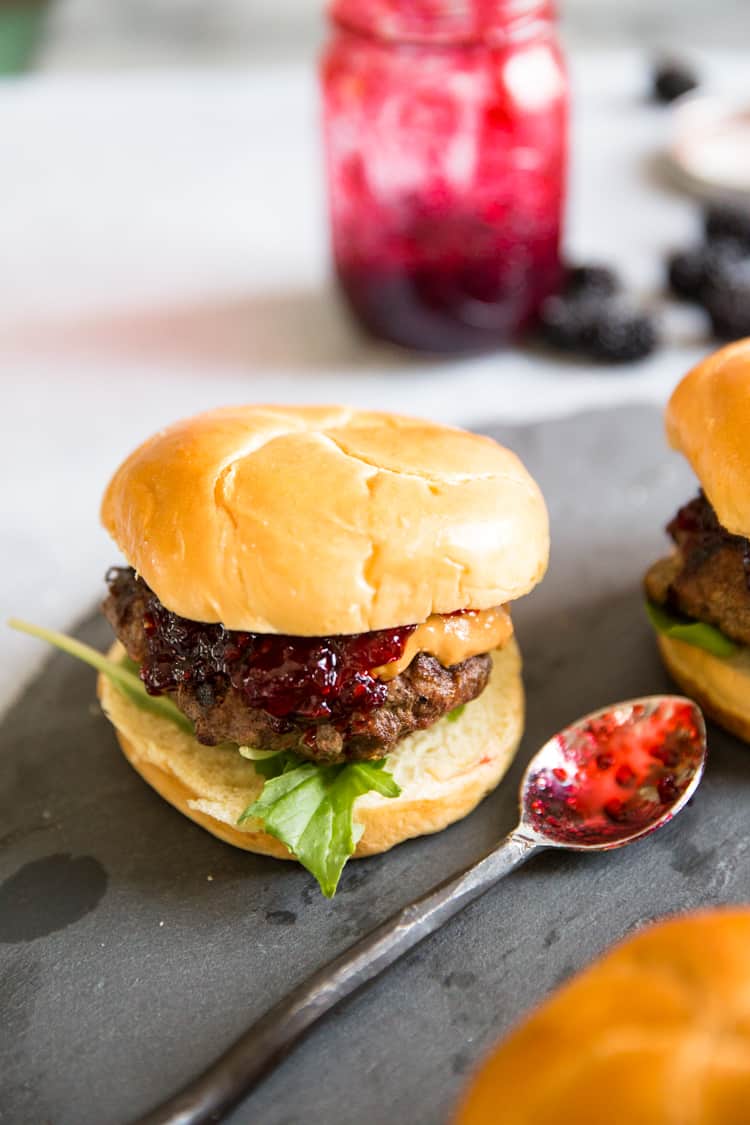 How To Assemble This PB & J Burger Recipe
Place your grilled, juicy burgers onto a bun.
Top your burgers with chunky peanut butter
Add your homemade jam
*Chunky peanut butter is a little thicker and adds great texture to this burger. The creamy or natural peanut butter will work as will any other nut butter.
Peanut Burger Tips
The PB & J really add all the flavor to this burger recipe, so you really do not need to season the beef too much.
Feel free to play around with your protein, pork, and turkey would work, although the flavor would be slightly different.
You could easily use other berries, like strawberries, blueberries, or raspberries for the jam!
Try using other nut butters too!
More Burger Recipes
Yield: 6
Peanut Butter and Jelly Burger Recipe
Tired of plain old burgers? Then I have the burger recipe for you! All beef patties are topped crunchy peanut butter and a homemade spicy and sweet blackberry jam. This burger recipe is unforgettable!
Total Time
1 hour
15 minutes
Ingredients
For the Jelly
2 6oz containers blackberries
1 seeded habanero pepper
½ package pectin
½ cup water
1 tablespoon lemon juice
2 cups sugar
6 tablespoons crunchy peanut butter
2 lbs ground beef
1 teaspoon salt
1 teaspoon pepper
Instructions
Prepare the jam by pureeing blackberries and habanero together in a food processor.
Place berries, pectic, water, and lemon juice in a saucepan over medium heat. Bring to a boil.
Stir in the sugar and bring to a boil once again; boil for 1 minute. Remove from heat and allow the jam to cool completely. Store in an airtight container in the fridge until ready to use.
Preheat an outdoor grill to medium heat.
In a bowl, combine the beef, salt and pepper; mix to combine.
Shape beef into 6 patties. Make an indentation into each patty.
Grill burgers for 5-7 minutes per side.
To assemble, place a burger on a bun, top with 1 tablespoon of peanut butter and the desired amount of jam
Nutrition Information
Yield
6
Serving Size
1
Amount Per Serving
Calories

815
Total Fat

35g
Saturated Fat

11g
Trans Fat

1g
Unsaturated Fat

18g
Cholesterol

135mg
Sodium

581mg
Carbohydrates

83g
Fiber

5g
Sugar

73g
Protein

46g