How about a thick, juicy beer cheese bacon burger for your next bbq?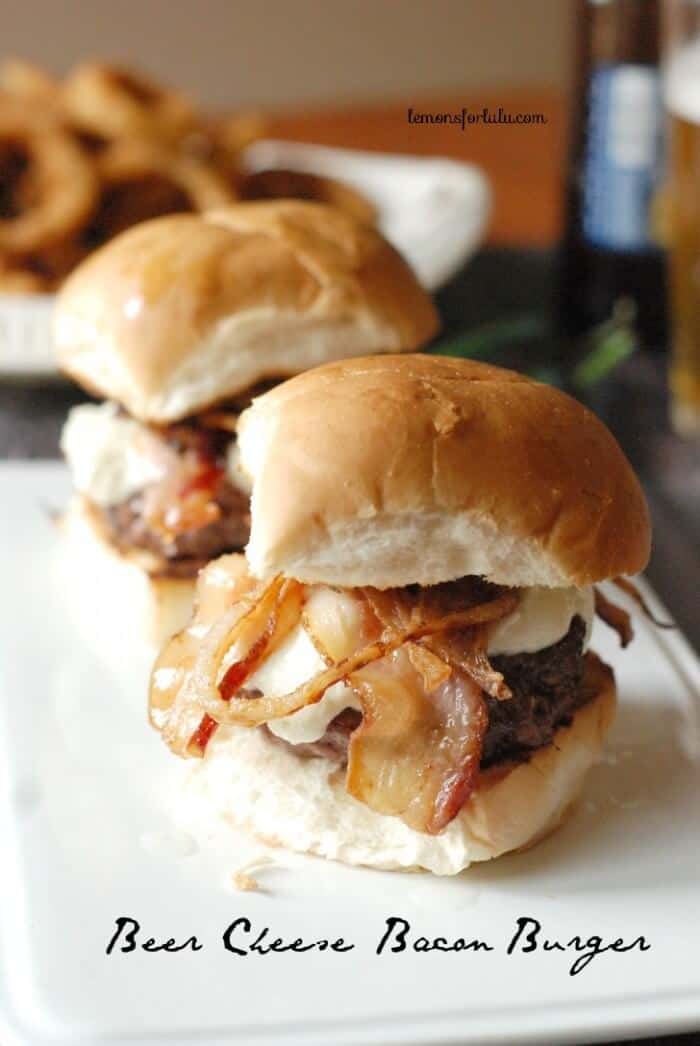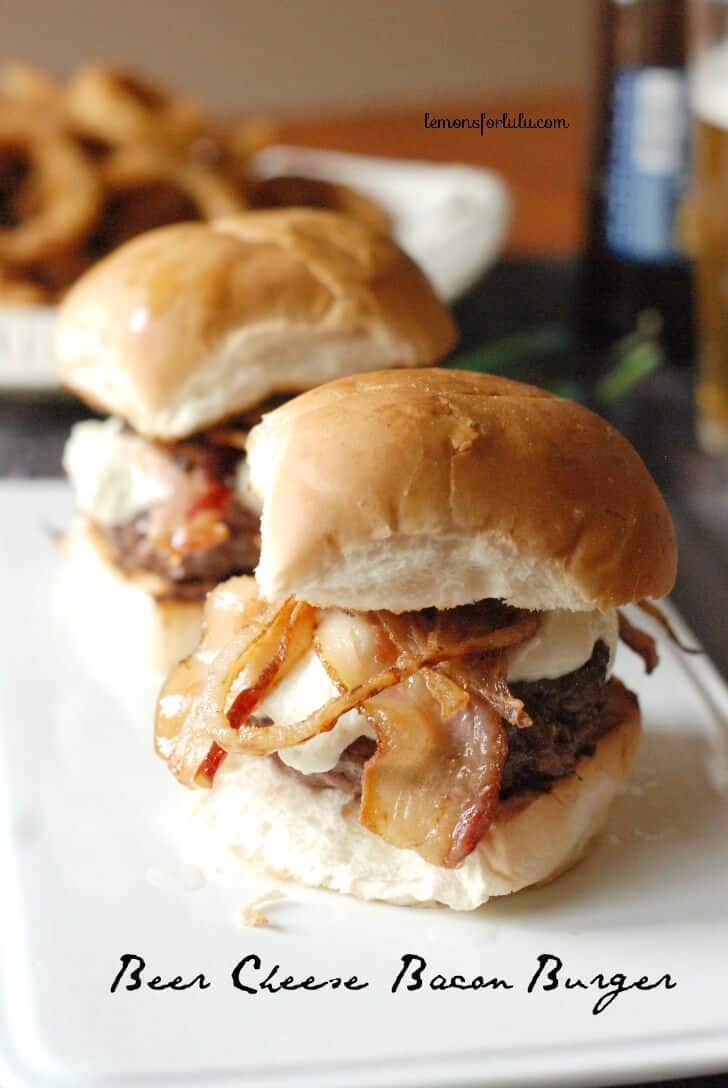 Memorial Day is quickly approaching.  While my bbq is primed and ready, my beach body is not!  I am NOT ready to put on my bathing suit just yet.  Actually, let me rephrase that.  The world isn't ready for me to put on a bathing suit just yet. My glowing white skin will blind everyone as soon as the sun makes contact.  It's embarrassing.  That's what an Ohio winter does to you.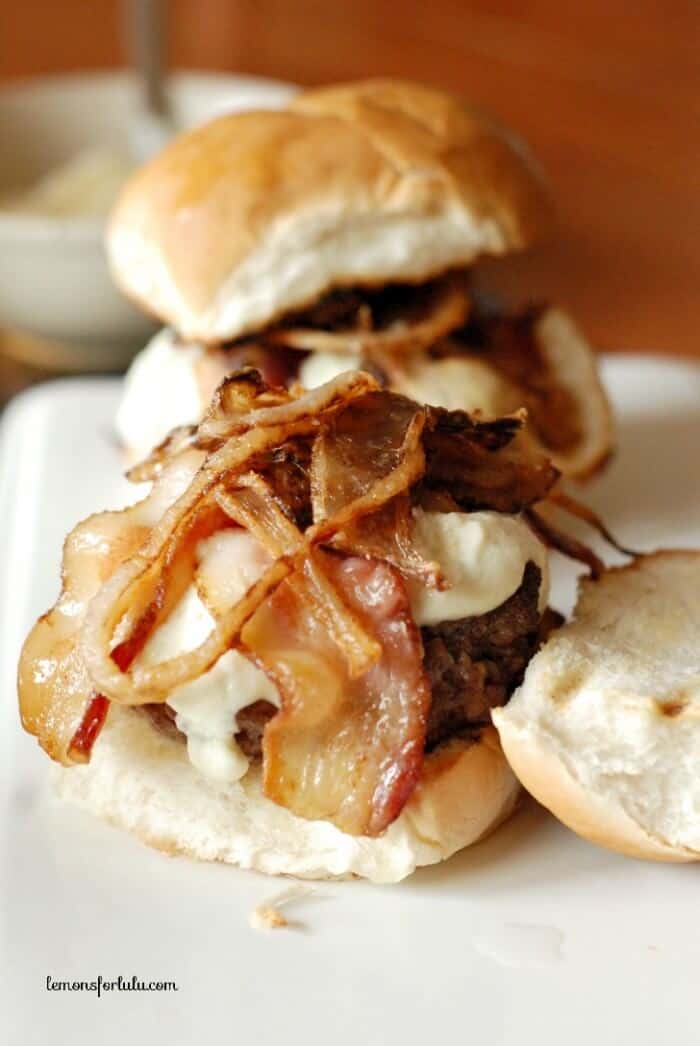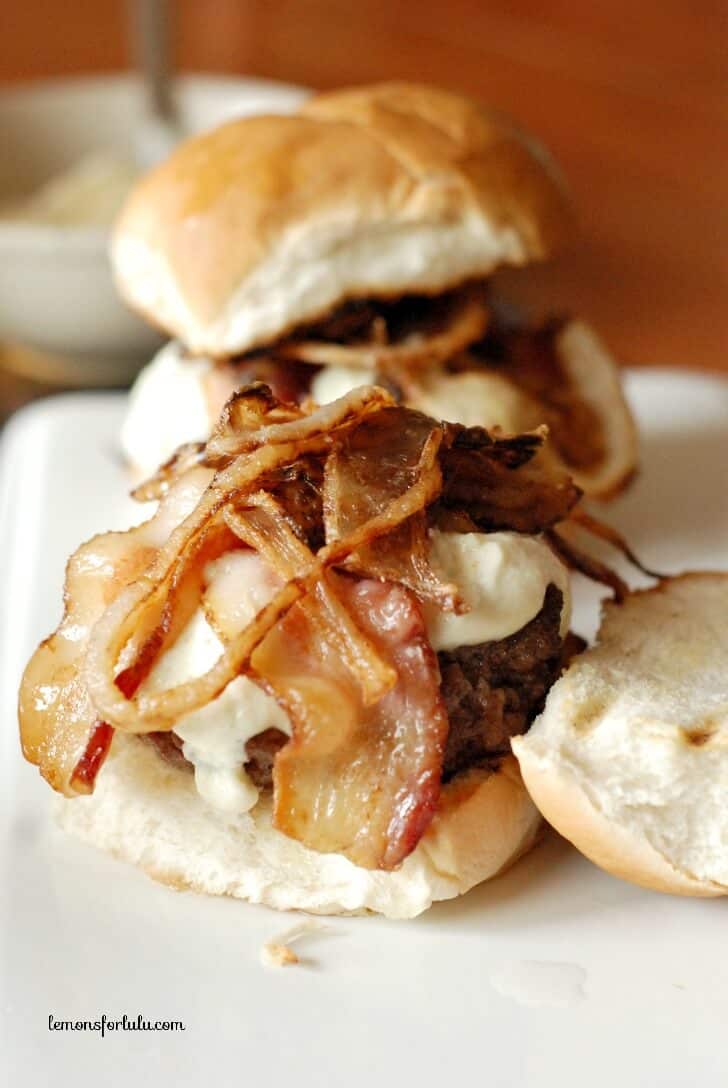 I know my kids are itching to get to the pool.  They have been counting down to opening day.  As soon as school is out, they'll expect to be there from sun up to sun down.  Me, I have other ideas.  I'll go to the pool if I can read or nap.  But to swim?  Forget it.
When I was a kid, I lived in my bathing suit.  I was brown as a berry.  You have to remember that back in the 80's we used suntan oil, not sunscreen.  I have an olive skin tone so I always brown easily but on the rare occasion I got sunburnt, my mom had just the remedy waiting for me.  Yogurt.  Weird, I know.  My mom would slather cold (fruity) yogurt all over my burnt skin right before bed.  Nothing like active cultures, with chunks of strawberries congealing all over your tender skin.  It felt weird and it smelled.  But it worked every single time.  When I awoke, the yogurt was gone (never understood that) and so was my sunburn.  I'd run off to the pool and do it all over again.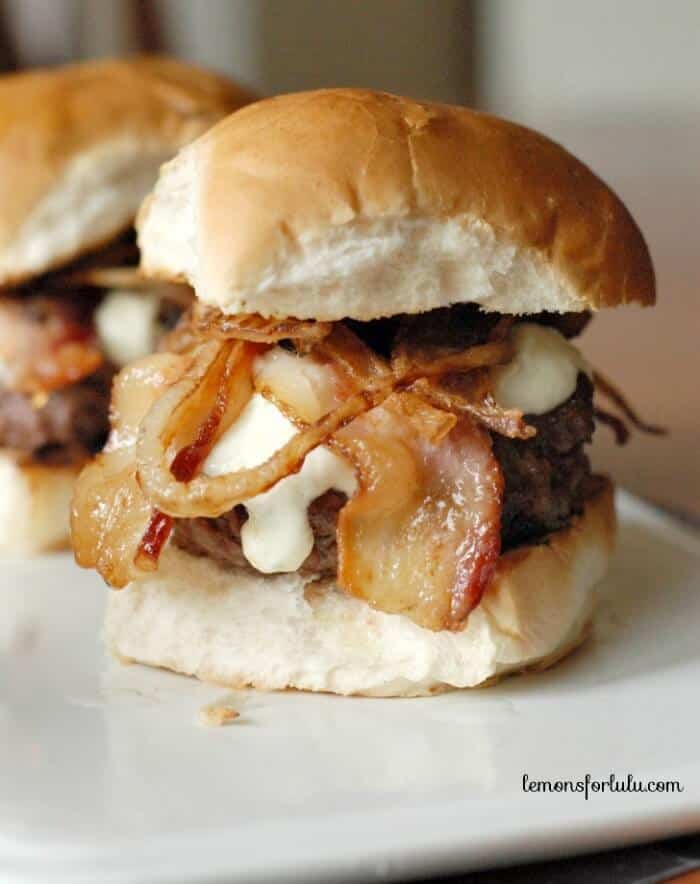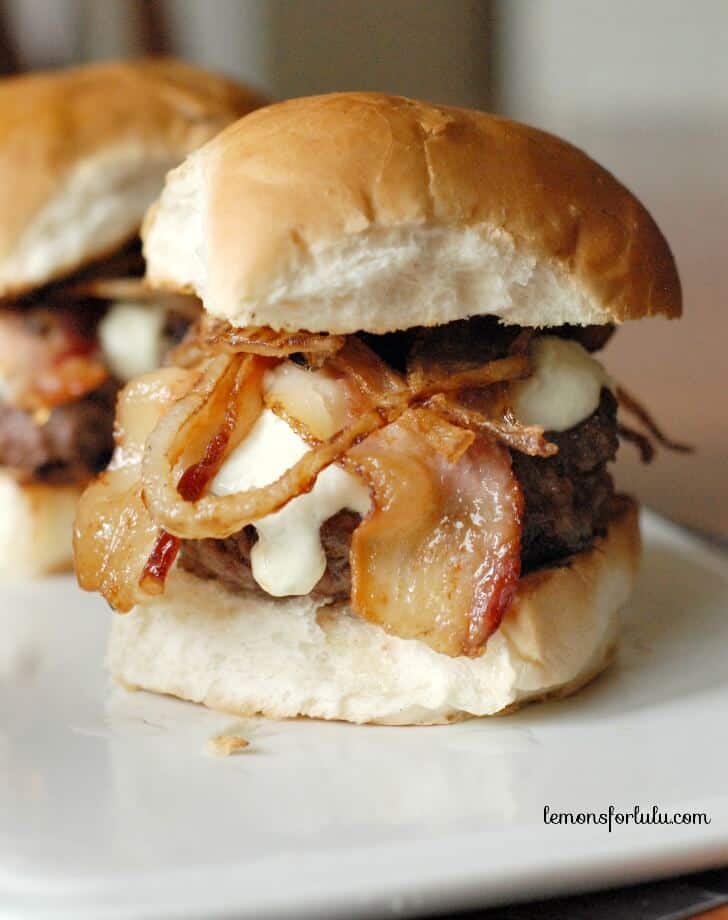 These days, I'm more into grilling than swimming.  With the official kick off of the summer just a week away, I'm turning my attention to some burgers!!  I had all this glorious jalapeno popper beer cheese tempting me in the refrigerator, so I decided to put it to good use.  I topped these beefy burgers with a generous spoonful of beer cheese, crisp bacon and homemade onion straws.  The onion straws were surprisingly simply, although in a pinch, store-bought onion rings would do the trick.  The cheese melts as soon as it hits the burger.  The salty, crunchy bacon and the coated onions straws blend in the creamy cheese for one outrageously delicious bite!
This Memorial Day, you will not find me at the pool, you'll find me cozying up to my grill with a beer cheese bacon burger in one hand and a cold beer in the other.  Now that's how you do summer!
CHEESE AND BACON, BACON AND CHEESE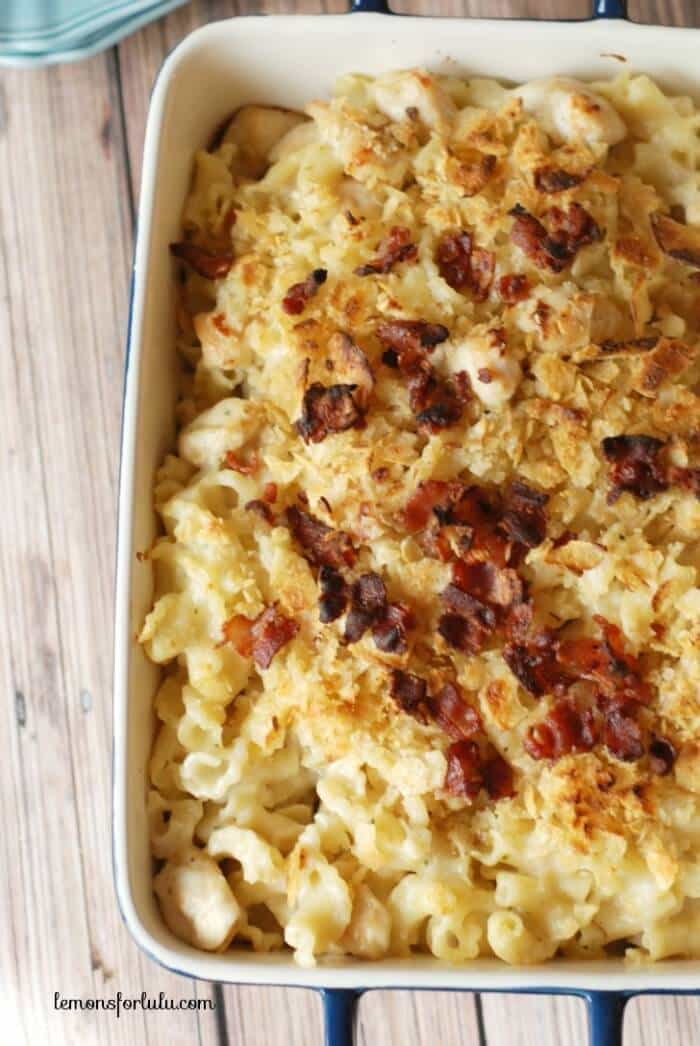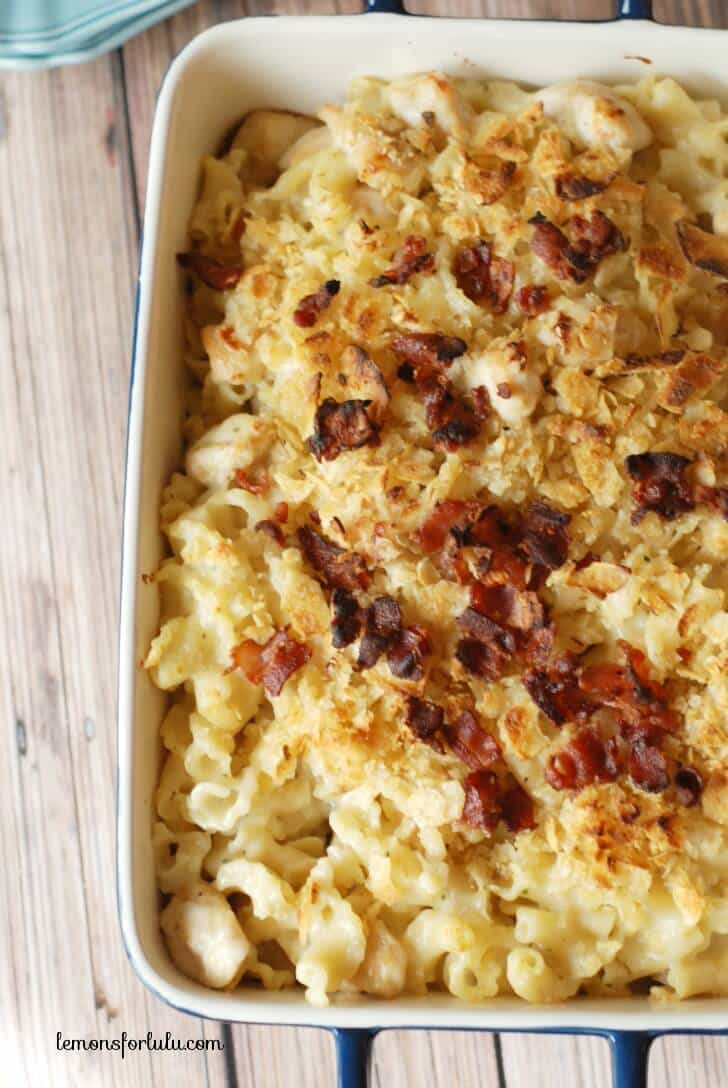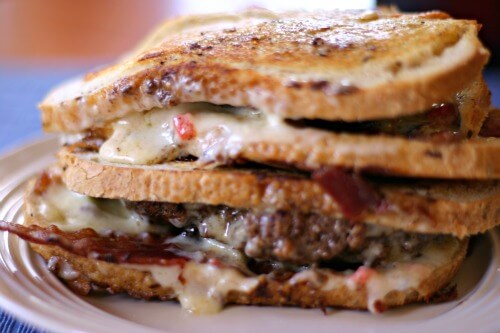 NEVER MISS A RECIPE! SUBSCRIBE TO MY EMAIL TODAY!
FOLLOW ME:
FACEBOOK | TWITTER| GOOGLE +| BLOGLOVIN | INSTAGRAM
Don't forget you can save each of these recipes to your personal recipe box , create your own meal plan, or add ingredients for each recipe to your shopping list! Just use the "Save Recipe" on all my recipes!
Ingredients
2

lb ground beef

1

teaspoon salt

1/2

teaspoon pepper

12

slices cooked bacon

1 1/2

cup onion straws (recipe below)

Hamburger buns

1

large sliced into rings

1

cup flour

2

teaspoons salt

1

teaspoon pepper

1

cup vegetable oil

1/2

cup beer cheese
Instructions
To prepare the straws, heat oil over medium heat. In a large zip top back, combine flour, salt and pepper. Add onions and mix to coat. When oil is ready, add onions in batches. Cook straws for 3-4 minutes or until golden. Remove from oil and let drain on a paper towel.
In a bowl mix together ground beef, salt and pepper. Shape into six patties. Prepare grill. Add burgers to hot grill and cook 4-5 minutes per side, depending on desired degree of doneness.
While burgers are grilling, combine the cream cheese, Monterey Jack cheese, jalapeno, beer and yogurt in a food processor. Mix until creamy. Note: you will have extra cheese!
When burgers have finished grilling, top each burger with a couple of tablespoons of beer cheese, two slices of bacon and onion straws.
Serves 6