Meaty portabella mushrooms make for the perfect vegetarian burger!
 Homemade chimichurri is mixed with  fresh guacamole which rests perfectly atop
spicy Pepper Jack cheese!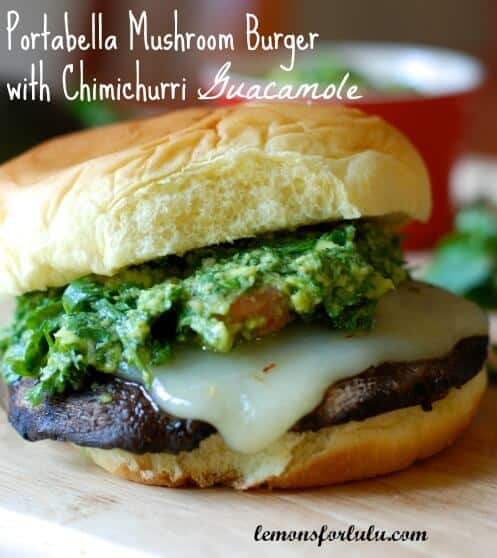 I desperately need help!  I NEED a new pillow and I cannot seem to find one that is perfect for my weary head.  My pillow literally gives me a pain in the neck.  A BIG PAIN IN THE NECK!  Nothing will ruin your day more than when you wake to find that you cannot turn your head to the left.   Because when you do turn your head to the left, your neck screams in pain!  It makes me a very grumpy woman.
 I'm not just grumpy for the day, I'm grumpy for the rest of the week!  That's how long it takes for this horrid pain to go away!  Trust me,  you'd be grumpy too if you were walking around like Quasimodo.   I actually have to turn my entire torso to see anything to my left.    It's a blessing for our kids.  As long as they stay to my left, they can get away with anything!
I just don't understand how it can be so difficult to find the perfect pillow.  I've tried several different styles of firmness, and filling AND from several different stores, all  to no avail.  I finally broke down and spent an obscene amount of money on a specialty pillow only to find instead of cradling my tender nape, it rudely props my head up and consistently cricks my neck.  I hate it.  I give it dirty looks every night.  Then I punch it down with all my might and say mean things to it.   I'd give my husband jealous stares, but he's to my left and I can't see him.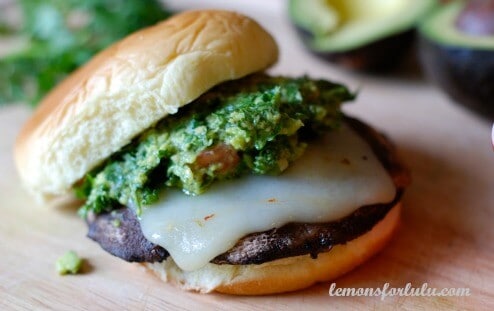 It's been a difficult week in the kitchen.  It's kinda hard cooking when your left shoulder is raised up to your earlobe in the vaguest attempt to rest your neck.   I had big plans of making
mac and cheese
, but I couldn't lift the stock pot.  I know, I sound  pathetic to myself.  So we ate
breakfas
t for dinner…a lot.  Don't judge me.  I was in survival mode.
Finally by the weekend I was feeling good.  Granted, it could've been the wine and the Motrin, but who cares!!!  I was back in action!  I was ready to throw myself into the kitchen!  I joyfully made donuts and whoopie pies (yummy future posts) turning to my left as often as possible!   I was all set to make a huge stock pot full of pasta (because I could) when an intense craving for chimichurri hit.  I've never actually had chimichurri mind you. But I knew it had cilantro, which lead me to guacamole which somehow got me thinking about portabella mushroom burgers!   And BOOM, just like that this meal was born.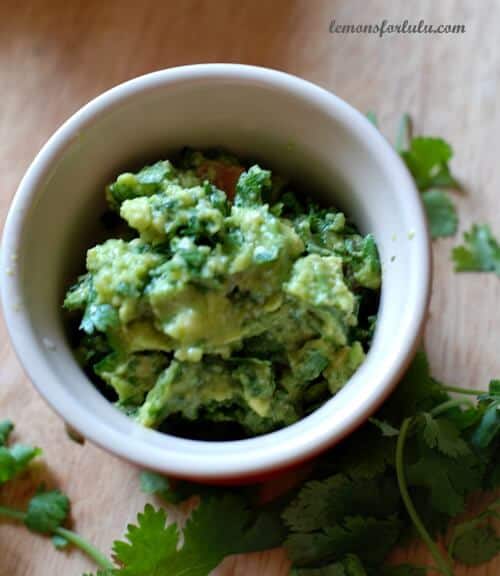 Portabella mushrooms can be incredibly meaty and delicious.   They taste exquisite in any dish, but on the grill they are simply divine.  I  added some Pepper Jack cheese to our burgers because I can't seem to eat food without the teeniest bit of heat.   It was an outstanding combination of flavors and textures!  You ever have those meals where you groan with every bite because they are THAT GOOD?  These portabella mushrooms  were that kind of meal.  Insanely good.  Why can't my pillow be that good?
MORE GREEN GOODNESS: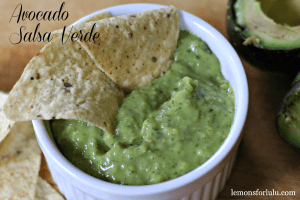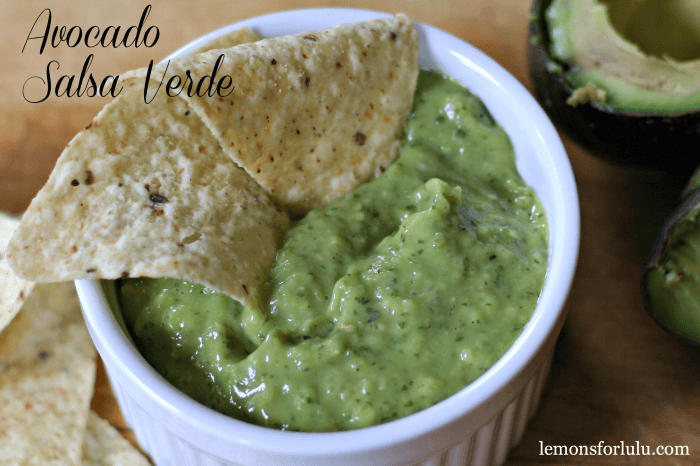 NEVER MISS A RECIPE!  SUBSCRIBE TO MY EMAIL TODAY!
FOLLOW ME:
FACEBOOK | RSS | TWITTER | GOOGLE + | BLOGLOVIN | INSTAGRAM
Portabella Mushroom Burgers with Chimichurri Guacamole
Ingredients
4

Large portabella mushrooms

2

tablespoons olive oil

1/2

cup chopped parsley

1/2

cup chopped cilantro

1

clove garlic minced

1

tablespoon red wine vinegar

1/4

cup olive oil

Salt and pepper

1

avocado

1/2

Roma tomato, diced

1/4

teaspoon cumin

1/4

teaspoon lime juice

Pinch of salt

4

slices Pepper jack cheese

4

hamburger buns
Instructions
In a bowl, combine parsley, cilantro, garlic, vinegar, oil and salt and pepper to taste. Stir until combine and let refrigerate until ready to use.
Preheat grill. Gently scrub mushroom caps. Drizzle olive oil over each side of mushroom. When grill is ready, grill mushrooms for 3-4 minutes per side.
Meanwhile, mash avocado. Stir in diced tomatoes, cumin, lime juice and salt.
In the last minute of cooking, cover mushrooms with Pepper Jack cheese and grill until cheese has melted.
Right before serving, combine chimichurri sauce and guacamole, stirring until completely blended. Generously top each burger with guacamole mixture. Enjoy!
Serves 4