Caprese chicken-stuffed portobello mushrooms have lots fresh pesto coating each piece of chicken, the creamy mozzarella, and garden fresh tomatoes!
I've decided that there are three types of people I'd like to include in my circle of friends. I need to know someone with a pool because I want to stay cool in the summer, but I don't want to mess with taking care of a pool. A friend with a boat would be fantastic. Who doesn't love riding around in a boat with the wind whipping through their hair? Boats are excellent, but I don't want to deal with the expense or hassle of taking care of a boat. Finally, a friend with a big garden is the best. Friends with gardens are always willing to hand over their veggie overflow, and I am more than ready to take it!
My neighbor always brings me bunches of basil from her garden, and I think it is one the nicest things she could do. I never turn away fresh basil. I use fresh basil in recipes like this iced tea, mango popsicles or this roasted blueberry tart. But one of my favorite ways to use fresh basil is in homemade pesto!
The homemade pesto is key to flavoring these Caprese chicken stuffed portobellos. Portobellos are wonderful; they are thick and juicy and I feel they are the most flavorful mushroom (they make great burgers, just try these Portobello Mushroom Burgers!). The pesto coated chicken, soft mozzarella, and plum tomatoes make an incredible filling for these hardy mushrooms.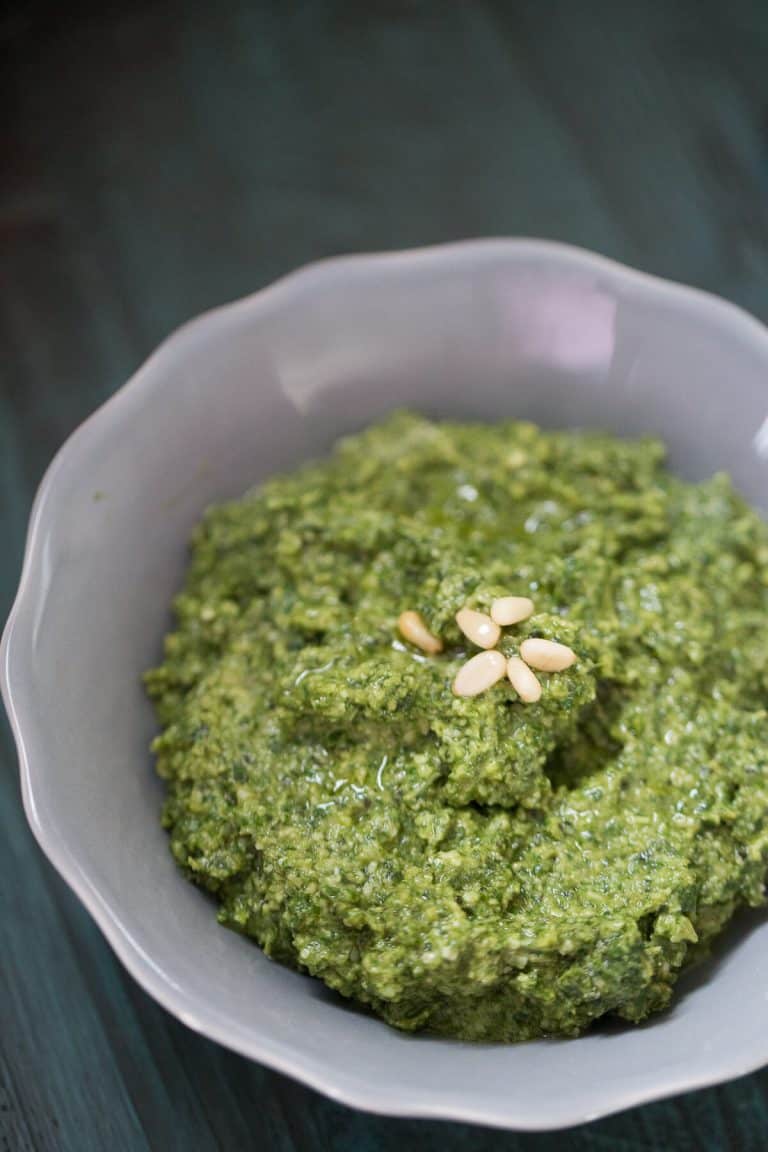 This easy pesto uses lots of basil, Parmesan cheese, and Pompeian Robust Extra Virgin Olive Oil. Did you know that you can find quality indicators in each olive oil bottle you purchase? Look for third-party verifications on the bottle's label, including § The Non-GMO Project Verification Seal. All Pompeian Olive Oils (Robust Extra Virgin Olive Oil, Smooth Extra Virgin Olive Oil, Classic Pure Olive Oil, Extra Light Tasting Olive Oil and Organic Extra Virgin Olive Oil) are made in compliance with the Non-GMO Project Verified Standard.
The bottle should also show the olives' lot number and country of origin directly on the bottle to ensure full traceability from farm to table. o In addition to looking at the bottle's label, look at the bottle itself, which should be dark in color. This helps prevent oxidation of the oil, keeping it fresher, longer. Once you purchase the oil, keep it in your pantry, away from heat and light.
Look for bottles with The North American Olive Oil Association (NAOOA) Seal. In order to use the NAOOA seal, a member must undergo even more frequent testing. In addition, this is the only program where the oil is sampled from the store. Pompeian was also the first brand of olive oil to carry this seal.
This post was sponsored by Pompeian Olive Oils. Click here for recipes and product information.
Yield: 4
Caprese Chicken Portobello Mushrooms
Caprese flavors abound in this easy meal. Chicken, tomatoes and mozzarella are tossed with homemade pesto then stuffed in meaty portobello mushrooms.
Ingredients
1/2 cup pine nuts
2 cups basil
1 clove minced garlic
1/2 grated Parmesan cheese
1/2 teaspoon salt
1/2 cup Pompeian Robust Extra Virgin Olive Oil
2 tablespoons water
4 large portobello mushroom caps
2 teaspoons Pompeian Robust Extra Virgin Olive Oil, divided
Salt, pepper
2 cups diced cooked chicken (rotisseries works very well)
2 roma tomatoes, chopped
4 oz cubed fresh mozzarella cheese
2-4 tablespoons pesto
Fresh basil
Instructions
Pull stem out from each mushroom cap. Drizzle 1 teaspoon of olive oil over the portobello caps. Grill mushrooms for 3- 4 minutes per side or until the mushroom has softened. Remove the mushrooms from the heat.
In a food processor combine pine nuts, basil garlic, Parmesan cheese and salt. Add olive oil. Process until the basil has been broken down. Slowly drizzle in the water until the basil comes together. Add more water if necessary to thin the pesto.
Toss together the chicken, tomatoes, mozzarella cheese and pesto. Divide chicken mixture between each mushroom cap.
Preheat the broiler. Broil mushrooms for 2 minutes or until cheese is bubbly. Remove the broiler and drizzle with remaining teaspoon of olive oil. Garnish with fresh basil before serving.
Spoon any leftover pesto into ice cubes tray and freeze for later use.
Nutrition Information
Yield
4
Serving Size
1
Amount Per Serving
Calories

717
Total Fat

65g
Saturated Fat

13g
Trans Fat

0g
Unsaturated Fat

47g
Cholesterol

90mg
Sodium

737mg
Carbohydrates

9g
Fiber

3g
Sugar

3g
Protein

29g