This caramel apple cocktail is the best thing to have when you feel the first chill of fall. This cocktail is sweet, crisp and oh so smooth!
Caramel apples are one of those fair foods that look way better than they are. Most of the time, when you buy apples at the fair, they are loaded with so many delicious toppings. It's not just caramel anymore. There's chocolate and white chocolate, nuts, candy bars, cookie crumbs, sprinkles, and pretzels. Caramel apples have become a dentist's nightmare.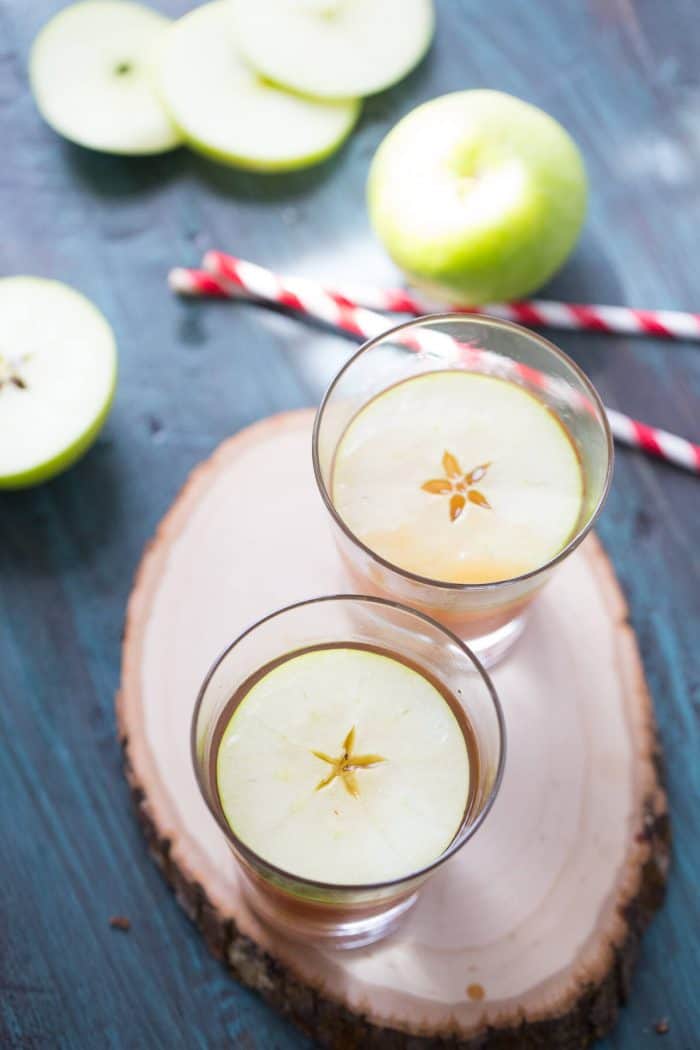 I have tried making caramel apples only once for the kids. I won't do it again. It wasn't a disaster or anything, but the kids only ate the caramel, which is exactly what I do when faced with a giant apple covered in gooey sweetness. Let's face it, once you get through that outer layer, you are no longer eating dessert, you are just eating fruit. Don't get me wrong; Fruit is nature's dessert. But when you are expecting caramel and chocolate but end up with a plain, tart apple, well, that's just false advertising.
I think I'll stick with this caramel apple dip or this Amish peanut butter for the kids. That's a much better way to consume apples. Who needs the stick and fancy toppings anyway? Meanwhile, it'll be this caramel apple cocktail for the adults.
If you are like me, then county fair caramel apples just don't have the same kind of appeal. But this caramel cocktail certainly does. This cocktail embraces all the flavors of fall. It has subtle and warm autumnal spice undertones, crisp and tart apple flavors swirled with the luscious sweetness of caramel.
While lemonade mules are necessary for warm, summer nights. This apple cocktail begs to be consumed around the campfire. Grab your big, puffy sweatshirt and snuggle up with a few sips of fall.
Yield: 2
Caramel Apple Cocktail
Tart and sweet, this caramel apple cocktail embraces the fall flavors we love!
Ingredients
2 ounces spiced rum
2 ounces apple liqueur
2 ounces caramel liqueur ( I used caramel flavored Kahlua)
caramel syrup
Instructions
Fill a cocktail shaker half full with ice. Add liqueur and shake.
Drizzle caramel syrup in each glass, top with ice. Divide cocktail between each glass.
Nutrition Information
Yield
2
Serving Size
1
Amount Per Serving
Calories

360
Total Fat

0g
Saturated Fat

0g
Trans Fat

0g
Unsaturated Fat

0g
Cholesterol

0mg
Sodium

238mg
Carbohydrates

54g
Fiber

1g
Sugar

53g
Protein

1g