This easy apple tart starts with a sugar mix but ends with a smile!
A creamy peanut butter filling and fresh apples make up the middle!
This peanut butter tart with sliced apples is a perfect Fall treat or dessert for special occasions. Eating peanut butter with apples as a snack is always fun but turning it into an indulgent dessert is next-level awesome. This tart might even have the classic apple pie beat. It's a simple recipe but with all the flavors and textures, it tastes like you've toiled in the kitchen all day!
Peanut butter apple dessert
The crust for this tart is a sugar cookie mix. No one has to know, it can be our little secret. Once you mix the crust ingredients, you'll bake it up just until it is golden. While the crust is getting all toasty, that's when you whip up your filling. Ah, the filling!! It's beautiful! It's creamy and smooth with a bit of cinnamon spice. It's not too sweet either (let's save that for the fresh apples). After baking, sprinkle the tart with a little powdered sugar and you have yourself an impressive dessert, my friends.
Ingredients
For the crust:
Sugar Cookie Mix
Butter
Water
Egg
For the filling:
Creamy peanut butter
Brown sugar
Butter
Cinnamon
Salt
Honey
Apples
Powdered sugar
For the exact amounts needed, please see the recipe card below.
How to Make Easy Apple Tart
Preheat your oven to 350 degrees F.
In a large mixing bowl, stir together the cookie dough mix, butter, water, and egg until a soft dough forms.
Spread the dough into an ungreased tart pan with a removable bottom. Be sure to spread the dough up the sides of the pan.
Bake in the oven for 20 minutes and then remove from oven. Allow cooling for 10 minutes.
While the crust is cooling, combine the peanut butter, sugar, and remaining filling ingredients in a heavy saucepan.
Cook over medium heat until nice and smooth.
Remove from heat and allow to cool for a minute or two until the mixture begins to thicken.
Pour the mixture into the baked crust.
Arrange the apple slices over the peanut butter mixture.
Bake in the oven for another 35040 minutes or until the edges are golden and the center has set.
Allow to cool completely.
Serve with a nice dusting of powdered sugar over the top.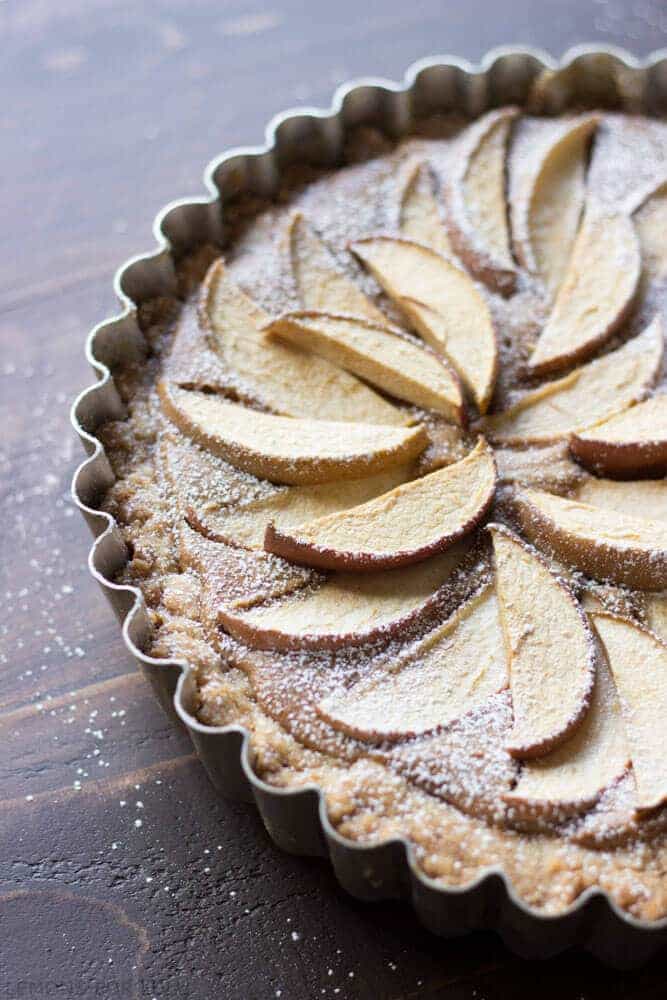 Variations
For a fun variation of this recipe, you can try using a package of oatmeal cookie mix instead of a sugar cookie mix. It's sure to taste just as delicious and add in a little more flavor and chewy goodness to every bite. This is a pretty flexible recipe.
Recipe Tips
You can use any baking apple desired. I enjoy Pink Lady's, Granny Smiths, and Honeycrisp depending on my mood. Tart apples or sweet apples both work well with this recipe so whichever you decide you want, go ahead and try it out.
Get the kids to help! Kids are master crust mixers! Little hands can expertly press the crust into the tart pan. Kids love arranging the apples too-give them a chance to show off their artistic sides!
FAQs
Do I have to peel the apples before baking?
You can choose to take the skin off of the apples or leave them on as desired. I personally enjoy the appearance and rustic touch of leaving the colorful skins on but you can just as easily remove them.
Can I use natural peanut butter?
If that's what you have on hand then go ahead and try. The biggest difference is that your peanut butter will be lacking some sugar so you may wish to add some back into the filling. Your tastebuds should be able to tell you how much to add to make it sweet enough.
How long is peanut butter apple tart good for?
This tart can be kept well covered in the fridge for up to 4 or 5 days. For best tasting results I recommend eating within 2 or 3 days, although this dish does taste best when freshly made and warm from the oven. Yum!
If you love this yummy apple tart then you may also like these other apple recipes:
Yield: 10
Easy Apple Tart
This easy apple tart starts with a sugar mix but ends with a smile!
Additional Time
10 minutes
Total Time
1 hour
15 minutes
Ingredients
For the crust:
1 pouch ( 1 lb 5 oz) Sugar Cookie Mix
1/2 cup butter, softened
1 tablespoon water
1 egg
For the filling:
1 cup creamy peanut butter
1/2 cup brown sugar
2 tablespoons butter
1/2 teaspoon cinnamon
pinch of salt
2 tablespoons honey
2 apples thinly sliced
powdered sugar
Instructions
Preheat oven to 350.
In a large bowl stir together cookie mix, butter, water and egg until a soft dough forms. Spread dough onto an ungreased tart pan with a removable bottom. Be sure to spread the dough up the sides of the pan. Bake for 20 minutes, remove and cool for 10 minutes.
While crust is cooling, combine peanut butter, sugar and remaining filling ingredients in a heavy saucepan. Cook over medium heat until smooth. Remove and let cool for a minute or two or until the mixture begins to thicken. Pour mixture over crust. Arrange apples slices in over peanut butter mixture.
Bake for 35-40 minutes or until edges are golden and center has set. Cool completely.
Serve with powdered sugar
Nutrition Information
Yield
10
Serving Size
1
Amount Per Serving
Calories

447
Total Fat

28g
Saturated Fat

11g
Trans Fat

0g
Unsaturated Fat

14g
Cholesterol

54mg
Sodium

292mg
Carbohydrates

46g
Fiber

3g
Sugar

36g
Protein

7g