This easy apple tart starts with a sugar mix but ends with a smile!
A creamy peanut butter filling and fresh apples make up the middle!
My 5 year old writes a special note for her teacher every day. Usually she writes something like "I love school," "school is great" or "I love my teacher" followed by a drawing of my daughter and her teacher holding hands. It all just oozes cuteness in my opinion, but I'm not sure what her teacher thinks of the barage of daily papers. I assume she finds these notes equally endearing but I could be wrong. One day I suggested to my daughter that perhaps she should take a break from her drawings. Maybe someone else would like a chance to bring in their own drawings. My daughter accepted this and then said "ok, I'll bring her apples instead."
That wasn't exactly what I was going for. I'm not opposed to my daughter bringing an apple in to her teacher, but an apple a day might get a little excessive. Her teacher may not even LIKE apples. Just because we eat apples like they are going out of style doesn't mean everyone else does. Seriously, we go through bags of apples a week. I put them in brownies, cook them in syrup, and pack them in our lunch boxes. They are perfectly, self-contained treats.
This is why we love apple season. All the crisp, sweet apples are overflowing at the grocery stores, farm markets and u-pick orchards. While I gravitate towards apple butter or even homemade pie, I was ready to try something different this season. I thought an easy apple tart would be just the dessert to try! I was right, this tart might even have the classic apple pie beat. It's a simple recipe but with all the flavors and textures, it tastes like you've toiled in the kitchen all day!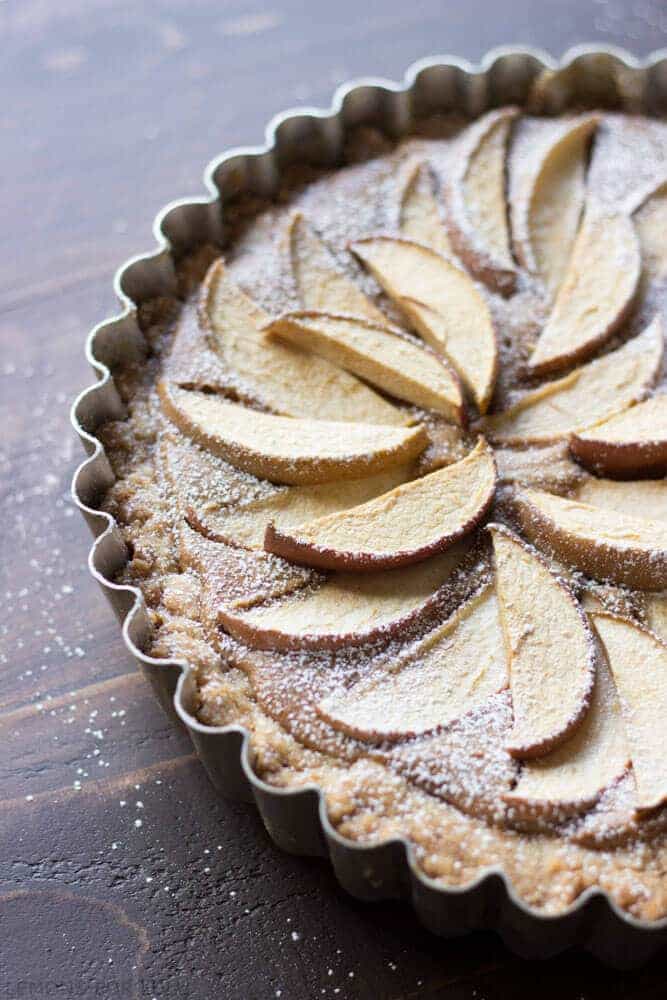 The crust for this tart is a sugar cookie mix. No one has to know, it can be our little secret. Once you mix the crust ingredients, you'll bake it up just until it is golden. While the crust is getting all toasty, that's when you whip up your filling. Ah, the filling!! It's beautiful! It's creamy and smooth with a bit of cinnamon spice. It's not too sweet either (let's save that for the fresh apples). Sprinkle the tart with a little powdered sugar and you have yourself an impressive dessert my friends.
Notes about the recipe:
Oatmeal cookie mix would do just as well. Use what you have on hand. This is a flexible recipe.
You could use natural peanut butter if that is what is in your pantry. I would increase the sugar. Your taste buds will tell you how much to add.
You could take the skin off the apples if that is your preference. I sort of like the rustic look so I left my skins on.
Get the kids to help! Kids are master crust mixers! Little hands can expertly press the crust into the tart pan. Kids love arranging the apples too-give them a chance to show off their artistic sides!
Visit Walmart on the web to learn more about their farm fresh produce and their money back guarantee.
Easy Apple Tart
Additional Time:
10 minutes
Total Time:
1 hour
15 minutes
This easy apple tart starts with a sugar mix but ends with a smile!
Ingredients
For the crust:
1 pouch ( 1 lb 5 oz) Sugar Cookie Mix
1/2 cup butter, softened
1 tablespoon water
1 egg
For the filling:
1 cup creamy peanut butter
1/2 cup brown sugar
2 tablespoons butter
1/2 teaspoon cinnamon
pinch of salt
2 tablespoons honey
2 apples thinly sliced
powdered sugar
Instructions
Preheat oven to 350.
In a large bowl stir together cookie mix, butter, water and egg until a soft dough forms. Spread dough onto an ungreased tart pan with a removable bottom. Be sure to spread the dough up the sides of the pan. Bake for 20 minutes, remove and cool for 10 minutes.
While crust is cooling, combine peanut butter, sugar and remaining filling ingredients in a heavy saucepan. Cook over medium heat until smooth. Remove and let cool for a minute or two or until the mixture begins to thicken. Pour mixture over crust. Arrange apples slices in over peanut butter mixture.
Bake for 35-40 minutes or until edges are golden and center has set. Cool completely.
Serve with powdered sugar
Nutrition Information
Yield

10
Serving Size

1
Amount Per Serving
Calories

447
Total Fat

28g
Saturated Fat

11g
Trans Fat

0g
Unsaturated Fat

14g
Cholesterol

54mg
Sodium

292mg
Carbohydrates

46g
Fiber

3g
Sugar

36g
Protein

7g
Apple Recipes from friends:
Caramel Apple Crumble Bars – Mom on Timeout
Apple Peanut Butter Cookies – A Farmgirl's Dabbles