Fresh basil and peaches come together in these boozy and refreshingly simple margarita popsicles!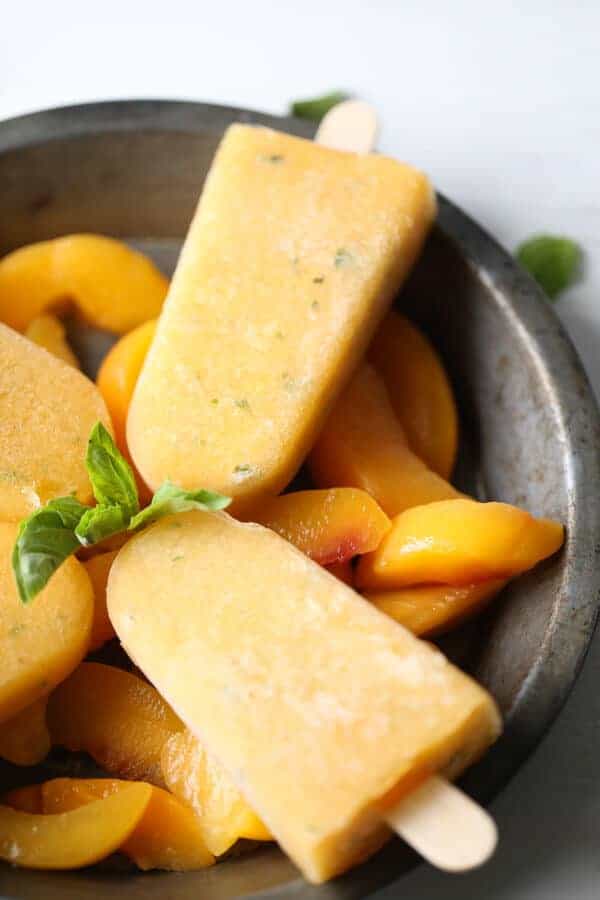 I think I have found my calling; it's making boozy popsicles. Last summer I made these Kahlua Pudding Pops and they were pretty darn amazing if I do say so myself. This week, I outdid myself. I made margarita popsicles! If I were to describe them in one word it would be stupendous.
I used frozen peaches in these only because I couldn't find fresh this time of year. The basil adds such a crisp, fresh taste to these popsicles, you would never guess the peaches were frozen. Peach nectar provides most of the liquid along with tequila (wouldn't be a margarita without it) and a few tablespoons of honey adds just the right amount of sweetness. This recipe is so easy and refreshing. I mean seriously, a margarita on stick! How much better can it get?
This is one of those recipes that you will have to taste as you go along. You may like more tequila (don't worry, I won't judge) or more honey. Anything goes with this recipe. If you are happy, then I am happy. And tequila will make us both happy.
A few tips:
The food processor does all the work in this recipe. I poured out the peach mixture into a large measuring cup to make pouring into my popsicle molds easier. If you have a kick butt blender then that may be a better option.
Freeze your popsicles for 30 minutes, then insert your popsicle sticks. They'll stay straight that way.
To release your popsicles: run warm water over the outside of the container for about 30 seconds, the popsicles should pull right out.
Basil Peach Margarita Popsicles
A healthy dose of tequila, basil and lots of peaches make these margarita popsicles a fun frozen treat!
Ingredients
1 16 oz package frozen peaches, thawed
3/4 cup peach nectar
1 tablespoon lime juice
3 tablespoons honey
1/3 cup tequila
1/4 cup coarsely chopped basil
Instructions
In a food processor, combine peaches, peach nectar, lime juice, honey, tequila and basil. Blend just until combined.
Pour mixture into popsicle molds. Place in freezer for 30 minutes, insert popsicles stick.
Let popsicles stand in freezer for several hours to set completely.
Nutrition Information
Yield

8
Serving Size

1
Amount Per Serving
Calories

76
Total Fat

0g
Saturated Fat

0g
Trans Fat

0g
Unsaturated Fat

0g
Cholesterol

0mg
Sodium

2mg
Carbohydrates

15g
Fiber

1g
Sugar

14g
Protein

1g
If I never make another popsicle in my life (yeah right) then this is a good one to go out on. However, I am seriously considering making thousands of them and unleashing them onto the world. Margarita popsicles for everyone!!
This concludes the end of tequila week (insert sad emoticon). I hope you enjoyed the Tequila Key Lime Bundt Cake and the Tequila Lime Chicken Pizza. I know I had a blast creating these boozy recipes. And now head over to my friend Sugar Dish Me to see her tequila grand finale! Let me know if you enjoyed tequila week. What "week" should we do next?