Basil peach margarita popsicles are a fun summer treat for adults.
Fresh basil and peaches come together in these boozy and refreshingly simple margarita popsicles!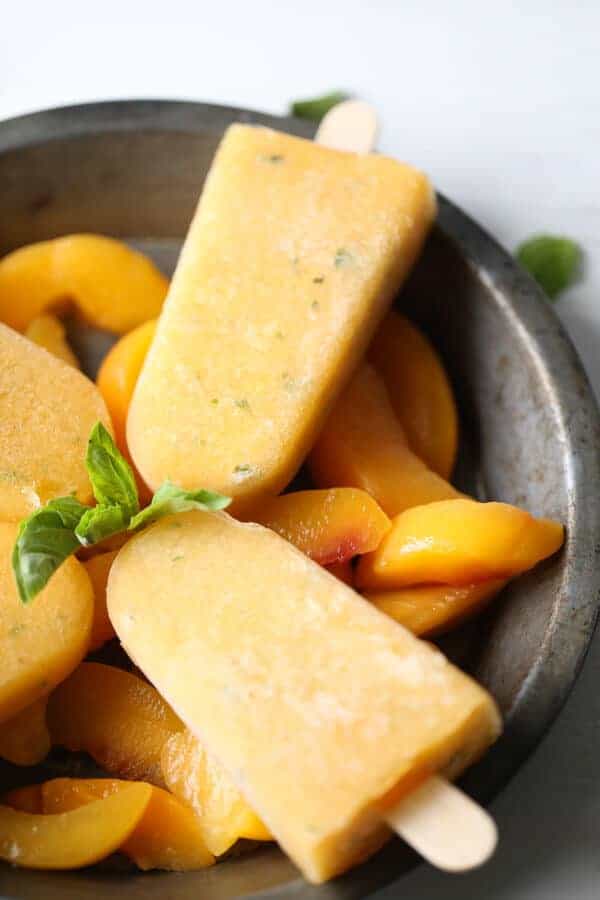 If you love the taste of a good peach margarita then you are going to love these popsicles! Made with peaches, basil, and tequila every popsicle is a boozy delight packed with fresh flavors. It tastes like summer and is always a welcomed treat in my home, as I am sure it will soon be in your as well. These adult popsicles are a perfect treat for sharing with friends this summer as you relax by the pool. Make a batch soon and let all your summer worries start slipping away!
Margarita Popsicles
The basil adds such a crisp, fresh taste to these popsicles, you would never guess the peaches were frozen. Peach nectar provides most of the liquid along with tequila (wouldn't be a margarita without it) and a few tablespoons of honey adds just the right amount of sweetness. This recipe is so easy and refreshing. I mean seriously, a margarita on a stick! How much better can it get?
This is one of those recipes that you will have to taste as you go along. You may like more tequila (don't worry, I won't judge) or more honey. Anything goes with this recipe. If you are happy, then I am happy. And tequila will make us both happy.
Ingredients
Frozen peaches
Peach nectar
Lime juice
Honey
Tequila
Fresh basil
For the exact amounts needed, please see the recipe card below.
How to Make Basil Peach Margarita Popsicles
Combine the peaches, peach nectar, lime juice, honey, tequila, and basil in a food processor and blend until just combined.
Pour the mixture into a popsicle mold.
Place into the freezer for 30 minutes and then insert the popsicle sticks.
Let the popsicles freeze until solid in the freezer to set completely.
Enjoy!
Recipe Tips
The food processor does all the work in this recipe. I poured out the peach mixture into a large measuring cup to make pouring into my popsicle molds easier. If you have an awesome blender then that may be a better option.
Freeze your popsicles for 30 minutes, then insert your popsicle sticks. They'll stay straight that way.
FAQs
How long are frozen popsicles good for?
While these popsicles could probably last indefinitely you will want to use them up within a few months (like 3 months) because any longer and you risk flavorless and freezer burn. After removing the popsicles from the mold wrap them well in plastic wrap and keep them stored in an airtight container until you're ready to eat. This will help to keep them from sticking and to help keep them nice and fresh tasting.
Can I use frozen peaches for this recipe?
Yes, if desired you can use frozen peaches instead of fresh. This is perfect for when you want to enjoy this recipe but fresh peaches aren't in season!
How do I get popsicles out of the mold?
To release your popsicles after they have frozen completely, simply run some warm water over the outside of the container for about 30 seconds, the popsicles should pull right out. This is the easiest trick and one that works with just about any popsicle mold.
Check out these other delicious frozen recipes this summer:
Yield: 8
Basil Peach Margarita Popsicles
A healthy dose of tequila, basil and lots of peaches make these margarita popsicles a fun frozen treat!
Ingredients
1 16 oz package frozen peaches, thawed
3/4 cup peach nectar
1 tablespoon lime juice
3 tablespoons honey
1/3 cup tequila
1/4 cup coarsely chopped basil
Instructions
In a food processor, combine peaches, peach nectar, lime juice, honey, tequila and basil. Blend just until combined.
Pour mixture into popsicle molds. Place in freezer for 30 minutes, insert popsicles stick.
Let popsicles stand in freezer for several hours to set completely.
Nutrition Information
Yield
8
Serving Size
1
Amount Per Serving
Calories

76
Total Fat

0g
Saturated Fat

0g
Trans Fat

0g
Unsaturated Fat

0g
Cholesterol

0mg
Sodium

2mg
Carbohydrates

15g
Fiber

1g
Sugar

14g
Protein

1g