These dirty chai popsicles are lusciously creamy and sweet. They pick you up and cool you off too. This is my definition of a total superfood!
I started drinking coffee when I was about seven years old. My coffee to cream ratio was about 90% milk with dissolved sugar and 10% coffee. I think the only reason I ever asked for coffee in the first place was I found a ceramic Donald Duck mug that I thought was the greatest thing ever. I asked for coffee so I could use my super cool mug and to feel just a little grown up. Little did I know or my parents know, but that is how my love affair with coffee began. Coffee and I have been BFF's ever since.
I tried to drink tea once. There was a phase where I thought tea was artsy and cool. I figured it was a more sophisticated and serene way to imbibe caffeine. I do still love a good cup of hot tea, but it is not a substitute for coffee by any means. The only tea that comes marginally close to coffee is a Dirty Chai tea. Dirty Chai is the crossroads where tea and coffee join forces. It is the jolting combination of Chai and Espresso, and it's delicious! It's even better when served creamy and frozen on a stick!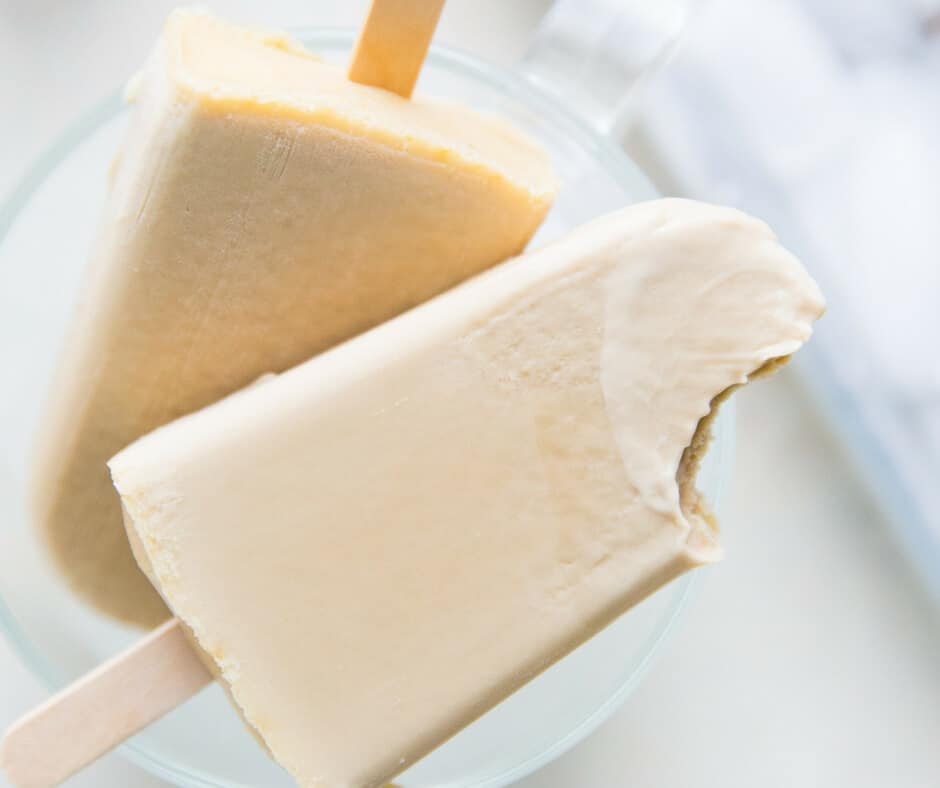 I have a coffee popsicle recipe, I love this Iced Chai Latte recipe and I have a vanilla chai tea latte recipe on the blog; it was about time that I combined them all! This recipe is a little involved as you make a custard first. I used the same recipe I used for my cafe con leche recipe, which is more like a pudding popsicle than a straight ice cream pop. The significant difference between the new and the old recipe is that I steeped two Chai Tea bags with the milk mixture. You can add more tea bags if you want a stronger chai flavor. The one thing you cannot do is go light on the coffee flavor! I used Nelsen-Massey Pure Coffee Extract. The extract combined with the Espresso granules give an intense, freshly brewed Espresso flavor to the popsicles without me having to brew one single drop! Plus it would take quite a bit of brewed coffee to equal the concentred flavor of the extract.
Dirty Chai popsicles are perfect for those who prefer not to choose between coffee and tea!
Yield: 8
Dirty Chai Popsicles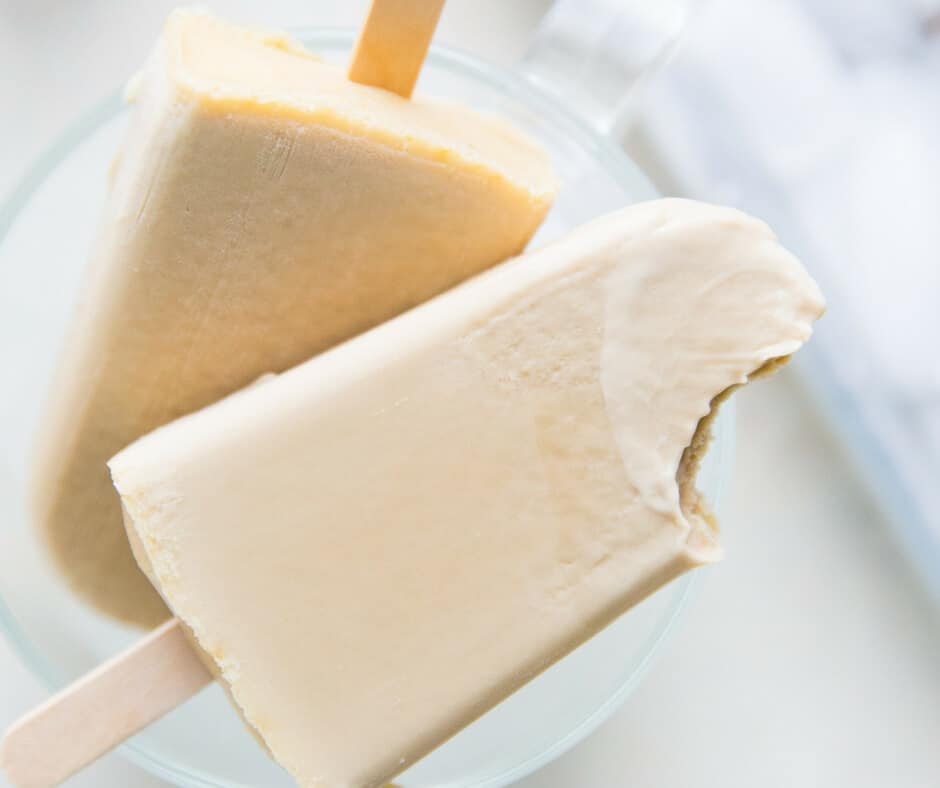 A creamy, cool way to enjoy tea and coffee all at once!
Ingredients
1 1/4 cup heavy cream
2 chai tea, tea bags
1/3 cup sugar
pinch of salt
3 egg yolks
1 packet unflavored gelatin
3 tablespoons of butter
1 teaspoon espresso granules
1 tablespoon Nielsen-Massey Coffee Extract
Instructions
Place sugar, a pinch of salt and 1 ¾ cup heavy cream in a saucepan set over medium heat. Stir until the sugar has completely dissolved. Add tea bags and allow the tea to steep on low for 20 minutes (you'll notice a change in color). Discard tea bags.
In a small bowl combine ½ cup heavy cream and sprinkle the gelatin over top (do not stir). Let set for about 3 minutes.
Place egg yolks in a heat safe bowl and whisk until smooth.
Remove the cream mixture from heat and slowly pour half the mixture into the eggs whisking constantly. Pour the egg mixture back into the saucepan. Add gelatin mixture. Cook over low heat. Stir in butter and whisk constantly until the butter melts and the gelatin has dissolved and a candy thermometer register 160 degrees. This should take 5-7 minutes. Do not boil or overheat.
Remove from heat and stir in espresso granules. Pour mixture through a fine mesh strainer to extract any lumps. Stir in coffee extract. Pour mixture into 8 popsicles molds. Freeze for 1 hour. Place Popsicle sticks into the centers and continue to freeze until completely set about 3 hours.
Notes
I would advise that you place foil over your popsicle molds then poking a hole through the foil to insert your popsicle stick. Otherwise, the if you fill each mold to the top, the popsicle bottom will take on a funny texture from the exposure to air. It is not the worst thing in the world, but it can totally be prevented.
Nutrition Information
Amount Per Serving
Calories

227
Total Fat

19g
Saturated Fat

12g
Cholesterol

117mg
Sodium

61mg
Fiber

0g
Sugar

9g
Protein

5g