Knowing how to make iced coffee pudding pops is easier than you think! Especially pudding pops with a hint of Kahlúa!
This post was sponsored by
Kahlúa

. All opinions are my

own

. It's an honor partnering to bring you delicious recipes!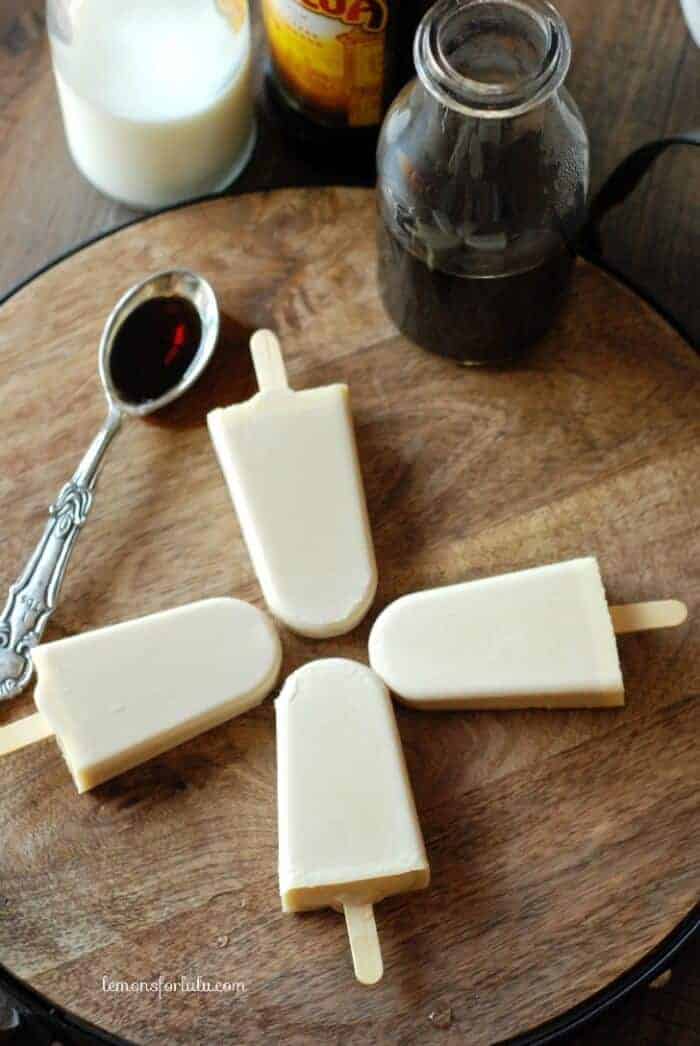 Whatever happened to pudding pops? This question has been plaguing me for years. It seemed as though one minute I was eating chocolate and vanilla swirled pudding pops and the next minute they were no where to be found. Why? Why were they so abruptly yanked off the shelves?
Pudding pops were so incredibly creamy. They were the perfect blend of ice cream and thick, rich pudding. The best part was that they didn't melt as quickly as other popsicles! I would work on one pudding pop forever!! Because they weren't as melty as other popsicles, they didn't end up dripping on my shirt. I really loved pudding pops.
Pudding pops may have disappeared from the store shelves, but not from my kitchen! Thankfully I was able to recreate my frosty throwback fairly easily. Since summer is the time for cool treats and fun cocktails, I thought a pudding pop would be the perfect way to combine the two! After checking out the Kahlúa website for ways to shake up summer, I stumbled upon a Kahlúa Cafe Con Leche Cocktail. I knew in an instant I'd be enjoying all those flavors in my frozen pudding pop! Espresso, Kahlúa, and milk.. perfect!
These iced coffee inspired pudding pops taste outstanding! They are exceptionally creamy, with a subtle kick of espresso and Kahlúa liqeuer permeating the background. These pudding pops are essential for surviving the sultry heat of summer! Good friends, good times, and good pudding pops! That's how to shake up summer!
Want to shake up how you entertain this summer? Enter below for a chance to win a summer picnic basket which will include a cooler, a Kahlua tumbler, a martini glass, and a cocktail card with all of Kahlua's signature summer cocktails!
Summer is about to get fun! Throw in a few iced coffee pudding pops and you have a party!
Want more cockatil ideas? Visit Kahlúa on Facebook, Twitter and Pinterest ! Let's get shaking!
NEVER MISS A RECIPE! SUBSCRIBE TO MY EMAIL TODAY!
FOLLOW ME:
FACEBOOK | TWITTER| GOOGLE +| BLOGLOVIN | INSTAGRAM
How To Make Iced Coffee Pudding Pops: Kahlúa Café Con Leche
Total Time:
3 hours
25 minutes
Knowing how to make iced coffee pudding pops is easier than you think!
Ingredients
2 1/4 cup half and half
1/3 cup sugar
pinch of salt
3 egg yolks
1 packet unflavored gelatin
3 tablespoons of butter
2 teaspoons vanilla
1/3 cup brewed, chilled coffee
2 tablespoons Kahlúa liqueur
Instructions
Place sugar, pinch of salt and 1 ¾ cup half and half in a sauce pan set over medium heat. Stir until the sugar has completely dissolved.
In a small bowl combine ½ cup half and half and sprinkle the gelatin over top (do not stir). Let set for about 3 minutes.
Place egg yolks in a heat safe bowl and whisk until smooth.
Remove the half and half mixture from heat and slowly pour half the mixture into the eggs whisking constantly. Pour the egg mixture back into the sauce pan. Add gelatin mixture. Cook over low heat. Stir in butter and whisk constantly until the butter melts and the gelatin has dissolved and a candy thermometer register 160 degrees. This should take 5-7 minutes. Do not boil or over heat.
Remove from heat and stir in vanilla. Pour mixture through a fine mesh strainer to extract any lumps. Stir in coffee and Kahlúa. Pour mixture into 8 popsicle molds. Freeze for 1 hour. Place Popsicle sticks into the centers and continue to freeze until completely set, about 3 hours.
Nutrition Information
Yield

8
Serving Size

1 popsicle
Amount Per Serving
Calories

194
Total Fat

13g
Saturated Fat

8g
Trans Fat

0g
Unsaturated Fat

5g
Cholesterol

104mg
Sodium

98mg
Carbohydrates

13g
Fiber

0g
Sugar

13g
Protein

4g