This tall, dark, creamy cup of joe is iced and sweet!
This Irish cream cold brew coffee recipe is homemade and is finished off with a little Irish cream and milk drizzle.
This coffee is refreshing and recharging!
This cold brew coffee is the perfect way to wake up or recharge throughout the day. Made in a matter of minutes and kept chilled to perfection it's always ready for a glass.
You're going to love making cold brew coffee at home this summer but don't hold back during the winter either because there is no wrong time for chilled coffee. Make your own Irish cream syrup and homemade cold brew coffee with this simple and easy recipe. This drink is an improved adult version of copycat Irish cream cold brew from Starbucks stores. Make this recipe all summer long and avoid driving to the coffee shops.
What Is Cold Brew Irish Cream Coffee?
Cold brewed coffee is a type of coffee that has been steeped in cold water, meaning that there is no "cooking" process involved.
Once the coffee has been strained, you're left with nothing but a delicious concentrated coffee that can be made to your specifications.
Without the cooking process, your concentrated coffee mixture will be naturally sweeter, stronger in taste, and far less bitter, making it perfect to keep around for a few days.
We are cold brewing this coffee into a delicious and flavorful experience using an Irish cream liqueur.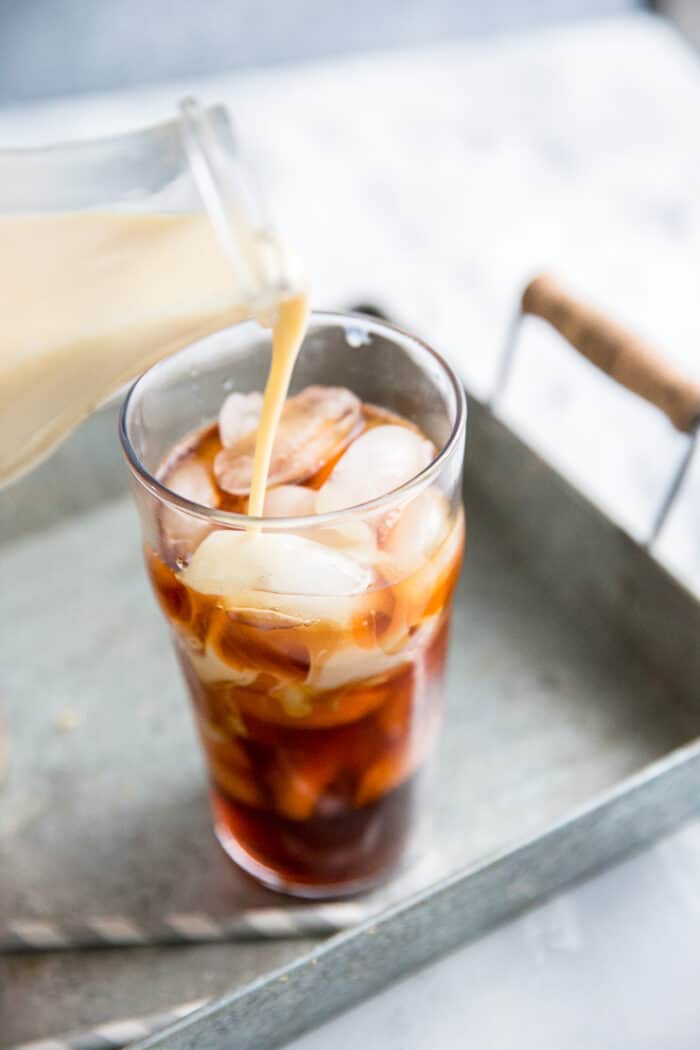 Ingredients and Tools Needed
Despite what you may think, you really don't need any fancy equipment to make this coffee recipe. You need:
Coffee Grounds
Pitcher
Fine Mesh Sieve
Coffee Filter
Sweetened Condensed Milk
Heavy Cream
Irish Cream Liqueur
For the exact measurements needed, please see the recipe card below.
How To Make Cold Brew Coffee Recipe
Hot to make cold brew coffee
You will need roughly 1 cup of grounds for 4-5 cups of cold water (filtered water is ideal).
Refrigerate the mixture for 12-16 hours to extract all the flavor from the grounds.
After that time, pour your cold brew coffee through a fine-mesh sieve.
Then pour once more through a coffee filter, to catch any small grounds left behind. If you own a French press, the process will be much simpler and save time!
How to make homemade Irish cream syrup
Making homemade Irish cream is really easy. To make the cream mixture, heat the sweetened condensed milk and the heavy cream in a saucepan over medium heat until fully combined. Add a pinch of salt.
Heat the mixture just until it begins to bubble around the edges. Remove from heat and stir in the Irish Cream. Refrigerate the mixture until ready to use.
Add both to your tall glass and add ice for a cold cream drinks cuisine at its finest.
Recipe Tips
Irish Cream. You can use any brand of Irish cream that you prefer. I always use Bailey's Irish Cream but if you have a different brand that you know and love, go ahead and use that.
Coffee Grounds. You can use any brand of ground coffee that you already have on hand or enjoy. I have used both high-quality brands and cheaper brands for this recipe and have been satisfied by both.
Substitutions
Irish cream. If you would like to make this a nonalcoholic cold brew drink simply use storebought Irish FLAVORED creamer and use that in place of the homemade Irish cream.
Caffeine. You can use decaf coffee if desired. While your coffee drink won't be as strong as it would be with the caffeine it is definitely a tasty drink to enjoy simply because you can.
FAQs
What Kind of Coffee Do I Need For Cold Brew?
You will need grounds for this recipe. You don't want to use grounds that are too fine. A coarse grind is best for easier filtering plus it will keep your coffee from becoming too acidic. Some say you should always grind your own coffee beans, others say store-bought is fine. It is really up to you. As for what kind of coffee, well, that is more of a personal thing. You could use something like Folgers or you could use a specialty shop grind or even espresso.
How Long Will Cold Brew Coffee Recipe Last?
As an undiluted coffee concentrate, it'll keep in the fridge for up to two weeks, although the flavor quality will be reduced after the first week. If you've combined the concentrate with water, that shortens the shelf life to 2-3 days. The cream can be kept for up to 1 week.
Can Cold Brew Coffee Be Heated?
You can drink cold brew warm, by add boiling hot water to a mug, remove half of the cup of water and top the mug with the desired amount of cold brew concentrate. You can also add water to your concentrate and heat it in the microwave. You can even add the concentrate to freshly brewed drip coffee for an extra kick in your hot coffee!
If you loved this coffee recipe then you are really going to enjoy these:
Yield: 8
Irish Cream Cold Brew Coffee Recipe
This tall, dark, creamy cup of joe is iced and sweet! This cold brew coffee recipe is homemade and is finished off with a little Irish cream and milk drizzle. This coffee is refreshing and recharging!
Total Time
12 hours
20 minutes
Ingredients
1 cup coarse coffee grounds
4-5 cups cold water
14 oz sweetened condensed milk
¾ cup heavy cream
¼ cup Irish cream
Pinch of salt
Instructions
Combine grounds and water in a large container. Cover and refrigerate overnight.
Strain coffee over a fine-mesh sieve. Strain again through a coffee filter.
In a small saucepan, combine the sweetened condensed milk, heavy cream and pinch of salt. Heat until bubbles begin to form around the edges.
Remove from heat and whisk in Irish Cream. Refrigerate until ready to use.
To serve, combine coffee concentrate with water or coffee and stir in the desired amount of cream.
Notes
Store coffee concentrate in the fridge for up to 2 weeks. Cream mixture can be stored for 1 week.