Red, White and Blue Dessert Crepes – These could not be simpler, especially since they start with a cake mix!  Each Funfetti crepe is filled with fresh fruit and topped with whipped cream; a fun way to celebrate with red, white and blue!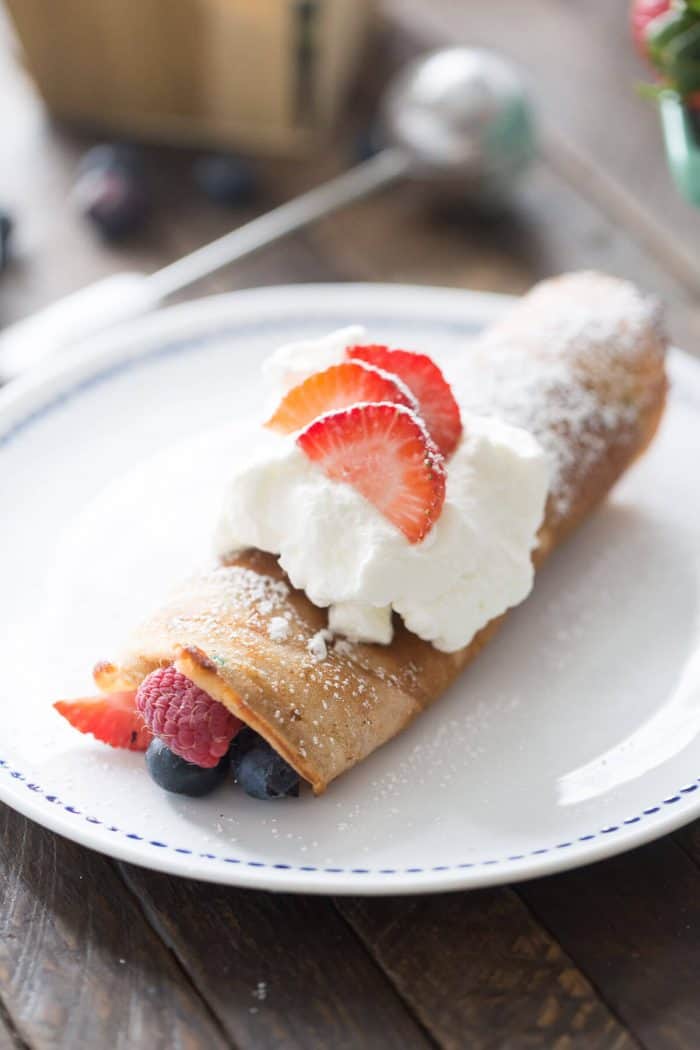 This post has been sponsored by Pillsbury. All thoughts and opinions are my own.
Whenever I hear the word "crepe", I think of "Palatschinke" (pal-eh-chin-key).  That word is the Eastern European word for crepes and that is what we called them growing up.  While my parents were born and raised in Greece, they also lived in Hungary and Yugoslavia (former).  I grew up in a household that spoke mostly Macedonian.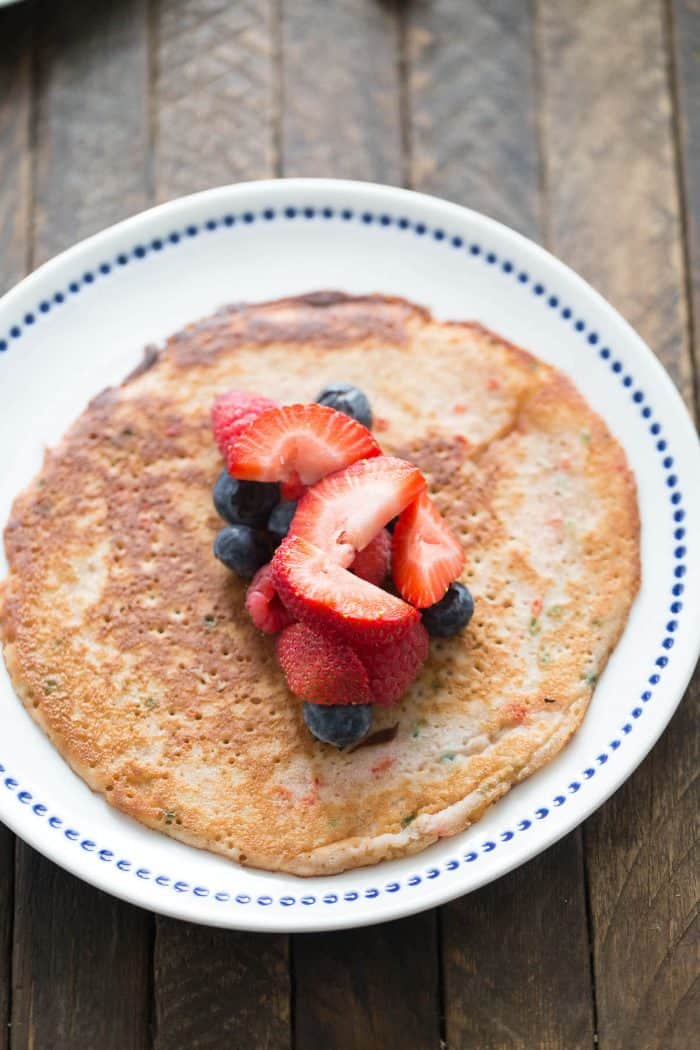 Crepes were my mom's favorite go-to dessert.  The ingredient list is simple and the crepes were fairly simple to prepare.  We always ate them filled with apple butter and a dusting of powdered sugar.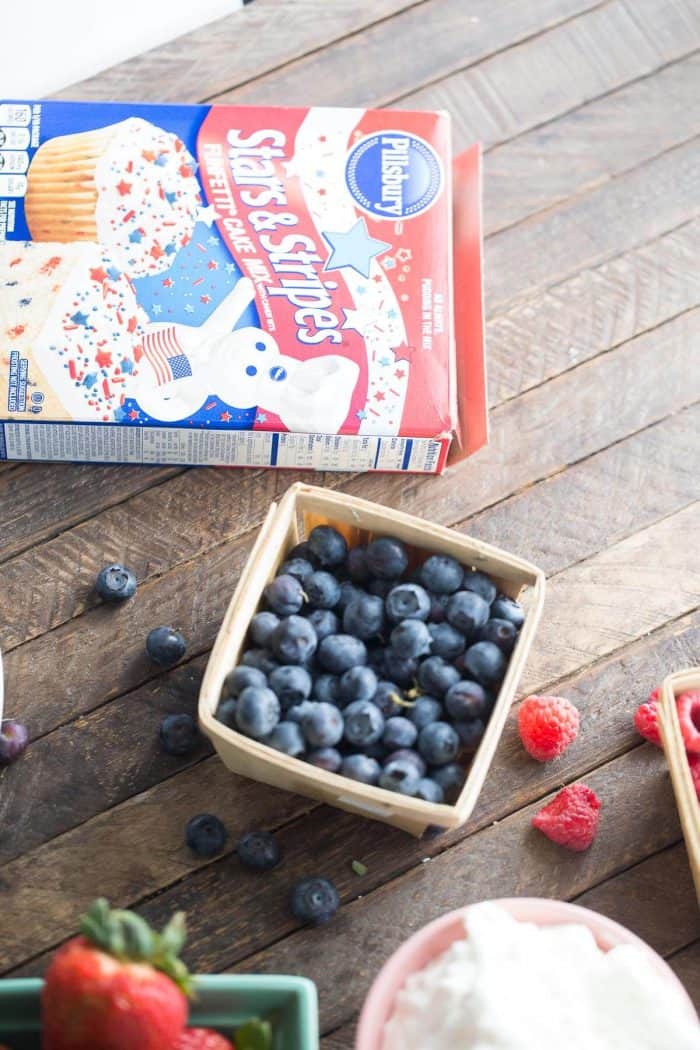 An Easy Red, White and Blue Dessert
These red, white and blue dessert crepes are a modern twist on the crepes I grew up with.  For starters, they are made with cake mix.  With the Memorial Day holiday approaching (and the 4th of July nipping at its heels) I decided to use Pillsbury's Stars and Stripes Funfetti Cake mix.  I combined the cake mix ingredients as well as a little milk.  Just like my Nutella Crepe recipe I used my trusty blender to mix my ingredients and then my crepe batter was ready!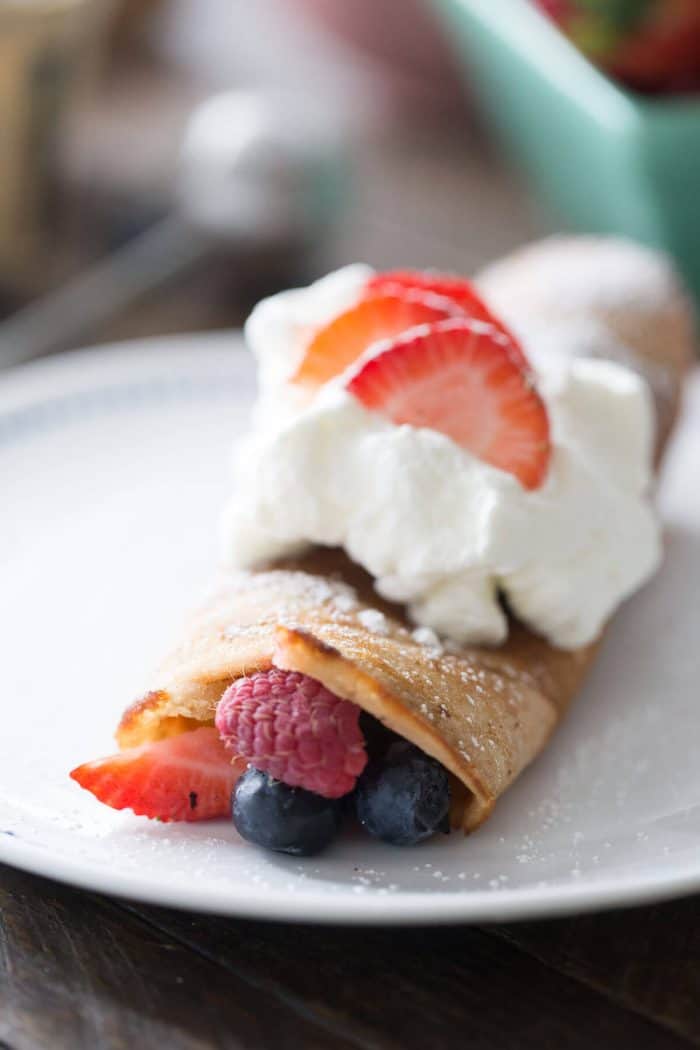 I'll just get this out there, your first crepe will be your experiment, the rest will be much better.  The trick is to slowly place a scant ¼ cup full of your batter into the center of your hot skillet.  Lift your skillet and slowly and gently rotate it around so that the batter begins to slide into a large circle.  Place the skillet back on the heat.  Increase the heat to medium-high until the batter has air pockets or holes, then with a wide spatula, carefully lift crepe and flip to the other side.  Reduce your heat to medium-low and heat the second side for only a minute or two.  I like to stack my finished crepes between paper towels.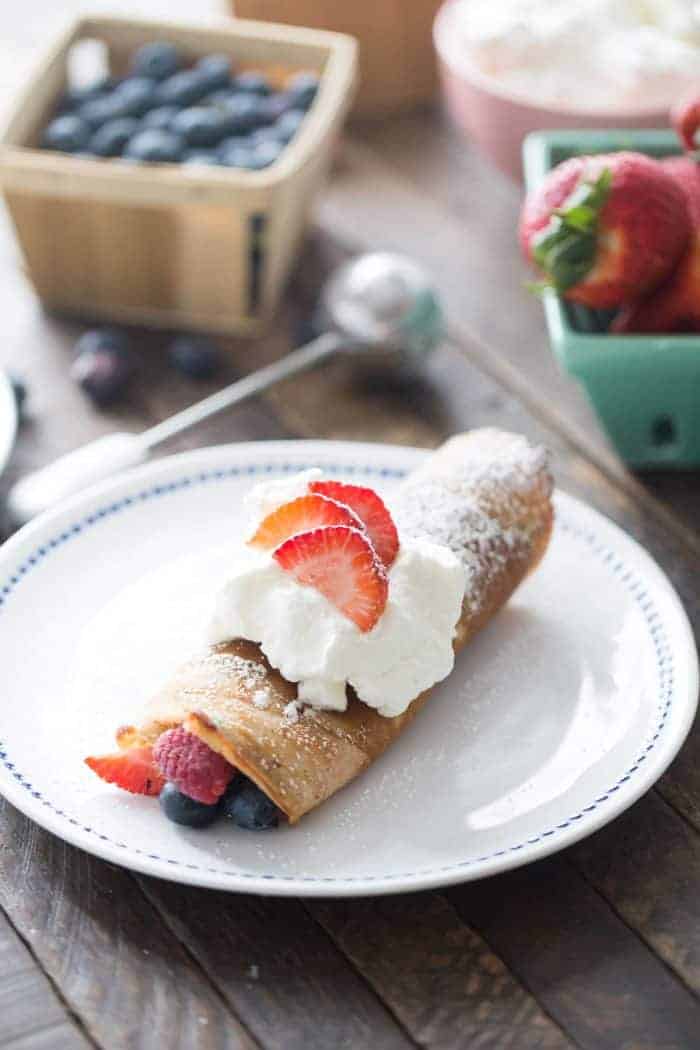 I filled each festive crepe with lots of fresh berries and topped each off with homemade whipped cream.  You can fill these crepes with your favorite fruit, ice cream, whipped cream, frosting or even lemon curd.  These patriotic crepes will be the hit of all your patriotic celebrations!
Kick off your Patriotic Party with this deal on Pillsbury Baking Mixes and Frosting on
Red White and Blue Dessert Crepes
16
adjust servings
Ingredients
1 15.25

oz box Funfetti Stars and Stripes Pillsbury cake mix

1

cup water

3

eggs

1/2

cup oil

1

cup of milk or half and half

Butter

Mixed berries

1

cup heavy cream

3

tablespoons sugar
Instructions
Heat a large skillet over medium heat.
Combine cake mix, water, eggs, oil and milk in a blender; combine until all the ingredients have been incorporated. Add more milk if the batter is too thick.
Place a teaspoon of butter onto the hot skillet and swirl the butter around so that the bottom is coated. Place ¼ cup of the crepe batter slowly onto the center of the skillet. Raise skillet, and with just your wrist moving, slowly swirl the batter around into a large circle. Place skillet back onto the heat. Increase the heat to medium-high. Start checking the underside of your crepe when air pockets begin to develop. When the underside is golden brown, carefully lift crepe with a wide spatula. Flip crepe onto the other side, reduce heat to medium-low and heat the second side until golden brown (second side will cook much quicker).
Repeat process with remaining batter.
In the meantime place the heavy cream in a cold mixing bowl. Beat cream and sugar on high speed until the cream begins to thicken.
To assemble crepes, place mixed berries down the center of each crepe, fold sides over the fruit. Place crepe seam side down onto your plate. Top with cream and a dusting of powdered sugar.