These cheesecake squares have an almond crust, a chocolate topping and a very creamy no bake center!
Cheesecake squares are so easy!
I'm not sure I have a motto, but if I did, it would probably be "no regrets". I'm not saying I'm a crazy adventure seeker who refuses to live life without trying everything. When I say I have no regrets, I only mean I never look back.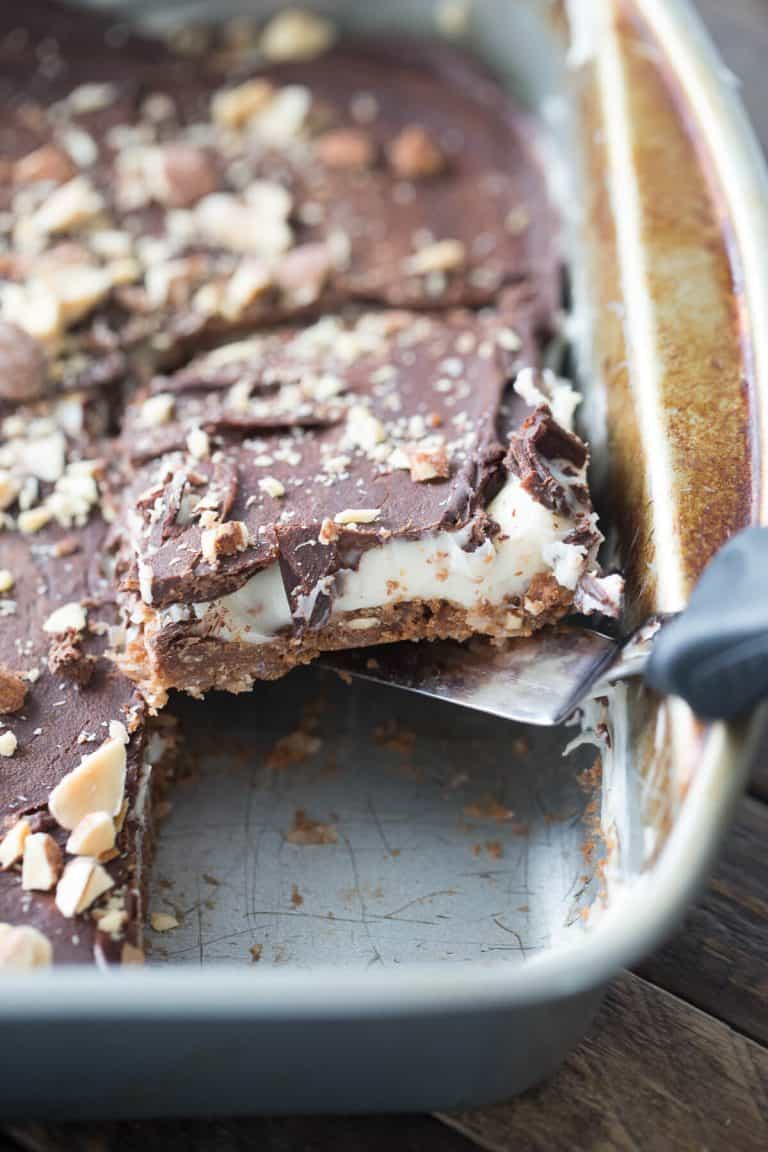 Looking back is a waste of time; as it cannot change the present. For instance, I can't change the fact that in moving haste, I threw away a folder containing a large stack of my mom's recipes. A folder she put together for my sisters and me. A folder with handwritten recipes and her favorite saved recipes. A folder that took her hours to compile and assemble.
One of the recipes in that folder was a recipe for cheesecake squares. My mom didn't make it often, but I knew it was a favorite of hers. It was easy, creamy and full of chocolate and almonds. I have wanted to make that recipe so many times over the years, but I couldn't find it in any of my online searches. I was going to work off of these No Bake Peanut Butter Bars or these Cheesecake Bars but thankfully my sister isn't as hasty as I am when it comes to getting rid of things.
My Cheesecake Squares
My mom's original recipe calls for a crust made out of peanuts. Peanuts are great for snacking, but in my baking I prefer almonds. In my version of the recipe, I used chopped almonds along with coconut, graham cracker crumbs and chocolate in my crust. After the crust had been set, I spread a simple cream cheese filling over the crust and then topped everything off with a layer of semi-sweet chocolate. A sprinkling of chopped coconut almonds made this dessert complete.
I am so happy to have been reunited with mom's recipe. I'm going to make sure to keep this one safe. Between the coconut almonds, the coconut, the cream cheese, and chocolate; these no bake cheesecake squares are going to become one of my families favorite recipes!
These no-bake squares will make your summer entertaining simple and delicious. Bring them to all your potlucks, cookouts and BBQ's; they will disappear in minutes!
Yield: 16
No Bake Cheesecake Squares
These cheesecake squares have an almond crust, a chocolate topping and a very creamy no bake center!
Prep Time
1 hour
20 minutes
Total Time
1 hour
20 minutes
Ingredients
1 cup butter
1 1/4 semi-sweet chocolate chips, divided
1 cup coconut
1 1/2 cups graham cracker crumbs
3/4 cup Blue Diamond Toasted Coconut Almonds, chopped
2 8 oz packages softened cream cheese
1 cup sugar
1 teaspoon vanilla
Instructions
Microwave 3/4 cup butter with 1/2 cup chocolate chips on high for 2 minutes or until chocolate has melted, stir every 30 seconds until smooth.
Stir in coconut, graham cracker crumbs,and 1/2 cup of almonds. Press mixture into the bottom of a greased 9 x 13 in pan. Refrigerate for 30 minutes.
Meanwhile, beat cream cheese together with sugar and vanilla until well blended and creamy. Spread mixture over the crust and chill for another 30 minutes.
Microwave the remaining butter and chocolate until melted; stir until smooth. Pour mixture over the cream cheese. Sprinkle with remaining almonds, pressing them gently into the chocolate.
Chill until ready to serve. Keep refrigerated.
Nutrition Information
Yield
16
Serving Size
1
Amount Per Serving
Calories

383
Total Fat

29g
Saturated Fat

15g
Trans Fat

0g
Unsaturated Fat

12g
Cholesterol

59mg
Sodium

232mg
Carbohydrates

28g
Fiber

2g
Sugar

21g
Protein

5g