Pecan pie cheesecake is like have two favorite desserts all in one! A creamy caramel-y cheesecake is topped with caramelized pecans for an over the top delicious dessert!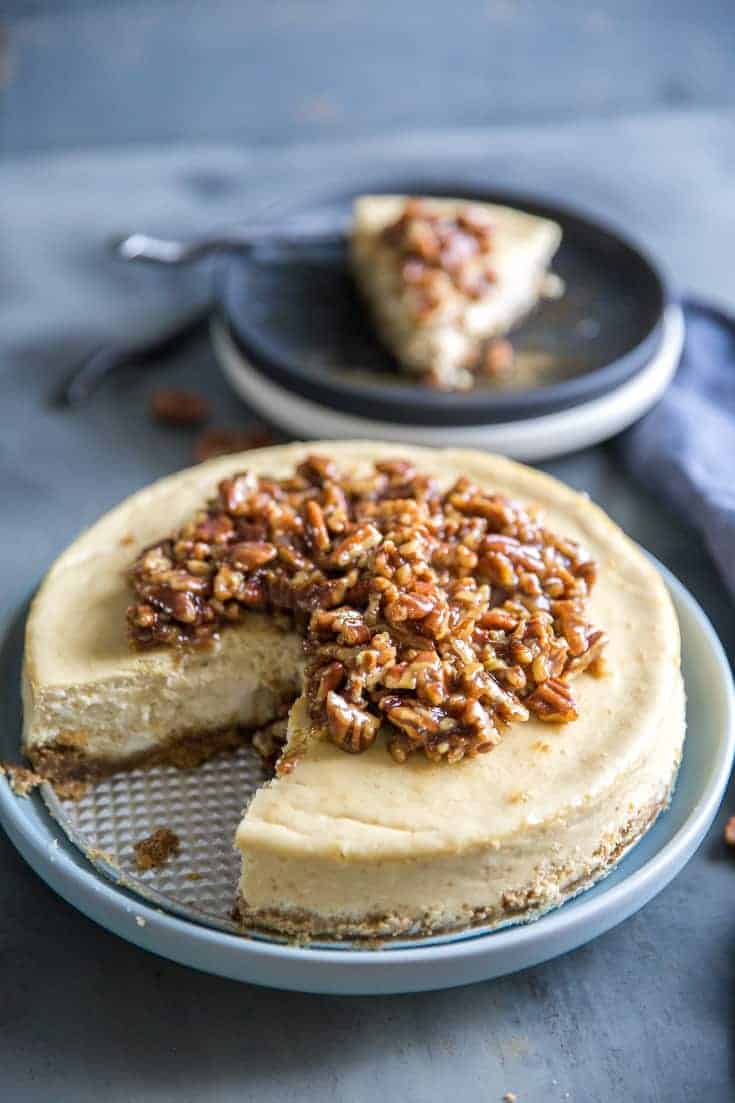 About Pecan Pie Cheesecake
I know this time of year it is all about pumpkin pie and pecan pie; both tried and true options that have stood the test of time. But why not shake things up try something different. This Pecan Pie Cheesecake is a little traditional and a little adventurous all at once.
This cheesecake has an almost caramel flavored, ultra-rich and creamy cheesecake layer that is adorned with caramelized pecans. Have I convinced you to break from tradition?
How To Bake A Cheesecake
Let's break it all down. We will start with the crust and work our way up. This pecan pie cheesecake starts like any other, with a crumb crust. I used a combination of graham crackers and ginger snaps just to give the crust a bit more flavor than an ordinary graham cracker crust. Toss your crumbs with melted butter and a bit of sugar and press it into a springform pan. What is a springform pan? This pan has a little hook on the side that will allow the sides to expand and the bottom to come loose. This is the quintessential cheesecake pan, but you can use it for tarts or no-bake cakes as well. I wrapped 3 layers of foil around the bottom of my pan. I'll talk more about that in a bit.
The cheesecake filling is all about cream cheese! You will need  4 packs of cream cheese, brown sugar (hence the caramel flavor) sour cream and several eggs. This will give you the creamy, rich flavor that all good cheesecakes have! Pour your filling into your pan and we are only one step away from baking!
Why Does Cheesecake Need A Water Bath?
You will place your cheesecake in a large rimmed pan or casserole dish and add enough water to come up the side of your springform pan (and that is the reason for the foil!). The steam from the surrounding water will rise during baking and ensure that the cheesecake is baking evenly and to prevent cracking on top. Don't skip that step, yes it seems like trouble but it is worth it.
Bake your cheesecake for 1 hour, remove from the oven and the water bath. Then whisk the cake off to refrigerate so this baby can chill, preferably overnight. If you do not have that kind of time, give the cheesecake at least 4 hours. You want to be sure it is properly set and firm.
Pecan Pie Cheesecake
Where's the pecan pie? Well, it is in the topping! In a saucepan combine butter, sugar, and chopped pecans, stir until the butter and sugar have melted. Remove the mixture from the stovetop and stir in cream and vanilla. Allow the pecans to cool. You don't want them to solidify but you don't want it to melt your cheesecake either. Do a finger test, if your finger can handle it, so can your cheesecake. Carefully and slowly drizzle the pecan mixture on top. Allow the pecans to set before serving.
How To Cut A Cheesecake?
I have found that if you run a sharp knife under hot water, wipe then cut into the cake you will get a nice, clean cut. Wipe the crumbs from your knife in between each cut!
Love pecans? Try this Butter Pecan Biscotti Recipe, Toasted Pecan Quick Bread, Coconut Pecan Pie Bars. Looking for cheesecake ideas? Try this Pumpkin Cheesecake or this Carrot Cake Cheesecake Cake!
Yield: 12
Pecan Pie Cheesecake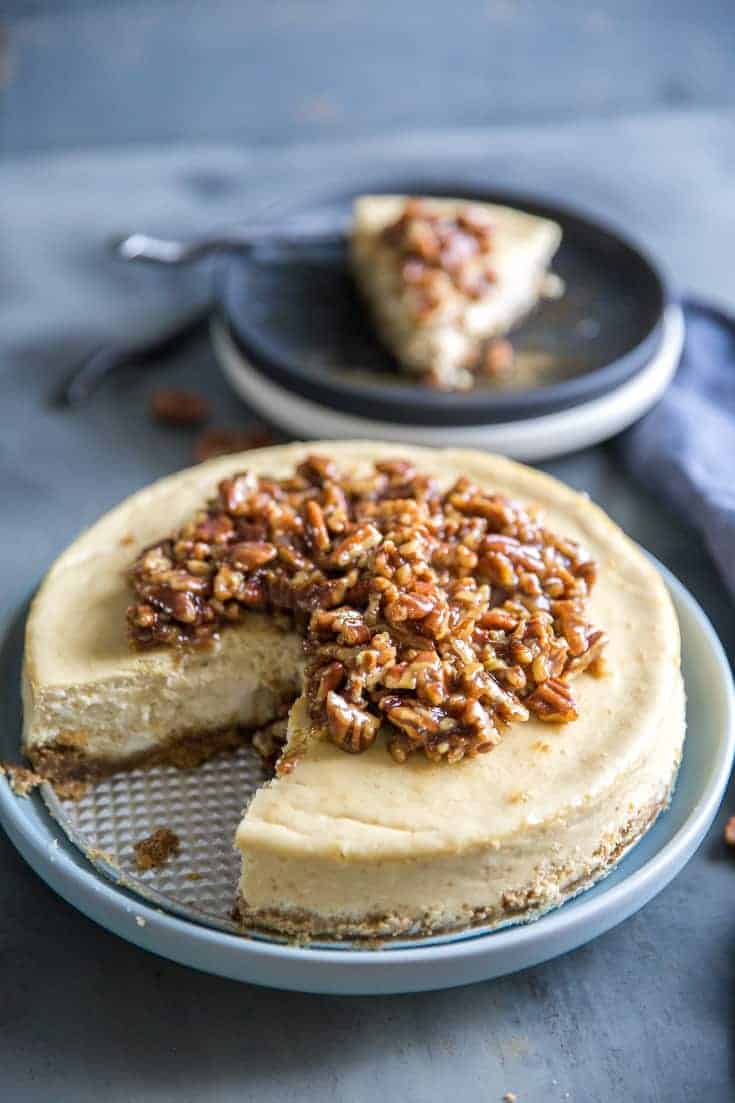 This pecan pie cheesecake is sinfully rich and delicious! It has a caramel-like​ filling and a caramelized pecan topping. This is the ultimate cheesecake!
Additional Time
24 minutes
Total Time
1 hour
54 minutes
Ingredients
Crust:
¾ cup graham cracker crumbs
¾ cup gingersnap crumbs
5 tablespoons melted butter
2 tablespoons sugar
Cheesecake:
4 8 oz blocks softened cream cheese
1 cup brown sugar
5 large eggs
¼ cup sour cream
1 teaspoon vanilla
Topping:
3 tablespoons butter
⅓ cup brown sugar
1 ¼ cup chopped pecans
¼ cup heavy cream
½ teaspoon vanilla
Instructions
In a bowl, combine the graham cracker crumbs, the gingersnap crumbs and melted butter. Stir in the sugar. Press mixture into the bottom and sides of a greased 9 inch springform pan. Wrap three sheets of foil around the bottom of the pan. Bake the crust for 14 minutes in a 350 degree oven. Remove from the oven and allow the crust to cool
To prepare the filling, in a mixing bowl, cream together the cream cheese and the brown sugar. Beat in eggs one at at time. Stir in sour cream and vanilla and continue to mix just until smooth and combined. Pour filling into the prepared crust.
Bake the cheesecake for 1 hour to 1 hour 10 minutes or until cheesecake is set on the edges but the center is just a tiny bit jiggly.
Remove the pan from the oven and remove the cheesecake from the water bath. Place hot cheesecake in the refrigerator and allow to it set overnight.
To prepare the topping, combine the butter, sugar, and pecan in a saucepan over medium heat. Stir and cook until sugar has dissolved . Remove the pan from the heat and stir in creamy and vanilla.
Carefully pour the pecan mixture over the cooled cheesecake. Allow the topping to set before serving.