Pecan pie bars enhanced with shredded coconut and chocolate chips!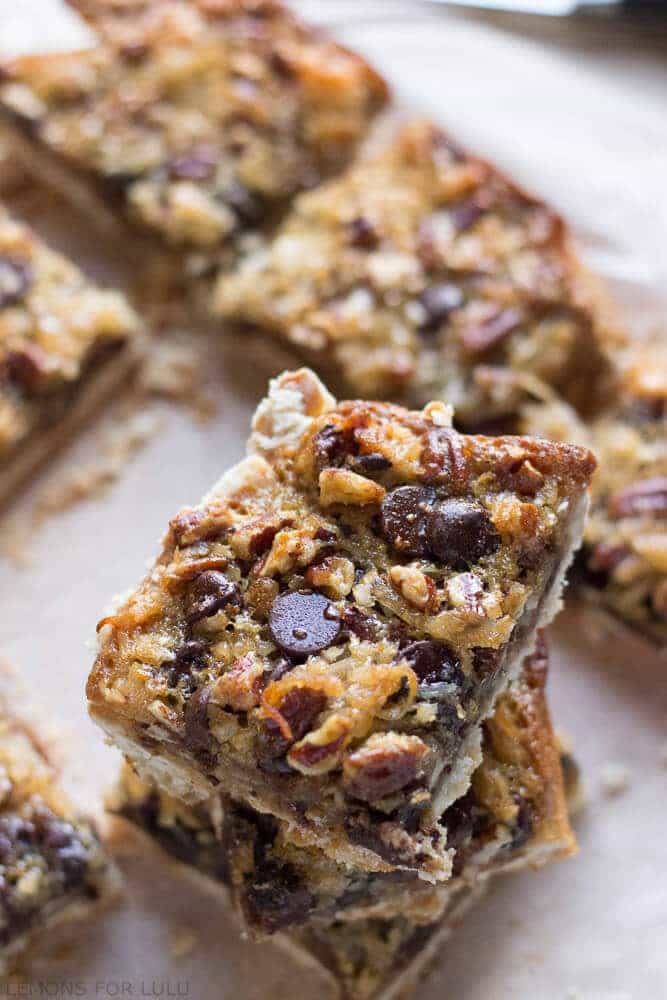 One Christmas morning when I was about seven years old, I woke up to a stocking full of whole walnuts and clementines. What kind of sick, cruel joke was that? To say I was disappointed would be an understatement. I was crushed. To make things worse, "Santa" didn't even include a nutcracker. What was I supposed to do with whole walnuts? I've resented those nuts ever since.
The only time I've used walnuts in a recipe was when I made these Baklava Bites. I mean, I was trying to be authentic, so I sort of had to use them. That is the extent of my walnut consumption. I'll continue to pretend they don't exist and stick with my favorite nuts like pecans and almonds. They never disguise themselves as candy in my stocking.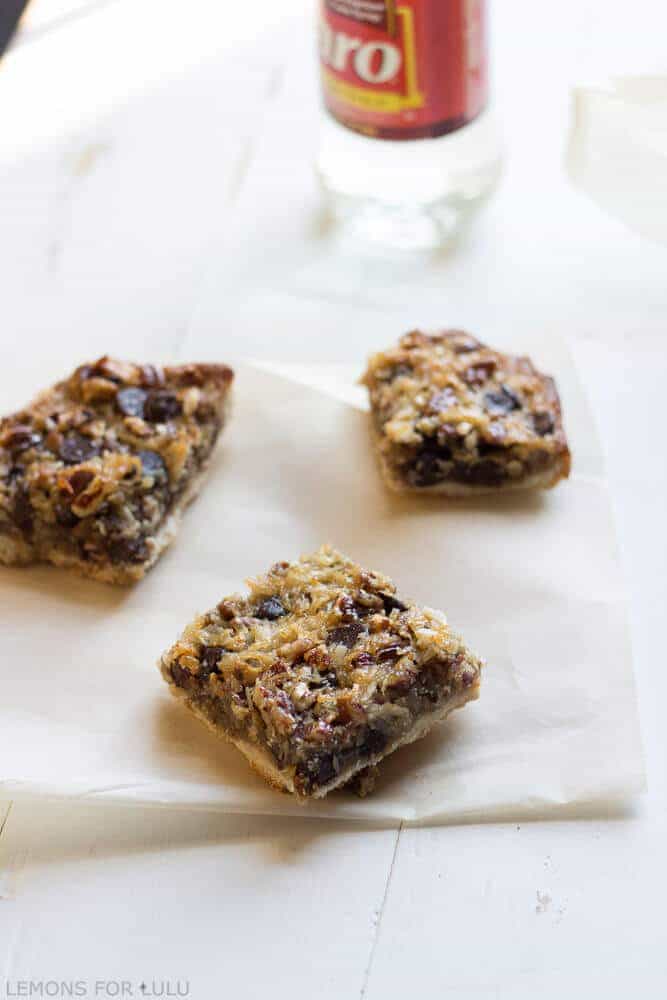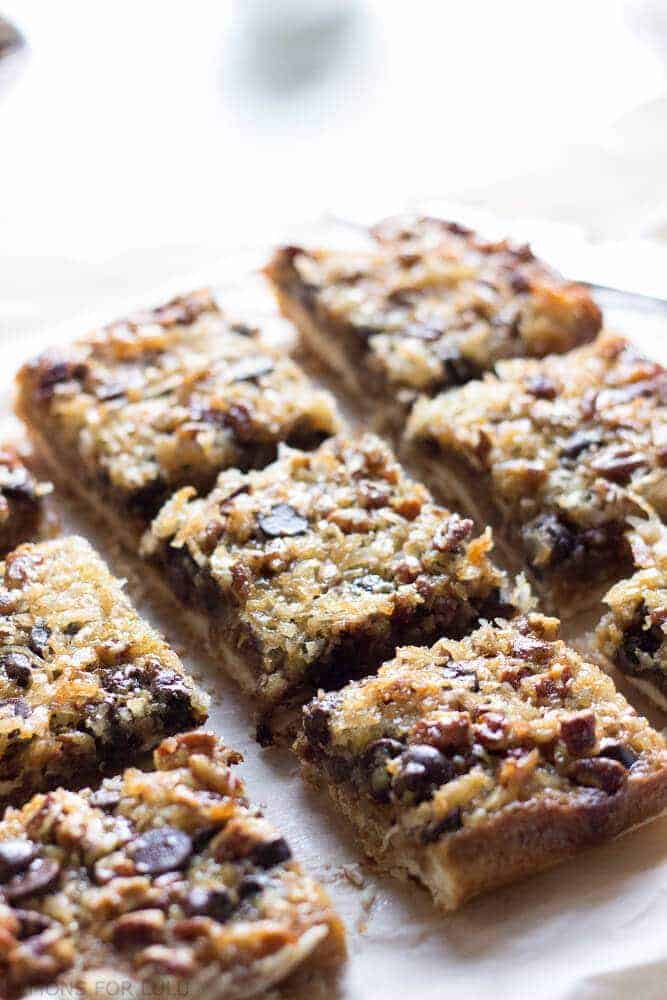 Pecans are a favorite this time of year. Pecan pie is almost as synonymous with Thanksgiving as pumpkin pie. Growing up, my mom always purchased her pumpkin pie from the grocery. The pecan pie was another story. I'd wait for the bottle of Karo Syrup to appear in the pantry, because then I knew pecan pie was in the works! That is one of my favorite Thanksgiving memories. I have always loved pecan pie.
My family will be joining the 114.7 million households that will be enjoying a home cooked meal this Thanksgiving. My family will certainly indulge in a turkey and all the fixings, like anyone else. Then, after we've stuffed ourselves with second helpings, we will move on to dessert.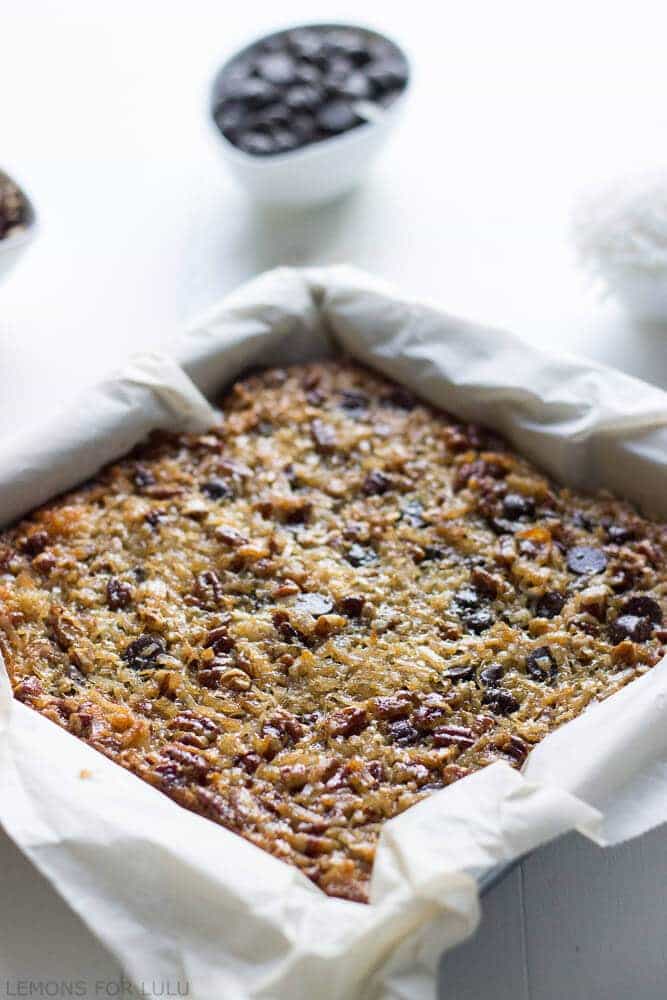 I'll be serving up these coconut pecan pie bars, instead of traditional pie. These bars come together quite like the classic pie. However, they also have shredded coconut and semi sweet chocolate chips. I love the texture the coconut adds to these pecan pie bars and the semi sweet chocolate enhances the sweet filling and the pecans. The chocolate makes these bars extra rich and exceptionally delicious.
The classic pecan pie is always a hit, but if you are in the mood to try something just a bit different, then these Coconut Pecan Pie Bars are for you!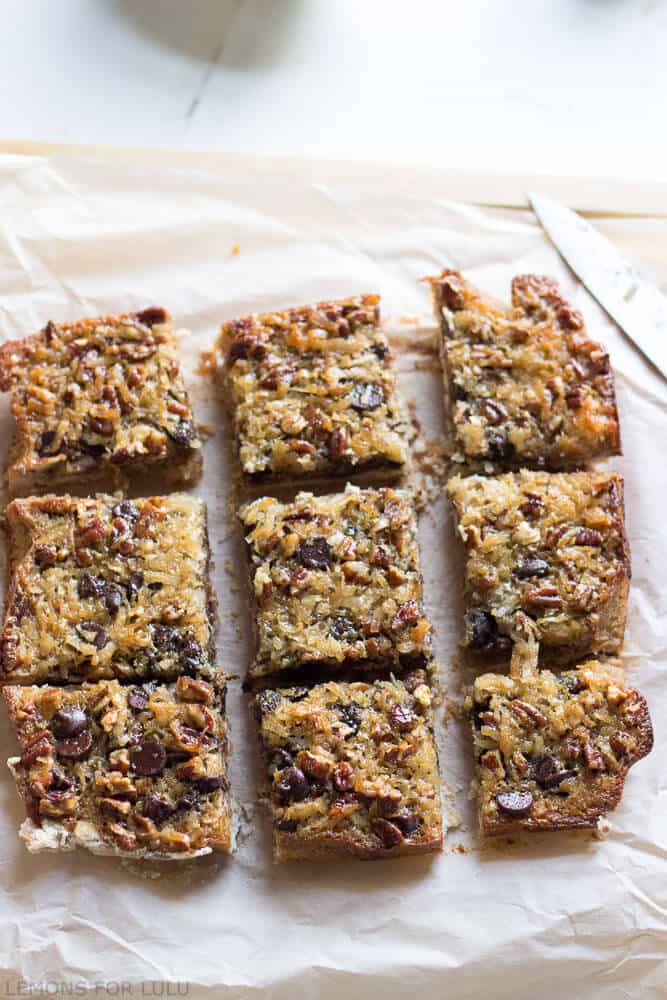 Be sure to visit Karo Syrup and Fleischmann's for recipes and ideas on how to make new Thanksgiving traditions or ways to continue the old traditions.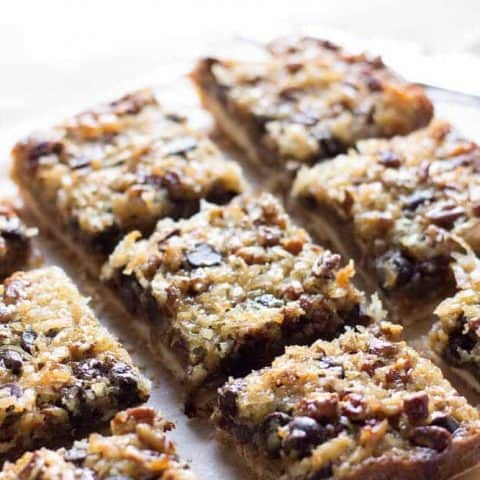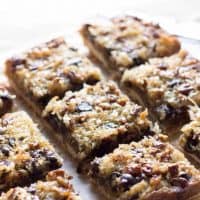 Coconut Pecan Pie Bars
Pecan pie bars with sweetened coconut and semisweet chocolate chips!
Ingredients
For the crust
1 cup flour
1/3 cup powdered sugar
2/3 cup butter, softened
For the filling
1 1/2 cup Karo corn syrup
2/3 cup packed brown sugar
4 eggs
6 tablespoons flour
1 teaspoon vanilla
1 teaspoon salt
1 cup shredded coconut
1 cup semisweet chocolate chips
1 cup chopped pecans
Instructions
Sift together the flour and the powdered sugar. Cut in butter with two forks or a pastry cutter until mixture is crumbly. Press dough into an 8 x 8 in baking dish.
Bake at 350 for 12-15 minutes or until the edges are slightly browned.
Combine all the filling ingredients, up to pecans, in a bowl. Stir well. Mix in pecans. Pour filling over hot crust.
Return bars to oven and bake for an additional 30 minutes or until bars are set and knife inserted 1 inch from the edge comes out clean. Cool. Cut into bars.
Nutrition Information
Yield

16
Serving Size

1
Amount Per Serving
Calories

378
Total Fat

19g
Saturated Fat

9g
Trans Fat

0g
Unsaturated Fat

9g
Cholesterol

67mg
Sodium

250mg
Carbohydrates

53g
Fiber

2g
Sugar

42g
Protein

4g
I have been compensated for this post. But this original recipe and all my opinions are my own.