These oatmeal caramel bars are a little different.  They are filled with a peanut butter caramel sauce that is layered over white chocolate.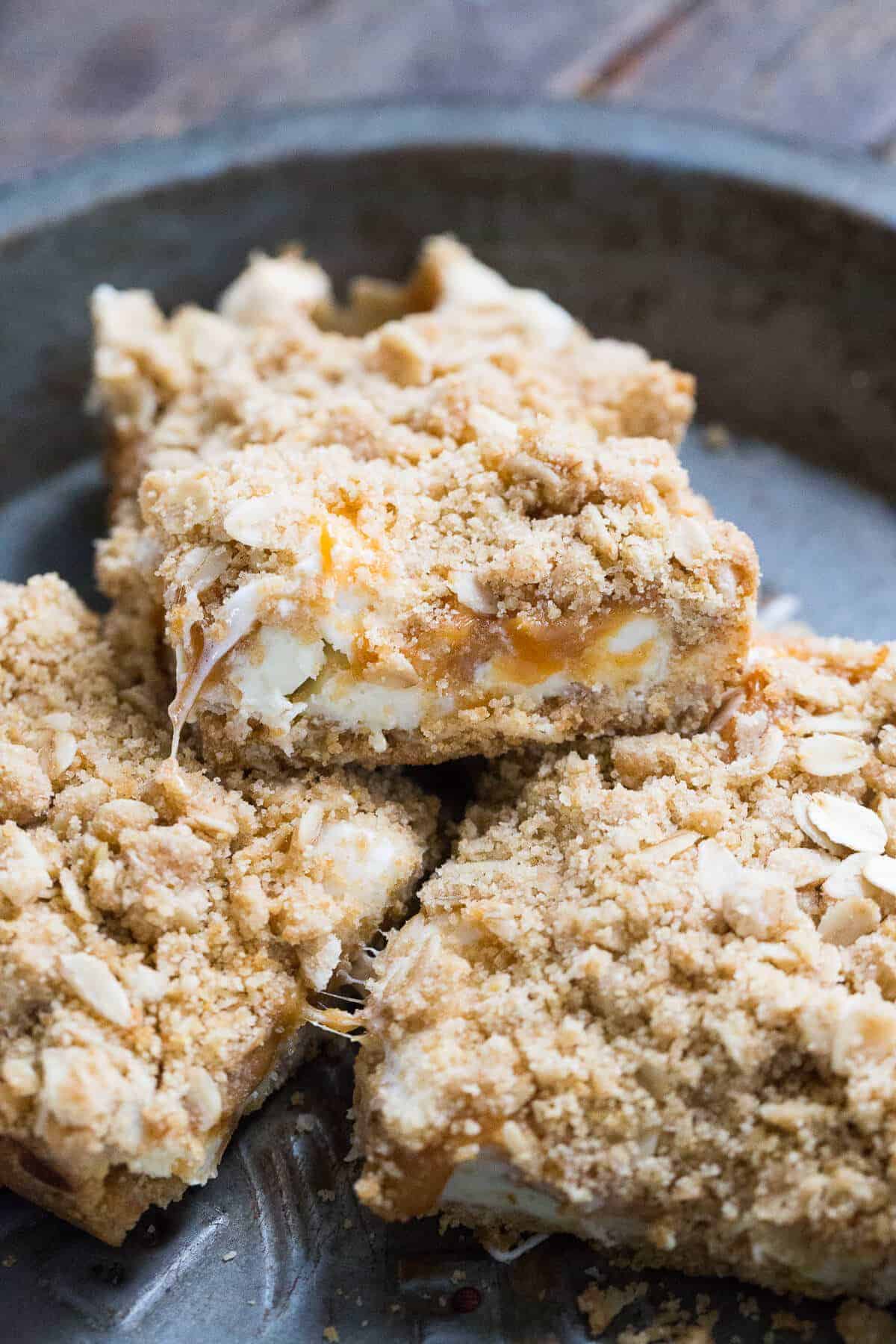 We had friends over this weekend for dinner.  I love having friends over, mainly because it's the perfect opportunity to try out new recipes!  If they are good recipes, you can send everyone home with a plate of goodies!    One of my go-to desserts is caramel bars.  Really, who doesn't love caramel???  These are basically a Carmelita, with melted caramels mixed with cream, then drizzled over chocolate chips which are sitting atop an oatmeal crust.  Yummy for sure, but I wanted to shake it up a bit.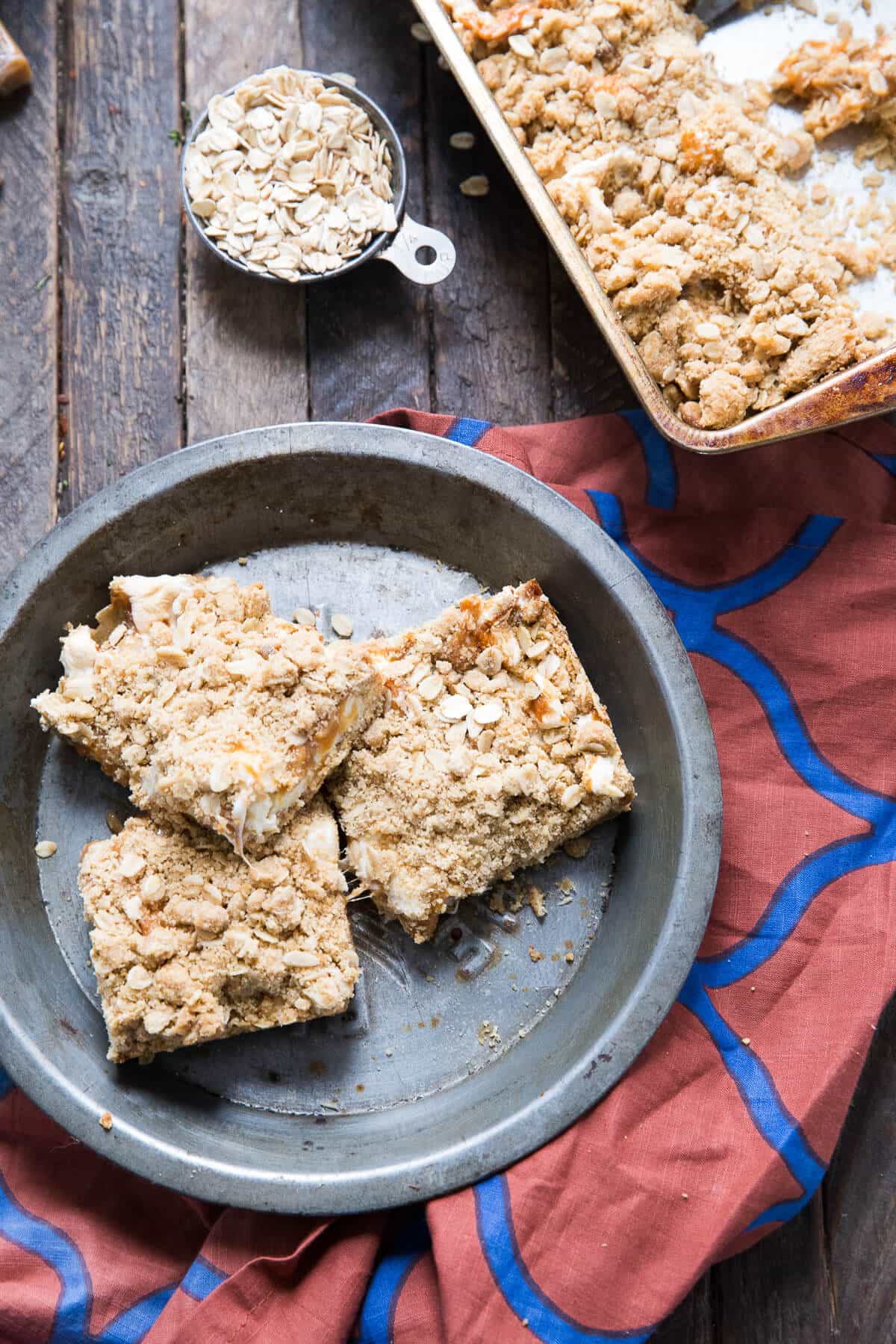 When I have an overabundance of baking ingredients, I like to make things like Peanut Butter Turtle Cookies or Biscoff Rolo Blondie Brownies. So this time, I did a quick scan of my pantry and decided I'd try the caramel bars with white chocolate chips instead (ok here is where I admit that I used white chocolate chips because I literally had 6 bags to use up.  I may have a hoarding problem.  Just maybe ).  I set about to make my caramel bars.  As I was unwrapping my caramels, it hit me!  THIS NEEDS PEANUT BUTTER!  Oh happy day!  That was the change I needed! It was the best change ever!!! While I won't abandon my tried and true caramel bar recipe, this is my new favorite.  There is just enough peanut butter mixed with the caramel…. you know it's there, but it doesn't take over.  It's enough to balance the sweetness from the white chocolate.  I must warn you, this dessert is addictive and very sweet!! Have your glass of milk ready!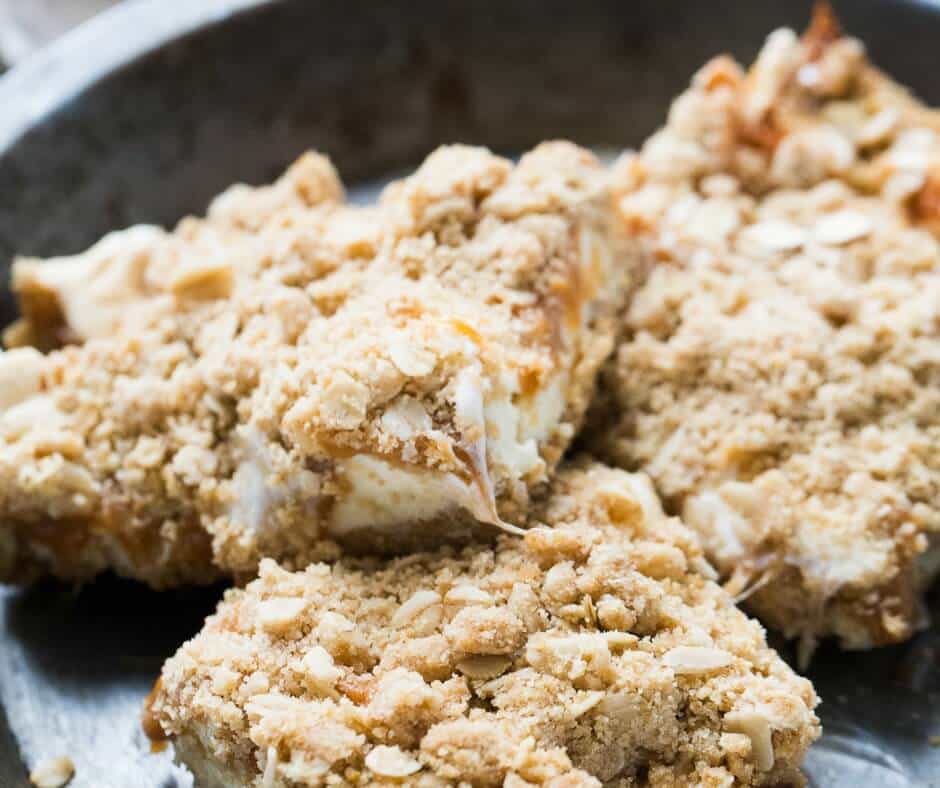 My friends went home empty handed.  There was no way I was going to part with those peanut butter caramel bars, no way!  They were too good, I was excited by the thought that I'd get to eat them again the next day!  And that's exactly what I did.  Not a single crumb was left ( I may have licked the pan.  Yes, I have problems). I hope you enjoy this recipe as much as I did!



Peanut Butter Caramel Bars
Ingredients
1 14oz

package caramels

5

T heavy cream

1/4

cup creamy peanut butter

1

cup flour

1

cup oats

3/4

cup brown sugar

1/2

t baking soda

1/3

t salt

3/4

cup butter, melted

1 11.5

oz package white chocolate chips
Instructions
Preheat oven to 350. In a medium sauce pan combine unwrapped caramels and heavy cream over low heat. Stir occasionally until caramels melt. Add peanut butter and stir until completely smooth.
Meanwhile in a large bowl, combine flour, oats, sugar, baking soda and salt. Stir in melted butter. Spread half the mixture onto a 9X13 pan. Layer will be thin. Bake in preheated oven for 8 minutes.
When crust is ready, sprinkle white chocolate over crust and top with peanut butter caramel layer. Sprinkle remaining crust over top of caramel, gently pressing it into caramel. Bake for an additional 12 minutes or until crust is lightly toasted. Cut into bars before it cools completely.