A simple pumpkin pasta that is creamy, sweet and spicy all at the same time!
I'm afraid to ask you if are tired of pumpkin yet. My Pinterest feed is brimming with pumpkin recipes. I myself haven't made many pumpkin recipes, just these Pumpkin Mousse Trifles , this Pumpkin Ice Cream pie and these Pumpkin Toffee Cookies. Not too many pumpkin recipes right? Well, that's about to change. I hope you are ready.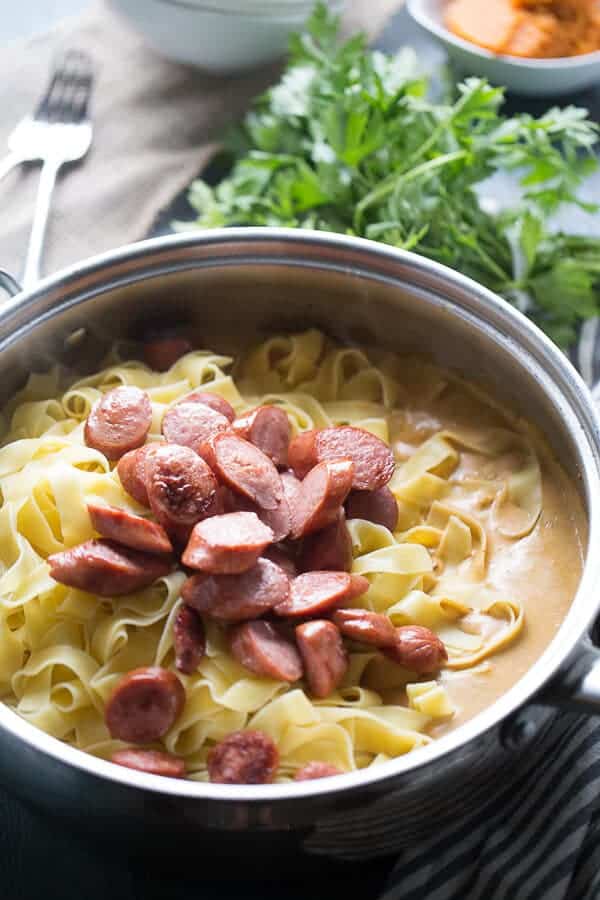 Most people think pumpkin is simply for sweet recipes. But it actually works quite well in savory dishes too. I've had great success in adding pumpkin to my chili, and this risotto, I figured it would be just as delicious with pasta! And you know what? It was amazing.
This creamy pumpkin pasta is so easy. The sauce starts with a very basic "roux", which is flour and butter whisked together over heat until it is combined; this flour mixture will be instrumental in thickening the chicken broth and the heavy cream that will be added next.
This pumpkin pasta recipe only calls for a 1/3 of a cup of pumpkin puree. You can add more if you like. The pumpkin lends a hint of sweetens while the chopped chipotle peppers spice things up. As with most of my food, you are free to add and decrease the amounts called for in each recipe. I always suggest you taste as you go and season to fit your own tastes.
This pumpkin pasta tastes rich and creamy like a good alfredo but is flavored and spiced perfectly for fall. If you have never tried pumpkin in savory dishes then this is the perfect recipe for you! This is why I love pumpkin so much; the taste is suited for baked good, desserts, smoothies, hot chocolate, soups, stews and pasta! It is a shame we don't eat pumpkin all year long!
Spicy Pumpkin Pasta
A rich and creamy pumpkin sauce that is spiced with chipotle peppers then tossed with pasta and smoked sausage.
Ingredients
2 teaspoon olive oil (divided)
1 lb smoked sausage, sliced
1/2 cup diced onion
2 cloves garlic, chopped
2 tablespoon butter
2 tablespoon flour
1 cup chicken broth
1 teaspoon salt
1/2 teaspoon pepper
1 cup heavy cream
1/3 cup pumpkin puree
1/4 teaspoon cinnamon
1/4 teaspoon nutmeg
1/2 teaspoon paprika
1 chipotle pepper in adobe sauce, chopped
1 lb package egg noodles
Instructions
Prepare pasta according to package directions.
Heat a large skillet over medium heat. Add 1 teaspoon of olive oil, swirling to coat the pan. Add sliced smoked sausage to the pan and cook 4-5 minutes or until sausage is browned, remove and set aside.
And the second teaspoon of olive oil to the pan. Add onions and garlic and cook for 2 minutes or just until softened. Remove the onions and set aside.
Add 2 tablespoons of butter to the skillet. Whisk in flour and cook just until mixture is thick. Slowly stir in chicken broth, whisking continuously. Season broth with salt and pepper. Whisk in heavy cream. Continue to cook mixture for 1-2 minutes or until thick. Stir in pumpkin, cinnamon, nutmeg, paprika and chipotle peppers.
Drain pasta. Toss pasta with sausage, onion mixture and sauce, turning to coat.
Nutrition Information
Yield

4
Serving Size

1
Amount Per Serving
Calories

840
Total Fat

65g
Saturated Fat

29g
Trans Fat

1g
Unsaturated Fat

28g
Cholesterol

186mg
Sodium

1912mg
Carbohydrates

43g
Fiber

4g
Sugar

7g
Protein

23g