Spicy chorizo sausage, wild rice, veggies and cornbread make this easy cornbread stuffing recipe a nice change from the traditional side dish!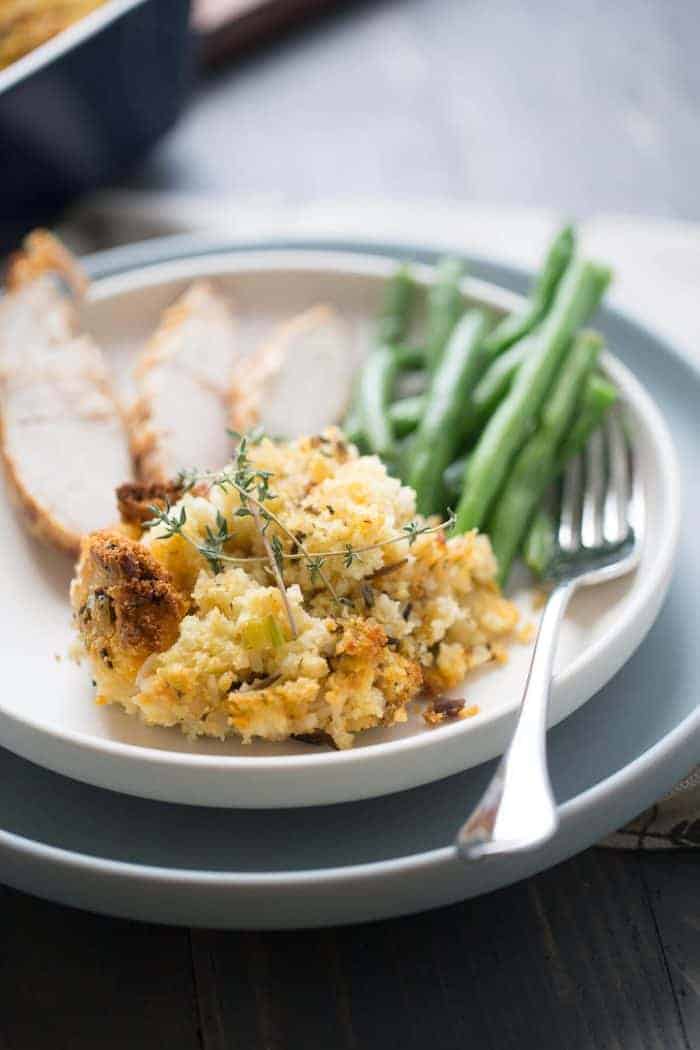 My daughter and her friend were recently discussing how difficult it is to eat healthy this time of year, between Halloween, Thanksgiving and Christmas our good eating habits tend to quicky disappear.  My daughter's friend added that she felt Thanksgiving was the exception.  Her thought was that she eats pretty healthy during Thanksgiving as she only eats the mashed potatoes (her favorite).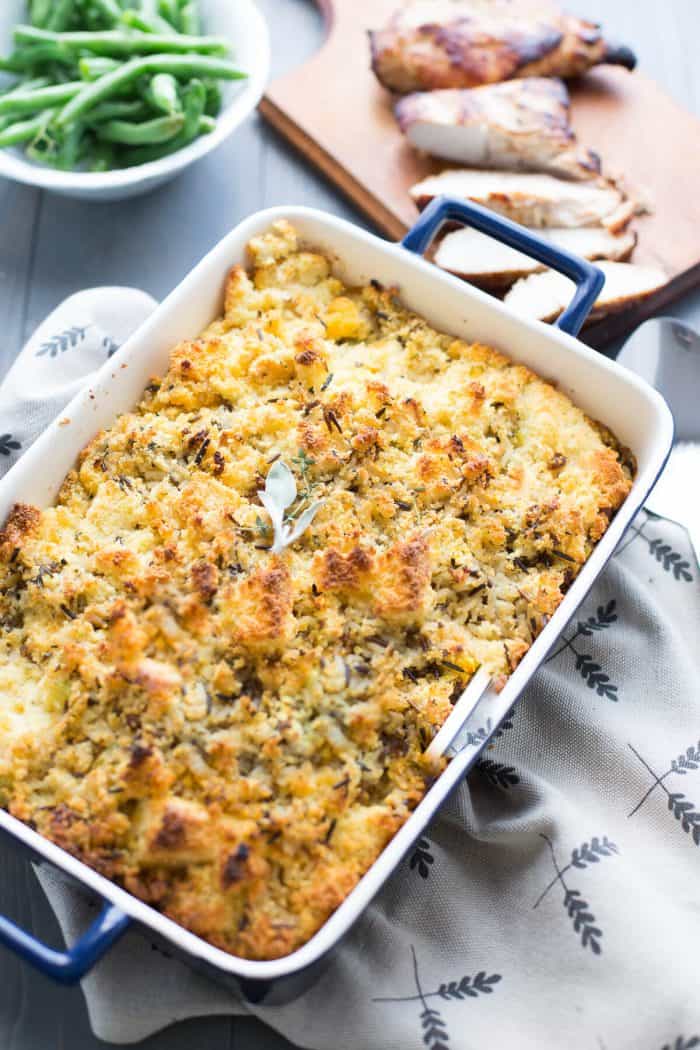 I had so much to say about this, but since she is only 10 years old, I chose not to argue with her.  Who ONLY eats mashed potatoes at Thanksgiving????  And mashed potatoes healthy?   I don't know about you, but our mashed potatoes are "loaded".  They have pancetta, blue cheese and of course butter.  No, they are definitely not healthy.  And I'm not saying they have to be, but lets call things as we really see them.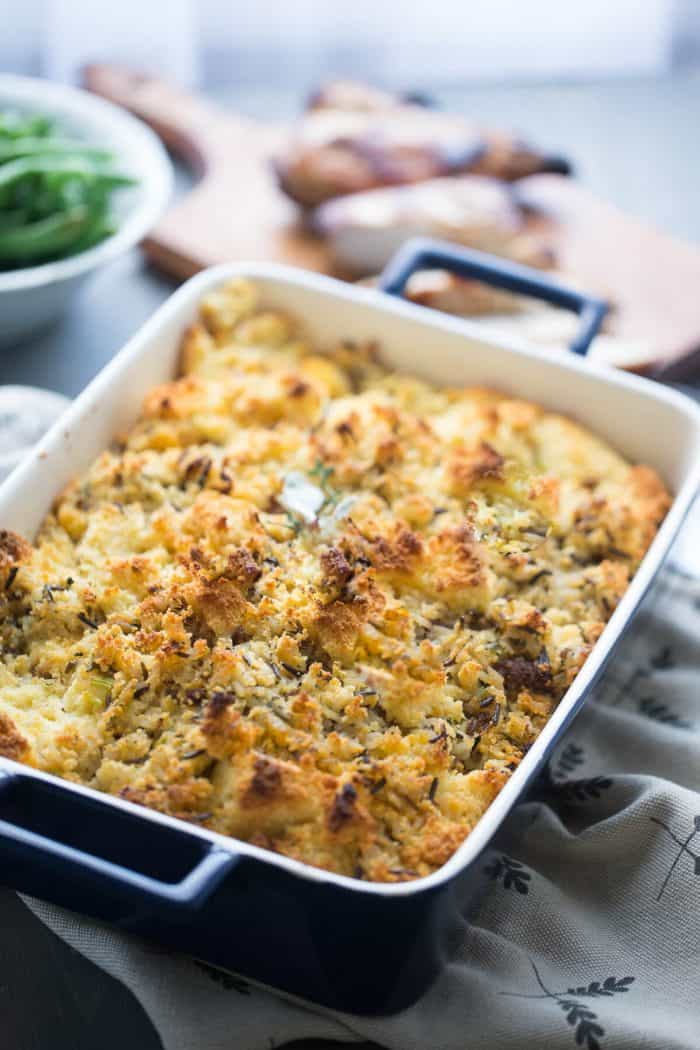 I too love mashed potatoes, but I love easy homemade stuffing even more; especially if it's crammed with sausage!  This year I'm going to serve up something a little different.  This year our turkey will be accompanied by this easy cornbread stuffing recipe.  Cornbread adds so much texture to stuffing, you just don't see that with traditonal bread cubes and the flavor is more robust.  I chose chorizo for this cornbread stuffing recipe.  It has a little spice and smokiness which really transforms this dish.  You do not have to use chorizo, it is somewhat of an acquired taste; Italian sausage would work just as well.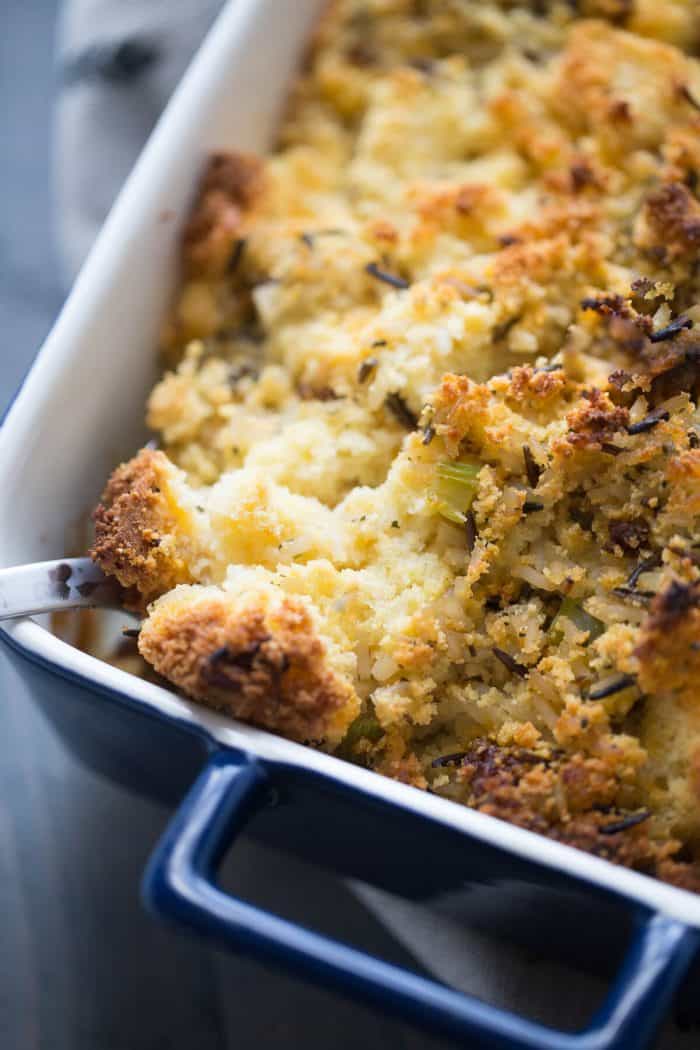 The addition of the wild rice makes this stuffing a little unique.  It is much more filling, but with the light and fluffy cornbread, it doesn't feel so heavy, which is what you want with your Thanksgiving right?  After all, we have to save room for pumpkin roll!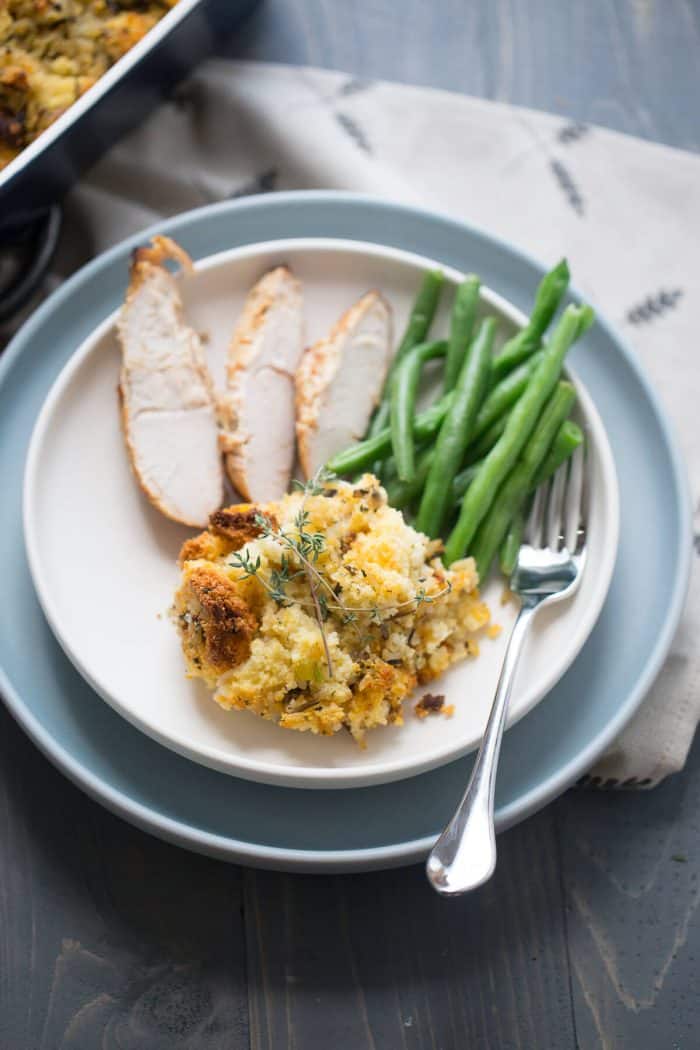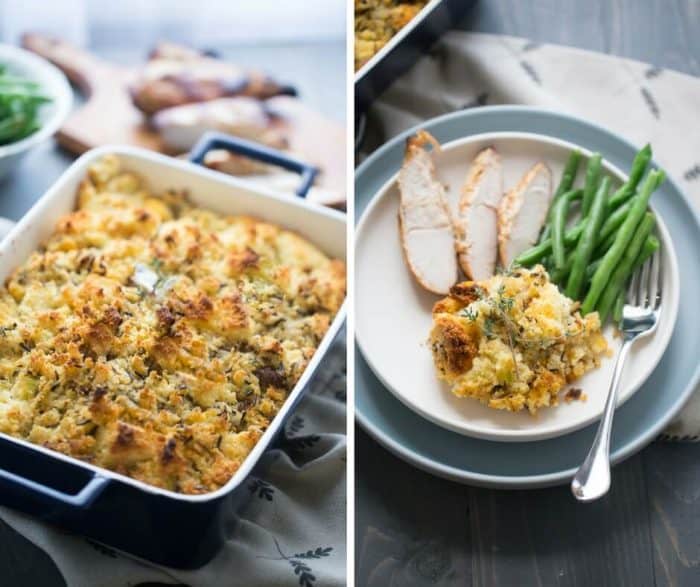 Easy Cornbread Stuffing Recipe
Ingredients
2

boxes Jify cornbread mix

2

eggs

? cup milk

1

teaspoon olive oil

? cup diced onions

? cup diced celery

1

clove garlic

3

chorizo sausages, casings removed

1 1.6

oz wild rice mix (I used Uncle Bens)

2

cups chicken broth
Instructions
Prepare muffin mix according to box directions. Allow bread to cool completely; cut into 1 inch cubes.
Heat a skillet over medium heat. Add olive oil onions and celery. Cook for 2-3 minutes or until vegetables become tender. Add garlic and cook another minute. Remove vegetables and set aside. Add chorizo to the same skillet. Crumble and cook sausage completely.
Preheat the oven to 400 degrees.
Combine sausage, vegetables, cornbread and rice in a large bowl, stirring until combined. Pour mixture into a 9 x 13 in baking dish . Pour chicken broth over the stuffing.
Bake stuffing for 25-30 minutes or until broth has been absorbed.