This skinny pumpkin spice latte is the perfect drink to enjoy this season. Made with real pumpkin puree, maple syrup, and almond milk, it's a healthier alternative and one that's vegan-friendly.
In America, it's hard to think about Fall without thinking about pumpkin spiced lattes. It's one of the first signs that the seasons are changing because they finally appear on the menus at coffee shops everywhere after a year of hiatus.
Whether you're just trying to save money with a homemade pumpkin spice latte or you're trying to enjoy your favorite drink in a healthier way, you're going to love this pumpkin spice latte recipe!
What Is A Pumpkin Latte?
As the name implies it's a drink made of coffee, served warm or as an iced pumpkin spice latte. It contains coffee, sweetener, cream or milk of some sort, spices, and fresh pumpkin puree. In our skinny version, we use almond milk, maple syrup, spices, and fresh pumpkin puree.
Ingredients for the pumpkin spice latte:
Espresso
Almond Milk
Pumpkin Puree
Pumpkin Pie Spice
Ground Cinnamon
Maple Syrup
Vanilla Extract
Whipped Cream *optional
For the exact amounts needed, please see the recipe card below.
How to Make Pumpkin Spice Latte:
In a small pot combine the espresso, almond milk, pumpkin puree, and maple syrup with a whisk until combined.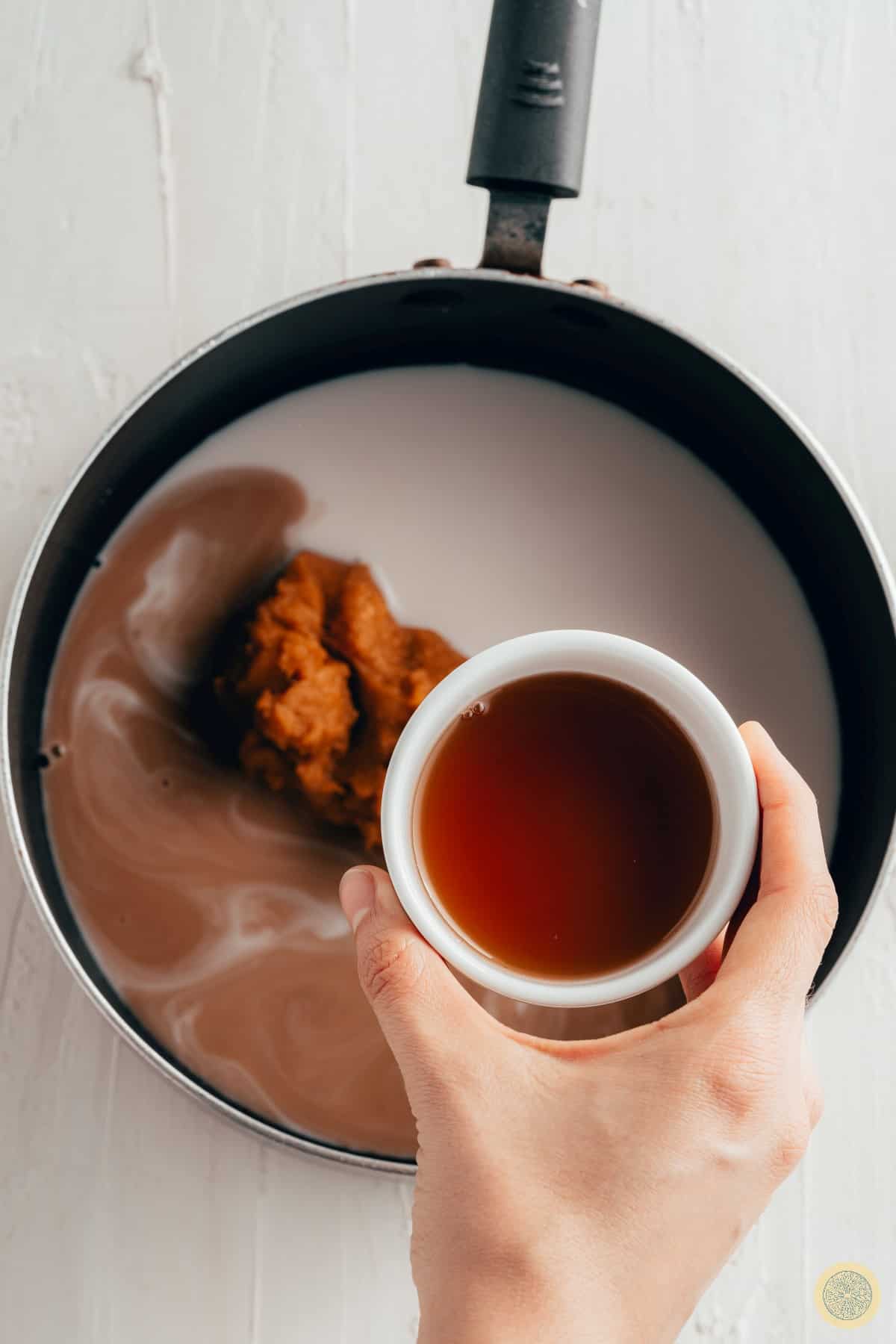 Bring the mixture to a boil and then remove from the heat.
Add your mixture to a blender with cinnamon, pumpkin spice, and vanilla. Pulse well until everything is combined. This is what gives the drink the frothy texture. This step is optional but encouraged for a delicious drink.
Pour your mixture into a glass and enjoy warm.
Top with whipped cream if desired and then sprinkle on a little ground cinnamon for garnish.
Recipe Tips
Vegan. This drink is already vegan but if using whipped cream make sure to use coconut whipped cream to keep the drink vegan friendly as most whipped creams are dairy-based.
Pumpkin puree. You can use homemade or canned pumpkin puree depending on what you have on hand. You can also add more or less pumpkin to the drink depending on what you like and prefer. Note that adding more pumpkin puree to the drink will make it thicker in texture.
Make ahead. You can make this drink ahead of time by mixing together all of the ingredients for the latte and keeping it stored in a covered container in the fridge for up to about 3 or 4 days. Then when you're ready for a drink simply serve it over ice or warm up a mug's worth in a pan until steamy hot.
FAQs
Why is pumpkin spice latte so popular?
In America, this drink brings a lot of nostalgia in every sip. Tasting like that of a pumpkin pie but mixed with the delicious rich caffeine from your coffee ou get a blend of flavors that are perfect for the season. This drink is often served around the start of fall at coffee shops like Starbucks and the moment it gets released, lines grow as many run to the store for their first sip of fall.
Is pumpkin latte healthy?
The ones you buy from the coffeeshops-no, this one you're making at home yes. The ones you buy premade for you not only cost a good chunk of change but they're also loaded with sugars and fats that you don't really need. In our healthy pumpkin spice latter recipe, I show you exactly how to get the great-tasting latte you want at a fraction of the sugars, fats, and cost.
How can I make a healthy iced pumpkin latte?
Take the recipe above as written and instead of combining the ingredients in a small pot, combine everything together in a blender and pulse until frothy and smooth. Then add to a glass of ice. Top with whipped cream, garnish with a sprinkling of cinnamon and you're good to go!
If you loved this Fall recipe then you are going to love these other pumpkin recipes!
Yield: 1 large serving
Skinny Pumpkin Spiced Latte
Warm and extra creamy pumpkin latte, spiced with pumpkin spice and ground cinnamon. Delicious fallish breakfast!
Ingredients
1 or 2 shots of expresso
1 cup almond milk
2-3 tbsp pumpkin puree (adjust to taste)
½ tsp pumpkin spice
½ tsp ground cinnamon
1- 2 tbsp maple syrup (adjust to taste)
½ tsp vanilla extract
Optional: whipped cream on top
Instructions
Place all the ingredients except ground cinnamon, pumpkin spice, and vanilla extract in a small pot. Whisk to combine. Then bring the mixture to boil and remove from heat.
Add it to a blender and pulse until well combined (this will add frothy texture on top but is an optional step).
Pour the mixture into a glass cup and enjoy warm.
Optional: add some freshly whipped cream on top, garnish with ground cinnamon.