This 3 ingredient chocolate cake recipe is made without eggs, oil, or flour! Check out how to make an awesome cake for any occasion in a quick and fast hurry with very little prep.
Have you ever wanted to bake a cake but didn't want to go through the effort of measuring, leveling, whisking, and dirtying practically every dish in the kitchen to do so? Boy, do I have great news for you!
This easy chocolate cake recipe only needs a food processor, cake pan, and about 2 or 3 measuring cups or spoons. You'll have the dishes cleaned before the cake is done baking, leaving you more time to enjoy what really matters- eating the cake.
What Is 3 Ingredient Chocolate Cake?
Its science and deliciousness coming together to give you a rich and moist cake with hardly any effort at all. Made with just milk, baking powder, and cookies, we get a cake so fluffy and indulgent that it's practically mindblowing.
Ingredients
Cookies: Crispy chocolate cookies are the main ingredient in this recipe. I used chocolate-flavored Teddy Grahams but you can use other crispy cookies too.
Milk: To help bind together the ingredients and give the cake richness and moisture.
Baking powder: This is the leavening agent needed to make the cake puff up as it bakes.
Frosting: Your cake will need some frosting for the top and I have a simple 2 ingredient powdered sugar glaze recipe included on the recipe card below that you're free to use.
Sprinkles: This is totally optional but if desired you can top your quick chocolate cake with some colorful sprinkles for decoration.
See the recipe card below for the exact measurements needed.
How to Make 3 Ingredient Chocolate Cake
Preheat your oven to 350 degrees F.
In a food processor, mix together the cookies and baking powder until the mixture is very fine and resembles a flour or dry cake mix.
Add in 1 ½ cups of whole milk and then mix again.
Spray your cake pan or silicone mold with nonstick cooking spray. If using a silicone mold, place it on a baking sheet for stability.
Fill your pan with the cake batter and then bake in the oven for 20-23 minutes.
Allow to cool before removing from the pan.
Place the cake in the freezer for 30-45 minutes. This will help to prevent crumbs from getting into the icing.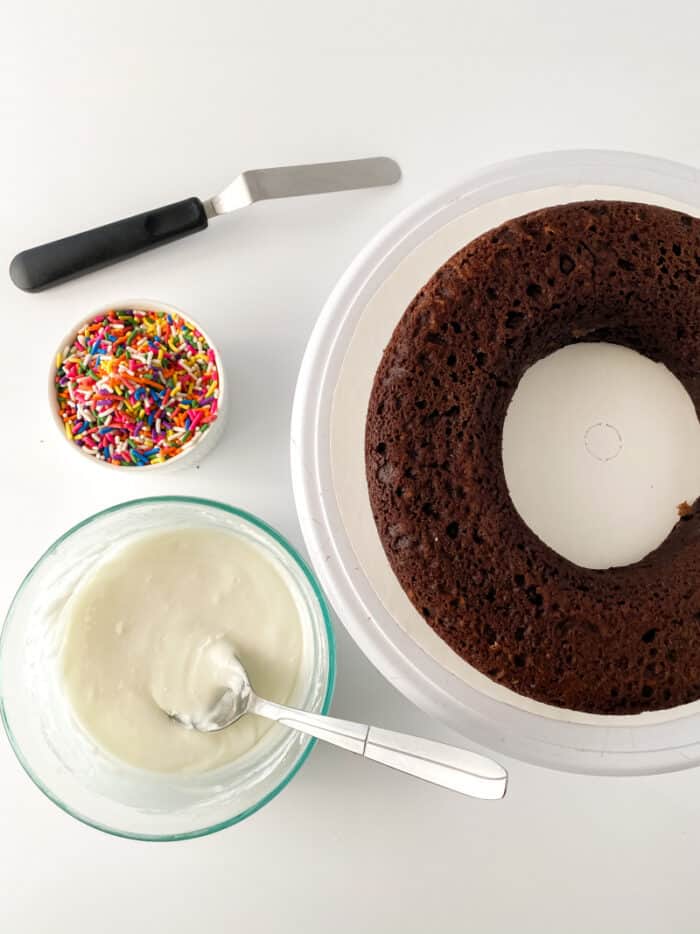 Prepare the frosting (if using) by whisking together the ingredients until smooth and thick.
Ice the cake as desired and top with sprinkles.
Slice and serve.
Enjoy!
Recipe Tips
You may need more or less milk. Depending on your location and the weather your may need more or less milk for the icing. Add in a tablespoon at a time really slowly as you whisk until you get to a smooth but thick spreadable icing consistency.
Substitutions
Milk. You can use dairy-free milk, water, or even a flavored coffee creamer in place of the requested milk in the icing and in the cake and still end up with tasty and delicious results.
FAQs
How Long Is Chocolate Cake Good For?
This cake will last about 3 days if kept covered in an airtight container at room temperature. I recommend eating it when it's fresh for the best tasting results.
Can I Freeze 3 Ingredient Chocolate Cake?
I would not frost the cake if you plan on freezing it for later. Add the icing just before serving so that it doesn't dissolve or "sweat" as it thaws. This will give a much better presentation. The frozen cake will last up to 3 months in an airtight container.
What Cookies Can I Use?
You can make this 3 ingredient chocolate cake with cookies like Teddy Grahams, Oreos, chocolate wafers, or Maria Cookies (galletas). These are all firm "biscuit" style cookies that will work well with this recipe. You can even use non-chocolate flavors for a new experience.
Here are some more great chocolate cake recipes to check out and try soon.
3 Ingredient Chocolate Cake
Ingredients
4 cups crispy chocolate cookies, 1 (10 oz bag)
1 tbsp baking powder
1 ½ cups whole milk
Frosting Ingredients
Powdered or icing sugar
1 tbsp milk
Instructions
Preheat oven to 350 degrees F
Add cookies and baking powder to food processor, or blender, and crush until very fine, should resemble flour or dry cake mix.
Add in 1 and ½ cup whole milk
Spray your baking pan or silicone mold with non stick spray
If using a silicone mold, place onto baking tray and then into the oven.
Bake for 20-23 mins
Frosting

Stir until thick but smooth.
Once the cake comes out of the oven all to cool completely. Place in freezer for 30-45 min
BEFORE icing the cake, this cut down significantly on crumbs.
Ice the cake with thick but not runny glaze icing.
Add Sprinkles