Half Moon Cookies, also know as Black and White Cookies, 
are soft cookies with a cake like texture and covered in chocolate and vanilla glaze!  A combination that is irresistible!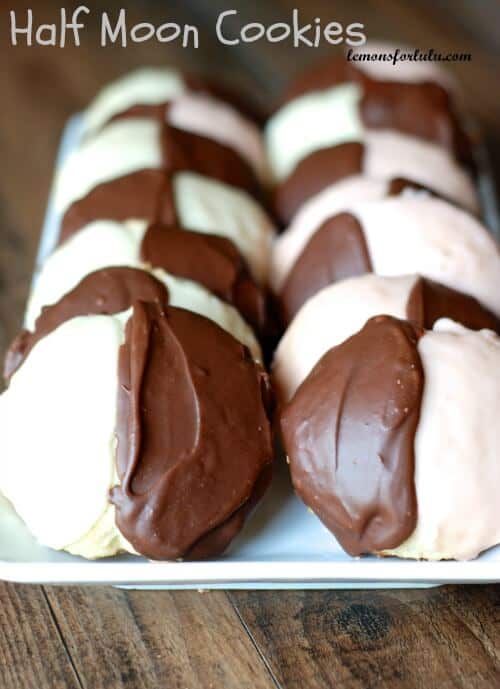 It's funny to think that I used to exercise 6 days a week without fail.  It's funny to think I had that kind of time!  I would get stressed out if I missed a day, it was sort of an addiction.  An addiction that led me to  my husband.  That's where we met.  He became my work out partner, a spotter I could trust.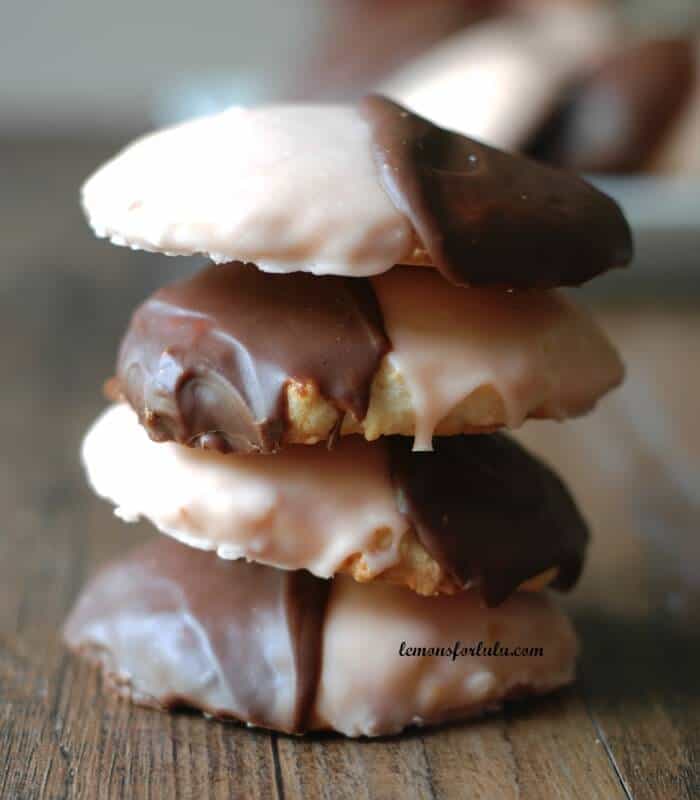 Workouts were going well until I got pregnant.  Everything changed-forever.  I took it easy.  My priorities shifted from building muscle tone to simply maintaining what I had.  I had to watch my weight gain too.  When you crave things like  Flaming Hot Cheetos and chocolate chip cookies there's a good chance you'll gain more than the suggested 25-35 lbs!    The problem was, that after my daughter was born, I never really resumed by workout regimen.   In fact, my attitude towards exercise deteriorated with each subsequent pregnancy, until it became virtually non-existent.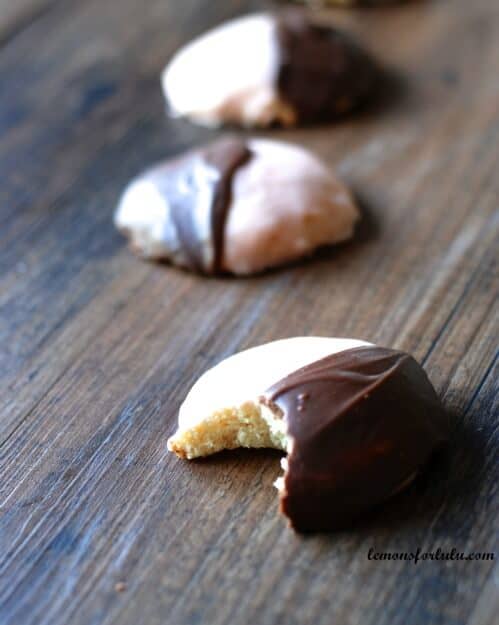 I'm grateful for my gym rat days, without them I wouldn't have met the love of my life.  And sometimes I wish I could go back to those days of dead lifts and overhead presses.    One day, I'll add more hard-core workouts to my days.  But for the  most part, I'm supremely happy with my current situation.  Today I exercise by walking my dog, playing a vigorous game of tag in the front yard  or heart pumping dance parties with our kids.  I really like my new definition of exercise, its way more fun!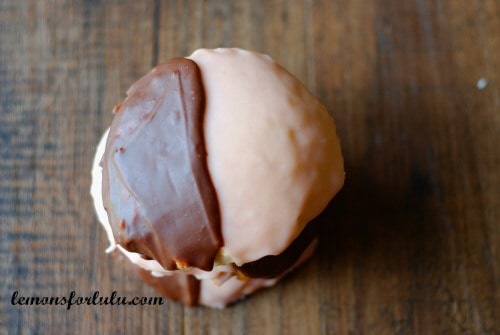 I probably shouldn't be talking about exercising and Half Moon cookies in the same post.   I'm just prepping you.  These cookies are so incredible!  I've been wanting to make Half Moons (or black and whites) for so long!  I was actually going to make something else, but I happened to be flipping through a cook book, when I saw these and knew I had to try them!  The cookie is so soft and cake like in texture.  It's thick, too.  The best part is it's not that sweet, which is fine because the chocolate and vanilla glaze make up for it!  I kept half of our Half Moons traditional, with chocolate and vanilla glaze.  I added about 2 tablespoons of maraschino cherry juice to the vanilla glaze just for kicks (reminded me of these whoopie pies).  My family was torn, they really liked both vanilla and cherry!  But now I see so many other flavor options!  Lemon, orange, strawberry!  You decide what to do with your Half-Moon cookies!!
Maybe you'll be lucky enough to whip these up in your new Kitchen Aid Mixer!    Don't forget to enter!!
YOU MIGHT ENJOY THESE COOKIES TOO:
NEVER MISS A RECIPE!  SUBSCRIBE TO MY EMAIL here! 
FOLLOW ME:
RSS | FACEBOOK | TWITTER | GOOGLE + | BLOGLOVIN
Ingredients
1

cup butter

1/8

teaspoon lemon zest

1 1/2

teaspoon salt

2

teaspoons vanilla extract

1

tablespoon baking powder

1 1/2

cup sugar

3

large eggs

4 1/2

cups flour

1

cup milk (do not use non fat)

1/2

cup white chocolate coating or pieces

2

cups powdered sugar

2

tablespoon corn syrup

1/4

cup hot water

1/2

teaspoon vanilla

1/2

cup semisweet chocolate chips

2

cups powdered sugar

2

tablespoons corn syrup

1/4

cup hot water

1/2

teaspoon vanilla
Instructions
Preheat oven to 400. Line baking sheets with parchment paper and set aside.
For the dough: In a large mixing bowl, cream butter, lemon zest, salt, vanilla and baking powder. Beat in sugar. Add eggs one at a time, making sure you mix well after each addition. Carefully mix in flour, alternately with the milk, beginning and ending with the flour.
Using a large cookie scoop, drop dough on cookie sheets. Flatten each cookie with a glass dipped in flour. Be sure you leave about 2 inches between each cookie on the cookie sheet.
Bake cookies until golden, about 9-11 minutes. Let cookies cool on baking sheets for 5 minutes before removing to a cooling rack to cool completely.
For the icing: microwave chocolate in bowl until smooth. Sift powdered sugar in a large bowl. Stir in corn syrup, water and vanilla. Whisk in melted white chocolate until smooth. (To make cherry glaze add 2 tablespoons of maraschino cherry juice) Add more hot water a teaspoon at a time if chocolate is too thick. Using an offset spatula spread white chocolate over one half of each cookie. Let chocolate set completely.
While white chocolate sets, prepare semi sweet chocolate icing in the same manner. Spread semi sweet on second half of each cookie and let chocolate set completely.
Makes 36 cookies