Ginger and pecan cookies are a tasty treat that's ready any time of the year, but especially perfect for Fall and winter. Packed with so much flavor in every bite these cookies can easily be served year-round.
You're going to love this simple cookie recipe. Every bite of these chewy pecan cookies is like a little bite of heaven. Topped off with the white chocolate drizzle and these are the PERFECT holiday pecan cookies so don't forget to bring a batch to your next cookie exchange!
What Are Ginger Pecan Cookies?
They are super simple and chewy ginger cookies packed with chopped pecans and topped with a white chocolate drizzle on top. The recipe sounds fancy, but it's really very basic. Perfect for novice bakers too!

Pecan Cookies Ingredients:
All-purpose flour
Baking soda
Salt
Ground ginger
Granulated sugar
Brown sugar
Butter
Vanilla extract
Large eggs
Chopped pecans
White chocolate
How to Make Ginger Pecan Cookies
Creamy together the butter and sugars in a mixing bowl with an electric mixer until smooth.
Add in both of the eggs, one at a time, beating well after each addition.
Add in the vanilla extract and then mix again.
Mix together the dry ingredients in another mixing bowl, and then add them to your creamed mixture.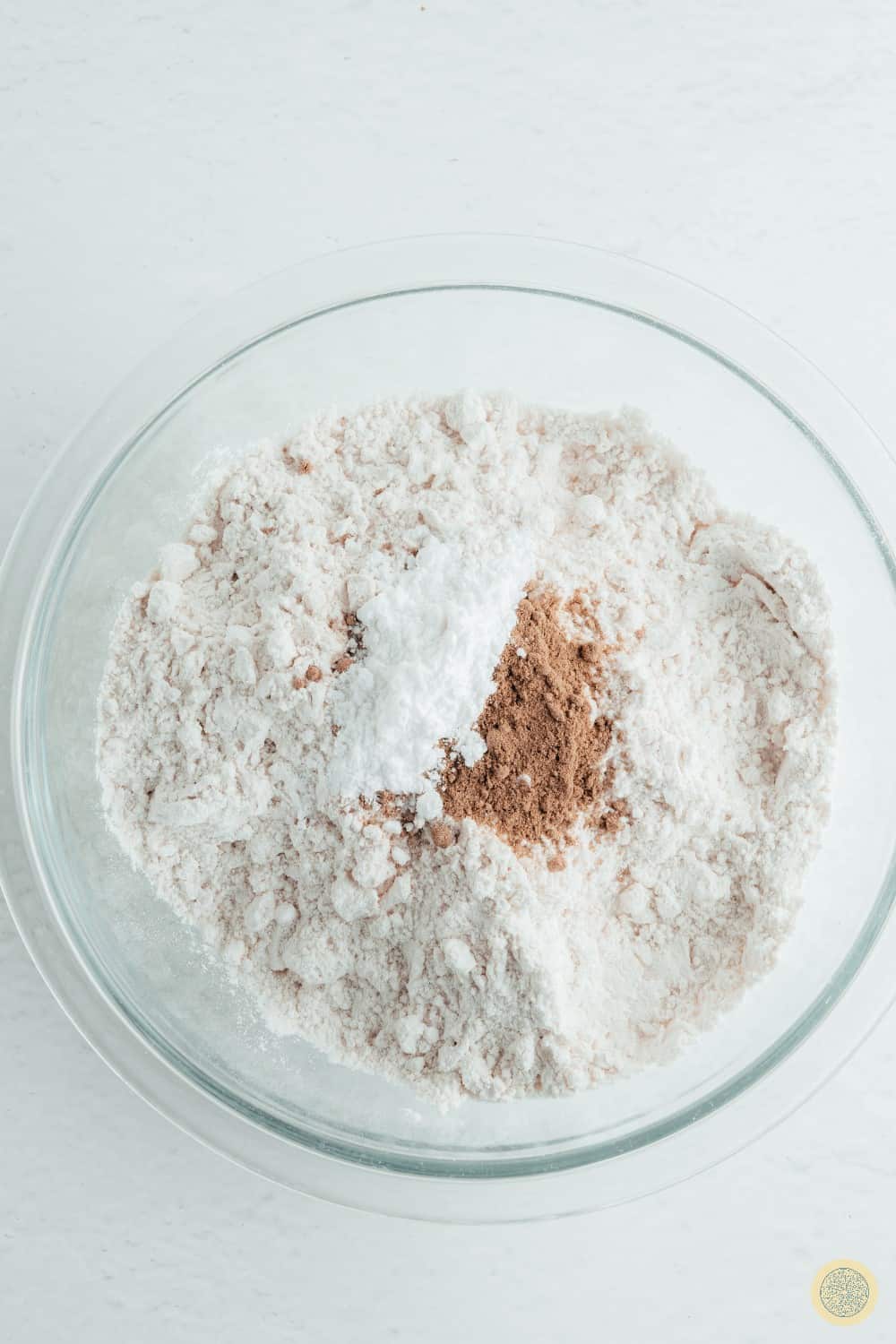 Combine the dry and wet ingredients together using a large spatula. You should end up with a soft batter.
Fold in your chopped pecans.
Cover your bowl of dough and place it in the fridge to chill for at least 2 hours. This is what gives you a flavorful cookie with a chewy texture, so you do not want to skip this step or skimp on the time chilled. You can chill this dough up to overnight if desired
Preheat your oven to 350 degrees F and line two baking sheets with parchment paper.
Scoop your batter onto the trays, leaving two inches of space between each.
Lightly flatten the tops of the cookies with the bottom of a glass.
Bake the cookies in the oven for 13-16 minutes or until the edges look set and lightly golden in color. Baking longer will result in a crispy cookie.
After baking let the cookies cool completely on a wire baking rack.
Melt your white chocolate and drizzle it over the tops of the cookies. Allow them to set.
Enjoy!
Recipe Tips
If possible, allow the dough to chill overnight in the fridge. If you can make this cookie batter in advance to chill it overnight, you won't regret it. Refrigerating the cookie batter allows the flour to hydrate and absorb all the butter and ground ginger flavors.
FAQs
How long are ginger pecan cookies good for?
These cookies can last up to 5 days if stored in an airtight container at room temperature.
Can I freeze ginger and pecan cookies?
Yes, these cookies freeze very well for up to 3 months in an airtight container. I recommend not adding the white chocolate drizzle on top if your goal is to freeze them. Then you can add the chocolate fresh after the cookies have thawed. This will prevent the chocolate from "sweating" as the cookies thaw.
How do I know when my cookies are done?
Your cookies are finished cooking when the edges look set and the tops are no longer glossy. They can look slightly underdone but once given a few minutes to rest on the baking sheet they will look more finished and complete. When in doubt you can test your cookie with an instant-read thermometer. The internal temperature should reach 165 degrees F.
Check out these other wonderful cookie recipes!
Yield: 22 cookies
Ginger Pecan Cookies
Total Time
2 hours
38 minutes
Ingredients
2 ½ cups all-purpose flour
1 tsp baking soda
½ tsp salt
2 tsp ground ginger
¾ cup white sugar
¾ cup brown sugar
1 cup butter (2 sticks, 8oz), at room temperature
1 tsp vanilla extract
2 eggs at room temperature
1 cup chopped pecan nuts
⅓ cup white chocolate for drizzle (optional)
Instructions
Use an electric mixer to cream the butter, add white and brown sugar, and mix until smooth and creamy. It is essential to achieve a soft cream before following the next step.
Add both eggs, one at a time, mixing very well after each addition. Eggs should be at room temperature; otherwise, they will break the butter emulsion, resulting in crispy and hard cookies. Next, add vanilla extract and mix to combine.
Mix the dry ingredients (flour, salt, baking soda, and ground ginger) in a different bowl. Then add them into the creamy batter. Use a spatula to combine; the result should be a soft batter. Finally, fold in chopped pecans and mix.
Cover the bowl in film paper and let it chill in the fridge for at least 2 hours. The chilling process is key to the flavor and chewiness of the cookies. If possible, refrigerate it overnight.
Before baking the cookies, preheat the oven to 350F and prepare two baking trays with baking paper. Scoop cookie batter into the prepared baking tray, leaving 2 inches in between them. Lightly flatten the top with a glass bottom.
Bake the cookies for 13 to 16 minutes, or until edges are set and lightly golden. More cooking time will result in crispy cookies, less cooking time more chewy cookies. For example, I bake them for 16 minutes, rotating the trays to get an evenly baking in every cookie, and the result was chewy cookies in the center while crispy in the edges.
After baking, let the cookies cool in a cooling rack. They will slightly harden when cool.