Vegan spinach artichoke dip is a healthier take on your favorite warm-served dip. Made with cashews, frozen spinach, and artichoke hearts this dip is packed with flavor in every bite.

You're going to love serving up this vegan spinach and artichoke dip at your next party. Dips were made to share with friends at fun get-togethers and tailgate parties and this cashew artichoke dip is too good to keep to yourself. Serve it up with some cut vegetables, toasted baguettes, or tortilla chips depending on what you have on hand or prefer. You may even find the dip tastes good with just a spoon.
What is Spinach Artichoke Dip?
Spinach artichoke dip is a very popular dip that can be served warm or cold (in our case we want it nice and warm). Normally it's seen combining spinach, artichoke hearts, cream cheese, and sour cream to make a thick and cheesy rich dip, but we're changing it up here to make it vegan-friendly and still tasty.
We only need 5 ingredients (plus some common pantry seasonings) to help make this recipe super tasty, thick, and creamy.
Ingredients you'll need for this Vegan Spinach Artichoke Dip:
Cashews
Nutritional yeast
Garlic powder
Onion powder
Salt
Almond milk
Frozen spinach
Artichoke hearts
For the exact amounts needed, please see the recipe card below.
How to Make Vegan Spinach Artichoke Dip
Rinse your soaked cashews and drain off the liquid. Place them into a food processor and add in the nutritional yeast, garlic powder, onion powder, salt, and almond milk.
Blend together until smooth.

Place the frozen spinach into a skillet over medium heat and stir until evenly thawed and the liquid has completely evaporated.
Add in drained and roughly chopped artichoke hearts, stirring until any excess liquid is reduced to help prevent a watery dip.
Pour the cashew mixture into the skillet and stir to combine, heat the dip thoroughly, and when it begins to bubbly, remove it from the heat.
Serve warm.
Spinach artichoke dip Recipe Tips
This vegan spinach artichoke dip recipe is very easy to make and doesn't require much prep work at all but will require some advanced planning. By allowing your cashews to soak in water for a few hours you can make sure that your dip ends up super creamy and smooth.
You can adjust the amount of seasoning and nutritional yeast used to help meet your own tastes, so if you want more or less, feel free to adjust as necessary.
You can reheat your leftovers in a small or medium-sized pot on the stove over medium heat. Stir well to mix and continue heating until the dish is warmed throughout.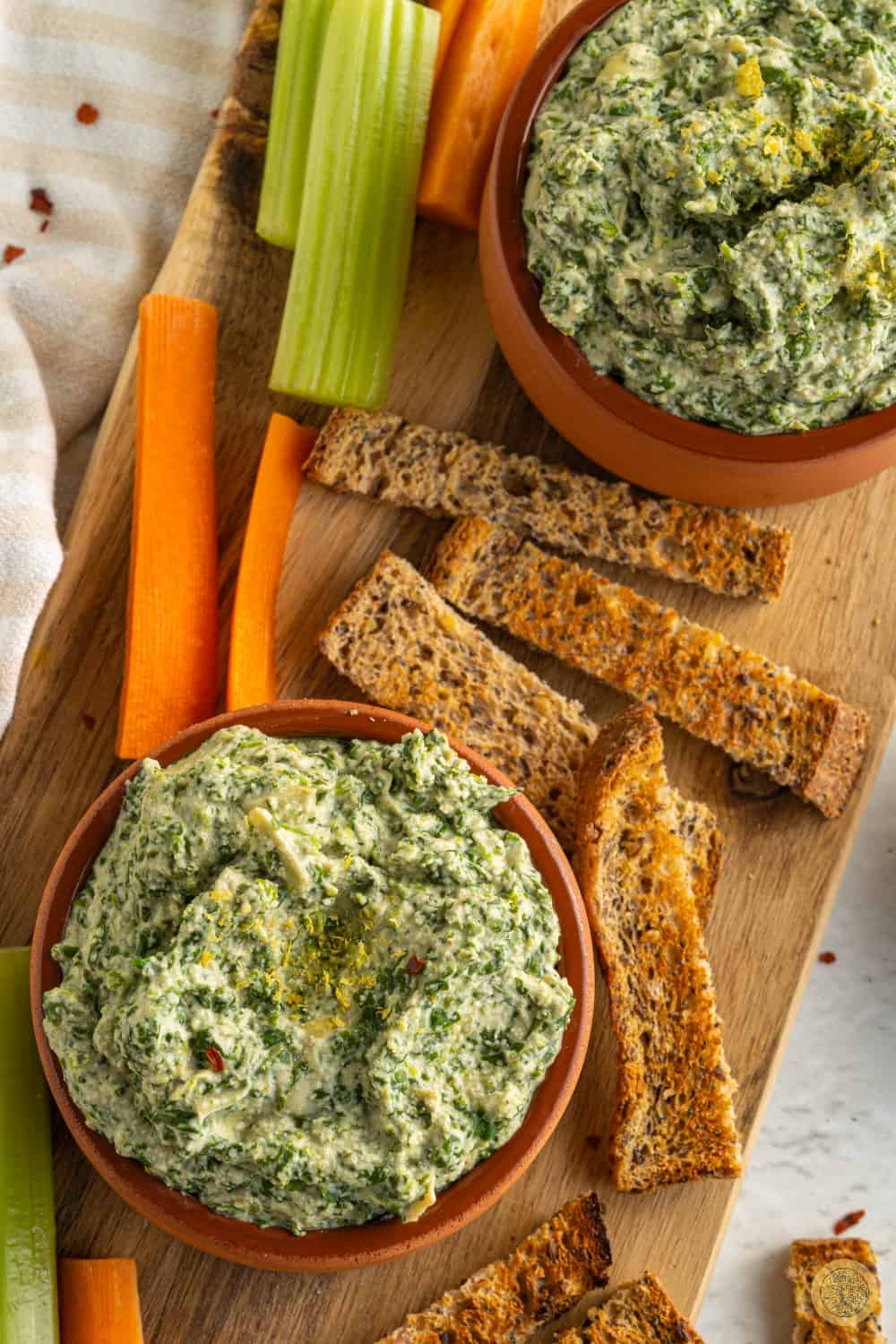 FAQs
How long is vegan spinach dip good for?
This dip can be kept stored in an airtight container in the fridge for up to 7 days. I have not frozen this dip or attempted to so I do not know how well it would hold up to being frozen, but I do not think that I would recommend it.
What to serve with warm spinach artichoke dip
You can serve your dip with tortilla chips, cut carrot sticks, or celery sticks work well too. If you want a wide variety of items to dip with (vegan and nonvegan) then options like Triscuit crackers, wheat thins, and toasted baguette slices would work well to hold up to the dip when scooping.
How to make spinach artichoke dip thicker
If you would like your dip to end up even thicker in texture you can mix together 2 tablespoons of cornflour with the dip while it's still cooking on the stovetop. This will help to thicken the dip without changing the flavor or texture.
Looking for more yummy dip recipes? I've got you covered!
Yield: 4 cups
Vegan Spinach Artichoke Dip
Ingredients
2 cups raw cashews, soaked for 2 hours in boiled water
4 tbsp nutritional yeast
1 tsp garlic powder
1 tsp onion powder
1 tsp salt
1 cup almond milk
16 oz frozen spinach
1 15oz can artichoke hearts
Instructions
Rinse and drain soaked cashews. Place them in a food processor with the nutritional yeast, garlic powder, onion powder, salt, and almond milk. Blend until very smooth.
Place frozen spinach into a skillet over medium heat. Stir until the spinach is evenly thawed and its liquid has completely evaporated. Then add a drain and roughly chopped artichoke hearts, stir to reduce any liquid artichoke could have to prevent a watery dip.
Pour in the cashew cream and stir to combine. Heat the dip thoroughly; when it starts to bubble, remove it from heat.
Optional: for a thicker dip, add 2 tbsp of cornflour, combine it with the dip still over the stovetop.
Serve warm with some tortilla chips, carrots, or celery sticks.
Nutrition Information
Yield
10
Serving Size
1
Amount Per Serving
Calories

200
Total Fat

12g
Saturated Fat

2g
Trans Fat

0g
Unsaturated Fat

9g
Cholesterol

0mg
Sodium

411mg
Carbohydrates

17g
Fiber

6g
Sugar

3g
Protein

10g