Italian subs are the perfect game day sandwich! Deli meat  and provolone cheese are piled high in these thick and flavorful
 spicy Italian sub sandwiches!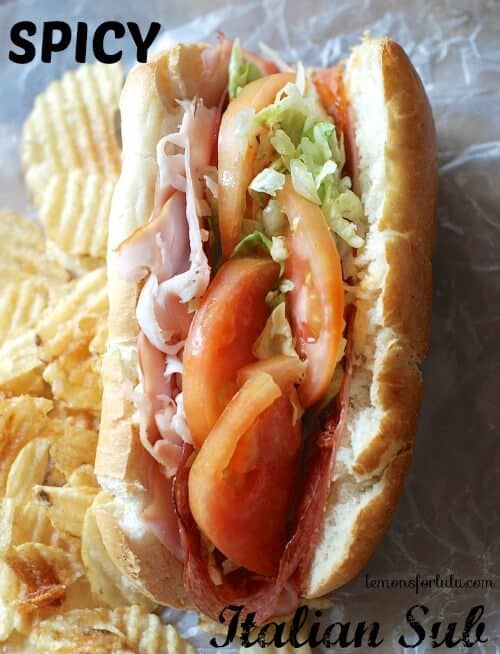 The best Italian subs I ever ate were found in a dive bar near the University of Cincinnati.
Every Friday night you would find me at Sub Galley, stuffing my face with spicy Italian Subs.  The subs were extraordinary, but the experience as a whole was something unique.  This was the sort of corner bar that most college kids actually avoided.  It wasn't really the place to hang out if you were under 50.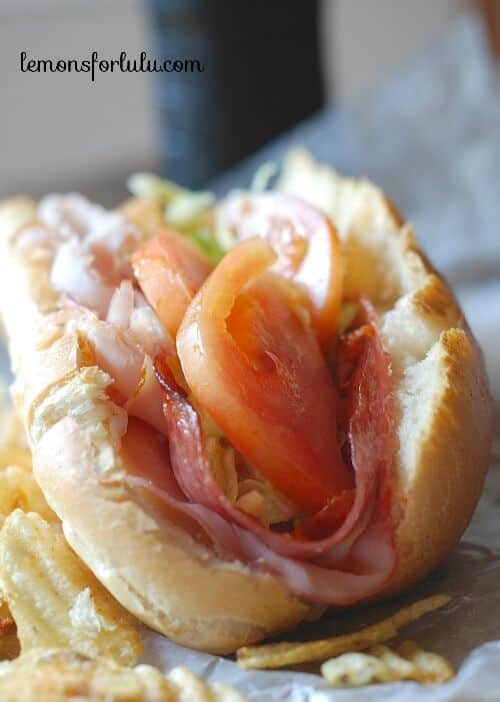 What I remember most is how your eyes would water for a minute  when you walked in to the bar because of the thick layer of cigarette smoke that hung in the air.  Your nostrils would be accosted next.  The smell of kitchen grease, cigarette smoke, old carpet and old men permeated through the small, dark and dusty room.  There were about 6 tables in the bar area, all of which remained empty.  The bar held about 15 people and usually, all those seats would be filled with the regulars.  Since we weren't there for the bar, we headed straight back to the "restaurant".  This area consisted of two wobbly tables with ratty and torn red vinyl booths.  The old Pepsi menu sign hung above a very tired looking formica counter with an equally dated cash register.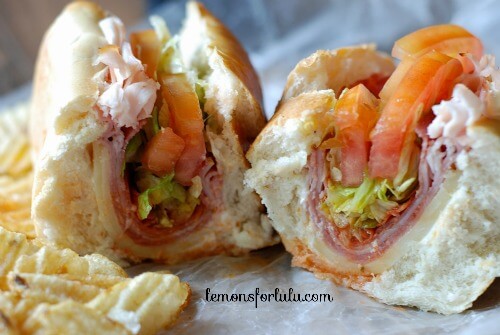 The only employee we ever encountered was an Asian woman.  She rarely spoke, but she made mean Italian subs.
Those sandwiches made my mouth water each time I though about them!  I was like Pavlov's dogs, come Friday I'd start salivating and the hunger pangs would start.  The subs were piled high with ham, salami, loads of pepperoni and provolone cheese.  But it was the sauce that kept me wanting more.  It was thick and spicy.  I can't place the ingredients exactly, I just know that there were lots of pepper seeds and that I could eat it by the spoonful!
My friends and I would order our sandwiches and take our seat at one of the very worn out booths and anxiously await the best meal of the week!  We'd sit and watch the clientele as they voted and debated which one of them should be elected the new mayor of Sub Galley.  I'm not sure why, but this was their weekly ritual.   And I have no idea what being mayor of a dive bar would entail, but I don't think anyone cared.  It probably meant the mayor was buying the next round!     Ours subs would finally come.  My friends and I would halt our conversation so that we could enjoy the feast before us!  We could judge the quality of our meal by how many napkins we went through that night.  These were the kind of sandwiches that left streaks of grease down your chin and if it was really good, down your forearm as well!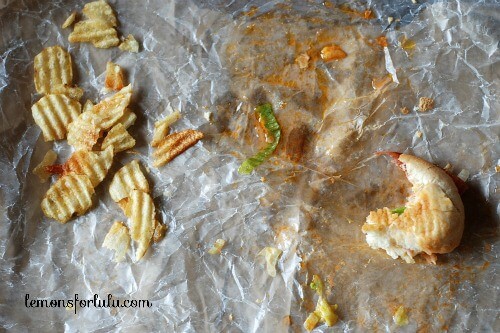 Sadly, Sub Galley has long since closed down.  I believe it's a trendy sandwich shop that specializes in clean and organic food.  I suspect that if there are regulars, they aren't holding weekly elections.  Change can be so good, but a heart full of nostalgia reminds us how far we've come.
My version of spicy Italian subs comes pretty darn close to the ones in my memory!
I piled on my favorite sub meats and added spice from none other than an Asian chili paste, Salma Oelek.  It can be quite spicy, so either adjust the amount or omit it all together if you prefer.   The lettuce is dressed with a bit of Italian dressing and the spice is tempered by the cool tomatoes.    I loved this sandwich!  I actually made myself another sandwich for lunch the next day.  When I finished, I noticed the grease from the pepperoni resting on my plate and thats when I knew I had recreated the perfect spicy Italian Sub!
A COUPLE MORE SAMMIES: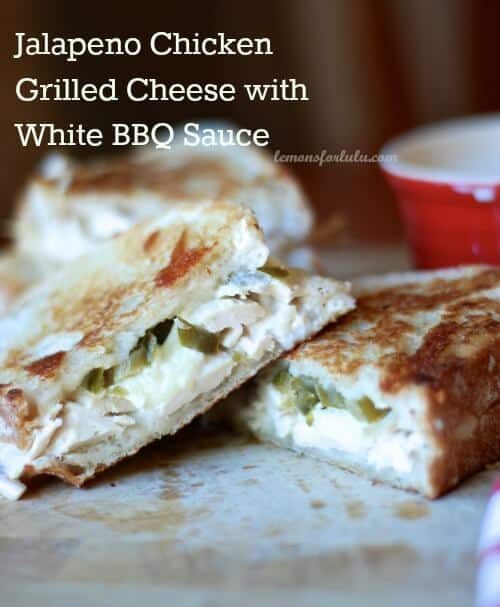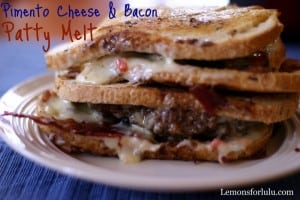 NEVER MISS A RECIPE!  SUBSCRIBE TO MY EMAIL TODAY!
FOLLOW ME:
Ingredients
4

submarine sandwich rolls

4

tablespoons mayonnaise

8

slices provolone cheese

8

sliced ham

8

slices of turkey

12

slices hard salami

12

slices sandwich pepperoni

4

tablespoons Sambal Oelek Chili Paste (optional)

8

oz shredded iceberg lettuce

1

large tomato, sliced and quartered

1/4

olive oil

3

tablespoons white vinegar

1

teaspoon dried Italian seasoning

Salt and pepper
Instructions
Preheat oven to 350.
Cut sandwich rolls along one seam being careful to not cut all the way through. Spread may on each side of sub roll.
Top each roll with cheese, ham, turkey, salami and pepperoni. Spread a tablespoon of chili paste on each sub.
Heat in the oven for 5 minutes or until cheese melts.
Meanwhile place lettuce in a bowl. Whisk together oil, vinegar and seasoning. Pour over lettuce.
When sandwiches have heated, divide lettuce among each of the subs and top with tomato slices.